Porsche Exclusive Manufaktur program has spawned two new masterpieces…
Personalization is something Porsche owners go crazy about. The sportscar maker's individualisation program- Exclusive Manufaktur, owns stellar reputation among the affluent, for the insane cars they create ( The 911 Sally Special to quote a recent example). Porsche India recently showcased two bespokes at their dealership in Kochi- a Panamera Turbo S and Cayenne GTS specced to perfection, to demonstrate the extent of customization they offer.
Bespoke Panamera Turbo S
This Panamera Turbo S gets a 'GT Silver metallic' colorway, that looks subtle-yet-strong on the car. There are multiple instances of Carbon trims on the exterior- like the sporty Carbon side skirts, front and rear aprons bearing Carbon touches, and stylish CF embellishments on the front fenders. The tinted LED Matrix headlamps adds more visual depth to the design. This Panamera wears 21-inch Exclusive Design wheels painted in Black. The calipers are finished in Yellow, striking stark contrasts with the wheels. The tail design is very good-looking. There is a massive rear spoiler. The Exclusive Design tail lamps are tinted, and so are the badges. This car has been specced with a sportier exhaust system, and Black tailpipes too.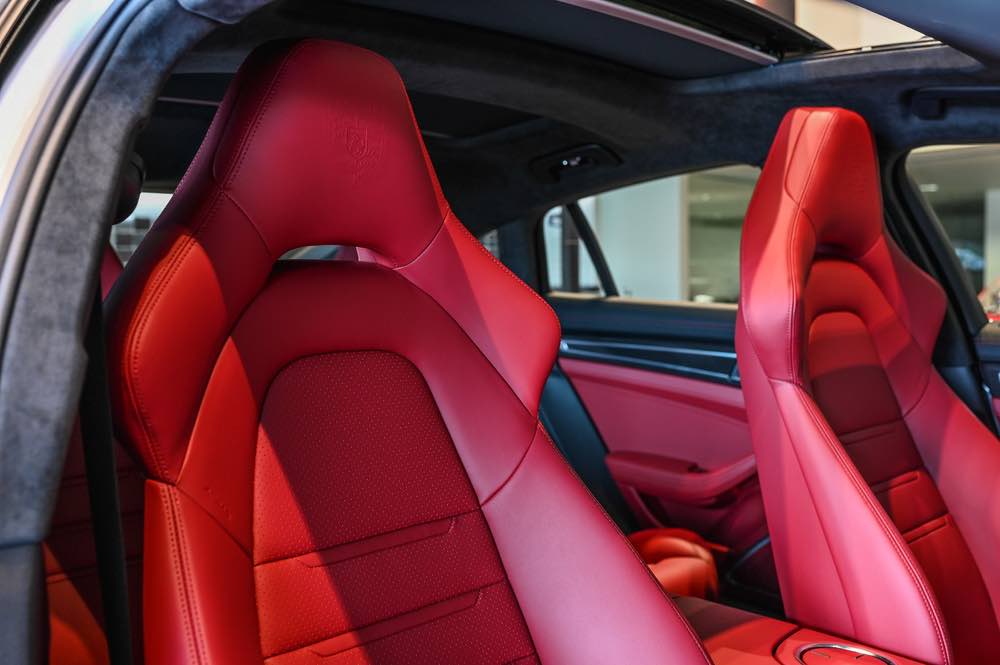 This bespoke Panamera's cabin gets tasteful use of Abachi Anthracite wood finish trims. (I LOVE the colorways and trims used!) The Porsche Design Subsecond clock adorns the dashboard and there is a custom gear selector knob too- parts of the Sport Chrono package.
ALSO READ: India's First Porsche Studio Open In Delhi!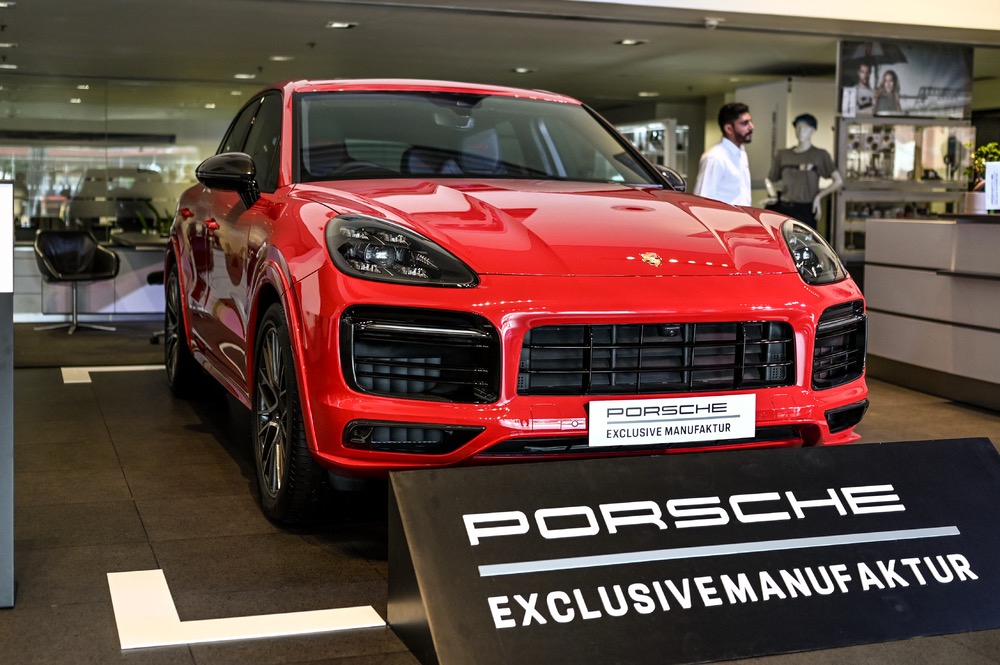 Bespoke Cayenne GTS
This bespoke Cayenne GTS wears Carmine Red and stands on 21-inch RS Spyder wheels that look epic! The LED Matrix headlamps are tinted and there is also the Carbon Design package installed.
The GTS interior package has been further personalised with decorative stitching, tasteful use of Alcantara and more. The SUV also features the Sport Chrono package and Porsche subsecond clock, exclusive gear selector design, BOSE surround sound sudio, rear seat entertainment system etc. The vehicle keyfob and its case have also been personalised.
ALSO READ: Up Close With Porsche Taycan: Porsche's First Electric Car!
Porsche Exclusive Manufaktur: What Is It?
To put things short and sweet, the Exclusive Manufaktur is your go-to place if you wish to have your signature on your Porsche. This program would let you customize the aesthetics of the exterior and cabin of Porsche models. Paint and colorway remains the most versatile and the most sought after part of the program. There are a number of standard and optional colours available across the portfolio. However, the program's 'Paint to Sample' scheme adds a total of 150+ additional shades to these, with the number varying across nameplates- the 911 gets the most number of choices- around 116, and we aren't surprised!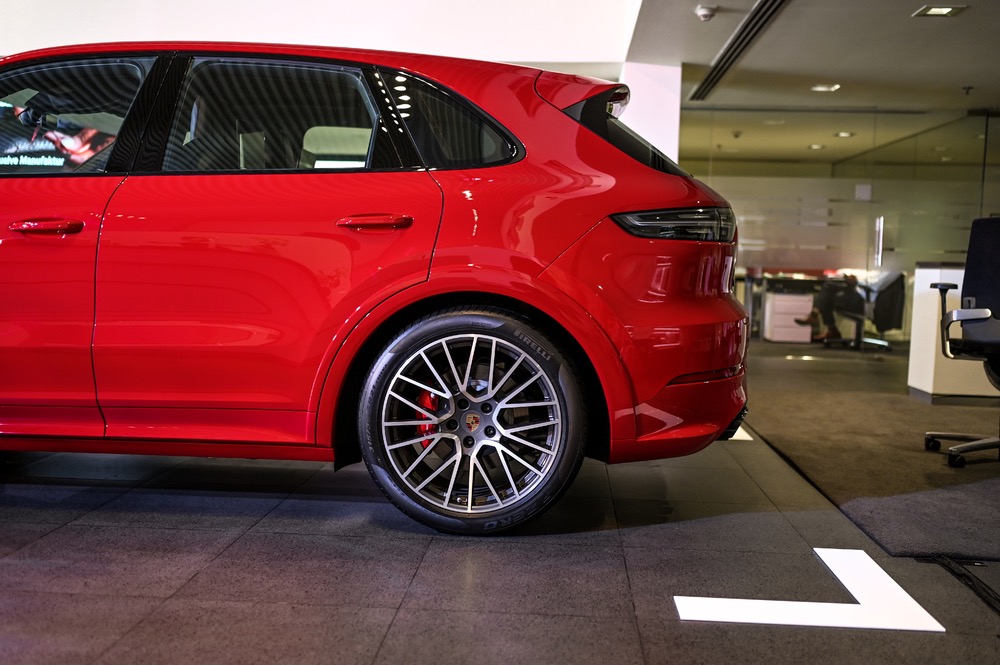 ALSO READ: Up Close With Porsche 718 Spyder And Why Enthusiasts Should Be Excited!
However, there is a more exciting ' Paint To Sample Plus' available exclusively on the 911, 718 and Taycan, which ups the ante further by offering the cars in 'any' shade that the customer demands. You can walk in with a sample of your favourite colour ( be it a plate, rag, or a leaf- Who knows!) and have Porsche test those for feasibility- colours do get impacted by the climate, temperature and other traits of geographies or markets. If the tests are cleared, Porsche would deliver these in a month or two. There are also a few sets of body graphics and decals available, but on limited edition cars alone. Limited in number, these are not available on others. Porsche also offers a wide range of wheel choices, tail pipes and exhaust systems.
'
Looking for more Porsche stories?
Bespoke Porsche Cayenne GTS Images | Porsche Exclusive Manufaktur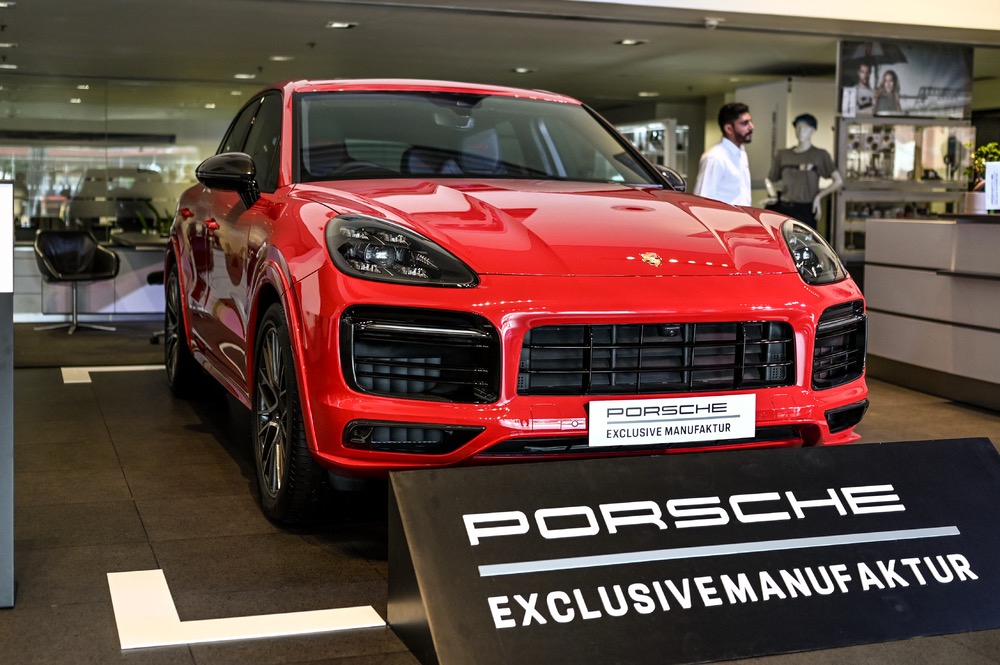 Bespoke Porsche Panamera Turbo S Images | Porsche Exclusive Manufaktur