All occupants escaped unharmed
A Mahindra XUV700 catches fire on a road in Jaipur on Monday. The occupants of the SUV escaped unharmed. While the accident happened, Kuldeep Singh, was travelling with family in the XUV700 on the Jaipur highway. According to the owner, the SUV did not show any overheating warnings on the instrument cluster. The vehicle was stopped as soon as smoke entered the cabin, which gave the occupants just enough time to get out of the cabin safely.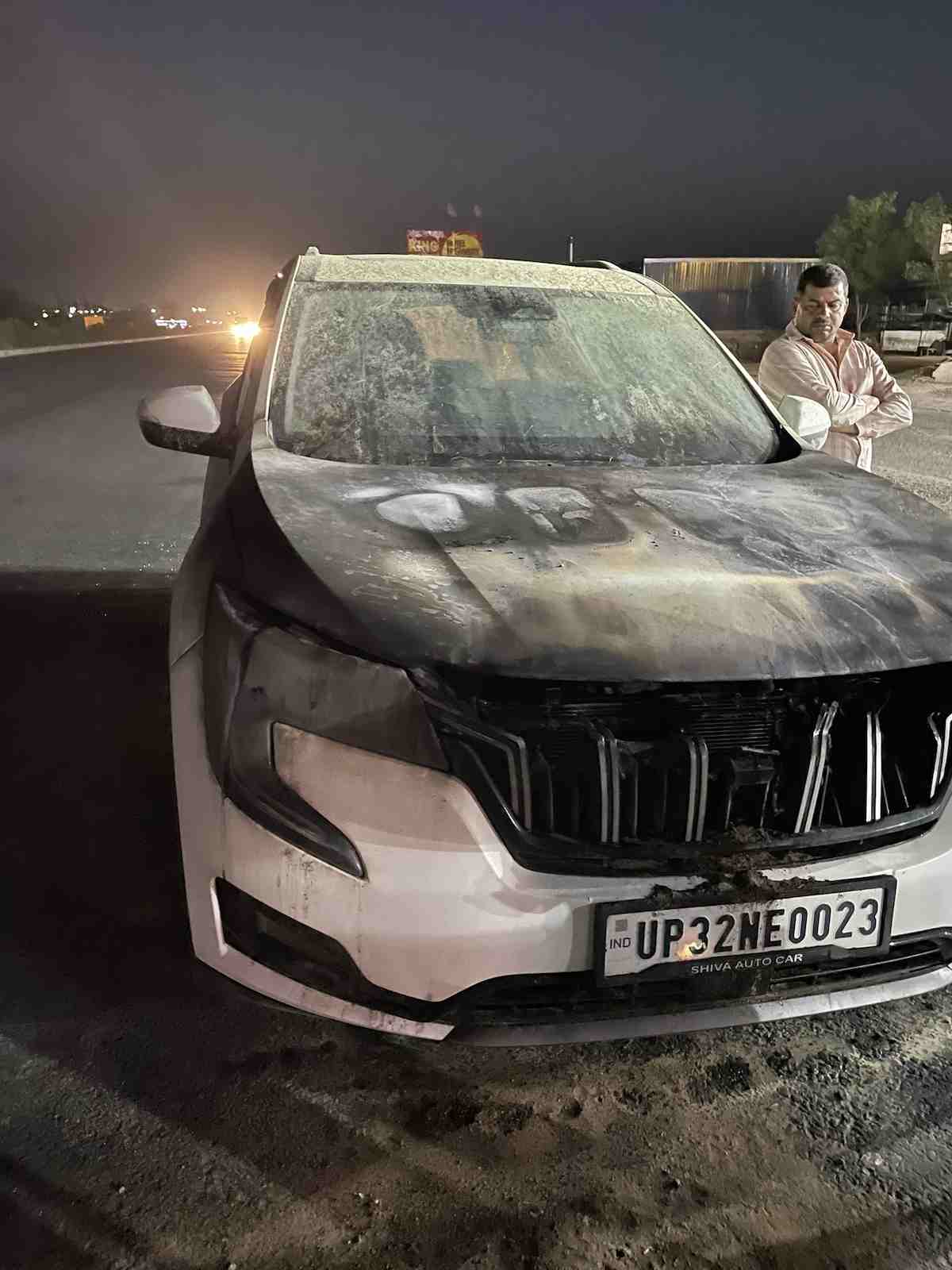 The owner claims that no electrical modifications have been done to the diesel car and is completely stock. The fairly new car was purchased just six months ago. He further posted the video of his burning SUV on Twitter, which shows the headlights and turn indicators were ON during the fire. This negates the chances of a full-electrical short. Mr Kuldeep Singh mentioned that he is waiting for the insurance survey.
XUV700 is the flagship model from Mahindra, which is known for its technical capabilities and features. It's priced from Rs. 14 lakh to Rs. 26.2 lakhs (ex-showroom).
The potential causes of car fires can vary, ranging from electrical malfunctions and fuel leaks to overheating engines or accidents. In such situations, it is crucial for drivers and passengers to prioritize their safety and quickly exit the vehicle. Regular vehicle maintenance, including checking electrical systems, fuel lines, and fluid levels, can also help prevent car fires and ensure safer journeys on the road.
Mahindra Responds To The XUV 700 Fire Incident
Soon after the incident and its footage went viral on the internet, Mahindra released an official media statement around the same. Seems like the carmaker has already initiated an investigation on the incident and employed a team of experts for the same. Mahindra's media statement reads as below:
"At Mahindra, we are deeply concerned about the recent case involving a Mahindra XUV700 on Jaipur National Highway. We have launched an investigation to determine the cause of the thermal incident.

Our field service team reached out to the customer and an investigation has been conducted. Our initial findings suggest that the factory-fitted/original wiring has been tampered withto accommodate after-market electrical accessories that could have led to the incident.

We are committed to ensure that our SUVs meet the highest safety standards. We advise users not to modify their vehicles from non-authorised sources or add external loads to electrical circuits. We would like to assure our customers that their safety remains our utmost priority."

Mahindra
Let's get social! Follow Vroom Head India On Google News, Koo, Twitter, Facebook, Instagram, Pinterest, Whatsapp, and LinkedIn