The vehicle is claimed to offer a range of up to 250 km
India's first-ever all-electric double-decker bus, manufactured by Ashok Leyland subsidiary- Switch Mobility, made its maiden appearance at Auto Expo. It had premiered in August last year, in Mumbai, with the Union Minister for Road Transport and Highways, Hon'ble Nitin Gadkari serving as the guest of honour. The bus will first be used by the Maharashtra transport department in Mumbai sometime in 2023, with around 200 units expected to be added to the fleet.
It's called the Switch EiV22, and it's designed to revolutionise public transport in the country and set new standards in the intra-city bus market. This will be the world's first semi low floor, air-conditioned, electric double-decker bus with a wider door on the rear overhang and a rear staircase.
Read more of our Auto Expo coverage here!
Switch EiV22 electric bus: Details
The EiV22 has a lightweight aluminium body construction, which offers higher passenger-to-weight ratio and compelling cost per km, per passenger. The bus has a seating capacity of 65 passengers with two entry/exit points.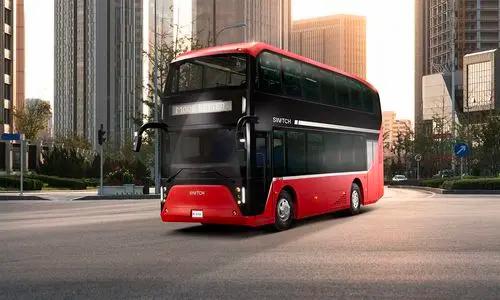 Let's get social! Follow Vroom Head India On Google News, Koo, Twitter, Instagram, Pinterest, Facebook, and LinkedIn
The EiV22 uses a 231 kWh Nickel, Manganese, and Cobalt (NMC) Battery Pack that comes with an 8-year warranty and offers a claimed range of 250km on a single charge. However, the real-world range would be around 180km. It takes only 45 minutes to add 100km of range, but takes a whole 80 minutes for a full charge.
To ensure the safety of the battery, Switch Mobility offers functions like Remote Intervention-where the brand keeps an eye on the battery temperature remotely and notifies the driver if there are any notable discrepancies. Another feature is Fire Detection and Suppression, which uses inert gases to put out any fire.