One quick stint with MG's new electric car for India
Much hype has been building around MG Comet, the manufacturer's newest EV offering for India since the day it was officially confirmed. Being a car that's already on sale in many global markets, many a thing about the Wuling Air aka MG Comet was obvious. However, we had no confirmed data on its battery and powertrain till launch. And the first drive had more to do with getting to experience the powertrain capabilities and figuring out how well it makes the car fit into its 'quirky urban green commute' persona.
Table of Contents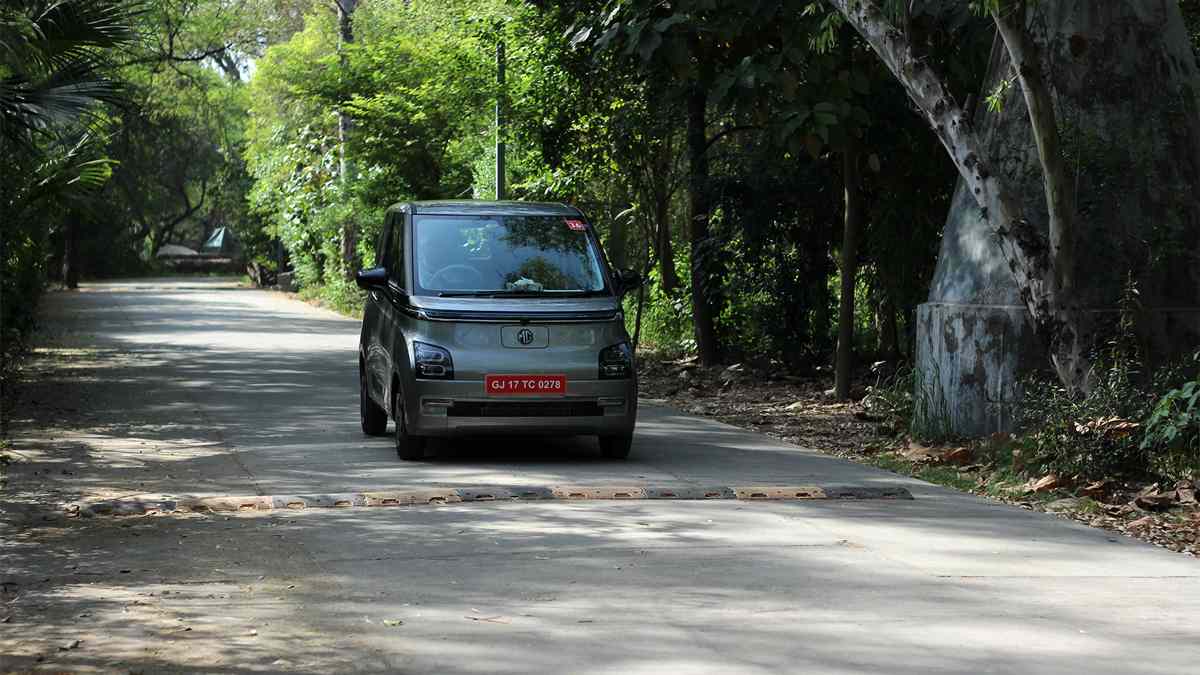 MG Comet Dimensions
The first thing that you'd notice on the MG Comet would be its quirky proportions. The vehicle looks surprisingly small. It is! However, a small size doesn't really mean a tiny, barely usable, claustrophobic cabin. The car is underpinned by a dedicated EV platform and not an IC chassis conversion. This has pushed the wheels to the corners and generated ample room on the inside. Below are the exact dimensions of the Comet EV.
| | |
| --- | --- |
| Length | 2974 mm |
| Width | 1505 mm |
| Height | 1640 mm |
| Wheelbase | 2010 mm |
| Turning Radius | 4.2 meters |
MG Comet Dimensions
MG Comet Design
The Comet EV is a two-door, four-seater car. Despite its minuscule proportions, four can fit in, obviously with a slightly compromised rear seat experience. The rear gets split-folding seats and fairly decent leg and knee rooms. The problems, however, are the thigh support and seating height. Thigh support here is fairly compromised and you don't sit high enough to overcome the inconvenience caused therein.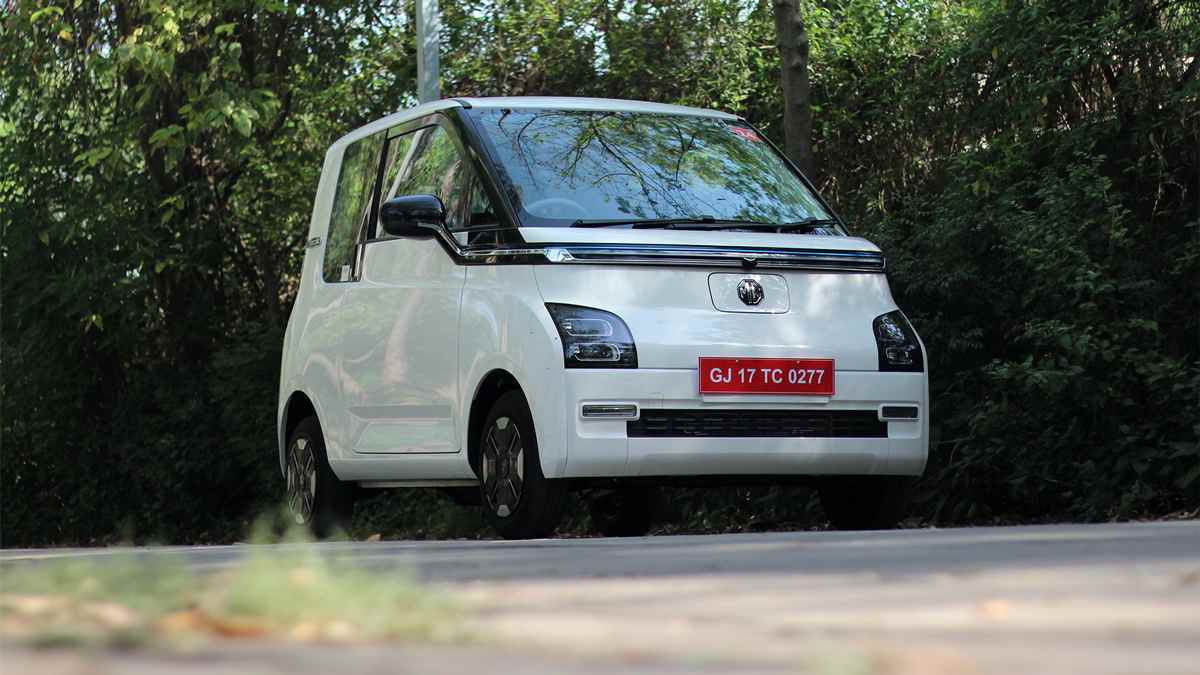 Talking of the overall design, the Comet is tall and boxy. This in a way, helps generate great headroom on the inside. Nodding to the ' Good looks are subjective' remark, most people would still find this a smart-looking urban EV.
Lighting plays a key role in defining the identity and character of MG Comet. It gets all LED lighting, with a parallel steps design for the head and tail lamps. Further, there are full-width LED bars at the front and rear. To top these, the MG logo on the front fascia is also illuminated. Comet EV gets 12-inch wheels and 145/70 tyres. The car as a whole, is quite a head-turner.
There is very little boot space available, when both rows of seats are in use. The doors are large and cover a lot of space on the silhouette. There is no specific bonnet area. The tiny hood cover opens to reveal the washer/wiper fluid and brake lubes.
MG Comet Colours, Editions And Customisation
MG is offering a lot of colours and visual enhancements on Comet EV. It is available in 5 base colours- including two dual tones- Starry Black, Aurora Silver, Candy White, Apple Green+ Starry Black and Candy White & Starry Black. Further, there is an extensive array of customisation options- 7 sticker styles, 4 Comet Lit Packs, and 4 graphics colourways available, cumulatively generating as many as 250 different combinations. There are also possibilities of more special/limited/collector's editions rolling out in the future.
MG Comet Variants
The Comet EV is available in a total of three variants- Lv0, Lv1, and Lv2. 'LV' apparently stands for 'Level'. We are told that most of the visual bits inside the cabin remain the same for Lv2 and Lv1, while the base-spec Lv0 would miss out on the infotainment touchscreen and be quite loud about it. We are driving the top-spec Lv2 variant here.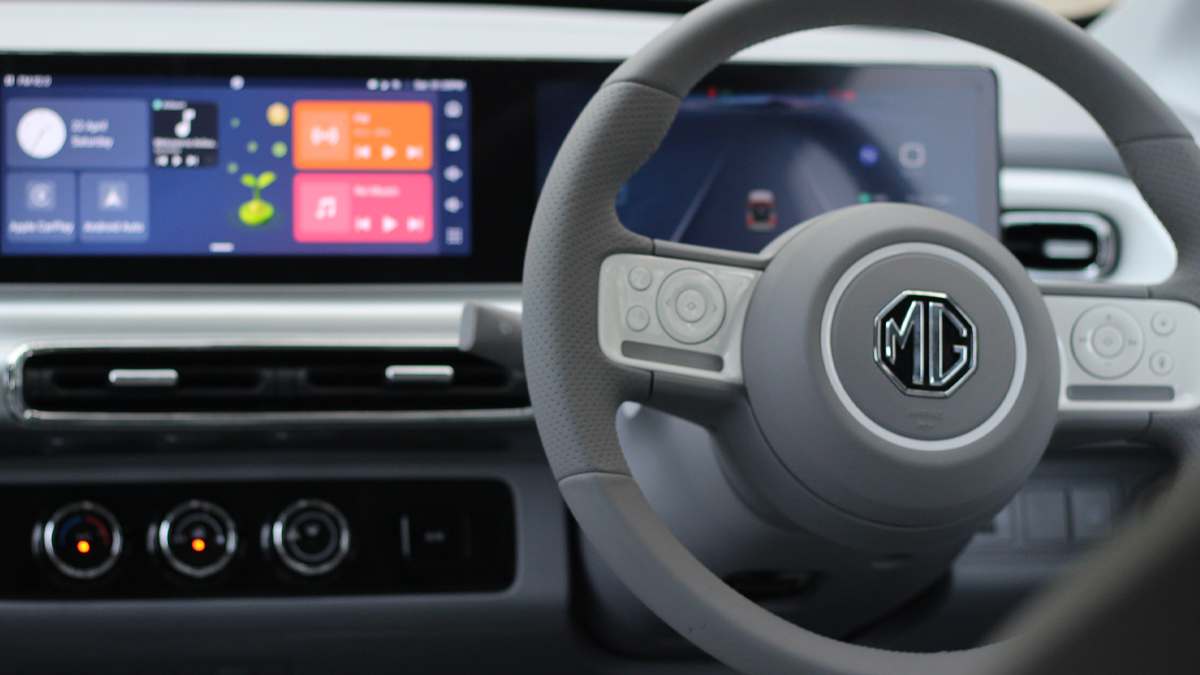 MG Comet Interior
The cabin could surprise you with what's on offer. It is fairly roomy, has a premium look and feel to it, and packs a decent number of features as well. The design seems minimalistic and clean. Opting for a light, pleasant cabin colourway (Space Grey) has made it feel airy inside.
Key attractions on the inside include two-spoke, leather-wrapped steering wheel with integrated audio controls, fabric seat upholstery., rotary drive selector, etc. The drive selector sits on a central island that doesn't meet the dashboard. This allows for easier ingress, egress and seat switching.
Being a two-door, four-seater, you ought to access the Comet's rear row by tumbling the front seats. The co-driver seat gets an easy 'tumble lever', but doing the same at the driver's side demands more effort. The doors being large and wide-opening also adds to the ease of access.
MG Comet Features
MG has packed the Comet EV with a decent array of features. You get almost everything you'd expect from a car in this class. The top-spec variant gets a massive screen cluster comprising two free-standing 10.25-inch screens- an infotainment touchscreen and an instrument cluster, mounted on a single-piece housing. This could many a time, resemble the screens of modern Mercedes cars. The infotainment system is fairly fast and responsive and gets wireless Apple CarPlay and Android Auto. Other features include manual air conditioning, keyless entry and more.
Another important bit is the voice recognition and connected car tech. The Comet comes with 55+ connected car features. The voice recognition (VR) is now sourced from a different supplier and seems to have improved a lot in accuracy and speed. MG, however, hasn't yet revealed the name and details of the new vendor yet.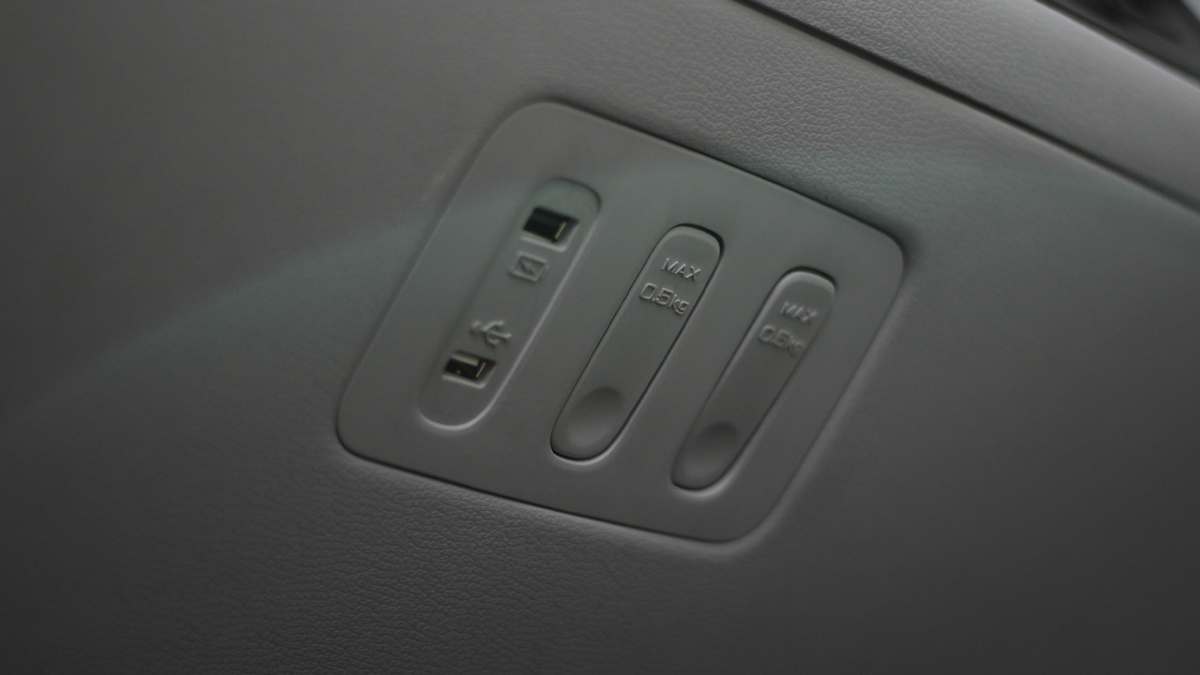 Strange/Weird Things Inside MG Comet EV!
While most of the things inside feel fairly convincing and convenient, a few bits do stand out with their placement/ nature that feels rather weird and unseen elsewhere. Here are a few such instances.
The 'Hazard Lamp' switch sits on the roof, alongside the reading lamp.
There are 2 USB ports inside the car, both regular and one for charging alone. However, both these are placed on the dashboard, towards its bottom part and away from easy reach.
Two tiny hooks can be found near the USB ports, which feel quite functional and neatly integrated.
The 12V socket sits on the central island that also houses the drive selector, but is comfortably hidden from easy notice.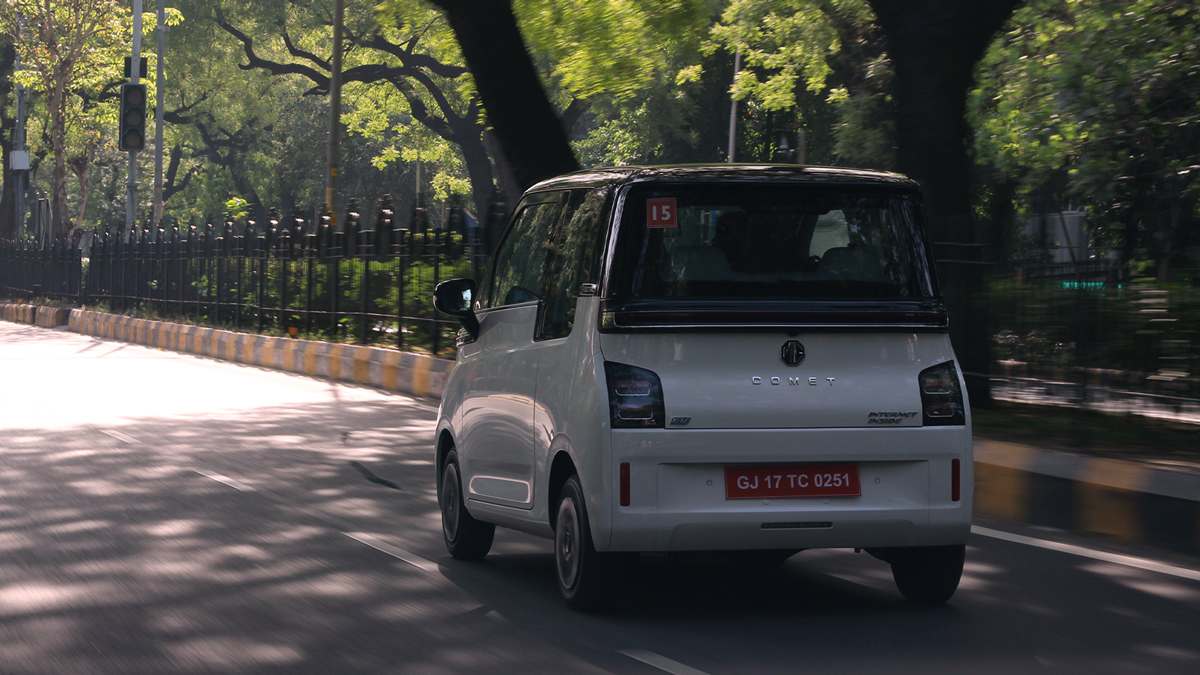 MG Comet Specifications
Here's the biggest talking point. The India-spec Comet gets a 17.3 kWh battery pack sourced from Tata Motors, at its heart. It uses prismatic cells and offers an ARAI-certified range of 230 km. Our time with the car, however, was too short to cast a word on the real-world range. However, going by the rate of charge drop, 150-ish km can be expected, is what we feel.
The electric motor on Comet is capable of producing 42hp and 110 Nm. There are 3 pre-defined driving modes- Eco, Normal, Sport, and 3 different regen (KERS) levels. The charger here is a 3.3kW, Type 2 unit, and there is, unfortunately, no support for DC fast charging. Juicing up the battery pack from 0-80% would take 5 hours over a home charger, and a full charge demands 7 hours at the charger.
The Comet is underpinned by SAIC's time-proven (and slightly dated!) GSEV dedicated EV platform, which is already seen on multiple global models from SAIC-owned Wuling and Baojun. MG reveals that this chassis underpins over a million vehicles globally, as of 2023.
ALSO READ: MG Comet EV Launched India, Prices Start At 7.98 Lakh!
The Strange Start!
Unlike any other electric/ICE car, there is no Start/stop button on the Comet. How do you start this then? Well, get inside with the key, press the brake pedal for 2 seconds, and it you're ready to go. Disengage the hand brake, change the drive select, and move!
To turn off MG Comet, all you have to do is to park it comfortably, change the drive selection to Neutral, engage the parking brake, get out and press the lock button on the keyfob. Yes, the entire exercise requires some time to get used to.
Performance And First Drive Impressions
Short and straight, performance here is not anything exciting or jaw-dropping, but this EV is capable enough to put smiles on your face when driving around in the city and on overtakes! While the power and torque figures could look mediocre, they deliver enough oomph in real road runs, thanks to the modest vehicle weight of just around 800 kilos!
The drive modes do make a lot of difference in the performance delivered. Sport mode does deliver the best of the torque this car packs, and feels quite good to be in. The biggest flex of the Comet EV is the ease with which you can drive around in traffic and in the city. The teeny proportions and peppy powertrain let you overtake, do tight manoeuvres and slot yourself into weirdly tight road scenarios comfortably.
This EV gets disc brakes at the front and drums at the rear. However, the overall braking performance is good. Thankfully, there is no big intervention from the regen, that would potentially hinder the braking efficiency.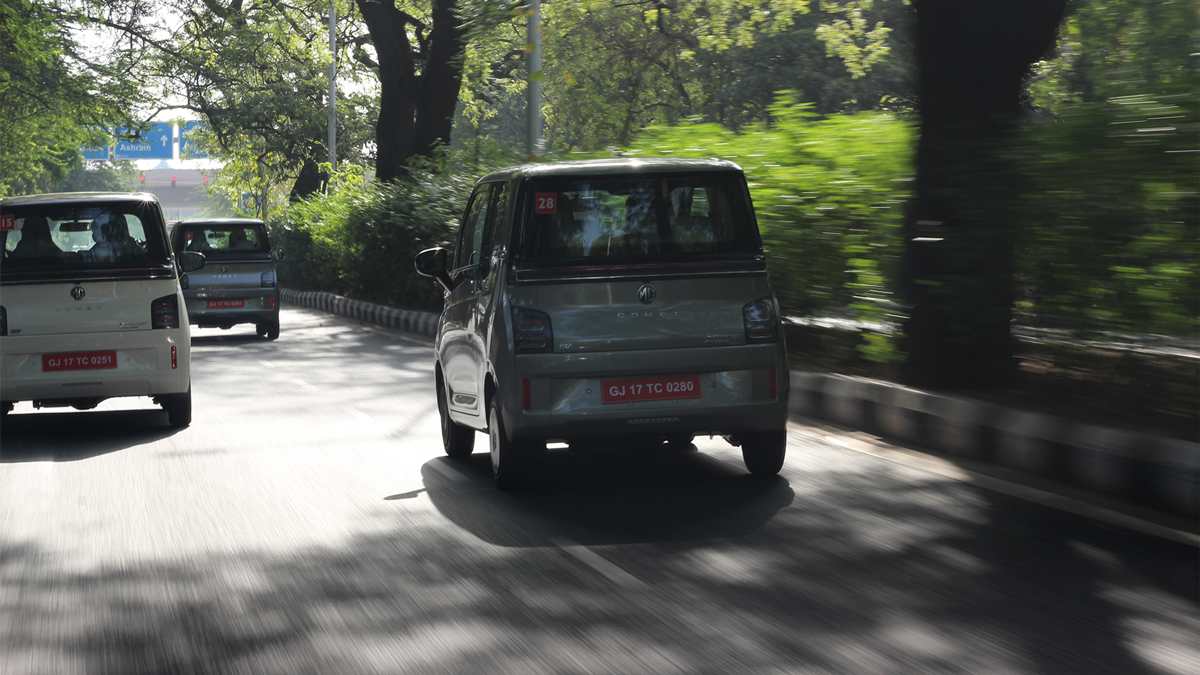 Ride And Handling
The Comet gets McPherson Struts at the front and a multi-link setup at the rear. Overall ride is evidently firm. It will give you rough times on bumpy, fairly unsettled roads/surfaces. Speed breakers, potholes, and rough patches, are all going to be felt inside. The rear occupants would have it worse.
However, on smooth tarmac, the ride is pleasant and the driver gets fair amounts of confidence and ease of manoeuvrability. Having said that, you would still not want to push this too much around corners and speeds, as the tiny 12-inch wheels and light steering have their set of limitations. The suspension, however, performs exceptionally well at low speeds… Sounds so much like the perfect 'city car' huh?
Adding to this is the turning radius- 4.2 meters, a full circle in 8.4 meters. How more convenient can city runs get?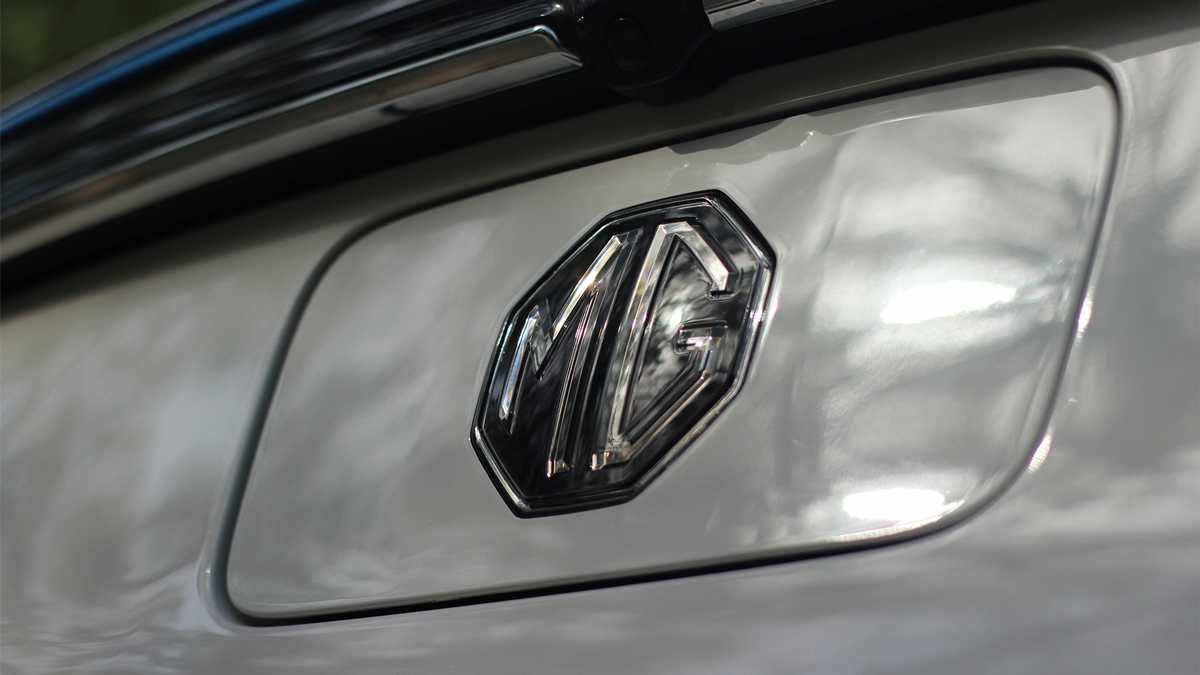 Things To Not Like On MG Comet:
Owing to its quirky proportions, design and seating, MG Comet gives its driver a highly hindered view backwards. We found the side view mirrors to be of very little help in improving this.
The ride gets rough over bad patches and large speed breakers would thud hard.
The cabin is not as silent as you'd expect from modern electric cars. Wind noise. road noise and the electric motor's whine are all to be felt inside.
Let's get social! Follow Vroom Head India On Google News, Koo, Twitter, Instagram, Pinterest, Facebook, and LinkedIn