Detailing all the colourways available on the facelifted MG Hector
MG Motor India has revealed the new 2023 MG Hector facelift. The SUV gets a neat set of visual and equipment upgrades, and absolutely no mechanical revisions. We have detailed these in a previous article. The colour palette too, has been revised for 2023, and mostly for good. MG Hector facelift is available in a total of 7 shades. The pre-facelift model had 9 colourways. The difference now is that the new car gets just one dual tone paint scheme- White/Black, while the previous one offered Black Dual tones on more colours.
2023 MG Hector Colours: The Full List
Below are the 7 colours available on the facelifted MG Hector for 2023:
Dune Brown
Candy White
Starry Black
Glaze Red
Aurora Silver
Havana Grey
Dual Tone- White/Black
Dune Brown is a newbie in the Hector's colour palette. Essentially a shade of Brown, it adds more character to the visual bulk, and looks good in person. A quick comparison could be made to the Burgundy Red on the pre-facelift, going by how subtle-yet-elegant this looks. The Purple-like Burgundy Red and Starry Sky Blue are no longer available on the Hector.
Let's get social! Follow Vroom Head India On Google News, Koo, Twitter, Instagram, Pinterest, Facebook, and LinkedIn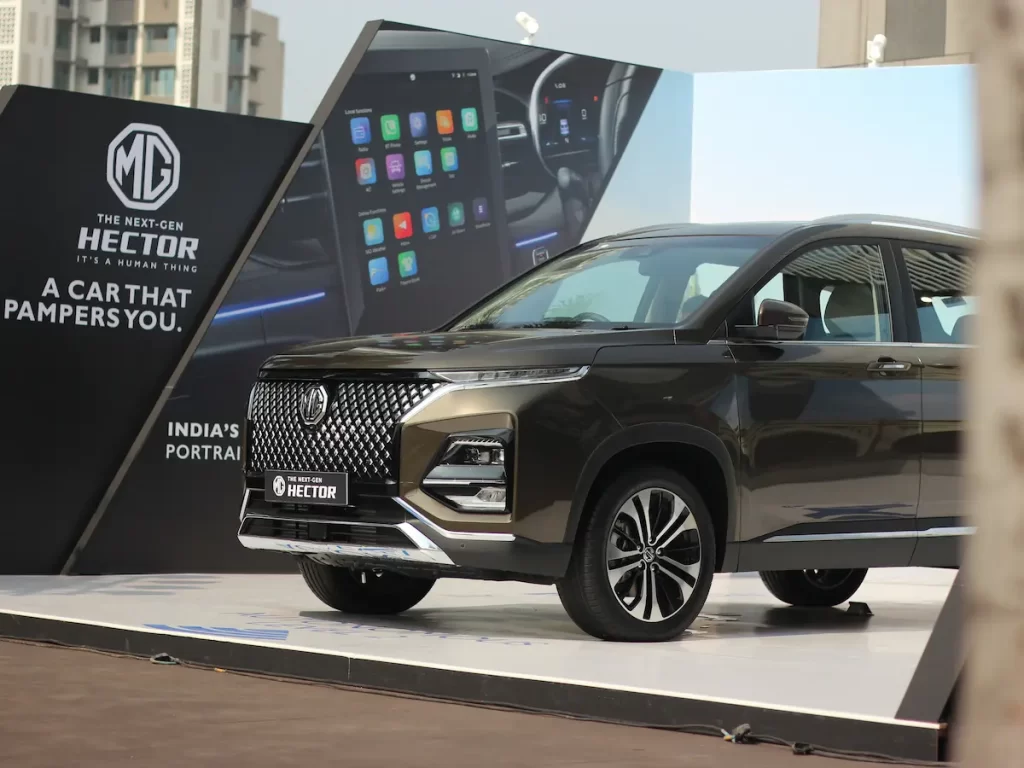 2023 MG Hector Best Colour: Our Suggestion
While this could be a debatable topic as such, here's our opinion on the possible best epaint for the updated MG Hector. The Dune Brown goes well with the exterior design changes implemented on the new car. It looks subtle, has a character to it, and commands just the right amount of attention from the onlookers. The Chrome accents go well with this shade at most areas of design. The connected blade LED tail lamps also look neat and catchy on this colour. This could be the best colour for MG Hector if you don't want to be too loud with your car. Starry Black would be our second most favourite choice. It's got character, and the rear light bar looks pleasantly loud.
While the Glaze Red does look decent at most places, it almost nullifies the beauty and prolly the entire point of the LED light bar at the rear. The Black-White dual tone looks good, if you're into DTs. We prefer single tone colorways for this SUV.
Let's get social! Follow Vroom Head India On Google News, Koo, Twitter, Instagram, Pinterest, Facebook, and LinkedIn