The purchase includes both wide-body and single-aisle planes
Tata-owned Air India has made headlines again! The airline has placed orders for 470 brand-new aeroplanes- the single largest order signed by any airline ever! The deal includes 250 Airbus models and 220 Boeings. Interestingly, both wide-body and single-aisle planes are being bought. Air India aims at expanding its business and acceptance in a 'sustainable' way, through these high-efficiency aircraft. It is also hoped to generate plenty of jobs in the process.
Air India's current fleet is often criticised for its age and poorly maintained cabins. Improving the cabin experience and the seats, in particular, is something the airline has been working on since it was taken over by Tata Sons in 2022. It has plans to refit its existing Boeing 777 and 787 planes with better seats and infotainment systems. These would re-enter service in mid-2024. The first plane of the mega order will be delivered in late 2023, and more will follow. It is also known to be actively leasing B777s and A320 Neos into the interim fleet.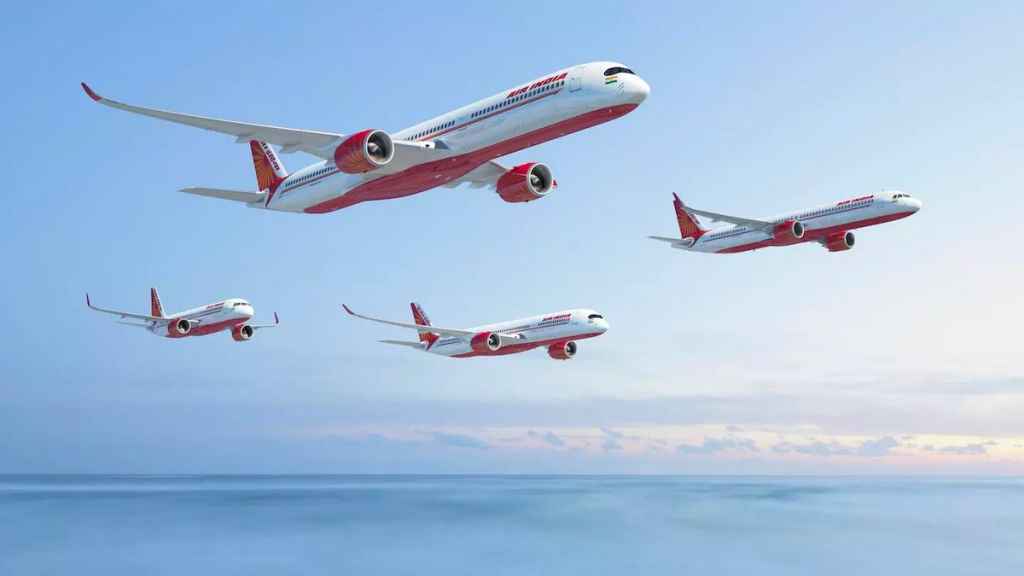 Air India Airbus Order In 2023
| | |
| --- | --- |
| Aircraft model | Numbers bought |
| Airbus A320 Neo | 140 |
| Airbus A321 Neo | 70 |
| Airbus A350-900 | 6 |
| Airbus A350-1000 | 34 |
Table: Air India's mega plane order 2023: A320 Neo, A321 Neo, A350-900, A350-1000
Air India Boeing Order In 2023
| | |
| --- | --- |
| Aircraft model | Numbers bought |
| Boeing B737 MAX | 190 |
| Boeing B787-9 Dreamliner | 20 |
| Boeing B777X | 10 |
Table: Air India's mega plane order 2023: Which Boeing planes did they buy and in what numbers?
Air India Order Book 2023: Which Boeing And Airbus Models Are Being Bought?
The Air India order will have the airline acquire 250 planes from Airbus and 220 from Boeing, with both aviation giants supplying both narrow and wide-body aircraft models. Airbus will deliver 210 units of its A320 family (140 A320 Neos and 70 A321 Neos), and 40 of its A350 (34 A350-1000 and 6 A350-900) wide-body jets. It would be through Air India that the new-age Airbus A350-1000 debuts in India. A350s are hailed globally as the quietest and most economical long-haul aircraft of our time (the 'sustainable big planes'). The 350, essentially a B777x rival, can seat a maximum of 480 people- slightly more than the Boeing! Of the newly shopped 350s, the 'lesser' A350-900 will be the first to be delivered, in late 2023.
Airbus 350 is powered by new-age Rolls Royce engines (Trent XWB), known for their refinement, efficiency and strict curbs on emissions. The last time we saw Rolls Royce engines on a newly inducted Indian wide-body aircraft, was on Jet's A330s before their exit! This is very understandable, as our domestic aviation space is dominated by smaller, single-aisle planes such as Airbus 320s and Boeing 737s, (A320 could be the most popular of these!) and RR engines are just for wide-body, long-haul planes.
Let's get social! Follow Vroom Head India On Google News, Koo, Twitter, Instagram, Pinterest, Facebook, and LinkedIn
Air India's order also includes 140 A320 Neos and 70 A321 Neos. In India, A320 Neo could most commonly be associated with Vistara, going by how the Tata- SIAM alliance-based airline has been vocal about its 'premium economy flying' on these. A321 Neo is but a longer fuselage version of the 320 family. With the longest fuselage on any single-aisle Airbus, the A321 Neo can seat up to 244 people in an 'Eco' arrangement or 180-200 in a comfortable two-class layout. This again, is significantly better than the A320 Neo's max capacity of 180. These narrow-body planes will be powered by engines from CFM International.
Boeing will deliver 190 of its narrow-body 737 MAX jets, along with 20 787 Dreamliners, and 10 B777x wide-body planes. The Tata-owned airline will deploy these on both domestic and international air routes. Boeing has been a trusted partner for Air India since its inception. The airline has over time, made headlines (of all sorts! ) with their Boeings. While 220 Boeings have already been confirmed, the manufacturer says that around 70 more (50 737 MAXs and 20 787-9s) could join soon, which would then make this the biggest Boeing order by any airline in South Asia, and a worthy celebration of Air India's 90-year camaraderie with the brand.
Air India already has B787-8 Dreamliners in its fleet, mostly deployed in international flights. The addition of new 787-9s is expected to bring in more capacity, greater range and lower operating costs, owing to better fuel efficiencies. Boeing 777X, however, is the show-stopper here. This is the first time an Indian airline company has placed an order for the 777X. 10 units of the new-age, long-haul, big-plane- B777-9, have been ordered. The aircraft, Boeing's flagship, is the largest passenger carrier in the world, and often quoted as the spiritual successor to the now-discontinued, legendary Boeing 747. It also has the world's most fuel-efficient twin-jet engine. These will be the largest planes in Air India's fleet as well.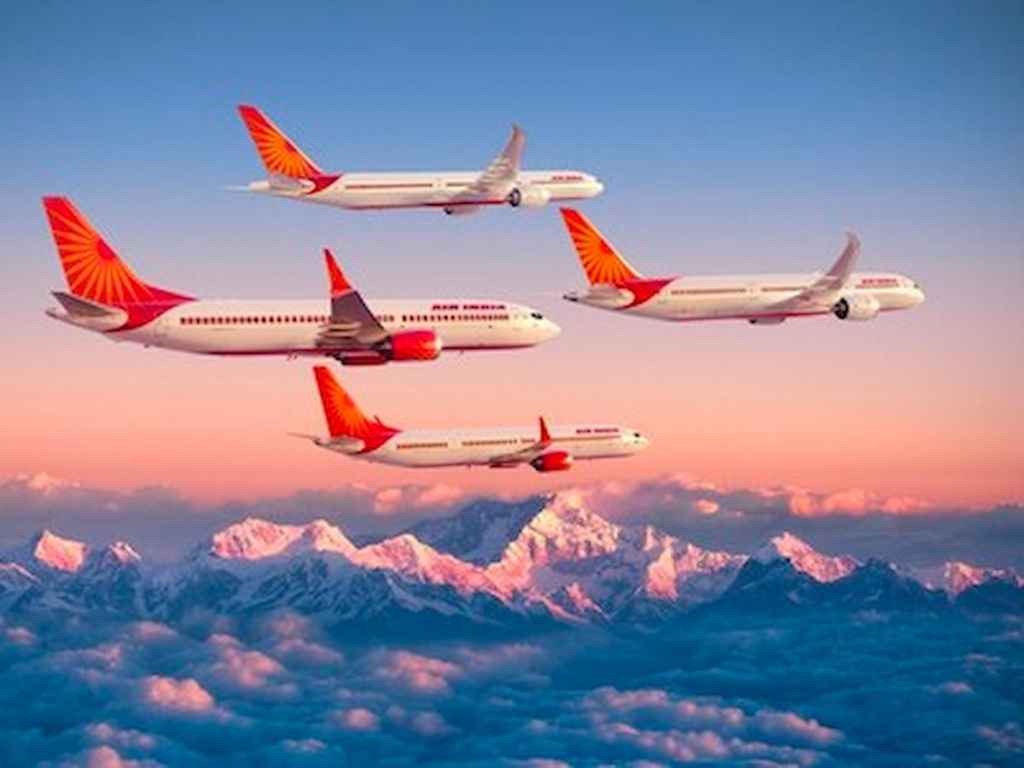 Air India already has a bunch of B777-200LRs and B777-300ERs in its fleet, with the latter being the present flagships. But the newly-bought B777-9 aircraft will be significantly better than these. In its dimensions, the B777-9 is longer than B777-300ER by three rows of seats, even while being no different in overall weight. Further, it can also fly an additional 460 km, courtesy of its impressive fuel efficiency and improved aerodynamics. Boeing claims that the B777-9 will deliver up to 10% lower operating costs to the airline. The big birds come with engines from GE Aerospace.
Induction of new-age B 737 Max aircraft would further help in Air India's journey towards sustainable growth, as these are advanced enough to offer significantly better fuel efficiencies and lower operating costs than the predecessors. Interestingly, Air India doesn't have many 737s in its current fleet. While a regular 737-8 could seat up to 210 passengers, the larger 737-10 MAX can accommodate up to 230, and provides better per-seat economics. These single-aisle planes are powered by CFM engines.
'
Air India's Future: Quick Hints From Tata Sons
Tata Sons seem to be well-planned about the airline's future. They have roped in an extremely capable top-level leadership to Air India, and from various industries. The airline could place more orders soon(in options), taking the net count to over 800 airplanes. This proactive revamp of its fleet- including expansion, replacement of older planes, and refitting the doable ones- could be seen as hints of the aggressive business plans that the Tatas have in mind.
The Indian AV industry is predicted to witness a boom in the coming years. Both domestic and international air travel is expected to grow. Air India is apparently prepping to tap the same with these product revamps. IndiGo, the current leader in the domestic AV space, could be the prime competitor. Speculations also suggest that Air India could also be working on improving the quality of international air travel, eyeing rivals as big as the Emirates.
The Tatas currently own a number of airline brands- Air India, Air India Express, Air Asia and Vistara ( JV with SIAM). A merger is underway to unite these brands into one 'large' brand- Air India, and in the process, sunset Vistara. The giant plane order builds further on this. Air India is rumoured to aggressively expand its international flights soon, connecting India with all major cities abroad. It will generate a plethora of jobs as well. Rumours suggest it could hire around 6,500 pilots in the time ahead.
Let's get social! Follow Vroom Head India On Google News, Koo, Twitter, Instagram, Pinterest, Facebook, and LinkedIn