Meet Eblu Rozee and Eblu Spin…
Chhattisgarh-based electric startup Godawari Electric Motors has launched its all-new electric auto called the Eblu Rozee and its unisex electric bicycle called the Eblu Spin at the 2023 Auto Expo. This officially marks their foray into the electric vehicle (EV) retail space.
The Eblu Rozee (L5M) is designed to provide best-in-class comfort and safety to the customer and also provide performance at all times. The e-Auto features a DPCD body that is rust and high-impact resistant. It comes with an independent rear suspension, hydraulic brakes on all 3 wheels, dual headlamps, regenerative braking, PU foam seats, etc.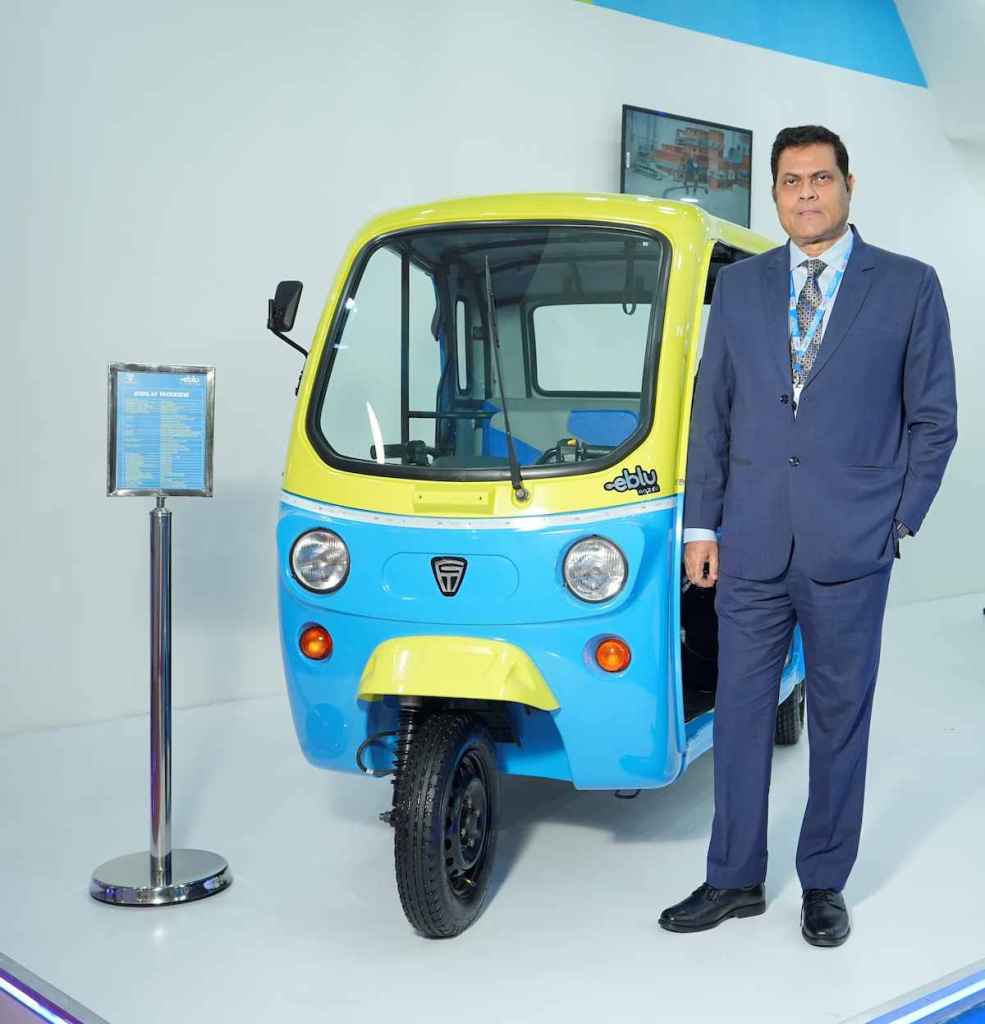 The EBlu Rozee is equipped with a 200Ah lithium-ion battery pack that provides a certified range of 165km on a single charge. It comes with a three-year, 8000km warranty and an operating cost as low as 50 paise per km.
Let's get social! Follow Vroom Head India On Google News, Koo, Twitter, Instagram, Pinterest, Facebook, and LinkedIn
EBlu Spin is a state-of-the-art, stylish, unisex, electric bicycle that's designed for an energising and relaxing ride. It's based on a rugged frame and is available with 3 options for the battery – 6Ah, 12Ah, and 18Ah. The range varies between 25-65km for the three variants.
It's equipped with front and rear disc brakes, and front telescopic suspension. The e-bicycle also comes with a portable charging facility and over- and under-voltage protection. The e-motor, frame, suspension, and brake pad come with a 1-year warranty, while the battery and the charger come with a 3-year warranty.
Check out more of our Auto Expo coverage!
The EBlu Rozee is priced at ₹3,39,999 (Ex-Showroom). Bookings have opened for the vehicle, with deliveries commencing by the end of this month. EBlu Spin is priced between ₹20,000 to ₹40,000 for different variants. Bookings will commence this month, with deliveries kicking off by the end of this month.