The New York International Auto Show witnesses the global debut of Hyundai Venue SUV…
Ever since Hyundai had given out the teaser sketches, we have all been waiting for this car to be out, the Hyundai Venue SUV (if one may be as brave as to call it one! ). Finally, we have now gotten to see the Hyundai QXi concept in its production guise, as the sub-compact Hyundai Venue.
"The all-new Venue might be small in size, but it's big on practicality and personality," said Mike O'Brien, vice president of Product, Corporate and Digital Planning, Hyundai Motor America. "Its bold and unique character sets it apart from other SUVs on the market, offering a unique, entry-level vehicle for those consumers seeking savvy design with an abundance of standard safety, technology and connectivity features."
The Venue boasts of modern styling and bold design that imparts an unquestionably unique character to the car, thus giving it an appealing spot in its segment. Being the seventh in the SUV lineup, the Venue draws design cues from many of its elder siblings including the Hyundai Santa Fe and Hyundai Palisade. Take a look at the Hyundai Venue images below, if you don't believe me!
The bold and solid wheel arches, pronounced character lines, the elegant cascade grille, composite LED lamps and cube-shaped headlamps, all but impart an air of extraordinary elegance to this pint-sized crossover. There are also a set of ridiculously stunning 17-inch alloy wheels on offer as an optional extra, while the standard fitment is a set of 15-inch decent looking wheels.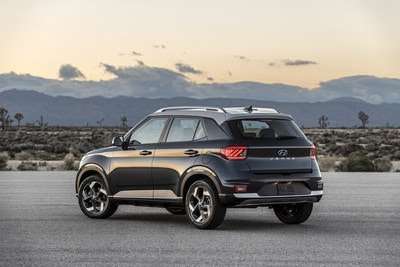 2020 Hyundai Venue
"The Hyundai SUV lineup can be compared with the pieces on a chess board," said SangYup Lee, executive vice president of design, Hyundai Motor Group. "Our new Palisade is the King, but we are missing the smaller piece. And that's where Venue comes in. It may be small, but its unique and bold design sets it apart from the rest of the pack," he explained. "We can see the Hyundai look in Venue but there is a unique quality that will appeal to individual customer's tastes and preferences in a way that sets it apart from the other SUVs in our lineup."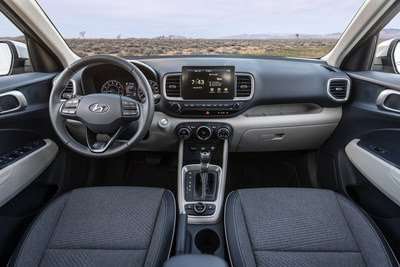 Source: Hyundai Motor America
The Hyundai Venue strives to set benchmarks in its segment on the safety and connectivity fronts. The car has a bunch of Jaw-dropping safety tech onboard, like Forward Collision-Avoidance Assist (FCA), Lane Keeping Assist (LKA), Blind-Spot Collision Warning (BCW), Driver Attention Warning (DAW), Rear Collision Cross-Traffic Warning (RCCW), a dedicated SNOW drive mode for improved FWD performance etc. Believe me, I had to double check at this point of time, to make sure I was not writing about the Hyundai Santa Fe or the bigger Hyundai Palisade here!
The connectivity, multimedia and technology levels are 'way too unfitting' for an entry SUV, but on a positive note of course! There are tonnes of tech onboard including the rich-in-connectivity 8 inch display, having Hyundai Blue Link connected car system paired with Amazon Alexa and Google Assistant, remote start with climate control feature, heated front seats and side mirrors etc.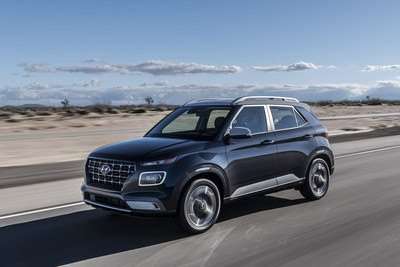 2020 Hyundai Venue (PRNewsfoto/Hyundai Motor America)
Queries about the Hyundai Venue specifications? Well, the car comes powered by Hyundai's Smart stream Gamma 1.6 L four-cylinder DPFI mill that is good enough to return super impressive figures of up to 33 miles per gallon! There are two decent gearboxes on offer, including an internally developed proprietary IVT Automatic (Intelligent Variable Transmission) and the familiar six-speed manual.
The production of the Hyundai venue for the US markets would be done in Ulsan, Korea and the car will arrive at the international Hyundai dealerships in the fourth quarter of this year. There has been no lucid word yet on the terms and conditions for the Hyundai Venue booking though …