Lamborghini Huracan EVO Spyder goes topless fast and easy with its electrohydraulic, lightweight soft top …
The Lamborghini Huracan EVO V10 was something that had given us massive jaw-drops at the time of its launch earlier this year. Things are set to get even more exciting now as Automobili Lamborghini is all set to give this coupe an open-top counterpart- the Lamborghini Huracán EVO Spyder. The carmaker will officially launch the open-top Huracan EVO at the Geneva Motor Show this month.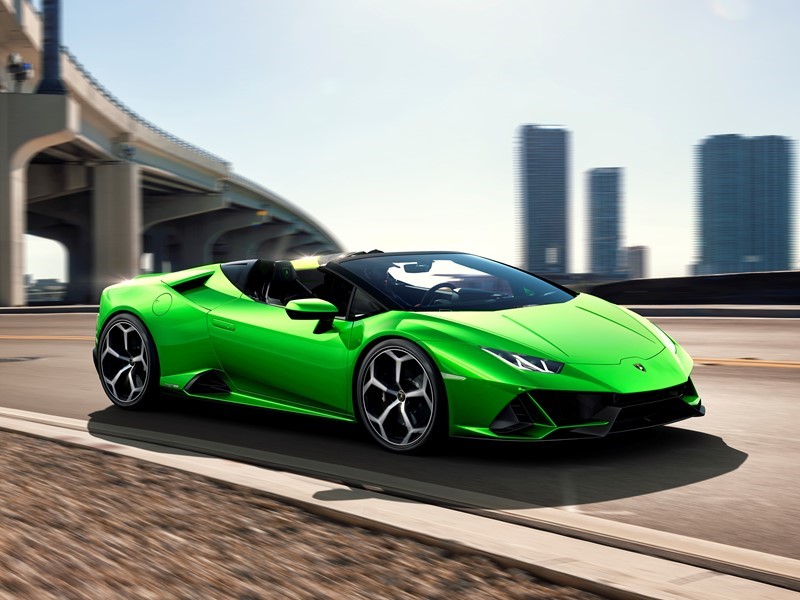 The Spyder gets the next-gen vehicle dynamic control and aerodynamics that you had gotten to see on the coupe earlier. Rear-wheel steering, four-wheel torque vectoring system are all onboard and controlled and monitored centrally by Lamborghini Dinamica Veicolo Integrata (LDVI). The monitoring and analysis of the external conditions are done through the active suspension and all-wheel drive system of the car. Driver behaviour on the brakes, gas, gear and drive mode selection are assessed by the LDVI to come up with tailor-made agility and response and control levels.
The open top fun owes its existence to the electrohydraulic, lightweight soft top, that is pretty quick in operation. The car is so designed as to offer supreme aerodynamic advantage even with the roof down!
Lamborghini Piattaforma Inerziale (LPI) version 2.0, that had made its debut on the EVO Coupe, finds a place on the spyder as well. The ANIMA system lets you choose between a number of exhilarating drive modes.
The Huracan Performante -borrowed 5.2 L Naturally Aspirated Lamborghini V10 boasts of Titanium intake valves on the EVO spyder, and lets out 640 hp (470 kW) at 8000 rpm and 600Nm at 6500 rpm. This, combined with the 1542kg dry weight, catapults the car to three-digit speeds in just 3.1 seconds. 0-200 comes in 9.3 seconds. The top speed of the EVO spyder is 202 mph (325kmph)
"The Huracán EVO Spyder incorporates all the performance, next-generation vehicle control and aerodynamic features of the EVO coupé, with its own unique personality and a driving excitement that only an open-top car can offer," says Stefano Domenicali, Chairman and Chief Executive Officer of Automobili Lamborghini. "The Spyder continues the Huracán EVO's evolutionary charge: extremely easy to drive while excelling as a highly responsive, fun super sports car. Particularly with the roof open, the emotive sound of the naturally aspirated engine and the refined, lightweight exhaust system take the sensory experience to a new level. The Huracán EVO Spyder's design, performance and exhilarating open-air drive experience is literally breath-taking."
More wind in the hair and fire in the heart, want one? Well then the Lamborghini Huracan EVO Spyder price in USA would be around USD 287,400 , exclusive of taxes and GST!