Mahindra Furio 7 range is available as cargo and tipper trucks
Mahindra has launched the all-new Furio 7 range of LCVs in the country. The Furio if you might remember, is Mahindra's Intermediate commercial vehicle brand that was originally launched in 2019. The manufacturer has now extended this into the LCV space for milking out more opportunities. Dubbed the Furio 7, the new range has both cargo and tipper versions to it.
Mahindra Furio 7 will be available across three different platforms: 4 tyre cargo, 6 tyre cargo HD and 6 Tyre tipper. These trucks have 7-tonne GVW and offer class-leading efficiency. The Furio 7 range gets a narrow tilt cabin that offers optimum comfort and convenience for the occupants. These also get capable mechanicals like a bigger clutch, Meritor axle and HSLA chassis. The cargo variants get a 10.5 ft long loading area. The trucks also get Mahindra's iMAXX telematics system.
Mahindra claims the Furio 7 to offer low ownership and operating costs and lesser turnaround time. These would thus bring more profits to the business owner. It is hard to disbelieve this considering the fact that over 2000 Furio platforms have so far been sold and not one has been returned over owner disappointment.
The Furio 7 range gets Mahindra's MDi and MDi Tech engines as its powerplants. These mills are quite loved for their efficiencies.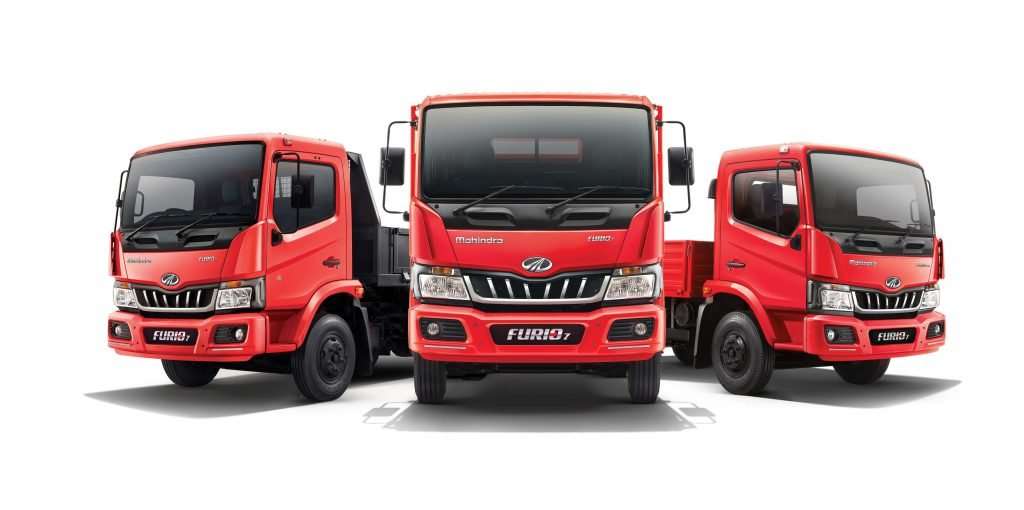 Mahindra has invested over 650 crores in the development of these I&LCVs and has plans to roll out the Furio7 in a phased manner. The cargo variant is available in 13 states and the tippers in 11 states.
Let's get social! Follow Vroom Head India On Google News, Koo, Twitter, Facebook, Instagram, Pinterest, Whatsapp, and LinkedIn
Mahindra Furio 7 Price
| | |
| --- | --- |
| Variant | Ex-Sh Price |
| Furio 7 | 4 Tyre Cargo | 10.5 ft high side deck | 14.79 Lakh |
| Furio 7 | 4 Tyre Cargo | 14 ft high side deck | 15.32 Lakh |
| Furio 7 | 6 Tyre Cargo | 10.5 ft Drop side deck | 15.18 Lakh |
| Furio 7 | 6 Tyre Tipper | 2.8 cubic meter | 16.82 Lakh |
Mahindra Furio 7 price list