MG ZS EV is set to enter India soon and we now have the EV crack the Euro NCAP crash test like a pro by securing a full five-star safety rating!
---
After the stupendous sales victory that the MG Hector managed to reap, Morris Garages is readying their next card for the game- the MG ZS EV. We had recently seen the electric vehicle hit the headlines multiple times, thanks to the plethora of tech onboard. Now, the EV is being talked about again, post the release of the Euro NCAP crash test results.
The MG ZS EV could easily be India's safest electric vehicle post its launch next year. The all-electric SUV has cracked the Euro NCAP crash tests like a pro and has achieved an incredible five-star rating! The adult occupant safety scored an epic 90% score and the child occupant seconds with 85%. The EV managed to get as much as 64% in pedestrian safety as well.
The Euro NCAP standard crash test reports say that the passenger compartment of the MG ZS remained stable in the frontal offset test. Dummy readings indicated good protection of the knees and femurs of both the driver and passenger. MG showed that a similar level of protection would be provided to occupants of different sizes and to those sitting in different positions. In the full-width rigid barrier test, protection of the driver was good for all critical parts of the body.

For the rear passenger, readings of chest compression indicated a weak level of protection but it was good or adequate for other parts of the body. In the side barrier impact, all critical body areas were well protected and the ZS EV scored maximum points in this test. In the more severe side pole test, protection of the chest was rated as weak, based on dummy readings of rib compression, while that of other body areas was good.

Tests on the front seats and head restraints demonstrated good protection against whiplash injuries in the event of a rear-end collision. A geometric assessment of the rear seats also indicated good whiplash protection. The standard-fit autonomous emergency braking (AEB) system performed well in tests of its functionality at the low speeds, typical of city driving, at which many whiplash injuries occur, with collisions avoided or mitigated in all test scenarios.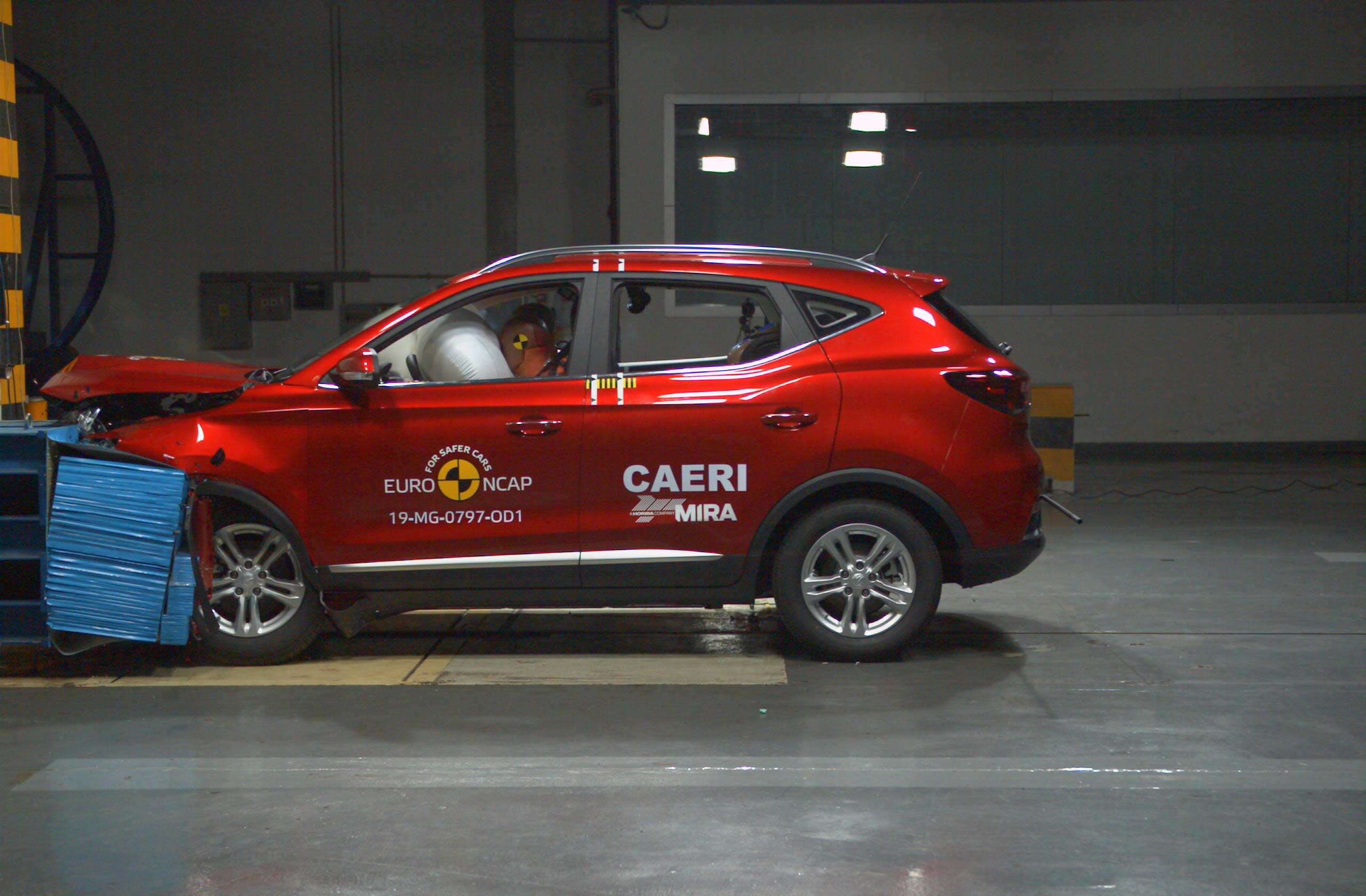 The MG ZS EV would have a 44.5 kWh battery driving its motor. The claimed range figures tip the 335km mark. Also, the 0-100 comes in a claimed 8.2 seconds.
The new electric vehicle from Morris garages would feature a host of safety equipment like AEB pedestrian, AEB cyclist, AEB City, AEB Inter-urban, speed assistance system, lane assist system, frontal, side head, side chest, and side pelvis airbags, ISOFIX mounts etc.
So, if MG India brings in the Euro-spec model unadulterated, what awaits us is an 'incredibly safe' all-electric SUV. What do you think about the ZS EV? Let us know through the comments. Also, the MG ZS was not the only car tested this time around. Other modern-day machines like Nissan Juke, Audi Q8, Ford Puma, MG HS, SEAT Mii, Skoda Citigo, Volkswagen Golf etc were also put to test, the results of which are shown below…
Euro NCAP rounds off a busy year with the results of ten more vehicles.@audi @seat @SKODAUK_Media @volkswagen @mgmotoruk @nissan @aiways_auto @Ford pic.twitter.com/SubNWFyJ5O

— Euro NCAP (@EuroNCAP) December 18, 2019