Mobility Outlook Survey exposes the Indian fascination for crash test ratings
Vehicle safety and security have recently been rising to be decisive factors in the Indian car-shopping exercise. Safer cars are now in huge demands in the country. A few manufacturers even have 'safety' as their USPs in commercials and product films! But would people really put their money on 'safety'? Will they spend premiums on improved safety? A recent survey on this reveals interesting results.
A survey conducted by Mobility Outlook, a sister concern of Cartrade Tech, titled 'Indian Consumers' Safety Behaviour and Perception of Vehicle Security' digs into the Indian fascination for vehicle safety and crashworthiness. It also tried to find out if the average Indian customer would be willing to pay premiums for safety. Over 270,000 responses were collected and analysed in the process.
Survey Results
The survey revealed that one third of the responders were uncertain about the safety features onboard their current vehicles. Modern day four wheelers offer safety technologies like ABS, airbags, EBD etc. Educational campaigns could be conducted for making people learn more about these.
However, when asked about picking safety features for their next vehicle, the majority of responders picked all critical safety equipment, and just 16% remained 'non particular' about it.
Majority of responders were aware of crash tests and safety ratings, and would consider cars with fair safety ratings for ownership. 27% however, were ignorant of safety ratings and their significance.
The majority considered better crash test ratings to be synonymous with more safety features and better occupant protection.
45% of the participants believed that new vehicles would be safer than used vehicles, regardless of safety ratings.
Three-fourth of the participants preferred to explore 4 or 5 star rated cars as their next vehicle and expressed their willingness to shell out additional sums for better safety ratings. Those who refused to go with safety however, had weird claims and excuses to make. 'driving inside the city does not demand safety features', 'spending extra for safety features is worthless', were among the most regressive ones.
17% believed that improved safety would eventually improve the resale value of vehicles.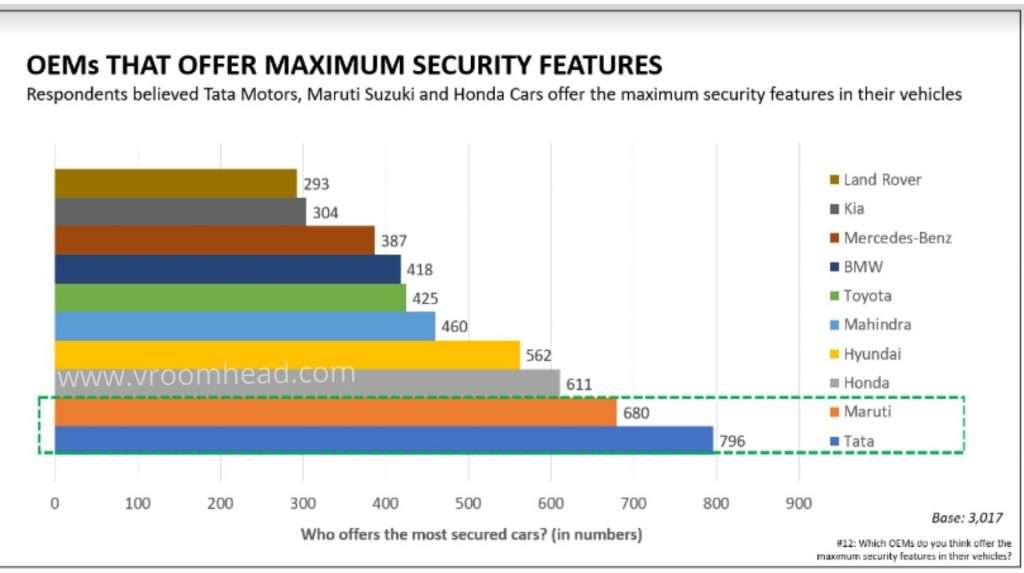 Vehicle Safety In India
With the increasing customer concern for vehicle safety, OEMs today offer lots of safety features on their products. The government regulations today mandate safety features like driver airbags and ABS on all passenger vehicles in India. However, many manufacturers offer a plethora of other safety technologies as well. Global NCAP is considered to be the 'most trusted' safety assessment body in the Indian automotive scene today.
A number of models, especially from homegrown manufacturers, have scored 5 star GNCAP ratings. The most recent ones include Tata Punch and Mahindra XUV 700. However, Mobility outlook survey had most of its respondents rank Tata Motors, Maruti Suzuki, and Honda as the manufacturers who offer the most safety equipment. The survey results would provide OEMs with deeper insights into the current customer sentiments.
Let's get social! Follow Vroom Head India On Google News, Koo, Twitter, Facebook, Instagram, Pinterest, Whatsapp, and LinkedIn