The raw, real taste of an EV road trip…
Many of you could be relatively new to the concept of 'World EV Day'. Celebrated on the 9th of September, this day celebrates electric vehicles, their adoption, and the ecosystem at large. This time, we chose to do an EV road trip, more accurately an extensive long drive with a BEV. We chose the MG ZS EV for the drive, and spent the entire day driving around, garnering raw, real experiences of EV ownership- from extensive route planning to DC fast charging hustles. Here's a quick roundup of our extensive driving exercise…
Roadtripping With MG ZS EV
The Plan: What we had in mind was not a proper destination-based drive. The plan here was to drive around through various roadscapes, geographies, and with various driving behaviors. This could mimic realistic driving scenarios. We would use this drive to find and evaluate the ZS EV's charge usage, depletion rates, charging speeds, and real-world range, and finally use these data to do the math and try to answer the question "Is MG ZS EV good for long drive?"
we started the road trip with a 78% charge in the battery. The indicated range here was around 300km (for which you'd need to drive in ECO). Later in time, we'd stick to the ECO mode and have a rather relaxed pace of driving.
The Route: We planned our route in a rather interesting way. We'd start from the city and traverse the urbanscapes for half a day. We'd then cross the less-populated outskirts, to finally enter some forest and ghat roads. Our plan thus had highways, good roads, and ghat roads with sharp gradients.
Route planning remains the most important part of an EV road trip. While most of our chosen route was EV-friendly, it did have a few vulnerabilities as chargers could be sparse in the outskirts and forest sections.
Road Trip With Electric Car: 5 Things To Remember
1. Plan Your Route Carefully:
Planning is the key. Spend time planning your route and locating charging stations. Consider finding backup charging options in case of contingencies. You can use Google Maps or dedicated EV road trip planners like EV Navigation or PlugShare for this. But many of these tools are limited with their efficiencies in the Indian context. However, tools like TollGuru and Map My India could be of help in planning EV road trips in India. Invest ample time and effort into planning it right.
2. Top Up And Utilize Charging Apps Effectively
If you're planning an interstate trip, you'll be using a bunch of different charge providers. Depending on where you're going and what route you're taking, the charging service providers would vary. Plus, they might not always offer the same quality of service either. From our experience, Zeon has one of the best charging experiences on offer, and has its fast chargers spread across food malls in the South, so you can club your filter coffees with EV charging!
It should also be noted that 'having to download and deal with multiple charging apps and respective wallets' is fairly inconvenient. Further, topping these up with 'non-refundable' prepaid balance can be annoying!
What if you are traveling to a place with limited charging infra and gets stuck mid-way? Well, there are valet services available for EV charging these days. Hop Charge is a quick example. Just let them know where you are and they'll send their van to pick you up with a fully charged battery (not a diesel generator), charge your EV, and get you back on the roll.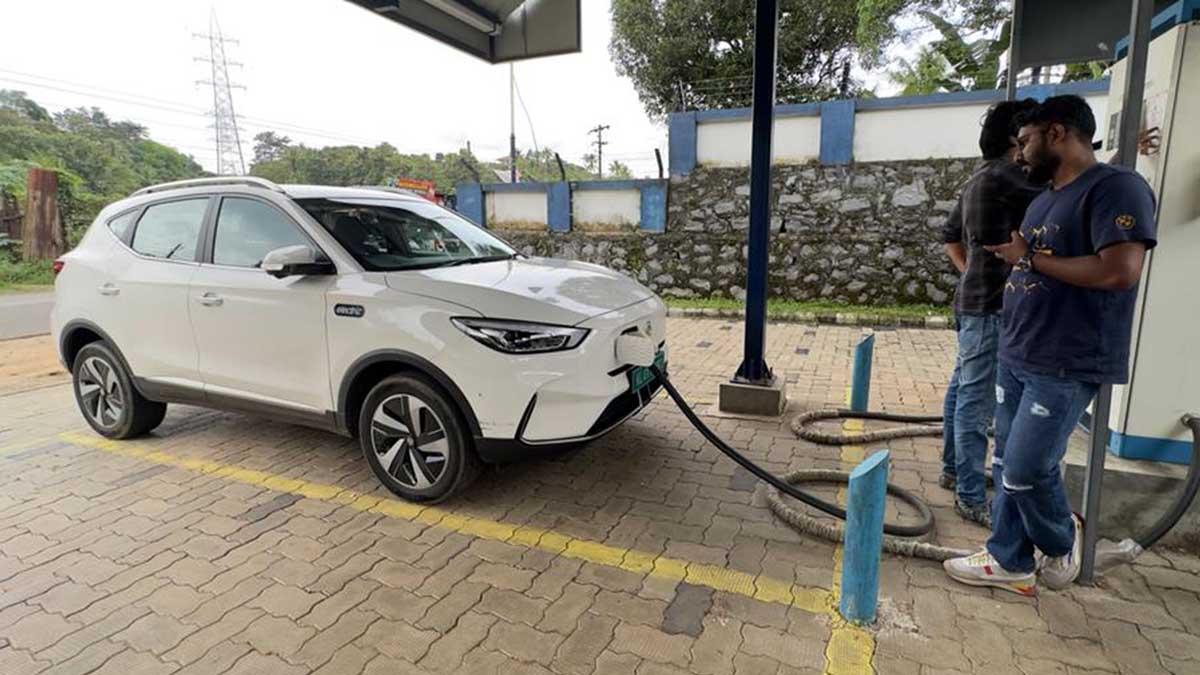 3. Invest in RFID Cards:
RFID cards are easier and more convenient ways of charging electric vehicles, especially in areas with poor internet connectivity. Apply for RFID cards for major chargers, and use them for hassle-free charging. RFID cards are specific to charge providers.
'
4. Learn To Kill Time!
Have plenty of time in hand! EV roadtrips cannot be done in tight time slots. EVs will demand your time, and it is on you to find ways to manage it wisely. Here are some tips:
Make sure you plan your route so you're using chargers at food malls, and make sure your meals are spaced out so your car is charging at the same time.
Bio-breaks are also a good idea, so you don't have to deal with the waiting.
Plan your nights at hotels with chargers so you're getting the most out of your time.
5. Mind Your Sunroof and Air Conditioning:
Sunroofs have a clear impact on EV range and performance. As it lets in light and slightly heats up the cabin, air conditioning would need to work harder to maintain optimum temperatures inside. This could in turn, impact the range and overall efficiency. The ZS EV in particular, is more vulnerable, due to its peculiar sun curtain design that lets in more heat and light than many other EVs. The advisable cabin temperature is around 24-25 degrees.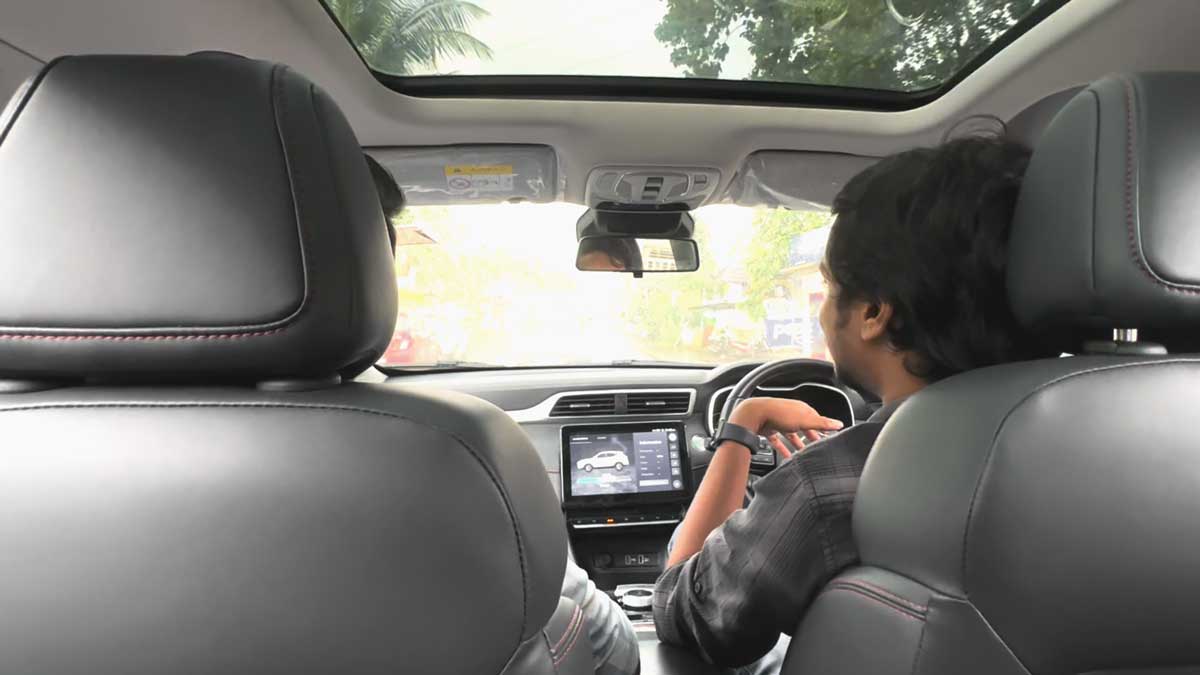 Why The MG ZS EV Is Perfect For Road Trips?
Our biggest confidence on this journey was the car we had. We drove the MG ZS EV facelift (MY22), on the World EV Day roadtrip. This MG electric car is popular for its powertrain capabilities. It is claimed to offer 461 km range, with its 50.3 kWh battery pack. In real-world scenarios, the ZS EV offers 350-ish km in range, something we had experienced during our first drive of the EV. We talked in detail about this, in our ZS EV facelift review. This formed the backbone of our confidence. This road trip could be done!
Further, the ZS EV offers a comfortable, cabin packed with features and equipment. It is quite a liveable place to be in, on long drives. Our team of three and the luggage we carried, could all be ferried around comfortably.
At the charger, we particularly liked the charging speeds and efficiencies. Even in places with compromised charging infrastructure, this electric vehicle can be quite comfortable to live with.
For 2023, MG has introduced a refreshed version of the ZS EV with ADAS pack, making the package even more appealing.
The Bitter Facts Of Roadtrip With Electric Cars
EVs and the ecosystem in general, are evolving rapidly. However, the broader picture is still of things being in infancy. We have good cars coming out (like the ZS EV we spent our time with) with commendable range figures, and efficient battery management. The concern here, is still about the charging infrastructure and the time management around it. The infra, charging tech, charging speeds and overall human friendliness of chargers will all need to improve before we can call EV road trips 'exciting'.