Hyundai Creta and Jeep Compass should now really be worried…
---
We have long been waiting for this to happen. Tata Harrier, the SUV that would undoubtedly rank amongst the most anticipated products of the year, has now been launched in India at a very interesting price. Tata Harrier Price In India starts as low as 12.69 lakhs (17825 USD) and the range-topping XZ trim would only cost you a mere 16.25 lakhs (22825 USD)!
Things had started fuming with the unveiling of the H5X concept at the previous Delhi Auto Expo. The production H5X was later christened the 'Harrier'. As days passed by, more light was thrown on the SUV's all-new architecture , that is essentially a derivative of Land Rover's D8 platform. The rolling out of the first Harrier, finally signified an early 2019 launch of the production model, that would do great justice to the H5X concept.
The Harrier is basically a 5 seater SUV (A 7 seater version is also heard to debut later ) with a Fiat-sourced diesel heart. The 140PS, 350Nm 2.0 L KRYOTEC mill with the familiar multi-drive modes would ensure a flawless driving experience. There is no AWD on offer, but the SUV can fairly handle mild offroad trails with its brilliantly tuned Terrain Response System. At present, the Harrier comes with just a 6-speed manual transmission. But don't you worry, an automatic box is also heard to be introduced sometime soon!
The Harrier also gets a host of electronic driver aids such as a 14 function Electronic Stability Program with off-road specific ABS, hill hold, hill descent control, cornering stability, ABS+EBD, disc brake wiping etc.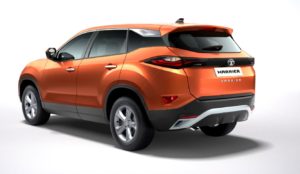 Tata Harrier Prices:        
 Harrier XE – Rs. 12.69 Lakh (17825 USD)
 Harrier XM – Rs. 13.75 Lakh 
(19314 USD)
 Harrier XT – Rs. 14.95 Lakh 
(20999 USD)
 Harrier XZ – Rs. 16.25 Lakh (22825 US
D)
Pricing has been the one key factor that would determine the fate of this thoroughly alluring SUV in India. We have all been waiting with our fingers crossed for a decent price tag for this beautiful monster. Now, as with every other Tata product, the Harrier too has been priced with immense wisdom! WIth the Hyundai Creta diesel, one of its prime rivals, priced from 11.49 lakhs (16139 USD) onwards for the 1.4L and from 15.97lakhs (22432 USD) onwards for the 1.6L mills,  it is almost a sure-match for Tata Harrier!
So how well do you think, is the Harrier priced? Let us know through the comments …