Tata Motors has begun accepting bookings for the new Tigor EV
Tata Motors is preparing to launch the all-new Tata Tigor EV in the country. We have known the Tigor EV as a low voltage electric vehicle available mostly to the fleet segment. However, overwhelmed by the immense success of the Nexon EV, the homegrown auto major is now readying a thoroughly reworked version of the electric sedan. The all-new Tigor EV will get the Ziptron technology from the electric Nexon and will be a high-voltage (300+V) EV.
Design
Tata Motors has now unveiled the production guise of the 2021 Tigor EV. Finished in a shade of Teal Blue, the new electric Tigor seems to have minimal design deviations from the ICE counterpart. The key differences include the faux EV grille, humanity line finished in EV Blue, multiple EV Blue touches across the body including inside the wheels. The bumpers look slightly different as well. The roof is blacked out, to pump up the aesthetics further.
The cabin gets EV blue accents and fabric seats with tri-arrow patterns on them, an EV-spec shift selector in place of the conventional gear shifter, climate control, large infotainment screen, iRA connectivity, and an all-digital instrument cluster.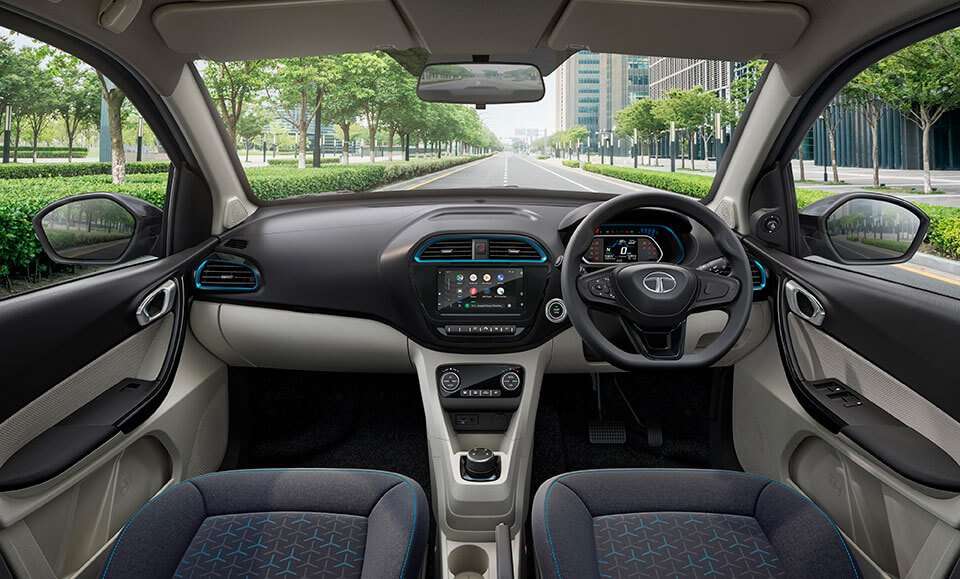 Powertrain
The key highlight of the new Tigor EV's powertrain is the Ziptron technology onboard. This high-voltage electric architecture is the same that we had seen previously on the Nexon EV. The electric Tigor will have a 26 kWh Lithium-ion battery pack and a permanent magnet synchronous electric motor. The sedan is expected to produce 75 hp and 170 Nm. 0-50 kph would come in 5.7 seconds. With Ziptron in place, Tigor EV would now support fast charging and will have better performance as well. 0-80% charging would be done in under an hour, via DC fast chargers.
Launch And Price
The new Tigor EV will launch on AUG 31, 2021, and the prices are expected to stay below those of the Nexon, and fairly above the ICE Tigor. The carmaker has started accepting bookings against a payment of Rs 21,000. Tigor-based EVs for the fleet segment will be retailed under the XPres T nameplate.
Let's get social! Follow Vroom Head India On Facebook, Instagram, Pinterest, Whatsapp, and LinkedIn