We list out every detail around the new Ather 450X Gen 3 electric scooter's Kerala launch…
Homegrown EV major Ather Energy has launched its new 450X Gen 3 electric scooter in Kerala, with heartwarming updates over its predecessor and an interesting price tag. Generation 3 is priced at Rs 1.57 lakh, ex-showroom, Kochi, for the top-spec 450X, implying a premium of around 5,000 over the previous scooter. The 450 Plus has also gotten key upgrades in its range figures and is now priced at Rs 1.35 lakh, ex-showroom, Kochi.
| | |
| --- | --- |
| Variant | Ex-Showroom Price (Kochi) |
| Ather 450X Gen 3 | 1,57,402 |
| Ather 450 Plus Gen 3 | 1,35,892 |
Generation 3 Ather 450X and 450 Plus prices in Kerala
Ather 450X Gen 3: What Are The Changes?
The Gen 3 Ather 450X gets major upgrades to its battery pack and power management. It comes with a bigger 3.7 kWh battery pack, offering more range than before. The certified range of the new scooter is 146 km under test conditions, while the real-world range is now 105 km. (Comfortably higher than the 100 km mark). Overall vehicle weight has gone up, now tipping the scale at 111 kilograms.
2022 Ather 450X also comes with wider tyres with different tread patterns and compounds, offering more grip and better handling, tyre pressure monitoring system, major practicality upgrades like new mirrors and an OE pillion sidestep, etc. The touchscreen dashboard now gets a larger 2GB RAM, and feels smoother and faster than before.
Ather 450X Gen 3 offers a total of five riding modes- Eco, Ride, Sport, Warp and Smart Eco. The last makes its debut on the 2022 scooter. The peak power is now 8.7 hp (6.2 kW). As Ather puts it, the gen 3 is a major improvement in terms of performance, consistency and convenience.
Ather 450X Generation 3: Deliveries And Waiting Period In Kochi
Bookings for the new 450X gen 3 are underway in Kerala. We are told that the initial deliveries would begin in a couple of weeks. A waiting period of 2.5 months is to be expected in Kerala, specifically in Kochi, for both the 450X and 450 Plus.
The initial ones to take deliveries of the gen 3 products would be those who had pre-booked the scooter recently- or those who had recently booked the outgoing model, to be accurate. They would be delivering the third-gen product, and with the price premium in place.
ALSO READ: In Conversation With Swapnil Jain: "Ather Is And Will Remain A Premium Electric Two-Wheeler Brand!"
Ather Energy's Business In Kerala And The Road Ahead
Ather Energy has been enjoying envious success in Kerala. It had initially started its business in the state in March 2020, when Ather Kochi began its operations. The dealer partner in Kochi was the Palal Group. Soon, more outlets were set up in other major cities like Calicut and Trivandrum.
Ather electric scooters have been in huge demand in this South Indian state. Pre-orders had quarter-to-quarter increases of up to 25%. The manufacturer has thus been actively setting up more retailer facilities, including the ones in tier 2 and tier 3 cities.
Ather dealerships are now operational in Thrissur, Palakkad, Tirur, Kannur, and Malappuram. Cities like Alappuzha, Pathanamthitta, Kollam, Kasargod, and Kottayam would soon have their own Ather showrooms open. The total number of retailer outlets could soon get to 13, the highest yet in any state. The manufacturer is also proactively setting up fast charger networks (Ather Grids) in more cities here.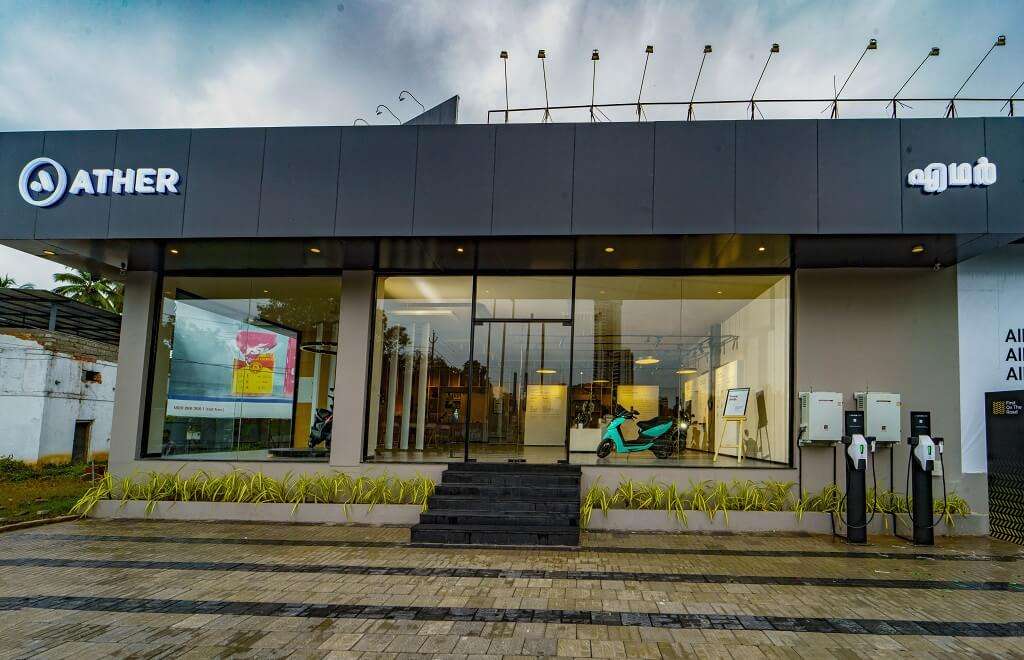 Data has it that the manufacturer emerged a leading EV OEM in Kerala in June this year, with 24 percent market share. Ather plans to take its 'Kerala numbers' to four times its current value, by the end of FY 23. It remains to be seen how this is going to be routed to fulfilment, amidst the prevailing supply and production issues.
Ather Energy Expansion: Sneak Peak Into The Broader Picture
The India business as a whole, has recently been very rewarding for the manufacturer. Gen 2 Ather electric scooters had been performing well in the market, and the company has currently expanded its footprint to 36 cities pan India. It has plans of expanding to 100 cities by the end of 2023.
However, the rocketing demands have also caused some delivery crises to the manufacturer. Ather has had a significant chunk of pending deliveries in the recent times. The manufacturer is actively working on resolving this and has plans of increasing its production capacity to huge numbers soon. It had recently appointed two key personnel to the manufacturing and supply chain leaderships- Sanjeev Kumar Singh- SVP- manufacturing, and Harendra Saksena- Chief Procurement Officer (CPO). This is hoped to further contribute to the scaling plans.