We drive the new Hyundai Tucson to get a proper taste of the India-spec
The Tucson is currently Hyundai India's flagship SUV, and strives to keep things premium and desirable in every bit. The softroader has become stunningly stylish, tech-packed and desirably dynamic in its fourth generation. We try to explain the 2022 Hyundai Tucson Signature diesel AT in detail, after driving it for over 700 kilometres.
Table of Contents
2022 Hyundai Tucson: Overview
Hyundai Tucson sits in a highly competitive space, and supposedly at the perfect time! Jeep Compass, Citroen C5 Aircross, Skoda Kodiaq, and VW Tiguan are all rivals to this SUV. However, the Korean now seems to be better prepped for the battle than ever. The fourth generation Tucson gets major equipment additions and a complete restyling. The India-spec Tucson differs sharply from its global counterpart, and surprisingly, does not lag behind in quality or value offered, compared to the Western spec.
Global spec Tucson vs Indian spec: What's Different?
Here are 3 major differences you'd spot between the India-spec Tucson and the one sold abroad.
India gets the longer wheelbase version.
The global car gets a switch-based gear selection. India-spec gets a conventional gear level, which in fact, is borrowed from the Creta/Alcazar.
The international spec gets more driver assistance features.
Variants
The fourth generation Tucson is available in a total of two trims and 8 variants. Trimlines include Signature and Platinum, with the latter being the lower. Depending on the engine, gearbox and kit levels you choose, there are a total of 8 Tucson variants available:
Signature Diesel AT DT
Platinum AT
Signature AT
Platinum Diesel AT
Signature AT DT
Signature Diesel AT
Signature Diesel 4WD AT
Signature Diesel 4WD AT DT.
ALSO READ: 2022 Jeep Meridian Review: "Butch, Brawny, But Liveable"
2022 Hyundai Tucson Dimensions
Tucson has become bigger with the generation update. Wheelbase has grown by 85mm compared to the third generation. Below are the exact dimensions:
| | |
| --- | --- |
| Length | 4630 mm |
| Width | 1865 mm |
| Height | 1665 mm |
| Wheelbase | 2755 mm |
| Ground Clearance | 192 mm |
| Weight | 1855 kilograms |
| Boot Capacity | 540 L |
Table: 2022 Hyundai Tucson dimensions and boot capacity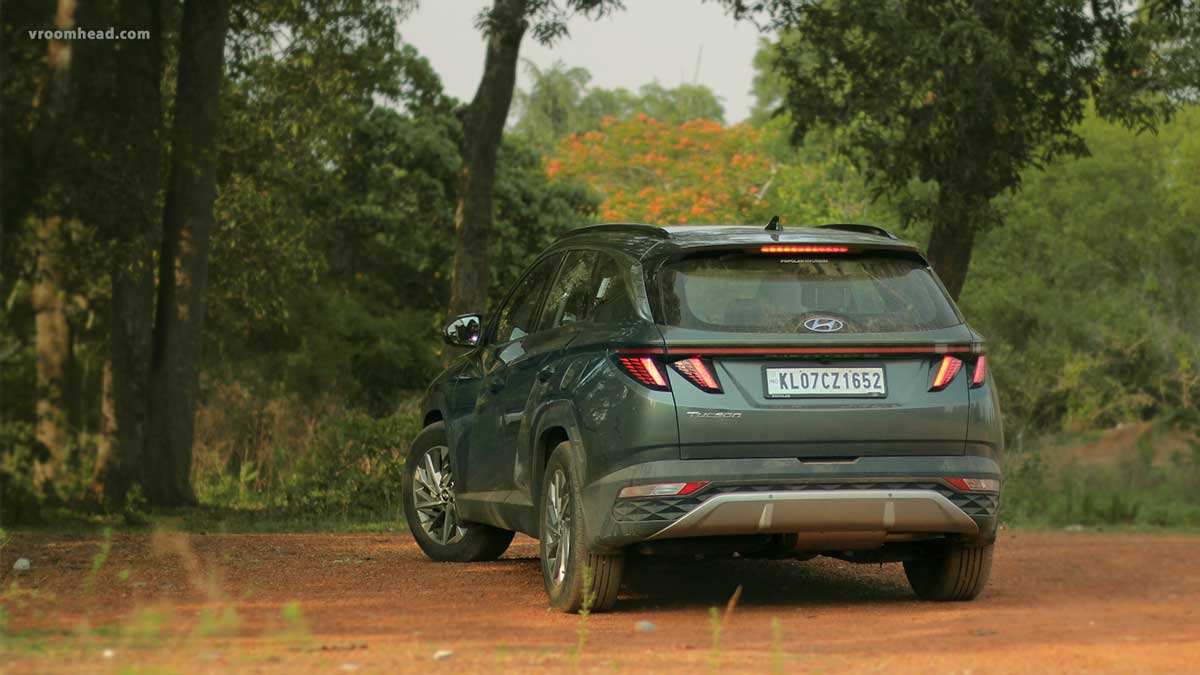 New Hyundai Tucson Design
The new Tucson could simply be the best-looking SUV in its segment. On a more personal note, I'd say it is the best-looking SUV you could buy under 50 lakh. Built on Hyundai's new-age ' Sensuous Sportiness' philosophy, the SUV looks sleek and elegant. It looks edgy at most places, but every line and surface here has great attention to detail gone into it. A few areas of the bodywork could distantly hint at big names we love, like for example, the Lamborghini Urus.
Key design highlights on the outside, include good-looking headlamps that sit on the bumper, a magnificent parametric grille finished in Dark Chrome, angular LED lamps that are shaped like wings and neatly integrated into the grille, interesting tail lamp designs, concealed rear wiper/washer, good-looking rear spoiler, and tastefully placed Hyundai logos.
India gets the long wheelbase guise. The extra bulk is tastefully contained by the design. The SUV gets 18-inch alloy wheels and large, angular wheel arches. Another key thing to note is the trims and finishes used on the exterior. The new Tucson's design encompasses a number of premium touches and trims on its exterior. You can see chiselled gloss Black elements on the rear bumper, interesting detailing inside the tail lamp units, brushed metal finish on the window line and so on.
2022 Hyundai Tucson Interior And Features
While the exterior design seems radical, the cabin looks slightly toned down, but for the good. There is a generous amount of space inside. The overall dashboard and cabin layout could invoke memories of the new Creta, but in fact, feel premium and are better looking. The centre console is finished in Gloss Black and looks premium. There is generous use of soft-touch plastics and premium fabrics and trims insides.
'
The air conditioning feels pretty smart. Tucson has sleeker, smaller vents in addition to the primary air-con vents. These are all neatly integrated into the cabin design. Turning the 'Diffuse' function on, would activate the secondary vents and re-route a part of the cold air to those as well. This would ensure a more even distribution of the cold air, realising a cool cabin without blowing the air directly onto the occupants.
The steering wheel looks like the one you'd see inside the Creta. But here on Tucson, the material and design of the wheel and its controls feel a lot more premium. The SUV also gets a fully digital 10.25-inch instrument cluster, that comes straight from the Alcazar but has a freestanding design on the flagship SUV.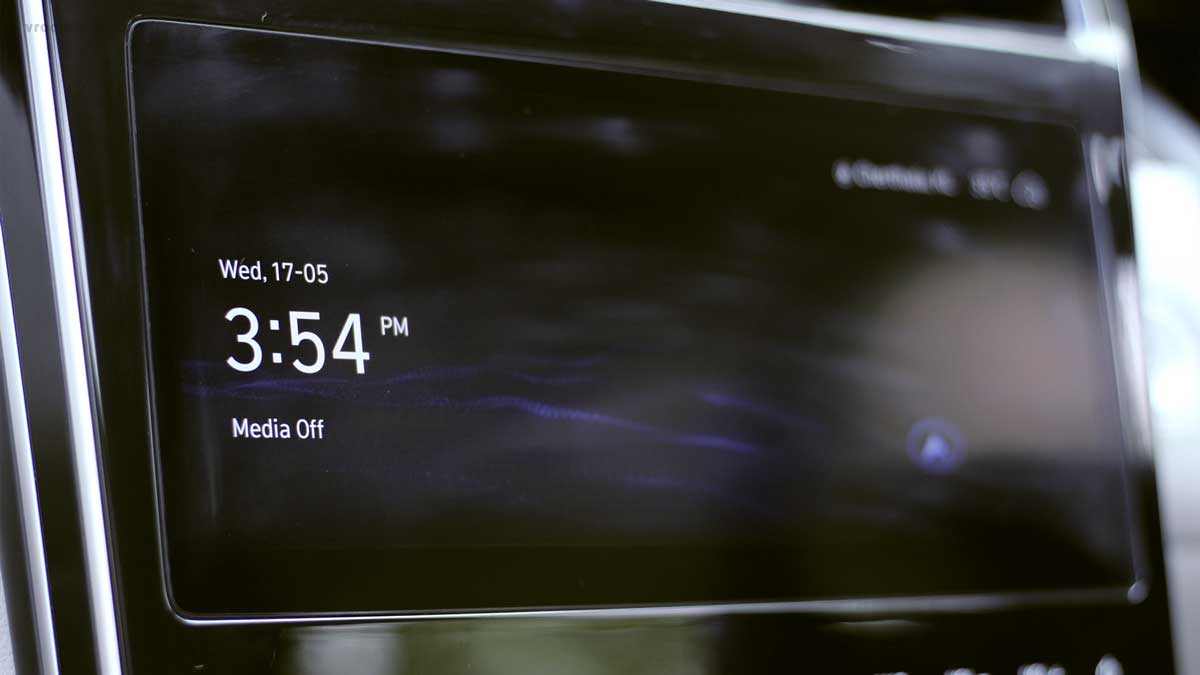 The Tucson comes with a 10.25-inch infotainment touchscreen that is seamlessly integrated into the Gloss Black centre console. The interface is smooth and responsive and the audio quality from the 10-speaker BOSE system feels great too. You do get Apple Carplay and Android Auto, but you'd have to wire your phone in for these.
ALSO READ: 2023 Hyundai Verna Review- 1.5 MPi (Petrol-CVT): Sensible Choice!
Much like its predecessor, the new Tucson is packed with features and tech. It comes with the likes of a wireless charger, heated and ventilated front seats, dual-zone climate control, panoramic sunroof, powered front seats with memory function for the driver, electronic parking brake, selectable drive modes, 360 degree camera with blind spot monitoring, auto headlamps and wipers, powered tailgate and Level 2 ADAS suit. There is an ambient lighting package as well, but it could have had more attention to detail gone into it. The current unit lights up relatively smaller areas for a car of this class.
ADAS On 2022 Hyundai Tucson: How Good Is It?
The new Hyundai Tucson boasts Advanced Driver Assistance System (ADAS) functions that are specifically calibrated for Indian road conditions. The Level 2 suite includes adaptive cruise control, emergency auto braking, lane departure warning and assist, lane watch camera, blind spot warning, driver attention monitor, 360-degree cameras, and rear cross-traffic assist.
In our experience, Tucson's ADAS pack provides helpful assistance without much distraction, reacting appropriately to most Indian road scenarios. However, critical safety features like auto emergency braking automatically reactivate when the car is re-started, even if you had switched them off previously.
2022 Hyundai Tucson Specifications: Platform, Engines & Transmission
Much like before, Hyundai Tucson offers the choice of petrol and diesel engines in its fourth generation. The powertrains remain untouched at large, a fact that could impart a sense of relatability to the driver. 2022 Hyundai Tucson offers the choice of a 2.0L NA petrol engine mated to a 6AT and a beefier 2.0L diesel with an 8AT. There are no manuals. AWD is available only on the top-spec diesel.
The two engines differ greatly in their outputs and capabilities, and we've decided to sample the fully-loaded diesel automatic for the same reason. Our test car has the 2.0L diesel engine that lets out 186hp and 416 Nm, gets the 8AT gearbox and a front-wheel drive (FWD) layout.
The platform as such, is not new. It is a heavily reworked version of the previous car's chassis, and is now called the 'N3 platform'. Primary changes include dimensional revisions, and the 85mm increase in wheelbase tops the list. Work has also been put in to tune the architecture in a way that the ride quality and handling remains sweet and unaffected by these.
| | |
| --- | --- |
| Engine | 2.0L, 4 cylinder turbocharged diesel |
| Fuel | Diesel |
| Power | 186 hp |
| Torque | 416 Nm |
| Transmission | 8AT |
| Drive | 2.0L, 4-cylinder turbocharged diesel |
| Mileage | 15+ kpl (Tested) |
Table: 2022 Hyundai Tucson Specs
New Hyundai Tucson Performance And Refinement
Tucson has always been loved for its mighty diesel engine. The tug of torque and the 'SUV air' it brings along, are both desirable. Things seem to have improved on the new SUV, as the diesel engine has now become stronger with a few additional horses and some extra torque, and even more refined than its predecessor. Though not rev-happy by nature, this engine would put a smile on you every time you floor the throttle. The massive tug of torque is exciting. The 8-speed torque converter gearbox is smooth and timely with its shifts.
Overall refinement is excellent. Despite being a mighty diesel, Tucson's engine is relatively silent and free of major vibrations. It is in fact audible from outside, with the characteristic diesel clatter. However, the brilliant cabin insulation makes sure that none of the occupants gets exposed to it. However, you do get to hear the engine, when you rev it hard, but not to the extent of it getting intrusive or irritating.
Check out more of our reviews!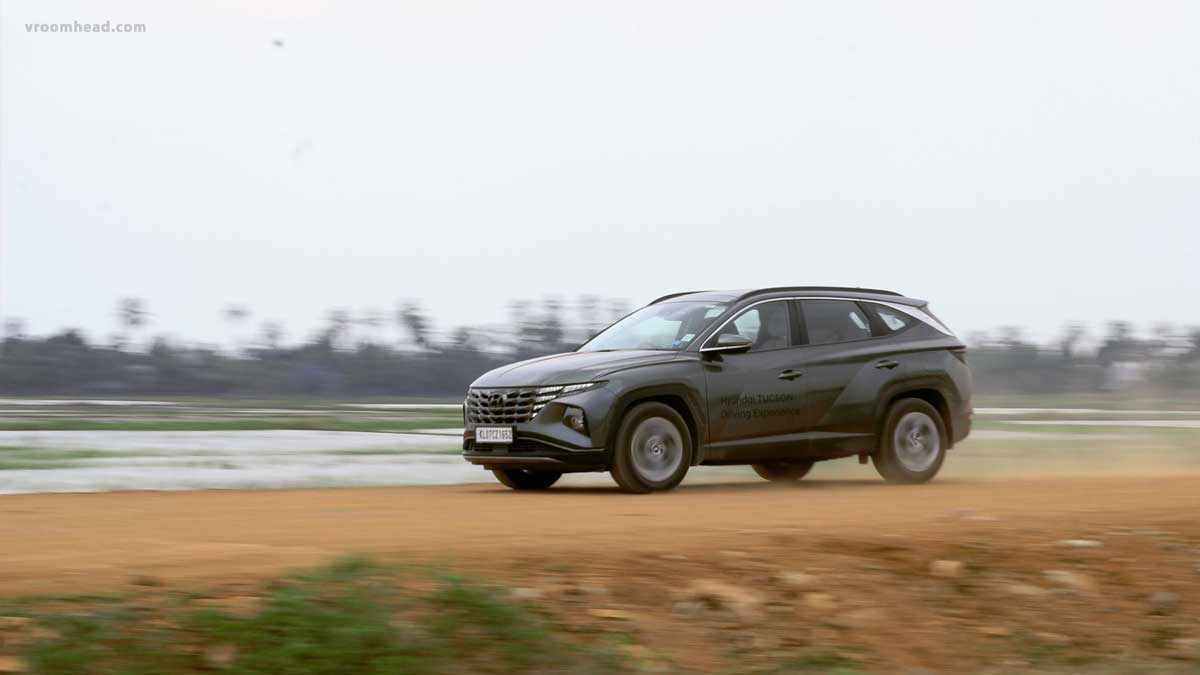 2022 Hyundai Tucson Ride Quality And Comfort
Equipped with robust 235/60 R18 tires, Tucson has a confident stance at highway speeds, and is well-equipped to handle rough road conditions. It's important to note that the petrol guise has a noticeably softer setup compared to the diesel. It could thus handle road imperfections slightly better at low speeds, but with more roll.
Ride quality is to be loved in the diesel Tucson. It feels slightly soft-sprung and gives the occupants a very comfortable ride. In the urban jungles, it glides over humps, speed breakers and potholes. The suspension operates silently, emitting only a distant "thunk" sound when encountering rough terrain. Like most other Hyundai cars, the steering here is light and responsive, offering excellent manoeuvrability in city settings.
Seating inside contributes a lot to Tucson's overall comfort and ride quality. The new car has new front seats that are significantly better than the ones on the previous gen. They are larger and offer better support. The cushioning feels significantly improved as well. Further, you sit higher on the new Tucson than what you used to on the previous gen.
At the rear, however, the seating height is comparable to the previous car's. Being a large but five-seater SUV, the new Tucson has generous room at the rear and the split rear row can also be reclined.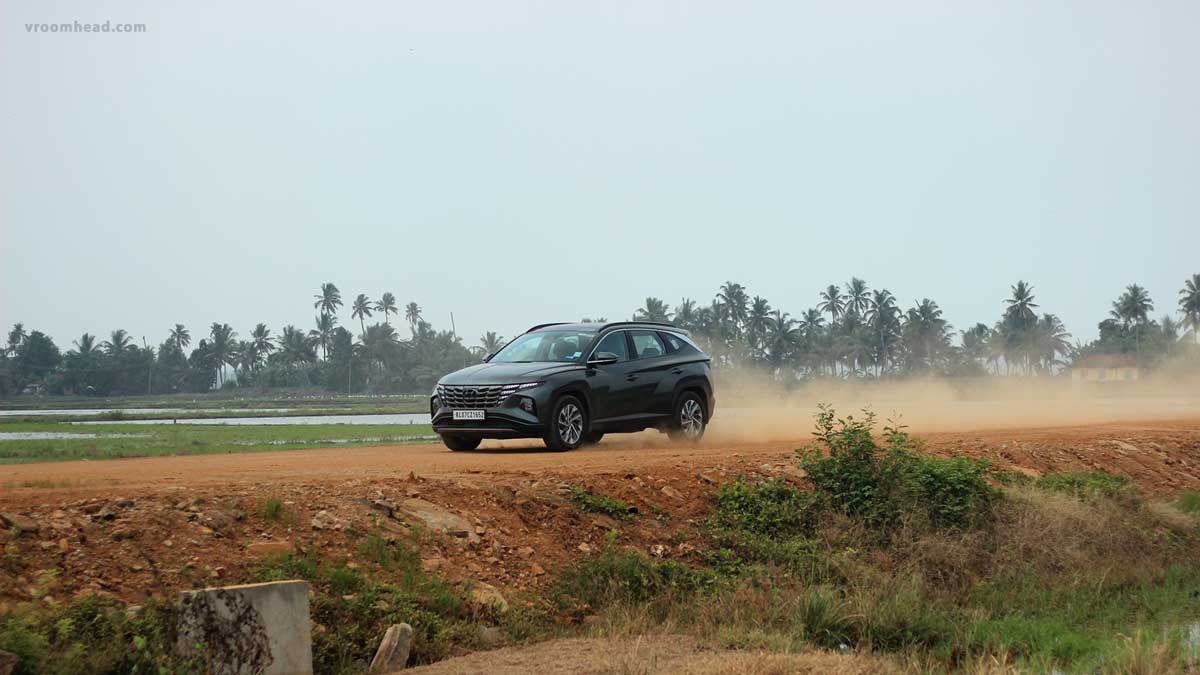 New Hyundai Tucson Handling
On the highway, the steering surprisingly gains weight, instilling confidence at high speeds. The suspension, especially in the diesel SUV, delivers a composed drive that, combined with the refined powertrain and steering, makes it an excellent choice for long-distance cruising. This might not be too sporty an SUV to drive around.
The steering isn't extremely quick with its responses, and there is a noticeable body roll as well. But talking about the broader picture, Tucson ranks high among its competition, in terms of drivability. We have always put the VW Tiguan and lately, the Skoda Kodiaq as the segment benchmarks for handling. The Tucson could be inches away from equalling the Tiguan in the way it handles at speeds and around corners, in many a case.
2022 Hyundai Tucson Mileage Test:
The India-spec Tucson has a tank capacity of 54 litres. The diesel engine on this car is as good at fuel efficiency as it is, in refinement. There are 4 different drive modes- Eco, Sport, Normal and Smart. Eco does fair justice to its name, slices off the torque and slims its delivery, saving much in fuel expenditure. The vehicle will return unbelievable mileage figures if driven in the Eco mode, with a light foot- we achieved indicated figures of over 18kpl!
But again, the Eco is not something that most of you would be comfortable sticking to, on a daily basis. The Normal mode has a sweeter balance between driveability/performance and fuel efficiency. If driven judiciously in the Normal mode, expect mileage figures that are ' brilliant for an engine this big!'. 14-16 kpl was what we got. Switching to Sport and feeding on the full 416 Nm would obviously take a toll on the fuel efficiency.
The new Tucson has a fourth 'Smart' mode to it. This uses machine learning to learn and adapt to the driver's behaviour and road conditions and deliver a sweeter balance between fuel efficiency and driveability.
Safety Tech And Crash Rating
The Euro NCAP crash test has awarded the new Tucson a remarkable 5-star rating, highlighting its exceptional safety standards. Buyers opting for the Signature variant will enjoy an impressive array of over 60 safety features, surpassing the already impressive 45 standard safety features found in the Platinum model.
The Signature trim goes above and beyond by incorporating Level-2 ADAS, an advanced driver assistance system that offers additional safety functionalities like surround and blind view monitors, smart cruise control, lane keep assist, forward collision warning, and various other ADAS capabilities.
ALSO READ: 2022 Hyundai Venue N Line Review: " It Handles!"
5 Key Misses On 2022 Tucson
Yes, there are a few things that we wished the Tucson had or expected to find in it, but were left with no luck. Below are 5 key misses:
Wireless Apple CarPlay/ Android Auto
Paddle shifters
Rear sun blinds/window curtains
Puddle lamps and a better/more detailed ambient lighting
USB C ports
New Tucson Pros and Cons
Here's a quick compilation of the pros and cons, after a week and a few hundred kilometres with the new Tucson.
Pros:
Spacious and comfortable cabin.
Excellent refinement for the diesel engine.
Great cabin insulation.
Packed with tech and features.
Stunning exterior design.
Excellent ride quality
No big compromises in high-speed manners or handling.
Interesting safety tech offered as standard.
The diesel engine offers ample punch to keep you engaged and entertained at all times.
ADAS works reasonably well and can be trusted.
Fairly engaging to drive.
Cons:
At around 43 lakh OTR, the top-spec AWD variants are definitely on the expensive side.
The price tag and band image could restrict the otherwise great, fully loaded Tucson's customer base.
While the diesel excels, Tucson's NA petrol powertrain is slightly underwhelming. No Turbo-petrol is offered.
For the price it demands, Tucson is still a five-seater.
Misses out on a few features like rear sun blinds, paddle shifters and wireless Carplay/ Android Auto.
While the centre console does look glossy, seamless and fancy with the touch controls and infotainment screen, it could get a bit fiddly sometimes to operate these on the go.
ALSO READ: 2023 Mahindra Bolero Maxx HD 2.0 L Review
New Tucson Price And Variants
Below is the in-depth variant-wis (ex-showroom) price list of Gen-4 Tucson (diesel), as of April 2023. The one we sampled was the Signature Dual Tone Diesel AT, asking 33.94 lakh, ex-sh.
TUCSON 2.0L DIESEL
Variant
Ex-sh Price
Platinum Automatic
Rs. 31,12,700
Signature Automatic
Rs. 33,79,600
Signature Dual Tone Automatic
Rs. 33,94,600
Signature 4WD Automatic
Rs. 35,31,400
Signature 4WD Dual Tone Automatic
Rs. 35,46,300
Table: 2022 Hyundai Tucson price and variants (Diesel) in April 2023.
The petrols are obviously cheaper, but given a chance, we would go with the diesel for the punch it delivers and the dynamic superiority it has over the gasoline counterpart.
| | |
| --- | --- |
| TUCSON NA Petrol | |
| Variant | Ex-sh Price |
| Platinum Automatic | Rs. 28,63,100 |
| Signature Automatic | Rs. 31,10,000 |
| Signature Dual Tone Automatic | Rs. 31,25,000 |
Table: Petrol Tucson price and variants in April 2023.
Let's get social! Follow Vroom Head India On Google News, Koo, Twitter, Facebook, Instagram, Pinterest, Whatsapp, and LinkedIn