Here are all the colours you can buy the new Mahindra XUV 400 in…
Mahindra has revealed its first electric SUV for India- the XUV 400 with a promising EV powertrain. Unlike its ICE counterpart, the EV falls into the C segment. We've listed more facts and findings around it in our first drive review. While the base design remains almost identical to that of the XUV 300, the EV gets its own visual character, courtesy of the minor-yet-tasteful changes it bears and the interesting colorways it comes in. We are gonna talk about the latter here.
Mahindra XUV 400 Colors:
Mahindra has given a rather interesting palette of colours to its first electric SUV. The early press images showed the car in a flashy shade of Blue. Four other interesting shades were soon out, taking the total shade count to five. The XUV 400 electric is available in the following colours:
Napoli Black
Everest White
Galaxy Grey
Infinity Blue
Arctic Blue
Napoli Black should be a very familiar shade on Mahindras as we speak. This shade looks the best on the new Mahindra Scorpio-N and is in huge demand. It looks quite good on the EV as well. There are two distinct shades of Blue available on the XUV 400- the flashy shade (Infinity Blue) and a subtle, Arctic Blue. The latter would be our choice, if we are to buy the electric XUV.
There Are Dual Tones Too!
Mahindra is offering the choice of dual tone colorways on the XUV 400. The Dual tone variants will have their roofs painted in a shade of Copper. In many areas of its design, the XUV 400 has touches of Copper and Bronze (signature of Mahindra EVs, as seen in the recently unveiled BEV range). With the roofs getting Copper painted, the SUV will look good in shades like Black and Grey.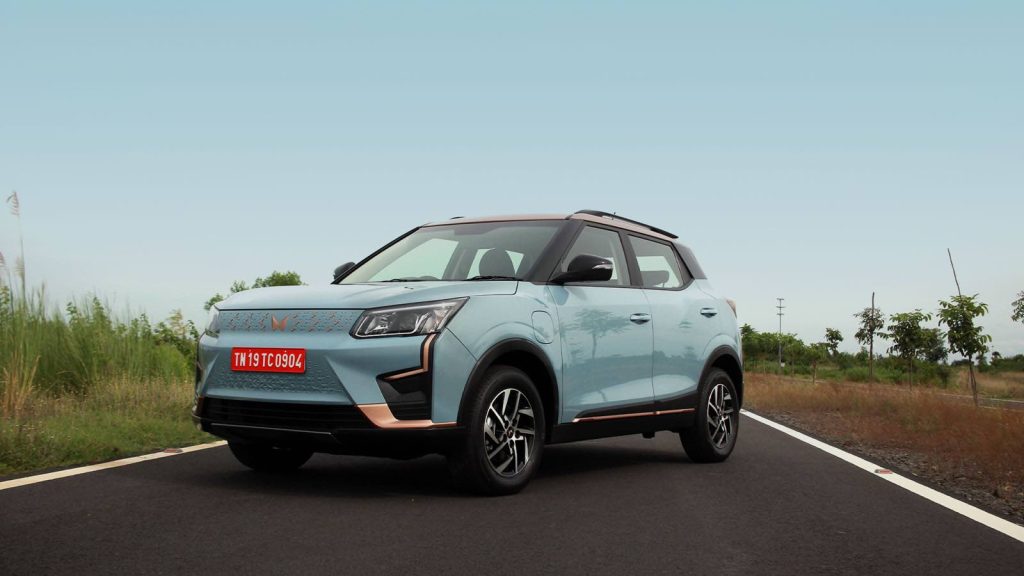 XUV 400 Best Color?
Arctic Blue would be our favourite colour choice for the XUV 400. We feel that this shade gels well with the copper garnishes and the entire lines and creases of the vehicle. The shade is subtle and classy. [In real, it could look distantly similar to some shade of Blue we loved on the Skoda Octavia RS or on the Mustang Mach E!] However, we would not prefer the Copper roof on the Arctic Blue car!