We live with the Tata Nexon EV Max for a couple of days and embark on a road trip…
Photography: Sarath S
The Nexon EV Max is rising to massive acceptance in the country. The electric SUV is much loved for the tech it packs and the range it offers- the latter being the whole point of it. Essentially the long (er) range version of the OG Nexon EV which is now known as Nexon EV Prime, the EV Max made its market debut in May this year. We had driven it at the official media drives back in May. However, back then, we couldn't test the EV extensively for its real-world range and everyday usability owing to time restraints. Fast forward to today, and we've lived with the Nexon EV Max for a few days, driven it for a few hundred kilometres and experienced a thing or two about its everyday usability. Continue reading to find out more.
Table of Contents
The Prelude: Design And Cabin Experience
On the design front, almost everything stays close to the ones on Nexon EV Prime. A key differentiation would be the new Intensi-Teal paint that we have on our test car, which is unique to the EV Max. The updated dual-tone alloy wheels are also departures from those of the Prime. There are more changes to spot inside the cabin. The most striking would be the new rotary gear selector that sports a small backlit screen inside. Kit levels have significantly improved on the Max. The SUV now gets things like ventilated front seats, air purifier, hill hold, electronic parking brake, hill descent control, auto-dimming IRVM, sunroof, etc.
Specifications: Battery, Power, Torque, Range
In terms of specs, a lot has changed on the Nexon EV Max. Much like what the name would suggest, this electric SUV has many aspects of its powertrain maxx'd out! The battery pack has grown from 30.2 kWh to 40.5 kWh, thereby bringing in a significant hike in range figures. Power and torque have also gone up by 14 hp and 5 Nm and now stand at 141 hp and 250 Nm respectively.
The Max also comes with an improved charging system. It now supports 7.2 kW AC fast charging in addition to the slower 3.3 kW AC charger of the previous car. The AC fast charger can juice up the car in 5-6 hours, a notable hike over the Nexon Prime's 3.3 kW unit. Nexon Max also supports 50 kW DC fast charging, meaning 0-80% can be filled in just 56 minutes.
Nexon EV Max gets selectable regen modes. This allows you to select from four modes- Off, and 3 levels with varying intensities. This system has a major role in optimizing driver experience and energy efficiency. Tata Motors had recently introduced these modes on the OG Nexon EV as well. More recently, the updated Tigor EV was also launched with selectable regen modes.
Driving Nexon EV Max For 400 Km: The Experience
Road trips with electric vehicles demand quality time and effort in planning. You need to get a clear idea of the route, charging stations and how often you'd find them along your way, net distance to be covered, and of course your vehicle health. Our proposed route translated to 360 odd kilometers, excluding any possible detours that we might end up taking en route.
Stint 1 (THE START)
Kilometers Covered: 0
Charge: 100%
Indicated range: 406

We started the drive with the battery at 100%, and an indicated range of 406 km on the display. Up ahead were hundreds of kilometres to be covered, and the whole point of this exercise was to get an extremely realistic road trip/ long drive experience with the most affordable long-range EV in India! This meant that I would not let the battery drain too much before a refill, nor would I compromise much on my schedules/ comforts and wait for the car to charge up ( or at least that's what I thought!).
'
Tight-packed city roads and busy streets were what we had to begin with. This meant we had enough opportunities for maxing out our regen, and with the selectable modes of Nexon EV Max, we could even tone it down in extremely slow-moving traffic, where a strong regen could kill the 'peace of ride' for some! We had our AC set at 24 degrees, and functioning in normal mode. We were in the Eco mode and never really bothered to switch to City or Sport.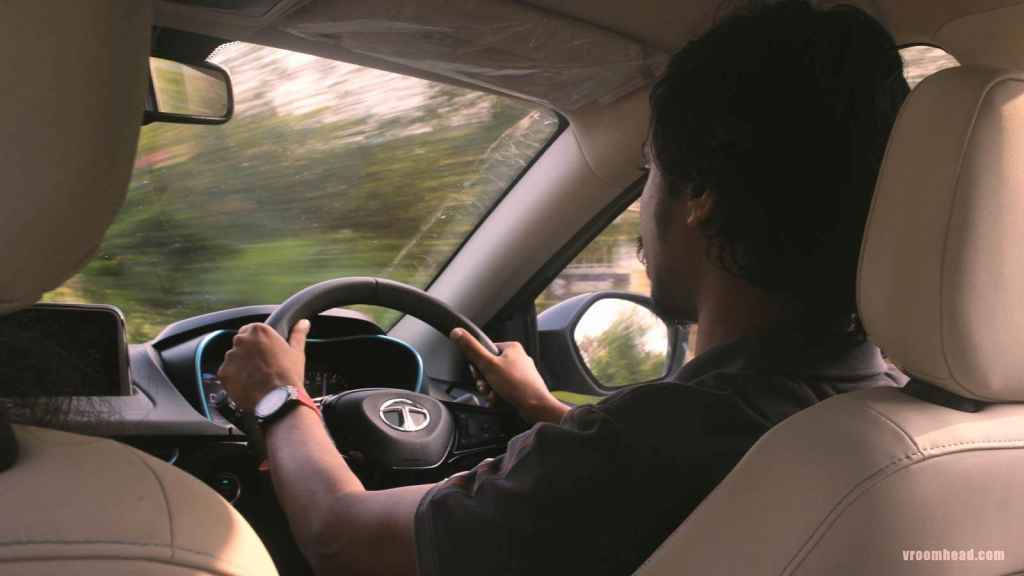 Stint 2
Kilometers Covered: 25
Charge: 95%
Indicated range: 378 km
25 kilometres and more than half an hour into the drive, we finally hit the highways. Battery levels were now at 95%, thanks to the intense regen sessions that we had in the city. The display had 378 km as the estimated range, regen was max, and the vehicle in Eco mode. Out on the highways, I pumped up my throttle inputs slightly. We were comfortably doing 80-90 kph cruising speeds, with medium regen in play. Being gentle with the throttle is something of supreme importance in milking out the best range from any EV. However, with stretches clean and long, I did end up doing bursts to 120 kph (140 is the claimed top speed of the EV Max) occasionally, and at the expense of battery and range. In the Sport mode, the vehicle felt quite fun with its acceleration. The regen was set to minimum (and even turned off at some point in time) while doing the high-speed dashes.
I personally like the way this vehicle behaves at speeds when compared to the EV Prime. The added bulk from the battery pack somehow translates to better stability at speeds. This is no corner carver by any means but rides fairly well around those.
Stint 3 [Charge Top-up]
Kilometers Covered: 90
Charge: 56%
Indicated range: 174 km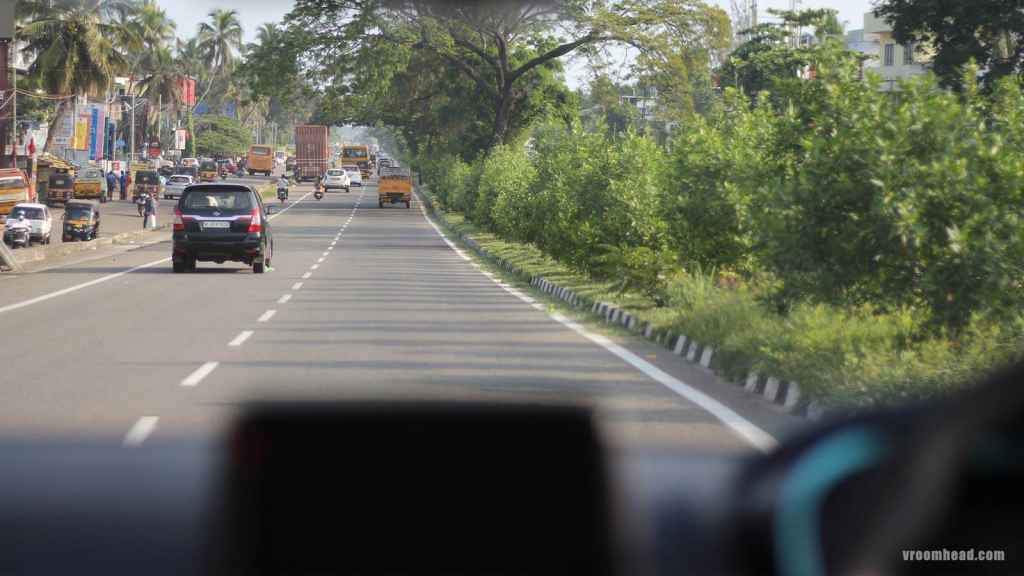 Having covered 90 kilometres, we pitted the EV Max for juicing up its battery and for ourselves to have our breakfast. We had used around 44%, owing to the mixed driver behaviour. The display showed 180+ kilometres in range. We used a Zeon charger to top up the battery this time. Zeon, in my experience, has one of the best charging experiences on offer- be it the quality, speed or end-user experience. Nexon EV Max supports 50 kW DC fast charging, and works quite well with Zeon chargers. As it turns out, a few other third-party charging networks can cause glitches or deliver dull charging speeds to the EV.
We charged the car for half an hour, and till when we were done with our breakfasts. 30 minutes at the charger filled up 11 units (11 kWh), amounting to Rs 252 in expenses as Zeon charges Rs 19.2 per unit. The range was now up by 80 odd kilometers.
Stint 4 (Post charging)
Kilometers Covered: 90
Charge: 81%
Indicated range: 256 km
We returned to our journey with the vehicle in Eco mode, max regen and careful driver behaviour. The road ahead had city patches, straight highways and narrow roads. The next stop was after 95 more kilometers, completing which made our battery drop to 40% and return an indicated 130 km range. Half the route was down and I had no range or performance anxieties.
Stint 5
Kilometers Covered: 95
Charge: 40%
Indicated range: 130 km
We chose a different route for our return leg. It had more twisties, more highways and shorter stretches of the city but with denser and slower traffic. Nexon EV Prime had no traction control on offer when it was first launched. We made this complaint in our first drive review. However, the Max gets this resolved and the traction control here structures all the torque into something manageable and livable. The winding patches ahead of us proved this right. We could go fast around curves and still stay clear of any obnoxious torque steer. Further escalating this confidence are the brakes. The long-range Nexon EV gets disc brakes on all its wheels, and these, to be honest, offer great bites and a progressive feel. Drive the car in a way that the regen blends with these, and you get a pleasant and energy efficient experience.
After a few rounds of city runs, the charge levels were down to 33%, triggering my range anxiety. This time, we used a Tata Power charger to juice up. Tata Power currently has multiple EV charging stations in major cities. The nearest was a 25 kW charger, which demanded us to spend at least an hour in waiting. Thankfully, there was a restaurant nearby and we were hungry! Tata Power charges around Rs 23 per unit for DC charging. The interface and process are both user-friendly.
Stint 6
Kilometers Covered: 12 km
Charge: 33%
Indicated range: 93 km
Charging this time took more time than expected. We resumed the road trip with 80% battery and indicated 190 km range. The close of this journey was now 60 odd kilometers away. We had enough charge to complete it without a second thought. However, should we need one, there were a few Tata Power chargers en route. At the end of the entire drive, we had munched a total of 397 kilometers, slightly higher than what we had estimated during the planning sessions, owing to the multiple detours that we were forced to take mid-way.
End of the Road:
Kilometers Covered: 397 km
Number of energy topups: 2
Summing It Up:
I am not so much into the idea of 'Range Tests' if they are supposed to mean the EV equivalent of 'Tank to tank'. I feel the question here is that of practicality, and of energy usage and the rate of battery depletion. These define if you would be able to make it to the next charger for a top-up and resume your journey. With improvements in its regen, battery and power electronics, the Nexon EV Max definitely answers this right. Doing a road trip with this car is possible with medium and good charging infra around. It demands no huge compromises from the occupants for most things.
Escalating the relevance of this further is the fact that the Nexon EV Prime, couldn't do such long commutes without freaking the driver out with charge depletion levels. Long story short, go for the Nexon EV Prime if short office-home commutes are all that you do, or if you're in search of a second car for the same. The EV Max would fit in comfortably in most other cases.
EV Road Trip With Nexon EV Max: Lessons To Reiterate
Tata Nexon EV Max offers a usable and practical real-world range. However, the actual figures could be far from the ARAI numbers of 437. Expect 320-340 km on the most realistic note.
This EV should be loved for its charging and battery tech. Having support for 50 kW DC charging is definitely a boon.
The battery here uses LFP cells that are safe, durable and advanced. LFPs usually provide a good number of charge-discharge cycles, making them reliable cells for EVs globally. The chemistry here is more stable than what you'd find on older-gen cells like, say NMC. These should thus be hassle-free in ownership.