The electric motorcycle comes with jaw-dropping specs and numbers
Bangalore-based Ultraviolette Automotive has finally rolled out its first product- the F77 electric motorcycle. One of the hugely anticipated EVs of recent times, Ultraviolette F77 comes in two variants, with specs that would give you goosebumps. Prices start at Rs 3.88 lakh ex-showroom and we will now discuss this motorcycle in detail.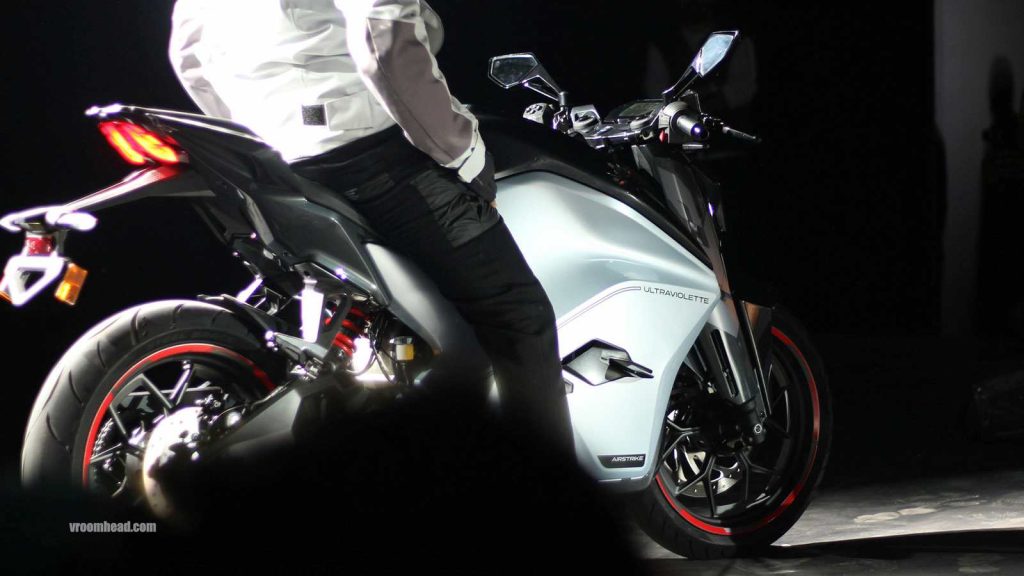 Ultraviolette F77: Eye-Popping Design!
Building an electric motorcycle that is insanely fast has been Ultraviolette's vision since the very start of the project. The manufacturer has put in as much attention to the design as it has to the powertrain, to maximize performance and liveability. The motorcycle has a design that has extensive focus on aerodynamics. The exterior panels and fairing are all so drawn to ensure the best aero coefficient. There are no visible bolts or rivets anywhere on the bodywork, showing the extreme levels of streamlining (claimingly aviation-derived) that this EV packs.
The F77 definitely has a sporty stance. Effectively packing the manufacturer's identity is the LED lighting signature- the headlamp looks futuristic. The panels are clean and smooth, tail high-standing, and taillamp design good-looking. The charging port on F77 sits at where the fuel filler would be on regular motorcycles. In an effort to pump up its everyday usability, Ultraviolette has raised the handlebar (that's already built wide) and lowered the seat height- you feel like sitting in the motorcycle and with better control over it- a better experience than most sports/superbikes.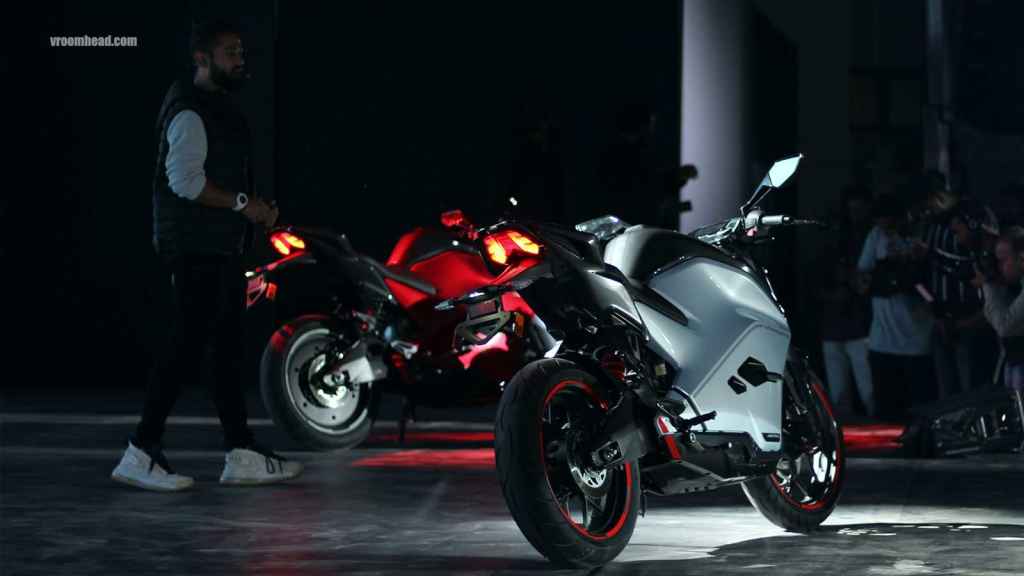 Ultraviolette F77 Colours:
The F77 is available in a total of 3 colorways (or personas):
F77 Shadow
F77 Airstrike
F77 Laser
Besides, Ultraviolette has also launched a special edition to the F77, with the production limited to just 77 units. Based on the top spec variant, the F77 Limited edition gets a unique colorway, signature decals, 'Limited edition' badges, and 'bespoke numbering' (000-077). The motor here, is in an uptuned state, churning out 40.5 hp and 100 Nm. Quite a snack for the enthusiast. Also, 8 years/ 1 lakh km battery warranty comes standard here.
ALSO READ: Rumour: Royal Enfield EV Prototypes Begin Testing?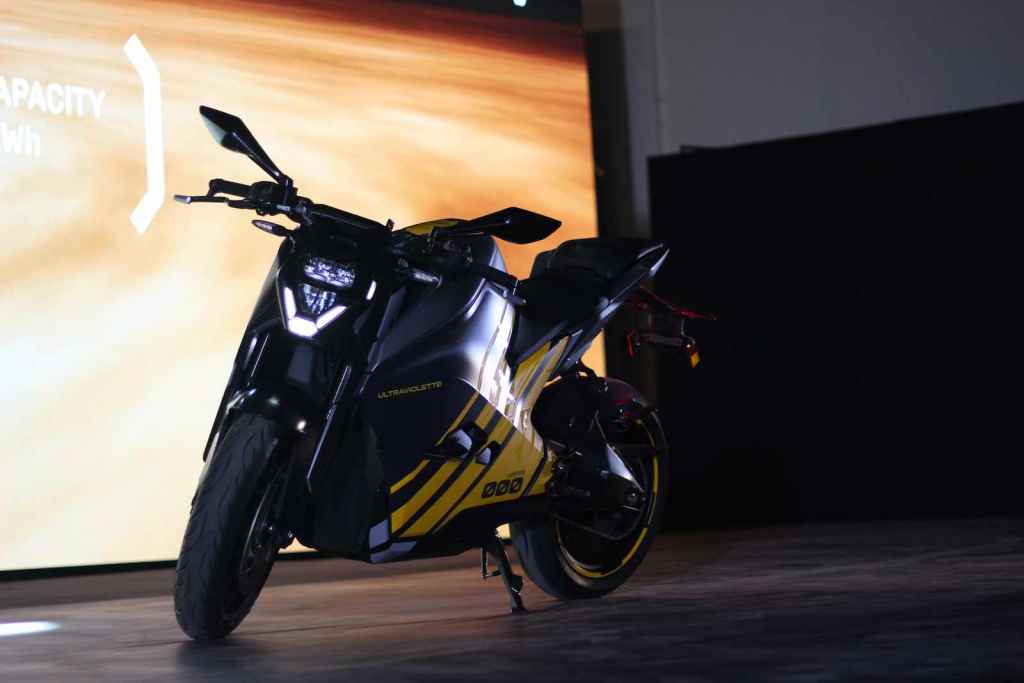 Fit, Finish And Features
Material quality is great at most places. The 5-inch TFT instrument cluster gets mobile app connectivity and serves the rider with a plethora of useful information. It can be navigated through and operated by a set of buttons on the left side of the handlebar.
Ultraviolette F77 Specifications: Motor, Battery And Powertrain Tech
The F77 excels with its mechanicals. The battery, motor and powertrain tech in general, on this motorcycle, are worth going vocal about. Ultraviolette F77 has the largest battery pack in the electric two wheeler scene today. The 10.3 kWh unit (SRB 10) is significantly larger than the ones on any other electric motorcycle/scooter. At around 70 odd kilos, it is quite heavy. The manufacturer claims this to have its roots in aerospace applications. It would support regular and fast AC charging. The standard charger can top up around 35km in one hour, while the 'Boost charger' can do rates of 75 km / hour. Warranty of up to 8 years/ 1 lakh km can be availed.
Mated to the SRB 10 battery is an advanced Direct Drive electric motor (BRB 10), which was previously rumoured to produce less than 90Nm, but churns out 38.8 hp and a whole 95 Nm on the production form! The motor is said to have its roots in aerospace applications. The setup will return IDC range figures of around 300 km every charge- claims UV. Three riding modes are offered: Glide, Combat and Ballistic. Ballistic mode can be deployed only when charge levels are 70% or more.
ALSO READ: GMC Hummer EV To Star In Call Of Duty Modern Warfare 2 And Warzone 2.0
To bring about optimum dynamics and road manners, the battery is packed neatly 'inside' the chassis, ensuring proper weight distribution. The Steel Trellis frame is quite light, with Aluminium bulkheads. The motorcycle gets 41mm USDs at the front and a rear monoshock with preload adjustment. Dual disc brakes (320mm at front, 230 mm at rear) and dual channel ABS are also offered.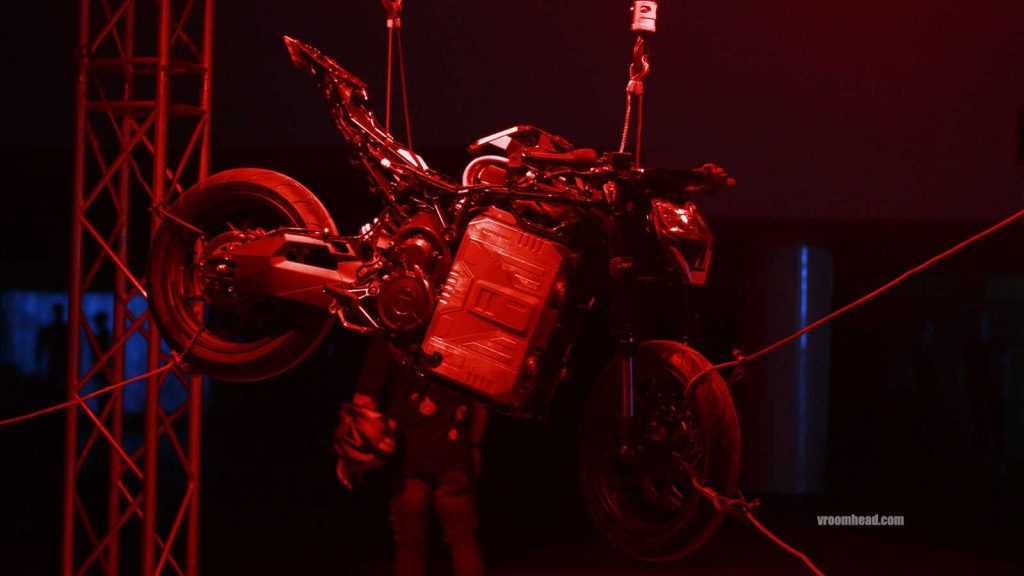 Ultraviolette F77 Is The Fastest Electric Motorcycle In India!
Yes! You hear that right. With its advanced powertrain, cooling, and battery management systems, Ultraviolette F77 delivers unmatched performance. It does the 0-60 kph sprint in just 2.9 seconds, and 0-100 kph in just under 8 seconds! Top speed here is 150 kph! It is thus the most powerful and fastest electric motorcycle in India, today.
Extensive R&D And Testing
All those numbers and names are fascinating indeed. But building further on trust and confidence is the fact that Ultraviolette Automotive has spent huge amounts of time, effort and money on the development and testing of this fully 'made-in-India' product. Apparently, the process was underway for the past 5-6 years. The manufacturer has tested it in various road and traffic conditions. F77 was in fact, completed in 2020, before a super busy era of testing began.
ALSO READ: Ather 450X Gen 3: Explaining The Changes And Quick Ride Impressions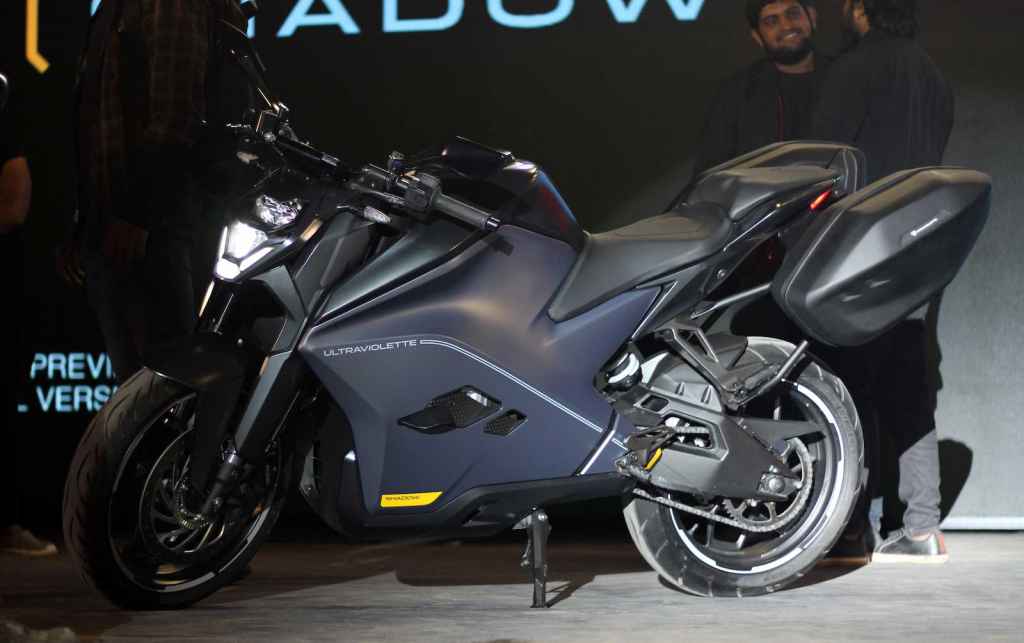 Variants
Ultraviolette F77 is available in two distinct variants that differ significantly in their hardware, tech and abilities: F77 Original and F77 Recon. It is the range topping Recon that would stun you with performance and spec. The base-spec F77 Original variant gets a smaller battery pack, lesser motor output, toned-down performance, and lower IDC range. Below is a variant-wise breakdown.
| | | |
| --- | --- | --- |
| | Ultraviolette F77 Original | Ultraviolette F77 Recon |
| Battery Capacity | 7.1 kWh (SRB 7) | 10.3 kWh (SRB 10) |
| Power | 36.2 hp | 38.8 hp |
| Torque | 85 Nm | 95 Nm |
| Range | 206 km | 307 km |
| Weight | 197 kg | 207 kg |
| Battery Warranty | 3 years/ 30,000 km | 5 years/ 50,000 km |
Ultraviolette F77 Original vs F77 Recon spec comparison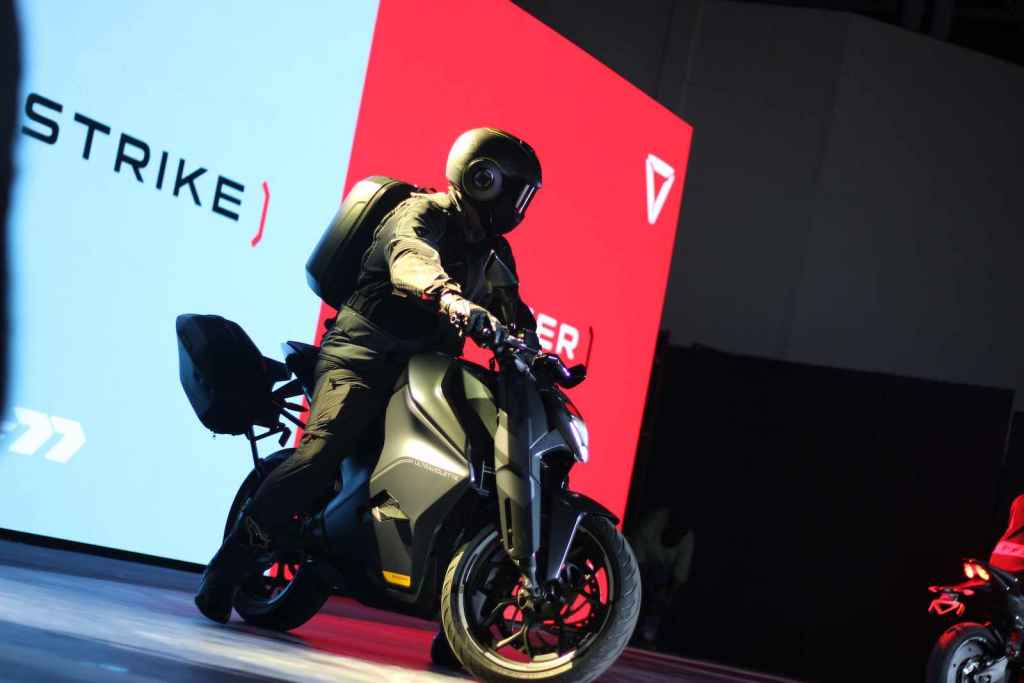 Prices, Booking, Delivery Timelines
Priced from Rs 3.88 lakh, ex-showroom, Ultraviolette F77 also becomes the most expensive electric motorcycle in India. Various financing schemes are available. The variant-wise pricing is listed below.
| | |
| --- | --- |
| Variant | Price (Ex-showroom) |
| Ultraviolette F77 Original | 3.88 lakh |
| Ultraviolette F77 Recon | 4.55 lakh |
| Ultraviolette F77 Limited Edition | 5.55 lakh |
Ultraviolette F77 Price in India and variants
Bookings are already underway for the F77. You can visit the official Ultraviolette Automotive website, to order yours. UV insiders confirm that deliveries will commence in phases. Phase 1 will include Bangalore, where Ultraviolette has its HQ at, in January 2023. Phase 2 will see deliveries in other major cities like Kochi, by Q2, 2023.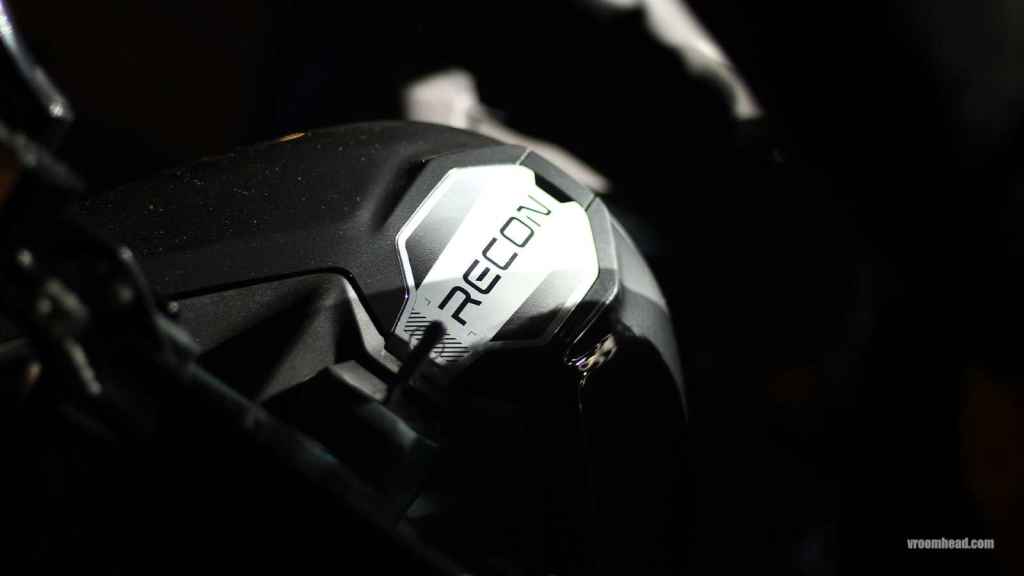 Merchandise Business
Like many two-wheeler majors, Ultraviolette Automotive also has a strong focus on merchandise business. The manufacturer currently offers a range of premium rider apparels and accessories to choose from.
ALSO READ: 2022 TVS iQube S Review: 'Improved To Perfection!'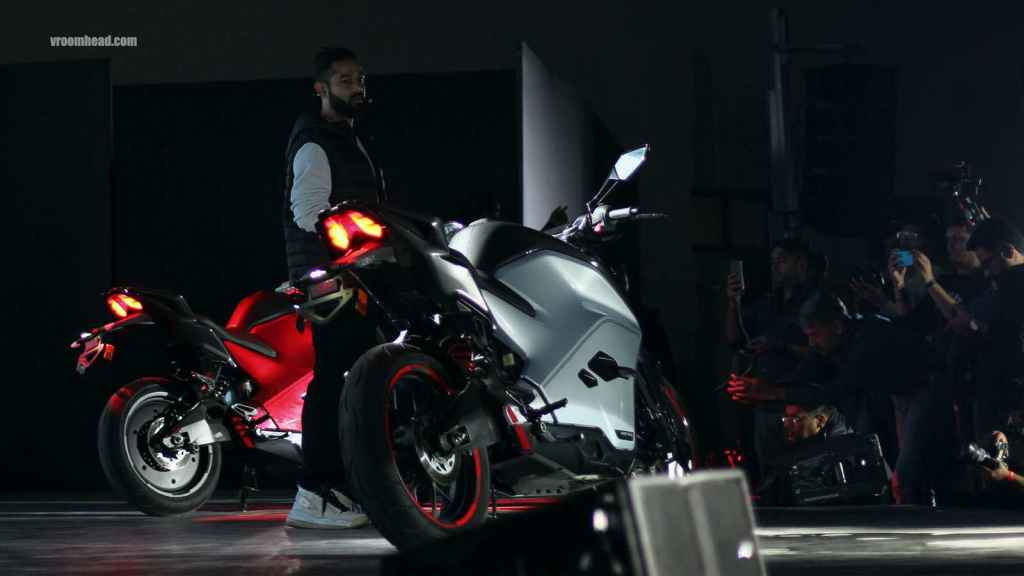 Ultraviolette Business Plans
Ultraviolette has put in every effort to make the F77 a global product and to live up to the international quality and performance standards. (It's been successful!) The manufacturer has a strong focus on making a presence in major international markets. Ultraviolette's vision includes putting up a strong fight against big shots like Harley Davidson in the global e-motorcycle scene. It has garnered much public and geek attention with the F77. Multiple majors have also invested in UV. The recent series D funding from Qualcomm Ventures and Lingotto would be used mainly for building domestic market presence and expansion into the global scene.