Quick details and drive impressions of the electric three-wheeler
Bengaluru-based Altigreen is among the top players in the electric cargo three-wheeler space. This Indian manufacturer has managed to garner much attention to itself and the segment in general, with its product and marketing campaigns. It currently sells a very interesting last-mile delivery solution here- NeEV. Here's a closer look at the product and our quick drive impressions.
Key Topics Covered:
Altigreen Neev Overview
Altigreen NeEV is a made-in-India cargo mobility solution with high degrees of localisation in manufacturing and uses 100% indigenous technology. It is available in two forms- LR (Low Deck ) and HD (High Deck). Neev HD comes with a factory-fitted cargo box and is the one that we are sampling here. To give you a better context, key rivals to Altigreen Neev include Kinetic Safar Shakti, Omega Seiki Mobility Range+ Rapid, Piaggio Ape E Xtra and Euler Hi Load.
Altigreen Neev High Deck: Key Details
| | |
| --- | --- |
| Body Option | Metal |
| Chassis Type | Chassis with Cabin |
| Cabin Type | Day Cabin |
| Seat Type | Standard |
| Seating Capacity | Driver only |
Altigreen NeEV comes with a design that instantly identifies it as a cargo three-wheeler. It doesn't look fancy, but practical. The chassis comes with a cabin that can accommodate just the driver. There is decent room and just enough comfort for the driver, inside.
The vehicle has very practical dimensions. The High Deck variant (HDX) is the bigger sibling, spanning 1.9 meters in length, 1.5m in width and 1.6m in height. Below are the box dimensions in ft.
ALSO READ: 2023 Mahindra Bolero Maxx HD 2.0 L Review
| | |
| --- | --- |
| Length | 6.2 ft |
| Width | 5.2 ft |
| Height | 5.3 ft |
| Capacity/ Volume | 177 cubic ft |
| Payload Capacity | 550 kilograms |
Altigreen NeEV Cargo Box dimensions and payload
Altigreen Neev has a net payload capacity of 550 kilograms, quite competitive in its segment. Practical applications include e-commerce, industrial and last-mile delivery, delivery of perishables etc. The box design, dimensions and loading capacity- all favour these roles.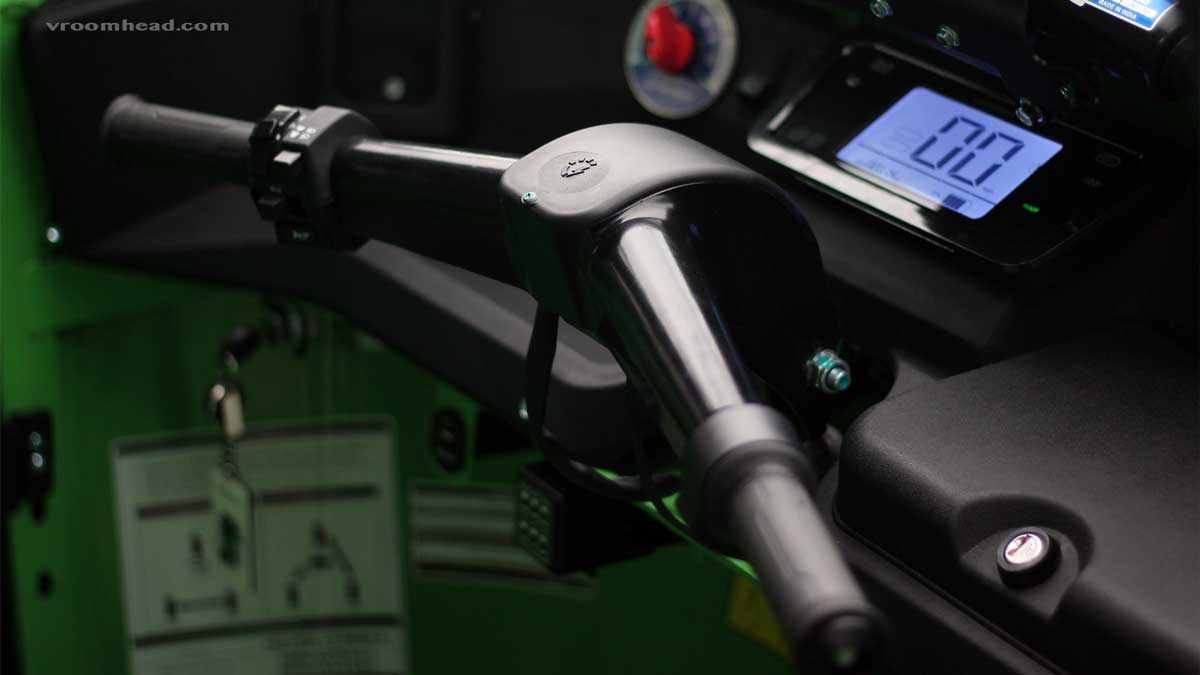 Driver Comfort
Altigreen NeEV electric 3 Wheeler has a neatly laid-out cabin. It tries to reduce as much driver fatigue as possible. The cabin gets lockable doors and windows for better safety and convenience. The drive selector gets a rotary design, and is quite convenient to operate. A digital display functions as the speedometer and instrument cluster, and offers decent readability. There is even a USB port and smartphone holder offered.
Altigreen Neev Specifications: Battery, BMS And Key Figures
Altigreen offers powertrain technology that ranks among the best in business. Neev gets an 11 kWh battery pack that uses Lithium-ion LiFePO 4 (LFP) cells that are better suited for Indian conditions. The manufacturer has developed Neev's Battery Management System ( BMS) in-house and designed it in a way that the best is achieved in terms of battery life, thermal management, performance and energy stability.
Altigreen NeeV takes just 3 hours 30 minutes for a full charge and offers 120 km in range, with payload. This translates to running costs of around 92 paise per kilometre. Also, Altigreen claims this electric three-wheeler demands Rs 0.40/km in maintenance. These figures combined, mean more profits to the fleet/business owners. (The official brochure also lists a bold claim by the manufacturer, that reads: 'Lifetime savings of ₹10 lakhs')
ALSO READ: Ashok Leyland Bada Dost Review: Ek Dum Bada!
'
Altigreen Neev Specifications: Motor
Altigreen Neev uses an induction motor, against the convention of using PMSM or BLDC motors. This compact, lightweight unit produces 11.6 hp and 45 Nm. Torque here comes in smooth and is, in fact, 10% more than what you'd get with a PMSM motor! Other advantages of using induction motors include lesser chances of breakdowns as there are fewer moving parts and more energy efficiency.
| | |
| --- | --- |
| Motor | Induction motor |
| Power | 11.6 hp |
| Torque | 45 Nm |
| Torque at wheel | 810 Nm |
| Top speed | 53 kph |
Altigreen Neev specifications
Follow Vroom Head India On Google News, Koo, Twitter, Instagram, Pinterest, Facebook, and LinkedIn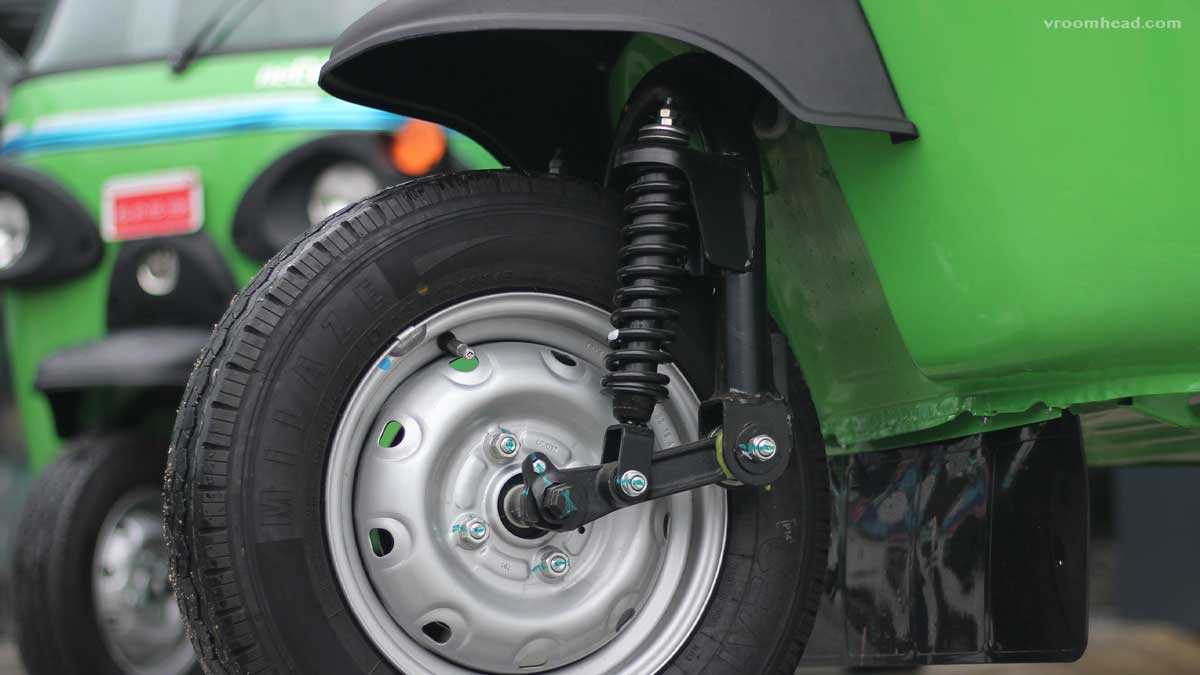 Altigreen Neev Suspension Setup
This cargo EV has a net GVW of 950 kilos. The suspension setup here is interesting. The rear gets a rigid axle with leaf spring setup. The front wheel gets a dual-shock setup (Helical Spring + Damper + Hydraulic Shock Absorber)- front dual suspension is an industry-first. The vehicle has a ground clearance of 220mm, and feels very practical to ride on most terrain conditions.
| | |
| --- | --- |
| GVW | 950 KG |
| Ground Clearance | 220 MM |
| Front Suspension | Helical Spring + Damper + Hydraulic Shock Absorber |
| Rear Suspension | Rigid Axle With Leaf Spring |
| Braking System | Hydraulic Brake |
| Tyres | 145 R12 LT 8PR Radial Tubeless |
Altigreen Neev suspension, brakes and tyre size
Drive Impressions
We loaded our test vehicle with water cans amounting to 440 kilograms- 100 odd kilograms less than the vehicle's max payload. Driving around with the load felt easy.
There are two different driving modes to the vehicles- ECO and Power. Power mode gives you a notable performance improvement when engaged.
Range claims by the manufacturer are to be believed- suggests our tests. The rate of charge depletions suggests a real-world range of 90-100km per charge, in the urbanscapes, and with max load. We are yet to do a proper range test though.
Tackling gradients and driving on inclines feel pleasant. The loaded vehicle or its powertrain does not run out of breath on most uphill runs. The manufacturer claims 18 degrees in gradability.
Overall driver comfort offered is decent for a last-mile delivery vehicle. The suspension is not too light but most drivers won't complain.
The vehicle uses a patented regenerative braking technology that recuperates up to 10-12% while decelerating.
Price And Variants
Altigreen Neev High Deck HD is priced at 4.07 lakh, ex-showroom Delhi. While this might not be the most affordable pricing, Neev as a product is quite promising, and the premium can be retrieved via profits. If you are looking for an electric cargo 3-wheeler, do give this one a try!
Altigreen Neev Pros
Great battery tech and powertrain
Likeable performance.
Range of 120 km/charge
Extremely low operating and maintenance costs.
Strong and efficient Regenerative braking tech.
Ample torque and good gradability
Good charging speed.
Altigreen Neev Cons
Prices are on the higher side.
No fast-charging support
Altigreen Neev Images