The official vehicle inducting ceremony took place in Gandhinagar in the attendance of notable dignitaries.
India's largest commercial vehicle manufacturer Tata Motors had recently bagged order for 115 ambulances from the government of Gujarat, which includes 25 basic life support ambulances and 90 ambulance shells. The manufacturer delivered the initial lot of 25 units in a ceremony held at Gandhinagar, graced by the Deputy Chief Minister and Health Minister of Gujarat with their presence.
Tata Motors secured this order under the Government e-Marketplace and the vehicles delivered are all based on the Tata Winger, designed for patient transport as per AIS 125 Part 1. These are equipped with the basic life support machines to serve the needy of the place. The remaining 90 ambulance shells would, the manufacturer confirmed, be delivered in a phase-wise fashion.
The Tata Winger had got a major makeover sometime back and is now one of the best commercial vehicles available from the manufacturer. The Winger ambulance which had debuted soon after the initial showcasing of the facelifted nameplate, is currently in great demand in the healthcare sector. Many hospitals and NGOs are currently using Winger ambulances due to their efficiencies.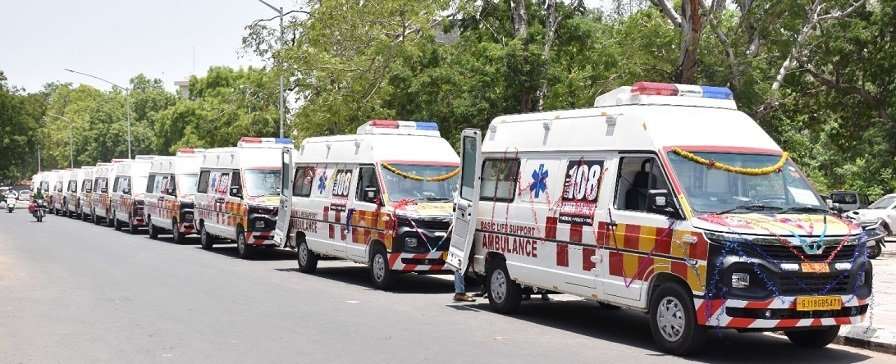 The Tata Winger ambulances can adapt to all ranges of patient transportation, ranging from Basic Life Support systems to Advanced Life Support Range. With strict driver partition in place, the delivered units have been flawlessly designed for COVID 19 patient transportation. The Winger's modular underpinnings and monocoque chassis together with the independent suspension, ensure smooth and swift transportation for the patients.
Apart from the WInger, Tata Motors also has other ambulances like the Magic Express Ambulance and the LP410 Ambulance with a double stretcher.