Market launch later this year
Maruti Suzuki has brought over a wide range of vehicles for the Auto Expo this year, but many have had their eyes peeled to witness this one car rolling out. MSIL has finally revealed the brand new 5 door Jimny. This was also the global premiere of the SUV.
Maruti Suzuki will make the market launch and price announcement later this year. Why this delay? Well, MSIL is looking to position this SUV as more of a lifestyle vehicle with proper off-road gear, so they are aiming to launch it prior to it during the monsoon season. However, Maruti has started taking bookings for the car from the NEXA outlets for token amounts of Rs 11,000.
5 Door Jimny: A Closer Look At It
The overall design stays akin to the 3-Door Jimny, or the Jimny Sierra as it's fondly called across the world. The 5-Door version can also be referred to as the Jimny Long or Suzuki YWD.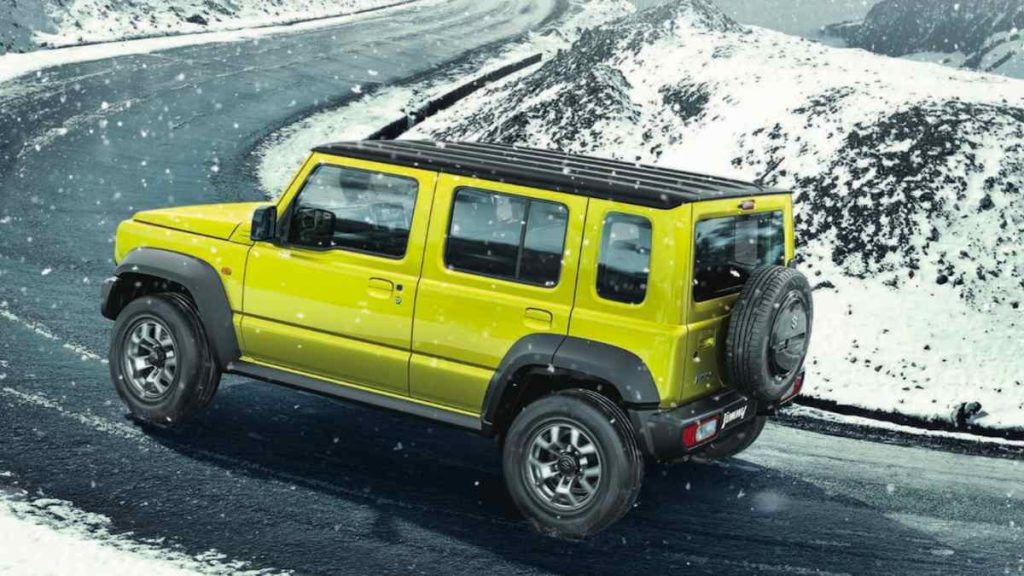 Let's get social! Follow Vroom Head India On Google News, Koo, Twitter, Instagram, Pinterest, Facebook, and LinkedIn
The Jimny 5-Door is 3,985 mm long, and has a wheelbase of 2,590 mm, an increase of 340 mm compared to the 3-Door Jimny. The width and height are 1,645 mm and 1,720 mm, respectively. The SUV has a ground clearance of 210 mm- ample for most terrains. It is also claimed to offer a boot capacity of 208 litres. It's underpinned by the Suzuki TECT architecture- a strong ladder frame chassis with high torsional rigidity.
The addition of two doors for the rear occupants blends neatly with the boxy body. Key highlights include a smaller rear glass area with a sizeable quarter glass and the new extension behind the rear door with a distinctive glass area surrounded by thick pillars at both corners. These are also major design departures from the 3 door.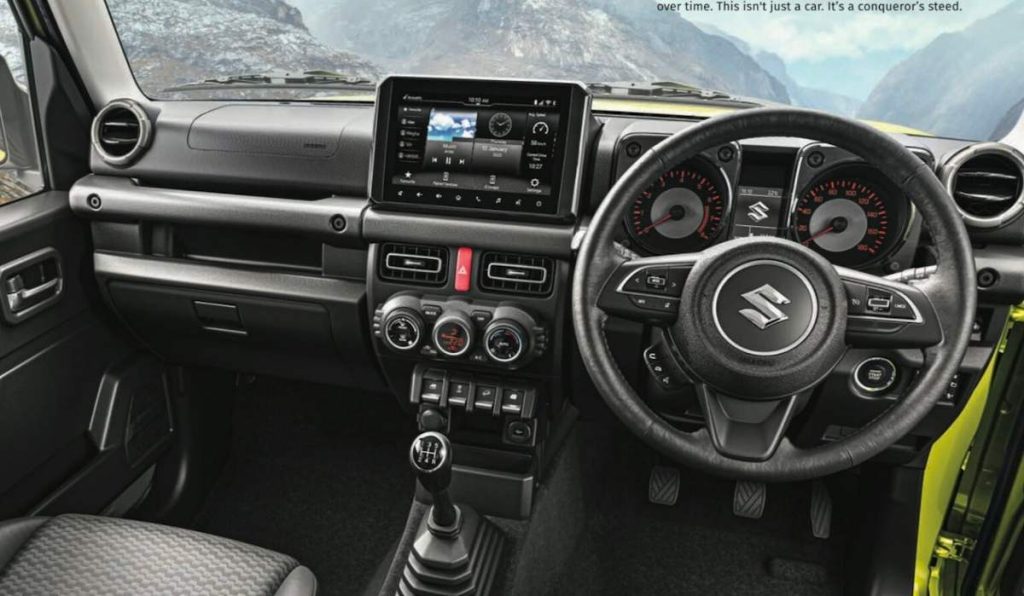 Rest of the things like the head and tail lamp units, flared-out wheel arches, same side-opening tailgate with exposed hinges, door-mounted spare tyre with a gloss black cover, etc. are all identical to the 3-Door Jimny. The 5 door Jimny has short overhangs, upright A-pillars, squarish proportions, and a wider back door opening for better accessibility.
Features To Expect
On the inside, it gets an upgraded 9.0-inch SmartPlay Pro+ central infotainment touchscreen, all-Black interior, a geometric instrument cluster, flat reclinable front seats, intuitive knobs and switchgear, etc.
Check out more of our Auto Expo coverage!
India-Spec Maruti Jimny Specification
Coming to the powertrains, the Jimny 5-Door draws its juice from the 1.5L, four-cylinder, petrol engines (K15B) that used to be seen on many Maruti Suzuki models previously, and was recently replaced with the Dualjet equipped K15C engines (105hp and 134Nm). A 4-Speed Automatic and 5-Speed manual transmission will be available on the Jimny. It also packs Maruti's 4×4 All Grip Pro system, 3-link rigid axle suspension and ample body angles for unmatched capabilities.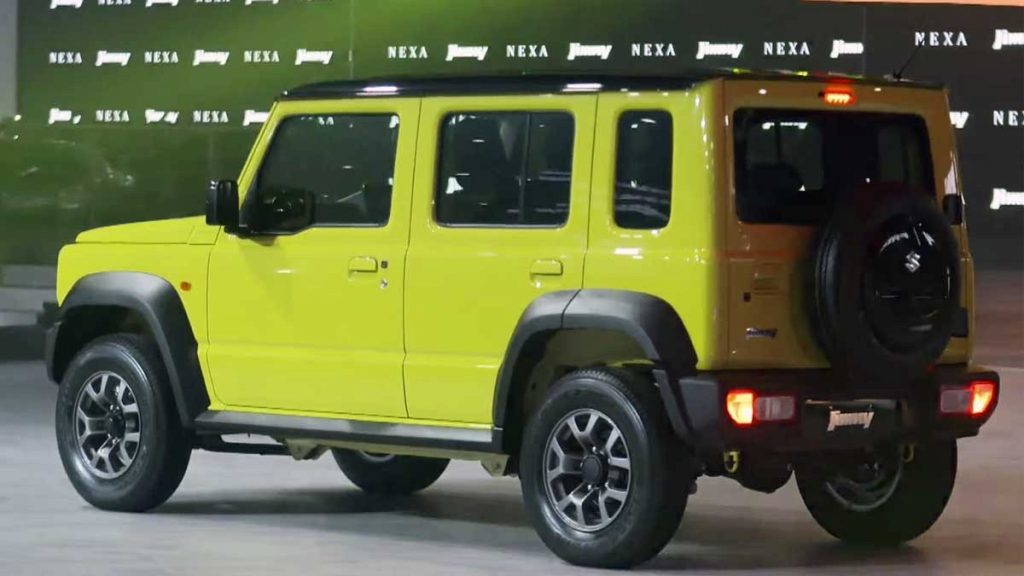 Let's get social! Follow Vroom Head India On Google News, Koo, Twitter, Instagram, Pinterest, Facebook, and LinkedIn
MSIL's Plans With Jimny
The Jimny 5-Door will be manufactured exclusively in India, and even the export orders will be catered to by the plant here. Maruti Suzuki has been producing the Jimny 3-Door at its Gurgaon facility for exports since January 2021. But recently, the production was halted as the plant is being updated to accommodate production of the 5-Door version.
There are no signs of the 3-Door Jimny hitting the Indian market anytime soon, but rumours are around for sure. MSIL had showcased the Jimny 3-Door at Auto Expo 2020.
Check out our detailed 5 door Jimny Image gallery!