The star couple celebrated their 9th anniversary with the purchase
Hugely popular South Indian actor Fahadh Faasil has added a new Land Rover Defender to his garage. The purchase, in fact, celebrates the 9th wedding anniversary of Fahadh and Nazriya. Nazriya, also an actor, went vocal on social media about the anniversary, and wrote: "Thank you for the love. Thank you for the life. 9 years of US". The post got immense attention and love from netizens.
The car shopping, however, came in as a surprise and adds more sweetness to the occasion. Not much data or images have officially been made available of the buy. We know it's done and have this one quick picture clicked!
Land Rover Defender has been a popular favourite among celebrities and entertainment and fashion juggernauts, since its debut. A lot of movie stars and celebs across India, have added this SUV to their garages. Fahadh, however, stands unique for having opted for the '90' body style!
Most other star-garage Defenders from across India are 110s, and here is the 41-year-old actor with his short-wheelbase Defender 90- What a great buy! The man's got tastes…
Fahadh Faasil's Defender 90: What We Know Yet
Land Rover Defender 90 is the short-wheelbase, 3-door version of the iconic SUV, and is available in a range of forms and with a curated set of powertrains. While it can be had with Ingenium petrol, Ingenium Diesel and a mighty V8 petrol engine, we've had no clear confirmation of the powertrain on the actor's car.
As suggested by certain sources and available images, it could be the behemoth 5.0L V8 (P525) that Fahadh has taken home. In that case, the SUV will have 518 hp and 625 Nm to play with, and can get to 100 kph in just 5.2 seconds!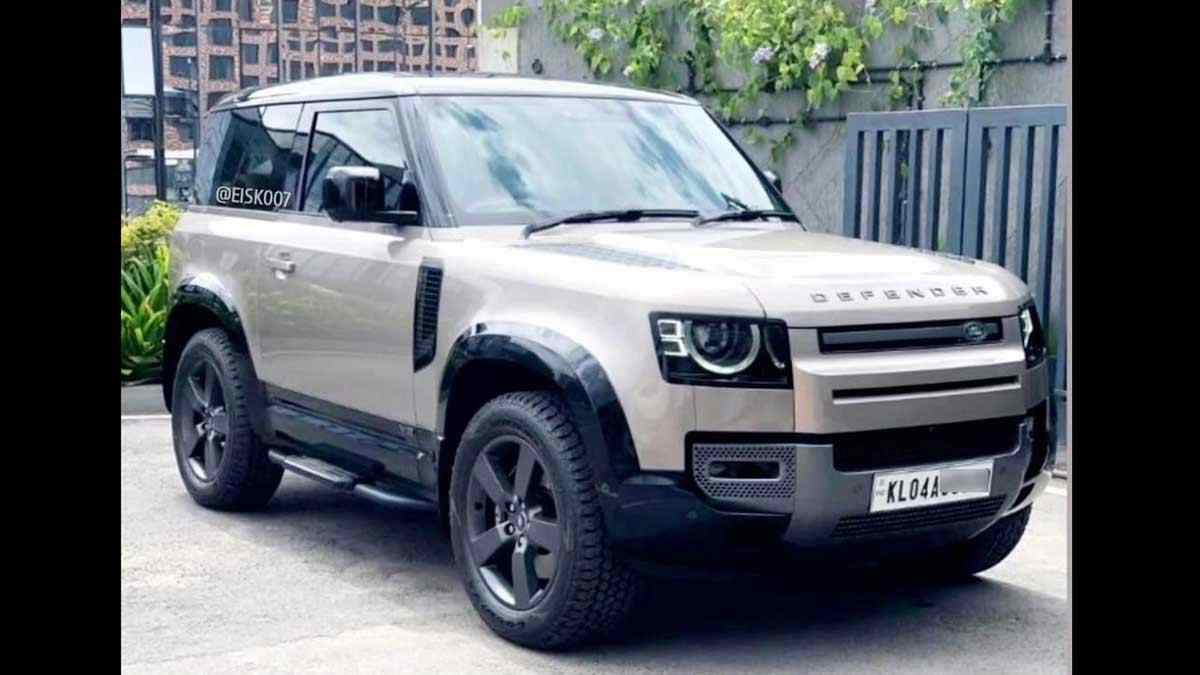 Fahadh Faasil's new Defender 90 wears the 'Gondwana Stone' paint, has Black wheels and gets the 'Country' accessory pack installed (available images show front and rear classic mudflaps).
While smaller engines can fairly bring down the prices, Land Rover Defender 90 V8 petrol has an ex-showroom price of over 2.11 crores, making it a super-expensive and fairly exclusive buy…
Fahadh Faasil's Car Collection: Key Highlights
Though he has explicitly denied the same, Fahadh Faasil seems to have a thing for cars. In fact, he seems to have a clear, refined set of likes and preferences- almost every one of his buys is a testament to the same!
'
The actor currently has a garage that any petrolhead would drool over. Following the huge success of his recent films, Fahadh recently bought a brand new BMW 7 series. He also owns a 650 hp Lamborghini Urus. The actor has the track of having owned a Porsche 911 and a bunch of other interesting cars and SUVs. As disclosed by him previously, Nazriya, seems to have a thing for cars as well.