Max Verstappen capitalized on the safety car to win the Saudi GP
Defending Formula 1 Champion Max Verstappen charged from fourth in the grid, engaged in a race-long battle with Ferrari's Charles Leclerc to finally win the Saudi Arabian Grand Prix.
In the process, the Red Bull driver, steering to his 21st career win, bounced back from the disappointing result in the season-opener Bahrain Grand Prix, where he was classified 19th after a technical issue forced him to retire just four laps away from the finish.
Verstappen's joy in Saudi Arabia, however, didn't bring cheer to his teammate Sergio Perez, as the Mexican driver finished the race outside the podiums despite starting from the pole.
The race in Saudi Arabia was ecstatic as the rivals- Verstappen and Leclerc battled to the final lap, and the reigning world champion zoomed past the chequered flag at just 0.549 seconds ahead of the 24-year-old Monacan driver.
Ferrari's Carlos Sainz, who started from the third place on the grid, maintained his composure to finish at P3, giving Ferrari a double podium for the second race in a row.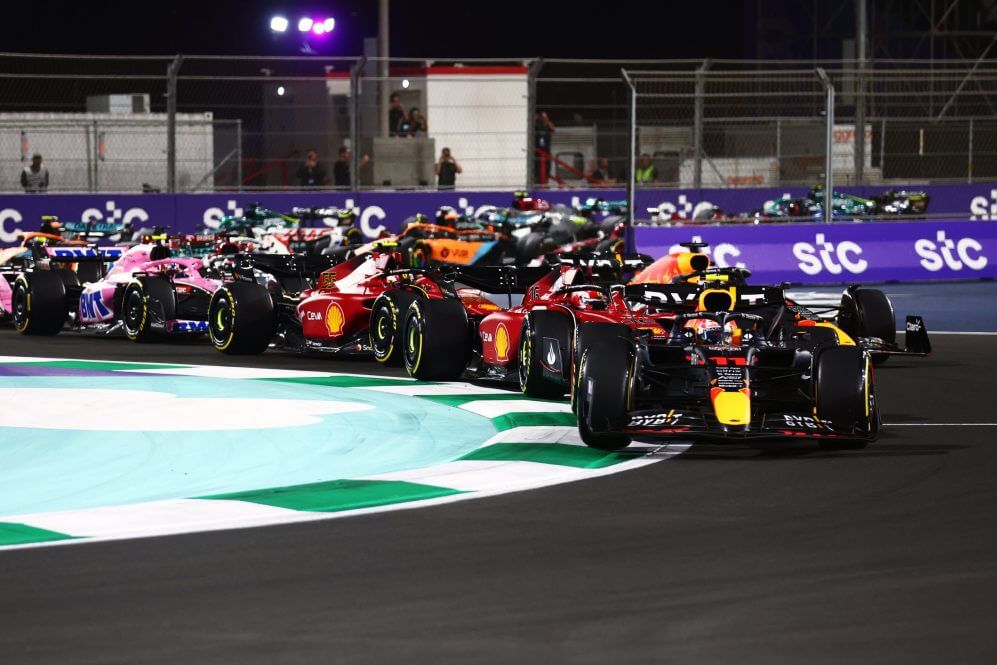 The Action As It Happened
Max Verstappen was quick to react with lights turning green at the Jeddah Corniche Circuit. He overtook Carlos Sainz on the first corner to move to third place. Racing alongside his teammate in the third position, Verstappen took advantage of the safety car deployed after Williams' driver Nicholas Latifi crashed on Lap 16.
Leclerc retained his lead after the restart forcing Verstappen to tail him. A cat and mouse game between the drivers followed, with Leclerc maintaining a 1.5-second lead.
With 12 laps to go, things turned in Verstappen's favor when the cars of both Daniel Ricciardo and Fernando Alonso stalled in two separate incidents. Soon, the safety car returned, and Verstappen closed in on Leclerc. To shake him off from his tail, Leclerc continued to charge. In the process, he set the fastest lap in the race.
In lap 45, Verstappen made a minor mistake in the last corner that cost him some time. Going aggressive on the DRS, and adopting some seriously skillful moves, Verstappen finished 0.5 seconds ahead of Leclerc, taking one of the 'most exhilarating wins yet' of the season.
Let's get social! Follow Vroom Head India On Google News, Koo, Twitter, Facebook, Instagram, Pinterest, Whatsapp, and LinkedIn.
'