The electric vehicle will be manufactured at Hero Motocorp's Chittoor facility
Hero Motocorp is gearing up to join the EV race. We've known for long that Hero is working on an electric scooter. In fact, its CEO Pawan Munjal had even teased a pre-production prototype of the vehicle in August. A recent media statement from the manufacturer has let out the time frame for the launch. It says Hero Motocorp will launch its first electric two-wheeler by March 2022.
The first electric scooter is known to be developed in-house by Hero Motocorp, with its R&D centers in Germany and CIT, Jaipur, working collectively. Though details are scarce at the moment, the EV is hoped to rival Ather, Ola, and Chetak upon launch. Also interesting is the fact that Hero Motocorp would mostly choose a different name for its EV vertical as 'Hero' cannot be of use!
Hero Motocorp will manufacture the EV at its recently set-up facility in Chittoor, Andhra Pradesh. The plant is to be noted for its sustainability quotient, something well implied by its name 'Garden Factory'. Spread across 600 acres, it hosts everything from battery pack manufacturing to vehicle assembly and end of line testing.
Hero's Road To EVs
Hero Motocorp seems to be riding a wise-set road to EVs. It is working towards becoming future-ready, even while keeping the focus on the current ICE two-wheelers uncompromised. The shift from ICE to EVs is going to be gradual and Hero Motocorp would apparently embrace it with no niggles! We've seen similar strategies from other two-wheeler majors like Bajaj and TVS as well.
As for Hero Motocorp, the vision on EVs seems to be promising. The manufacturer has been working extensively on various EV researches and technologies. If you might remember, Hero Motocorp has invested heavily in Ather Energy and currently holds 35% of its stakes. Through a strategic partnership with Taiwan-based Gogoro, Hero Motocorp is also setting up battery swapping networks and charging stations in the country. The duo is also known to be working on an electric two-wheeler, which could be the second launch in the lineup.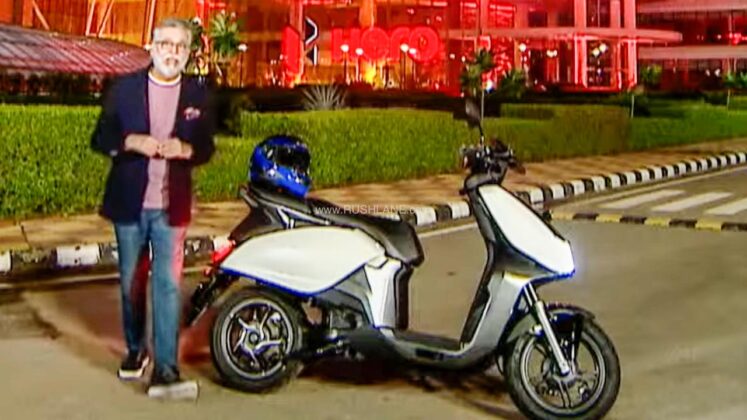 First Hero Electric Scooter: What Could It Be?
We actually have had no clear information on this yet. The prototype was seen for a very short span of time during the live webcast celebrating the 10th anniversary of the company. From what we got to see, the scooter is decent in terms of design. It could be riding on 12-inch wheels at the front and 10 inchers at the rear. It might have a mid-ship mounted electric motor, instead of the usual hub-mounted ones, and the proto had no double-sided swingarms. It also had a long split seat and a short fly screen as well.
Let's get social! Follow Vroom Head India On Google News, Koo, Twitter, Facebook, Instagram, Pinterest, Whatsapp, and LinkedIn