ICONA DESIGN group plans to foray into the Indian market through the Auto Expo 2020!
---
I know the name would be a bit unfamiliar to you all. Well, ICONA DESIGN group is a Turin based design studio acclaimed globally for their futuristic concept designs. ICONA is getting ready to make their Indian debut at the Auto Expo 2020.
We know that the Delhi Auto Expo, scheduled to commence from Feb 7-12 in Noida, is the country's largest automobile festival. It has always been the favourite venue for all manufacturers planning their Indian debut, to showcase their models the way they are meant to be. ICONA plans to mark their presence here with the ICONA Nucleus concept. The Nucleus is a highly futuristic driverless electric vehicle concept from the brand that could be the deserving show stopper for many this time.
ICONA envisions future mobility through the Nucleus concept. It gets autonomous driving level 5, that is nothing short of being the zenith of going futuristic. The vehicle misses out on a steering wheel and a dashboard and the cabin is more of a living space for six.
ICONA group sees India as a highly potent market for design and expects the EV space to witness a significant boom soon. We think this to be absolutely right as well, as many EV manufacturers are prepping themselves for the Auto Show this year.
The ICONA Nucleus is highly futuristic and immensely human-centred. Electricity driven, it is easier on the environment as well. The Nucleus has been born as a result of joining brains and brawns from almost 21 nations. Over 90 designers have worked on this project from three different locations, viz- Turin, Shanghai and Los Angeles.
A full autonomous self-driving car like the ICONA Nucleus would indeed be a gem when it comes to convenience. Imagine your car coming to pick you from the airport all by itself, that would be as cool as it sounds to be.
ICONA NUCLEUS
"A seamless gliding first class form of transportation" comments Samuel Chuffart, Global Design Director of ICONA on the design of the Nucleus.
Take a look at these images here and you would all agree to him as well. The design indeed looks purposeful and absolutely gorgeous. It is highly aerodynamic and immensely radical.
'
The roof is finished in semi-transparent glass and this makes up for an enthralling ambience inside the cabin. The Nucleus is nothing short of a fully autonomous executive lounge. There is just one large entry, towards the right, which remains apparently the safer side. There is a large sliding door and a beautiful oyster roof opening to facilitate a grand ingress.
The ICONA Nucleus concept is 5.25m long, 2.12m wide and 1.75m tall. You can now imagine how spacious and premium the interiors of this car would be. It also gets an autonomy range of 1200 kilometres.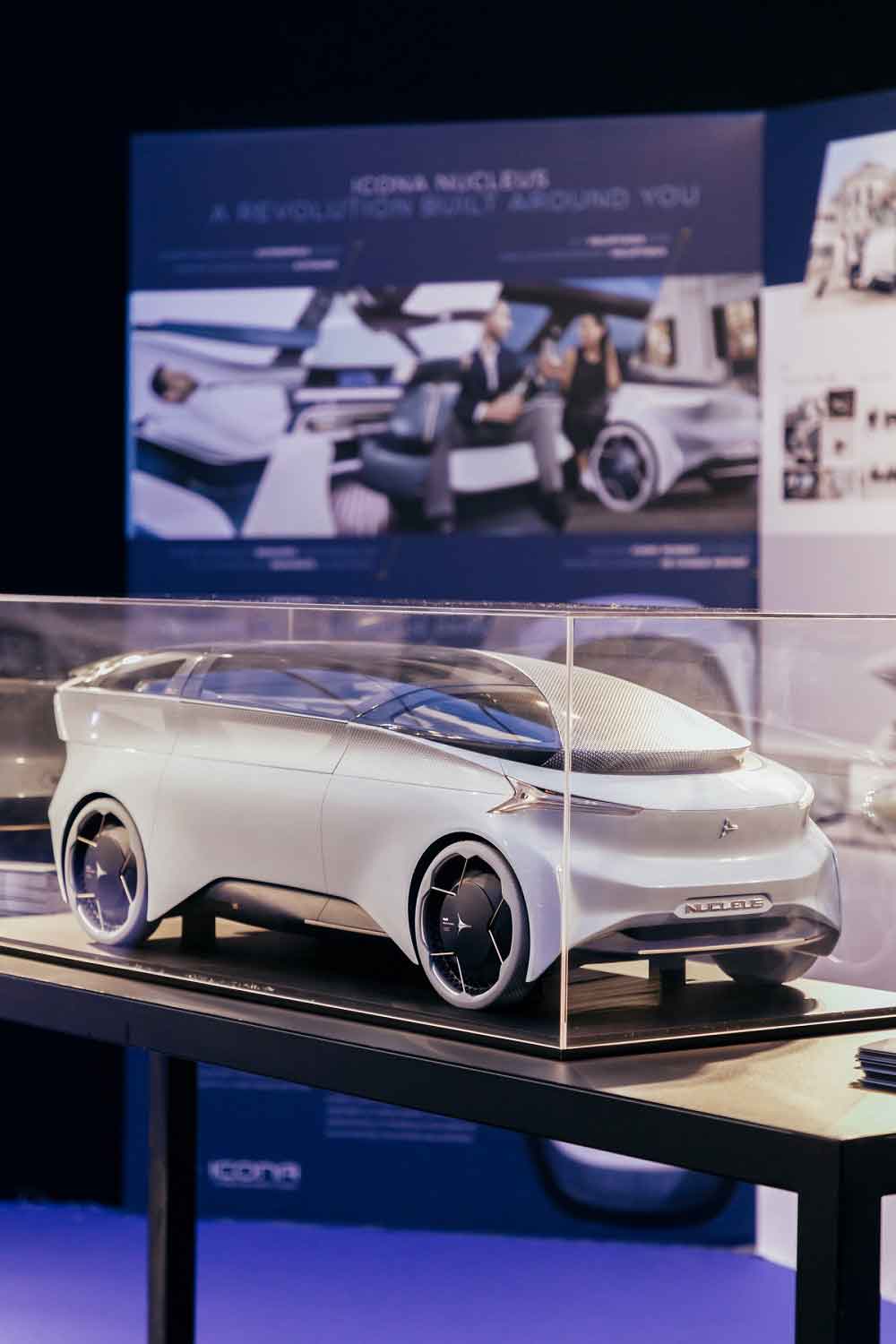 The cabin hosts flexible seating arrangements. The flexibility of movement for each individual and the superior infotainment on offer, all impart a sense of luxury and modernism in the overall cabin air. The Nucleus is a six-seater with the seats getting every bit of luxury including the swivel function.
The Nucleus gets a 600hp in-wheel electric motor as its heart. There is AWD too. The powerhouse, however, is a 6 coils battery pack and there is even a Hydrogen range extender on offer. 0-100 comes in 3.5seconds.