The fourth-gen Kia Carnival MPV had broken veils recently and now Kia Motors has given out the first official images of its interior as well
We had recently seen Kia pull the veils off the next generation Carnival through a set of official images that surfaced online. The carmaker had then revealed just the exteriors of the fourth-generation car and had kept the interior for a later date. So now, Kia Motors has let out a single image of the upcoming Carnival's cabin for the S. Korean market.
The image shows the existence of two large screens, each measuring 12.3 inches, one of which does job as the infotainment display and hosts haptic touch controls and the other as the display for the digital instrumnent cluster.The cabin gets what looks like a panoramic dashboard and neatly integrated AC vents. The quality of the materials used appears premium indeed.The upcoming model will have additions on the driver assistive and comfort -related features as well.
The Kia Carnival for the South Korean market would most likely get the 2.2L 4 cylinder diesel mill along with the 2.5 turbo petrol engine spitting out 280 hp ! It is also hoped that the Carnival will have a hybrid powertrain as well, which mates a 1.6 petrol engine with an electric motor.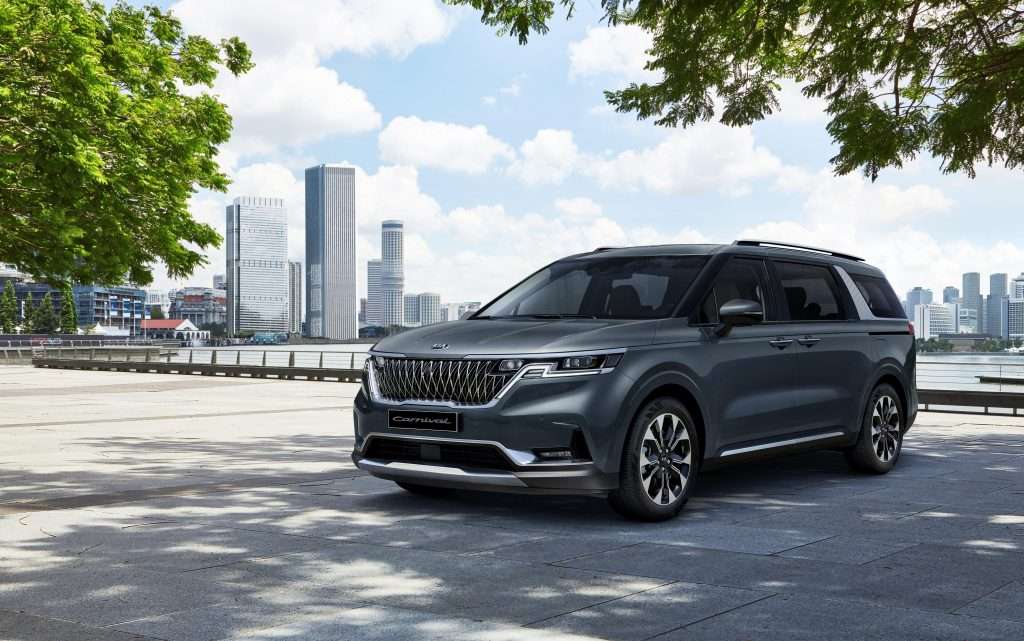 As for the overall design, there would be increases of 40mm in length, 10 mm in width and 30mm in wheelbase of the upcoming model. The front end seems totally fresh and invoking more of an SUV air. The silhouette boasts of bolder lines and a cleaner designs. The rear too gets thorough makeovers on the 2021 Carnival.
Kia Motors India had launched the third-gen Carnival in India in early 2020. The MPV gets a 2.2L four-cylinder diesel engine producing 200 hp and 440Nm for India. Thus, we are expecting the fourth-gen car to launch here sometime in 2022.
ALSO READ: