The first Tesla Model 3 gets delivered in India, here's more
It's been months since EV giant Tesla announced its Indian entry. The company has registered its Indian arm under the name Tesla Motors India & Energy Pvt Ltd, headquartered at Bangalore. Though the deep details of Tesla India's product plans aren't available yet, we do know that the Model 3 would be the first launch. Underlining the same, a few spy shots of the Tesla Model 3 undergoing testing in India, had also surfaced online.
A few Tesla cars are already on our roads, brought in previously as private imports by the affluent. However, there was no Model 3 in any of the Indian garages till recently. Automobile Ardent has now published pictures of what claims to be 'India's first Tesla Model 3' that has just been delivered to a garage in Bengaluru, Karnataka. There is no clue yet of the owner's details. The EV, finished in Blood Red shade, would reportedly share the garage with a few expensive toys like Bentley Mulsanne EWB Centenary and Porsche 911 GT3 RS.
Tesla Model 3: The Most Affordable Tesla
Model 3 is the entry-level Tesla you can buy today. It is the entry ticket to the Tesla range, retailing for $39,990 globally, translating to around 30 lakh Indian Rupees. While this might sound interesting, it is hard to say that the car that has landed in Bengaluru would have made its owner spend similar sums, as this should in every way, be an import, as the India-launch of Model 3 is still far away. If a private import, this model 3 should have costed its owner somewhere around Rs 80 lakh, courtesy to the 165% import duties imposed by the center.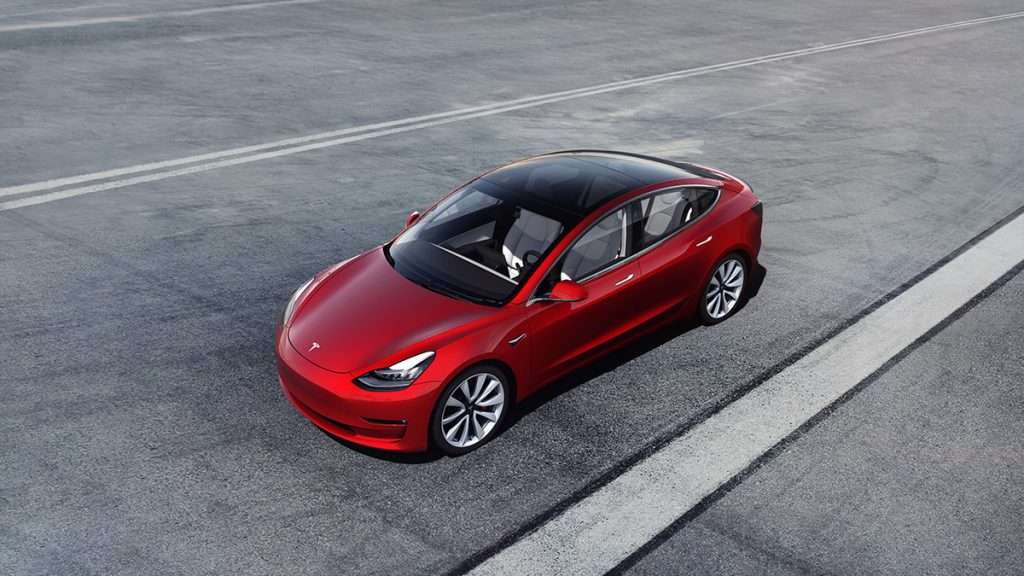 The model 3 is available in two different powertrain configurations globally- single and dual-motor setups. Tesla claims a range of 423 kilometers even while delivering 0-100 kph in 6 seconds. This car comes with RWD.
There is also a long-range, AWD-equipped variant that can do the 0-100 kph sprint in 4.5 seconds and has a 568 km range. The performance spec range-topping Model 3 can do the 100 kph run in just 3 seconds, even while offering the same range of 568 km. It has a top speed of 260 kph and more powerful brakes too. We are not sure as to which variant the one that has landed in Bangalore is. However, we do know that it has a dual motor setup, from the badge on the tailgate.
From what we know yet, Tesla India will initially bring in the Model 3 via CBU, before starting the local production in a later phase. However, Tesla could benefit from the 'no homologation for under 2,500 units' rule to keep the costs in check. It is also unclear if the carmaker would bring in all variants of the Model 3 that are available in the global market or just the most affordable ones, to India.
Source:  Automobili Ardent