A Kerala RTO has denied registration to a BS6 Mercedes Benz GLE, claiming it to be of BS4 standards!
Imagine buying your dream SUV after long years of hard work and your RTO denying its 'post-lockdown' registration accusing it to be a BS4 unit even when all the associated documents prove the other way! Well, this Mercedes Benz GLE owner from Kothamangalam, Kerala seems to have just had this bitter experience! We first saw this news on the leading Vernacular YouTube channel Pilot On Wheels. Here is what we know about this yet…
The BS4- BS6 game has gotten too far in India. The honourable Supreme Court had earlier declared the BS6 regulations to kick in on April 1, 2020 and that no BS4 vehicle would be sold in India thereafter. However, the pandemic breakout and the associated lockdown made the court extend the deadline further by a month. The 30th of April is the new deadline for getting BS4 vehicles registered in India.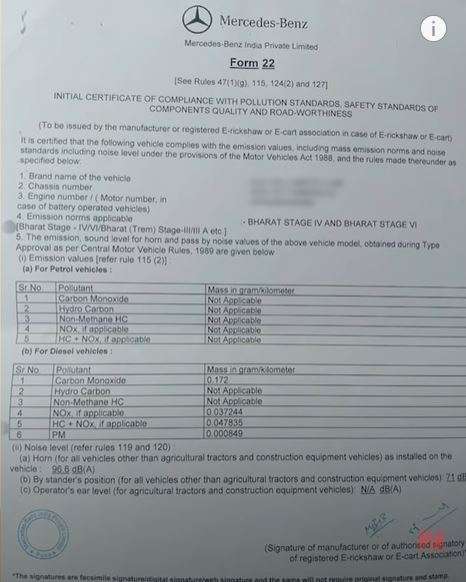 This Mercedes Benz owner ranks among the first few customers of the all-new Mercedes GLE in India. He had been driving his car with the temporary registration plate on, until when the nation went into the lockdown. However, with a few days left for the new deadline to kick in, he was asked by the Kothamangalam RTO to get his car registered before the 30th of April or never! Even when the Form 20 issued by the carmaker certifies the car to be both 'Bharat Stage 4 and Bharat Stage 6 compliant', this Kerala RTO finds it to be a BS4 vehicle!
What this essentially means is that if not for the owner, the RTO themselves would register the car as a BS4 unit, which will, in turn, bring hefty losses to the owner in the long run. Though a matter of technical ignorance, this confusion is not just for this one car and this one RTO alone. Similar cases have been reported from many parts of the country. Manufacturers are tackling the situation by providing additional declarations on the emission compatibility.
The Mercedes Benz GLE was launched in India on Jan 29, 2020. The SUV comes powered by two diesels and a petrol engine, all BS6 compliant. Mercedes Benz had pioneered the BS6 transition in India, back in 2018 with the launch of the S350d.
News And Image Source: Pilot On Wheels
ALSO READ: Mercedes Benz Records Impressive Q1 Sales Amidst Covid-19!