Guess what Land Rovers are doing in a space mission? Everything from towing spaceships to driving around the 'Spaceline' bossman!
Virgin Galactic completed its first full-crew space flight on July 11, 2021. The VSS Unity spaceship had Virgin bossman Richard Branson and three other mission specialists as its maiden fliers and was piloted by two eminent space pilots- David Mackay and Michael Masucci, experienced from multiple test flights conducted previously. The full-crew flight comes in as the SpaceShipTwo Unity's 22nd test flight and the fourth crewed flight to space.
VSS Unity took off from Spaceport America in New Mexico, with 6 persons onboard. Branson and his fellow astronauts got to experience out-of-seat weightlessness and incredible space-views of planet Earth. A smooth glide down and a smoother landing at the same airstrip marked the completion of Virgin's first full-crew space flight and a new milestone in human history! While this news is exciting by itself, here's something to add more spice to it. Virgin Galactic crew and the entire mission were supported by Land Rover vehicles!
Land Rover And Virgin Galactic
Land Rover had announced its global partnership with Virgin Galactic in March 2021, on the occasion of their newest spaceship roll-out. Though currently slated till 2024, this partnership could be extended in the future, in which case it would turn out to be of a 10-year span. JLR has a dedicated fleet supplied for mission use and support at the base. So what exactly do Land Rovers do in a space mission? Well, literally everything from driving around the crew to towing a full-size spaceship!
Sir Richard Branson arrived for the Unity 22 mission in a Range Rover Astronaut Edition, a special edition car that had originally been announced in 2019. The Astronaut Edition Range Rover is a bespoke creation by Land Rover SV, available exclusively to Virgin Galactic's future astronauts.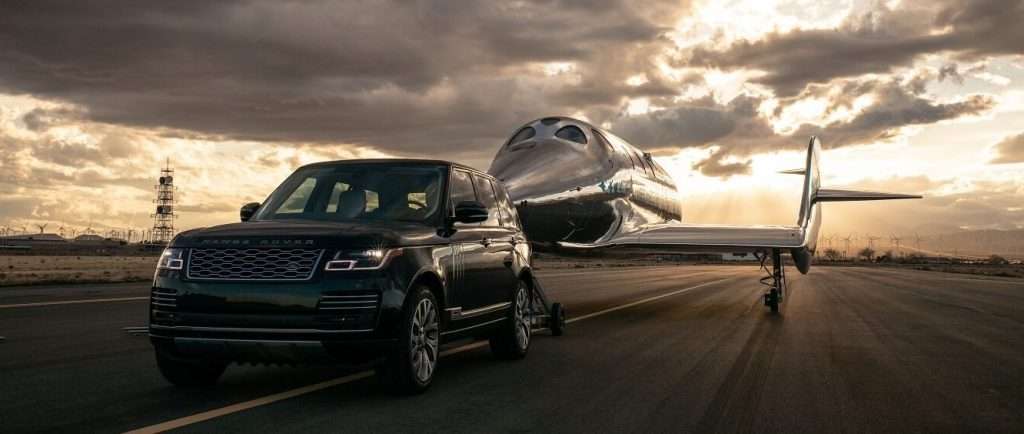 Various Land Rover models also do roles in mission logistics within the spaceport, astronauts transportation, carrying mission equipment, and clearing runways before take-offs. The most exciting would, however, be the mighty Defender 110 being deployed to tow the VSS Unity spacecraft! In the videos released by Virgin Galactic, Defender 110 can be seen towing the spaceflight from the runway to the base after landing. If you might remember, the 2021 Defender can tow up to 3,500 kilograms!
In other news, you might also remember Land Rover Defenders recently being used as support cars in the Redbull X Alps 2021.