Mahindra Thar.e will be underpinned by the INGLO platform
Mahindra has revealed a vision car that signs at how the electric Thar will be taking shape. The 'Mahindra Thar e' concept unveiled at the 'Mahindra Futurescape' event in South Africa, is expected to spawn a production form sometime in 2026. Here is everything that we know of it yet.
Table of Contents
Thar.e: Mahindra's Electric Thar Concept
The new Thar.e concept ditches a lot of the ICE sibling's design cues, that were originally associated with the CJ, and it doesn't look too much like the Thar we know. It's built on a skateboard platform and has nothing to do with a ladder-frame chassis.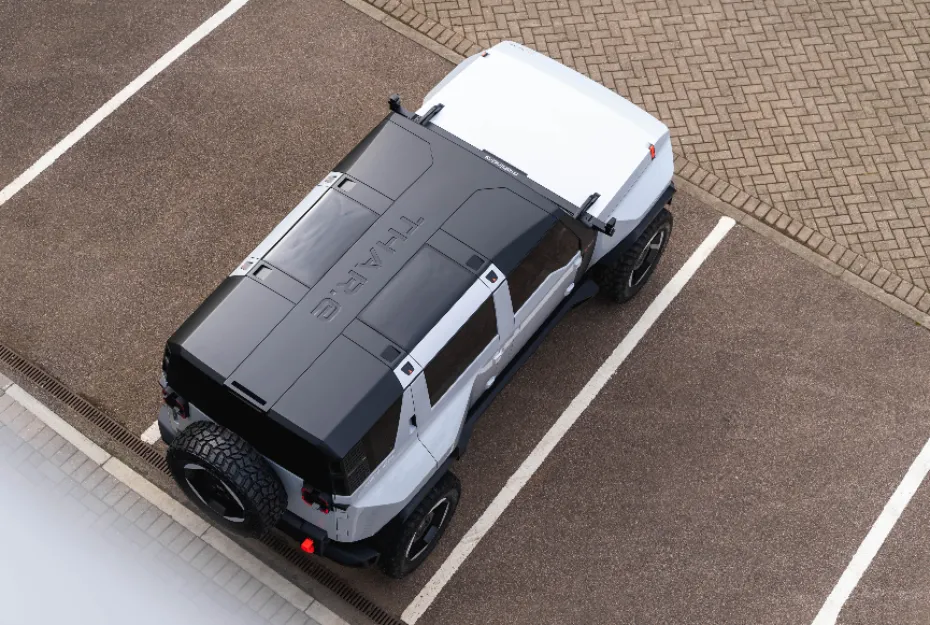 The Thar EV concept has an upright stance, boxy shape, well-crafted surfaces and neat lines. The squared-off fenders, exposed door hinges, raised Baja-type suspension, big wheels with huge travel and generous ground clearance- all give it an imposing, off-roader stance.
Mahindra 'Thar e' concept has a fascia with a pair of quartered and squared headlamps, a rectangular grille and LED elements and massive front bumpers. The rear gets generous use of Black trims, and looks compact but with a wide track! The overall design could resemble those of Land Rover Defender, Ford Bronco, and old Land Cruisers in many places and in small amounts!
Mahindra Thar EV Interior
Inside, the dashboard is flat and gets grab handles at either end. The steering wheel is flat and has three spokes. The electric Thar doesn't have wall-to-wall touchscreens like its INGLO-based siblings, but would come with a fighter-like 'live status' pictogram on its instrument console. The vehicle also gets a pivoting central touchscreen and a prominent central tunnel. The cabin makes use of 50% recycled PET for various upholstery.
Mahindra Thar.e Specifications
The Thar EV won't be built on a converted ladder-frame chassis, but instead, be underpinned by a variation of Mahindra's new dedicated EV platform, called INGLO P1. This architecture will also be used on multiple other BEV models, as disclosed previously. The battery here is flat and sits between the wheels. The INdia GLObal platform being modular, allows for electric vehicles of different dimensions and body styles to be underpinned by it.
The INGLO P1 chassis is said to have a wheelbase of 2,775- 2,975mm, longer than the standard INGLO. The additional bulk is added between the firewall and the front wheel hub, as suggested by a few official sketches.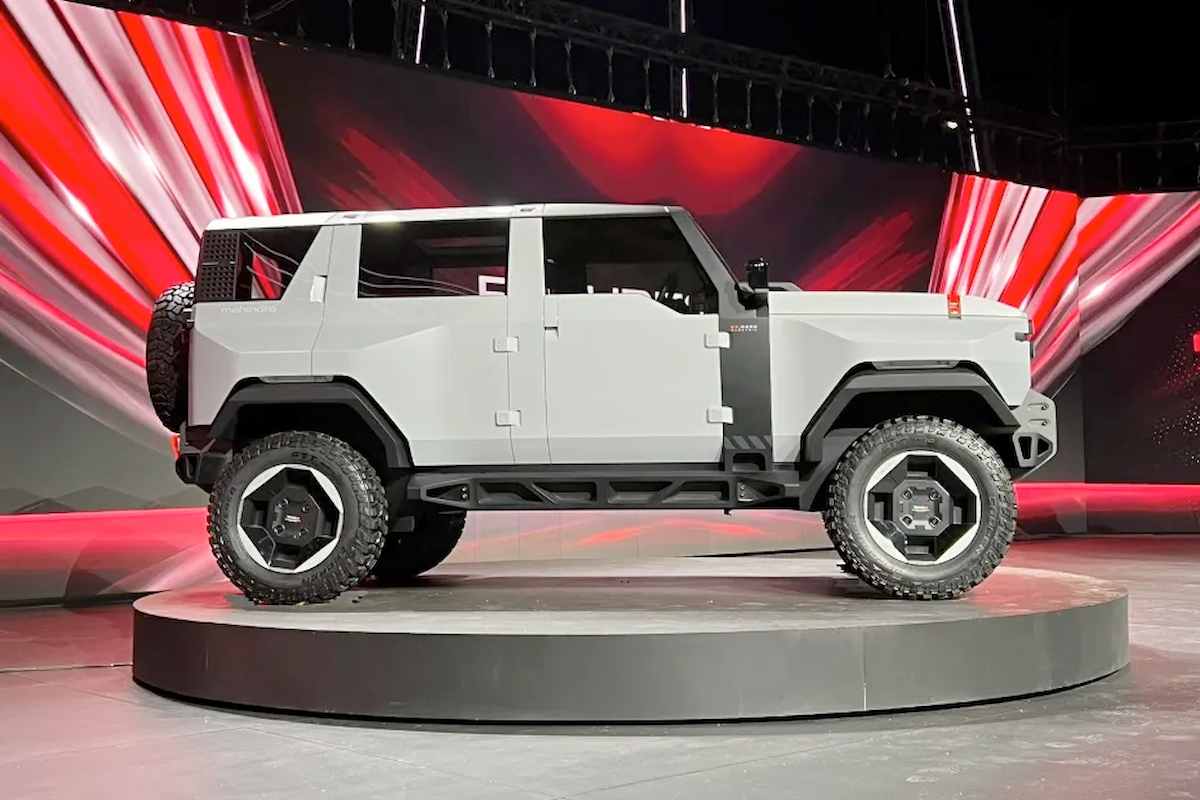 For early BEVs like XUV.e8, the battery and motors will be sourced from BYD. For the production-spec Thar.e, however, the electric motors will be more powerful units sourced from Volkswagen. The concept has a dual motor setup, with the front wheels getting 107hp/135 Nm, and the rear axle enjoying 281 hp/535 Nm.
The production-spec Thar.e would use the same battery pack as other INGLO models. 60 KWh is the most likely choice. However, an 80 KWh unit can return up to 450km in range. The smaller battery can deliver a range of around 325km.
The Mahindra Futurescape event also saw the official revealing of the Scorpio N-based pickup truck concept, which the manufacturer prefers to call Global Pik Up concept, for now.
'
Follow Vroom Head India On Google News, Koo, Twitter, Instagram, Pinterest, Facebook, and LinkedIn