This article could make decision-making easy for you, as Thar and Jimny are priced close to each other…
Maruti Suzuki Jimny is out on sale and we see people brainstorming over how well it fares against the Mahindra Thar RWD. While this comparison could make little sense on a product-to-product basis, it still stands valid from the buyer's perspective, as both the Thar and Jimny are priced close to each other. There are variants of both the SUVs available at prices around 15 lakh (ex-showroom). Thus, it is logical to do an in-depth analysis of the pros and cons of these before making a purchase decision…
Are You In A Hurry?
Mahindra Thar RWD Petrol
Maruti Jimny
Better powertrain and more performance
Less power and torque on offer
Low fuel efficiency
Higher fuel efficiency
3 door
5 door and convenient
Better build quality and safety
Better interior quality
Faster off the line
Not the most VFM product in the segment
High prices
More imposing stance and better road presence
No diesel engine offered
Great pricing
Feature-packed
Gets a capable and fuel efficient diesel engine too
Compact and lightweight
Table of Contents
Thar RWD Vs Jimny: Price Comparison
To make it a level ground, we are going to compare the top-spec petrol variants of these cars. The Jimny of course, is available with a petrol powertrain alone, while the Thar can be had in both petrol and diesel. Here, we line up the petrol Thar RWD against the Jimny, for the most realistic comparison possible. Before we begin, here are the prices:
| | | | |
| --- | --- | --- | --- |
| Mahindra Thar Variant | Ex-Showroom Price | Maruti Jimny Variant | Ex-Showroom Price |
| Thar LX HardTop AT RWD (Petrol) | 13.49 lakh | Zeta MT | 12.74 Lakh |
| | | Zeta AT | 13.94 Lakh |
| | | Alpha MT | 13.69 lakh |
| | | Alpha MT Dual Tone | 13.85 lakh |
| | | Alpha AT | 14.89 lakh |
| | | Alpha AT Dual Tone | 15.05 lakh |
Table: Mahindra Thar vs Maruti Jimny price comparison
Maruti Jimny Vs Thar RWD Comparison
Both vehicles have their own sets of advantages and drawbacks. The ultimate decision here should be based on individual preferances. Here we will be comparing these on grounds of real-world usability, practicality and VFM tags.
Let us start with the dimensions. Both vehicles have the same overall lengths. However, the Thar is wider than Jimny by 170 mm. The Suzuki in fact, is already garnering criticism for being narrow by segment standards. It is also being shamed for riding on skinny tyres. While the Thar RWD gets wide 255 / 65 R18 rubber offering great grip, Jimny gets skinny 195/80 R15 tyres!
Jimny also falls short in overall height and ground clearance, when compared to the Mahindra. However, it still fits fairly well into the 'kei car' proportions.
| | | |
| --- | --- | --- |
| Dimension | Mahindra Thar RWD | Maruti Jimny |
| Length | 3985mm | 3985mm |
| Width | 1855mm | 1685mm |
| Height | 1844mm | 1720mm |
| Wheelbase | 2450mm | 2590mm |
| Tyres | 255 / 65 R18 | 195/80 R15 |
| Kerb Weight | 1.7 ton | 1.2 ton |
Table: Jimny vs Thar dimensions comparison
ALSO READ: Mahindra Thar RWD (4X2) Launched From 9.99 Lakh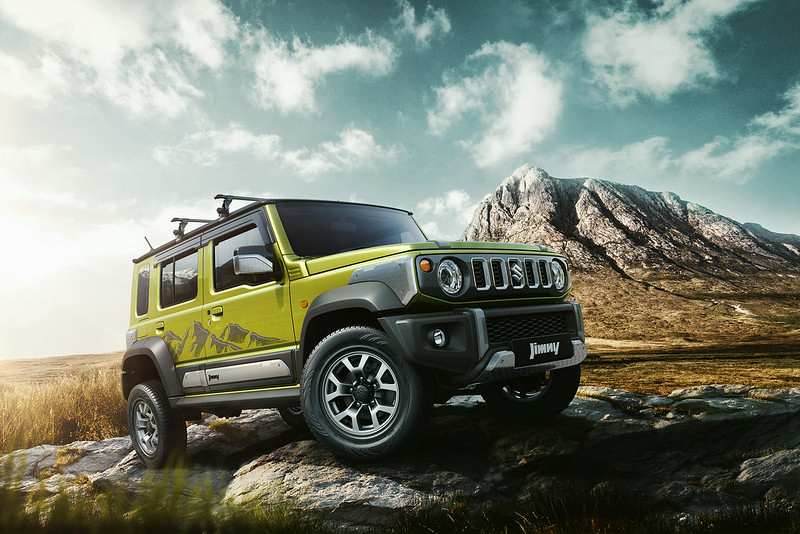 Off-Road Capability Comparison Of Thar And Jimny
| | | |
| --- | --- | --- |
| Dimension | Mahindra Thar RWD | Maruti Jimny |
| Approach Angle | 42 Degrees | 37 Degrees |
| Departure Angle | 37 Degrees | 49 Degrees |
| Break-over Angle | 27 Degrees | 28 Degrees |
| Ground clearance | 226 mm | 210 mm |
| Water wading depth | 650 mm | 320 mm |
Table: Thar vs Jimny offroading capability
The Thar needs no further corroboration for its off-roading prowess. It has the right proportions and hardware for delivering an immersive off-roading experience.
Maruti Jimny could look small. It is small! This compact proportion and light kerb weight would both prove to be of advantage on trails. It might not be as great as the 3 door Jimny sold abroad, but would still be very capable. 5 door Jimny also gets a partial 4WD which can be manually engaged, brake locking differential and a shift-on-fly transfer case. Due to its dimensions and kei car persona, Jimny has lesser wading capability than the Mahindra.
Maruti Suzuki Jimny Vs Mahindra Thar Petrol: Specifications Comparison
| | | |
| --- | --- | --- |
| | Mahindra Thar RWD (Petrol) | Maruti Jimny |
| Fuel | Petrol | Petrol |
| Engine | 2.0L, 4 cylinder, turbocharged petrol | 1.5, 4cyl, K15B NA petrol |
| Transmission | 6AT | 5MT and 4AT |
| Power | 150 hp | 103 hp |
| Torque | 320 mm | 138 Nm |
| Drive | RWD | 4WD |
Table: Thar vs Jimny specifications comparison
ALSO READ: Here's How The 5-Door Jimny Could Be A Game Changer For Maruti Suzuki India!
'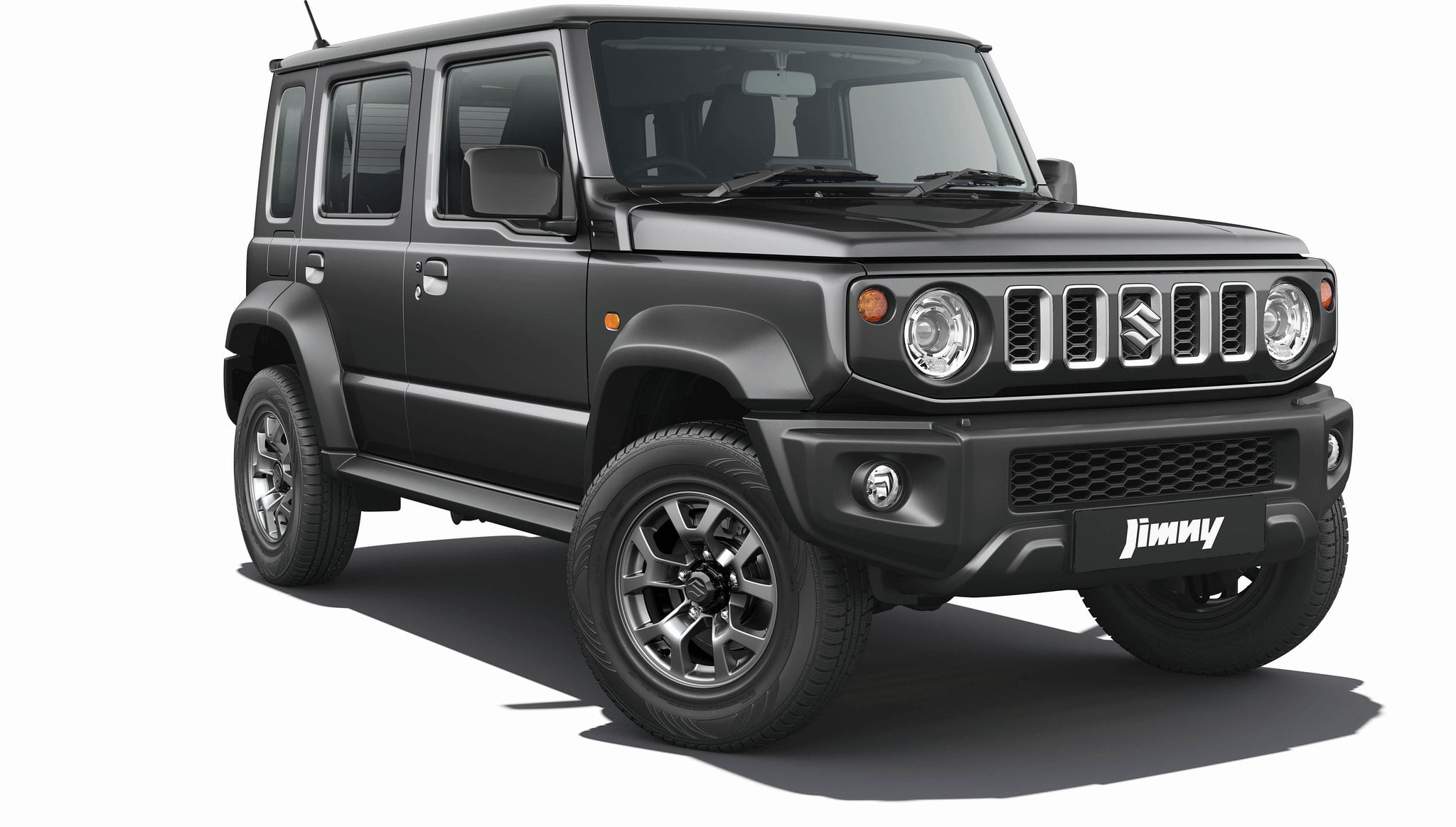 The Mahindra's powertrain has clear performance advantages over the Jimny's. It has more power and torque on offer, and there is a superior gearbox offered as well. The 6AT is smoother and better shifting than Maruti's 4AT.
However, the mStallion being a turbocharged 2.0L petrol, demands a significant premium in fuel consumed, compared to the Jimny's 1.5L unit. Jimny could be a lot more fuel efficient than a petrol Thar in everyday driving conditions.
Petrol Thar Vs Jimny: More Points To Consider
Mahindra Thar definitely has a more imposing design, better road presence and more drool-value than the Jimny.
Jimny could benefit from Maruti's sales/aftersales network, which as a matter of fact, is significantly larger than Mahindra's.
Presence of 5 doors make the Jimny more practical and usable a daily driver than the Mahindra. Ingress and egress here, are significantly better than those on the Thar. Jimny could be well-suited for average Indian families.
Most people would find the Jimny's cabin better designed and more feature-packed, unless they are too specific about buying something ' rugged and UV like'.
The Thar wins on the pricing front, as the RWD's reduced tax slabs make it more accessible and better appealing to the larger crowd.
Ride quality (on-road) is better on the Jimny.
To put it short and sweet, the Jimny's price in India is on the expensive side- considering what's being offered, the segment it falls into and the rivals it gets to battle. Thus, this vehicle offers little VFM value, especially on the top-spec dual tone variant.
Follow Vroom Head India On Google News, Koo, Twitter, Instagram, Pinterest, Facebook, and LinkedIn