Ola Electric Building World's Largest Electric Scooter Factory: Details Emerge!
OLA's new electric vehicle factory will have as many as 3000 robots functioning in an area of 500 acres !
India head-quartered Ola is among the top mobility players across the globe. Their EV division- OLA electric mobility is currently building the world's largest electric scooter manufacturing facility in India. More details of OLA electric's mega factory have now surfaced.
The manufacturer is setting up the plant in Krishnagiri, Tamil Nadu, over an area of 500 acres. With its focus centered on making electric scooters and EV motorcycles, the plant will have an annual production capacity of 10 million units upon completion, translating to one new scooter every two seconds. The entire facility is expected to spring to operations by 2022.
OLA electric had signed an INR 2400 crore MoU with the Tamil Nadu government in December 2020 and had acquired the land in January 2021. The manufacturer is racing to bring the plant to life. The construction is being carried out at a hastened pace and an approximate 10 million man-hours are in the plans for the same. Phase 1 of the factory is expected to go live by June 2021, just a few months away. Phase 1 would have an annual production capacity of 2 million units.
The Ola mega factory will have a total of 10 production lines and with over 5,000 robots employed, will also be among the world's most advanced EV two-wheeler plants. The facility will make generous use of AI and other modern-day technologies and be build according to the Industry 4.0 principles. There will be huge dedicated areas for battery, paint shop, welding, motor, and general assembly.
Another key talking point would be the focus on sustainability. The OLA factory would be super-conscious of sustainability. The manufacturer has well-knit plans to conserve the green belt present at the site. The trees here would either be preserved or transplanted. The facility will have 100 acres of forest area within its premises. OLA also plans to reuse the excavated soil and rocks within the facility, meaning no amount of construction residues would be disposed-off in the open. The facility will totally rely on renewable energy for its operation. With huge solar rooftops in place, the OLA factory will be self-reliant in terms of power.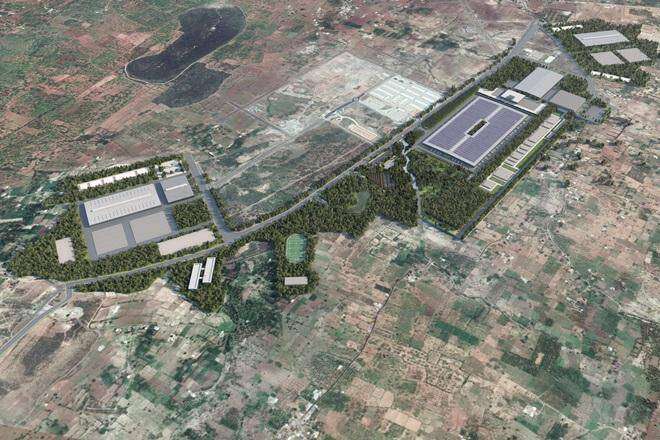 OLA plans to turn India into its key manufacturing and export hub. The company is eyeing Europe, UK, Latin America, Asia Pacific, Australia, and New Zealand as the key export markets. The company plans to generate as many as 10000 jobs through the facility alone, the vendors and suppliers could offer additional openings as well.
The first OLA electric scooter will launch in a matter of few months, as soon as phase 1 gets operational. In-depth details of OLA's first scooter are yet to surface, but what we do know is that it would have a striking design, efficient removable battery, great performance, and a bunch of industry-first tech as well. The electric scooter is expected to go against the likes of Bajaj Chetak, Ather 450X, and the TVS iQube Electric.
ALSO READ: