Everything to know about the Qubo Dashcam Pro 4K with rear camera…
Dashboard cameras are among the most useful car accessories you can buy in 2023. Everyday significance and the role they play in ensuring and enforcing car/drive safety are adding to their popularity. A number of top-quality products from both Indian and foreign brands are available in the market now. Among the best made-in-India dashcams is the Qubo Dashcam Pro 4K. It is available in both single and dual-camera setups, the latter proves to deliver great value to the buyer. Here is everything you need to know about this.
Table of Contents
Qubo Dashcam Pro 4K: Box Contents
The camera comes with great packaging. The quality that the manufacturer claims for the product reflects in the packaging too. The box contains the camera units (front and rear), cables, mounts and more. Below is the full list:
Front Camera
Rear Camera
Suction Mount for Front Camera
3.5 Meter Mini USB Power Cable for Front Camera
8 Meter Micro USB Power Cable for Rear Camera
Micro USB Power Cable for Rear Camera (Short)
Installation Pry Tool
USB Power Adapter (Dual Port)
Electrostatic Rear Camera Mounting Sticker
Leaflets
Table: Qubo Dashcam Pro 4K: Box Contents
A Micro SD card doesn't come with the package. This is something you'd need to get separately. Qubo Dashcam Pro 4K supports up to 1TB cards of C10, U3, V30, and 4K UHDSD types. While 32GB cards could do, we recommend using Class 10 64 GB microSDs with at least 100MB/s transfer speeds, as you could get these for under Rs 800. SanDisk Ultra could be a quick suggestion that you can buy on Amazon. 1TB micro SD cards (class 10) could cost a lot more- around Rs 8,000, while faster Class-3 cards of similar capacity cost even higher. Qubo doesn't support Class 4 cards.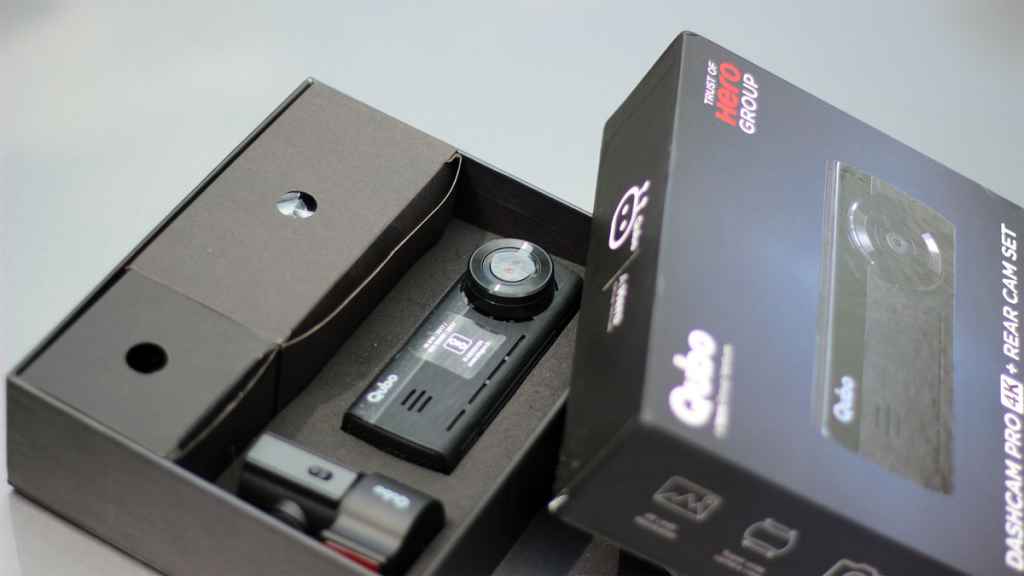 Qubo Dashcam Pro 4K Specifications
Front
Camera
Max Resolution 4K
3840 x 2160 Pixels
8MP Camera, f/1.8
Sony IMX415
140° FOV
Rear
Camera
Max Resolution 1K
1920 x 1080 Pixels
2MP Camera
126° FOV
Recording Type
Single / Dual
Encoding
H.265 and H.264
Display
(Front Camera)
2.8-inches
LCD IPS
Control Buttons
Connectivity
IEEE 802.11 b/g/n 2.4GHz
Built-in GPS
Mounting
Type
Front Camera – Suction Type
Rear Camera – Double-sided Adhesive Tape
Storage
MicroSD Card
Supports Upto 1 TB
Recommended: C10, U3, V30, 4K UHDSD
Parking Mode
Yes, with an Optional Hardwire Kit
ADAS
Lane Departure Warning
Beware of Vehicle Ahead Warning
Forward Vehicle Motion Warning
Pedestrian Ahead Warning
Power
and Ports
Input: (5V/2A)
Connected to: 12V Car Power Socket
Mini USB Port (Front Camera)
Micro USB Port (Rear Camera)
Dimensions
103.6 x 26.07 x 43 mm
Weight
115 grams
Country of Origin
India
Manufactured At
Andhra Pradesh, India – 517526
Qubo Dashcam Pro Specifications
Quick Tip! Should you be reading this with the intention of purchasing this dashcam, jump to this part to place your order right away!
Qubo Dashcam Pro 4K Variants
There are two different variants on sale-with and without the rear camera set- essentially single and dual-camera setups. The Qubo Pro 4K costs around Rs 9,990, without the rear camera set, while the dual cam setup would demand Rs 12,990. The rear camera draws its power from the main unit, and cannot be connected to any separate power outlet. Also, it cannot be bought separately.
Qubo Dashcam Pro Installation Guide
Installing the Qubo Dashcam Pro 4K on your car is easy and can be done by yourself. However, if you are unsure of it, it is advised to take your car to an authorised technician or garage for getting the dashcam set installed properly. The front camera unit comes with a suction mount and is easy to install. The rear unit, however, takes slightly more effort to install as it is based on a sticker mount. However, should you choose to do it by yourself, here are the steps to follow:
Clean the portion of the windshield where you wish to mount the front camera.
Fix the front camera unit on the suction mount.
Remove the protective film, fix the suction mount on the windshield and lock it there.
The wiring needs to be done carefully. The Qubo dashcam set comes with a pair of long cables, each powering a camera. The rear camera draws its power from the main unit via a long micro USB power cable. This cable is 8 meters long and should suffice for most cars. The front camera set draws its power from the vehicle's USB port or a 12V charging socket using a 3.5-meter-long power cable.
The wiring should run within the interior trims, and be neatly concealed. Cables to the rear unit should neatly run through the roof lining. The wiring process is quite doable for most beginners and intermediates. Qubo has also provided an installation pry tool within the package, that would help you to tug the wires neatly into the interior trims.
Plug the USB cable into the dashcam, and connect the other end to the 12V socket using the power adapter that comes with the package. Interestingly, the adapter has two different USB ports with varying power outputs- 1A and 2A- for the dash camera and any other regular device that you might want to connect, say a smartphone.
In vehicles like the MG Astor which has inbuilt dashcam power sockets, you could use a shorter USB cable to power the front camera.
Remove the protective film and stick the electrostatic sticker on the rear windshield. The rear camera set is to be mounted on this, with the double-sided tape it comes with.
The rear camera is to be connected to the front unit via the micro USB cable.
Insert the micro SD.
Turn on the car's ignition and wait for the LED on the dash camera to turn Red.
"Qubo dashcam is ready for setup" voice prompt confirms the device is ON and ready for setup. Download the Qubo app and follow the in-app instructions to complete the setup.
Let's get social! Follow Vroom Head India On Google News, Koo, Twitter, Instagram, Pinterest, Facebook, and LinkedIn
QuboPro App Setup: How To Pair Your Dash Cam?
Qubo Dash Cam Pro 4K uses the official Qubo Pro mobile application to deliver the best dashboard camera experience. Setting up and pairing the camera for the first time requires some time and effort. The following steps will guide you through the process. Before starting, ensure that the camera is connected to the vehicle's power unit and turned on.
Open the application and allow access to location services.
Sign up for a new Qubo Pro account using your e-mail, or log in if you already have one.
Click the Menu icon on the top left.
Click on 'Add Device'
Choose Dashcam 4K from the list of available devices.
Select 'Yes' when you see the Red light on the camera blink.
Grant Location and Read/Write Storage permissions.
Choose the dashcam. The default password would be 12345678.
In the next screen, input a name and password.
Next, connect the camera to your phone's Wi-Fi network.
Once a successful connection is established between the dashcam and mobile phone, the unit is ready to use.
The application gives you confirmation on the same. Click 'continue'.
The setup is complete!
Qubo Dashcam Pro 4K Front Camera Design
The Qubo Dashcam Pro 4K front camera boasts a rectangular, slab-like design that resembles a traditional digital camera. It's made of high-quality materials and has a premium feel to it. The device has ample ventilation that keeps it cool and functioning well in wider temperature ranges and on long drives. The speaker sits at the front, while the microphone is located at the bottom.
The left side houses the Power key, while the right side has the MicroSD card slot and Mini USB ports. The Reset button is located just above the power button in case of any malfunction. A Micro USB port is located on the top to connect the rear camera, but it's solely intended for fixing the rear camera module and cannot accept other inputs.
Compared to the 1080p variant, the Qubo Dashcam Pro 4K has significantly improved design features. The suction mount comes with a rotatable head that makes adjusting the camera's position easy, facilitating better views of the road ahead.
The built-in 2.8-inch LCD IPS display is one of the key highlights of Qubo Dashcam Pro 4K. It allows you to view live footage from the camera without having to open your phone. You can also configure the dashcam settings through the display. The display does not support touch-based ops and requires you to use the four control buttons beneath it. It shows various pieces of information, such as SD card contents, GPS data, ADAS alerts, video resolution, recording, speaker, and WiFi statuses. To view recorded footage, however, you must use the Qubo Pro mobile application.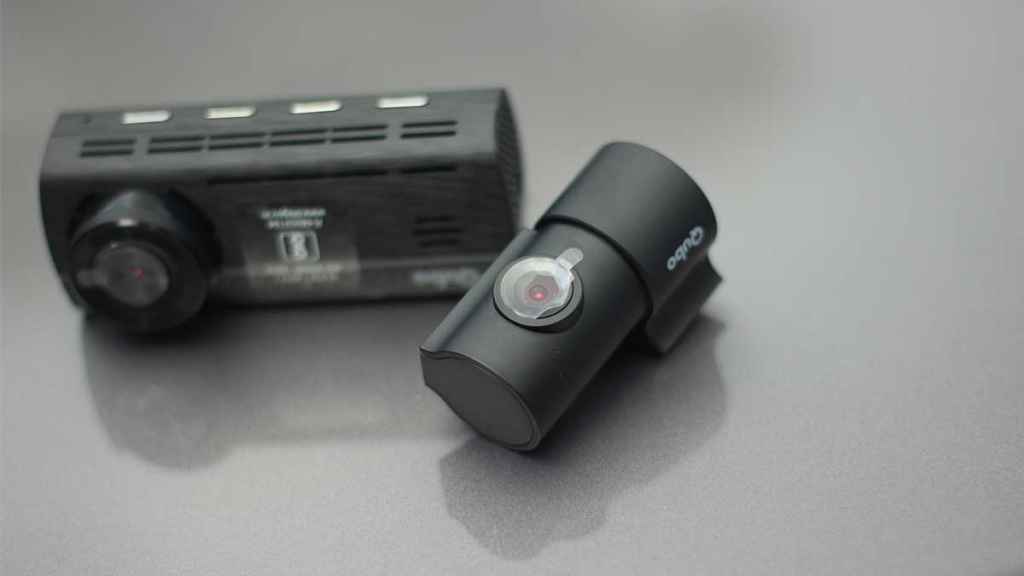 Qubo Dashcam Pro 4K Rear Camera
When it comes to the rear camera of the Qubo Dashcam Pro, it looks like a smaller version of the 1080p variant in the overall design. This compact camera comes with a 360˚ rotatable hinge, allowing you to easily adjust the rearview. All recorded videos are stored on the same microSD card as the front camera.
The rear camera is capable of recording full HD 1080p videos and has a Micro USB port that draws power from the front camera. Qubo provides a very long Micro USB cable (about 3.5 meters), which is more than enough for larger vehicles like 7-seater SUVs such as Toyota Innova, Mahindra Scorpio N, Mahindra XUV 700, MG Hector, Maruti Suzuki Ertiga, and more.
The rear camera, however, does not come with a suction mount. Instead, you need to mount it on the rear windshield using an electrostatic sticker. This sticker uses electrostatic charges to adhere to surfaces, making it perfect for smooth surfaces like windshields. Once the sticker is applied, you can fix the dashcam in place with double-sided tape, ensuring that it stays put.
It's important not to mount the rear camera directly on the windshield using double-sided tape as it may damage the windshield when the camera is removed. Do note that the electrostatic sticker is for one-time use only, and you need to purchase a new sticker if you want to mount the camera to the windshield again.
The rear camera can be used as an in-cabin camera to record footage inside the cabin. This is especially useful when you're on vacation and want to capture fun moments and conversations inside the car.
Qubo Dashcam Pro 4K Video Quality [Front ]
Qubo Dashcam Pro 4K offers stunning video quality for the front unit, so you can capture every detail of your journey. The front camera is an 8 MP unit with Sony IMX415 sensor and offers phenomenal video quality during day and night. The wide 140-degree field of vision makes it possible to get a wide, usable view of the road ahead. The night vision also seems great on the front camera. The night and low light visuals are clear and visually pleasing but have slight 'noise' interruptions.
Talking of real-world performance, the front camera offers clear, clean and great visuals during the day, which makes it possible to get proper visuals ahead, including vehicle number plates. At night, however, the visuals are good but vehicle number plates could sometimes become difficult to read, especially when they could be overshadowed by your own headlights.
Qubo Dashcam Pro 4K Video Quality [Rear ]
The 2MP rear camera provides a resolution of up to 1K. This 1080p camera has a Sigmastar SSC8629G sensor and a fairly wide 126-degree field of view. The rear camera delivers good quality during the daytime. It, however, strikes a stark contrast with the front camera in terms of video quality, and frankly, comes nowhere near the same. The rear camera feed is enough to let you read letters and number plates during the day, but doing the same at night and in low-light scenarios would be difficult, due to excessive noise. Also, light beams from behind would also get you partially blind. Overall, the rear camera performance is almost unchanged from that of the Qubo Dashcam Pro HD.
Advanced Features
The Qubo Dashcam Pro 4K comes with a range of advanced features that make it stand out from other dashcams on the market. These features include:
G-Sensor: This feature detects any sudden impact or movement and automatically saves the footage to prevent it from being overwritten.
Parking Mode: This feature activates the dashcam when it detects any movement near your car, even when the engine is turned off.
Emergency SOS: This feature automatically sends an SOS message to your emergency contacts in case of an accident.
Voice Command: This feature allows you to control the dashcam using your voice, making it easy to use even while driving.
GPS, ADAS And More Functions
Qubo Dashcam Pro comes with built-in GPS and ADAS. The GPS can be used for real-time vehicle tracking and location-based operations. Various GPS-enabled functions like geofencing, and trip logs. There are also more interesting features like trip log, timeline scribbler, G-force sensor-based Smart event recorder (Jolt recording trigger), journey time-lapse, loop recording, in-cabin voice recording, etc. Plus, Qubo Dashcam Pro 4K can add ADAS functions to any car!
Qubo Dashcam Pro 4K Pros and Cons
Pros
High-quality 4K video
Wide-angle lens for capturing everything on the road
Advanced features such as G-sensor and parking mode
User-friendly interface and mobile app
Affordable price
Cons
No built-in GPS
No cloud storage option
Quick Impressions On Qubo Dash Cam Pro 4K
This dashcam cannot be controlled remotely and requires you to be inside the car to do that.
It is not waterproof.
Recorded footage is always stored locally on the microSD and never uploaded to the cloud. You can, however, copy the low-res footage to your phone via the application.
The resolution for preview videos is 480p for Android phones and 4K for iOS devices.
The head unit (front camera) doesn't heat up much, even in hot sunny weather, and never goes to the extent of heating enough to stop functioning- at least not once during our time with it.
Even though there were short stints of the camera feed lagging occasionally, the unit or its feed never froze or halted abruptly.
Buy Qubo Dash Cam Pro 4K!
You have seen what it is about, what it packs and what we think about it. If you're already wanting to get yourself one, here's how you can do it. Qubo Dashcam Pro 4K can be bought on multiple online platforms like Amazon, Flipkart, and the official Qubo website. Alternatively, you can click on the links/images below to order yours!
The Qubo Dashcam Pro 4K is available for purchase on the Qubo website and other online retailers. It's priced at an affordable rate, making it an excellent value-for-money option for anyone looking for a high-quality dashcam.
Let's get social! Follow Vroom Head India On Google News, Koo, Twitter, Instagram, Pinterest, Facebook, and LinkedIn
---
Affiliate Disclosure: Vroom Head India participates in various affiliate marketing programs, including the Amazon Services LLC Associates Program, and other affiliate advertising programs. As an affiliate, we may earn a commission from qualifying purchases made through links on our website. We appreciate your support and want to assure you that we only promote products and services that we believe in and would recommend to others.