The RE Festival makes a return after 3 years…
Rider Mania has always been known and loved for the overdose of Motorcycling (or should I be saying RE-ing?), music, food and camaraderie it delivers. The event made a magnificent return last year, after a 3-year hiatus. So well-packed, the comeback was indeed made worthy. Here's a quick glimpse of what was in store this time.
Royal Enfield Rider Mania 2022: What It Went Like?
RE brought the festival and its buzz back to Goa. Like every other time, it had every one of the Royal Enfield models that we see around and from various spans in time- from Classic 500s to Classic 350s, Meteors, Hunters, Scrams, Himalayans, Thunderbirds, Interceptors and Conti GTs. These came in from the lengths and breadths of the country, to get together and celebrate the brand and its pedigree.
The newest season of Rider Mania spanned a total of three days and was built around the theme 'Moto Verse', hinting at the RE motorcycle universe. The venue had further sub-themes within, like Moto Thrill, Slide School and more. There were a host of motorcycle activities- from off-roads to flat tracks and hill climbs.
In the 'Moto Reel' section, various films and works of several riders were played on a large screen. Those by Dakar heroes CS Santosh and Ashish Raorane, left many slack-jawed as they shared their experiences of competing in one of the world's most gruelling rallies. Heartwarming stories, such as Royal Enfield's epic ride to the Everest Base Camp, were also screened.
Some amazing custom builds were also on display. Equally exciting was the GT Cup bike and Dunaali- the drag bike made by Inidimotard that took the Drag Racing world by storm. Even crazier, there was also a 1:3 scale model of the Classic 500 showcased, with a price tag of Rs 68,000 around its shoulders- quite fair a deal for the detailing it had.
Let's get social! Follow Vroom Head India On Google News, Koo, Twitter, Instagram, Pinterest, Facebook, and LinkedIn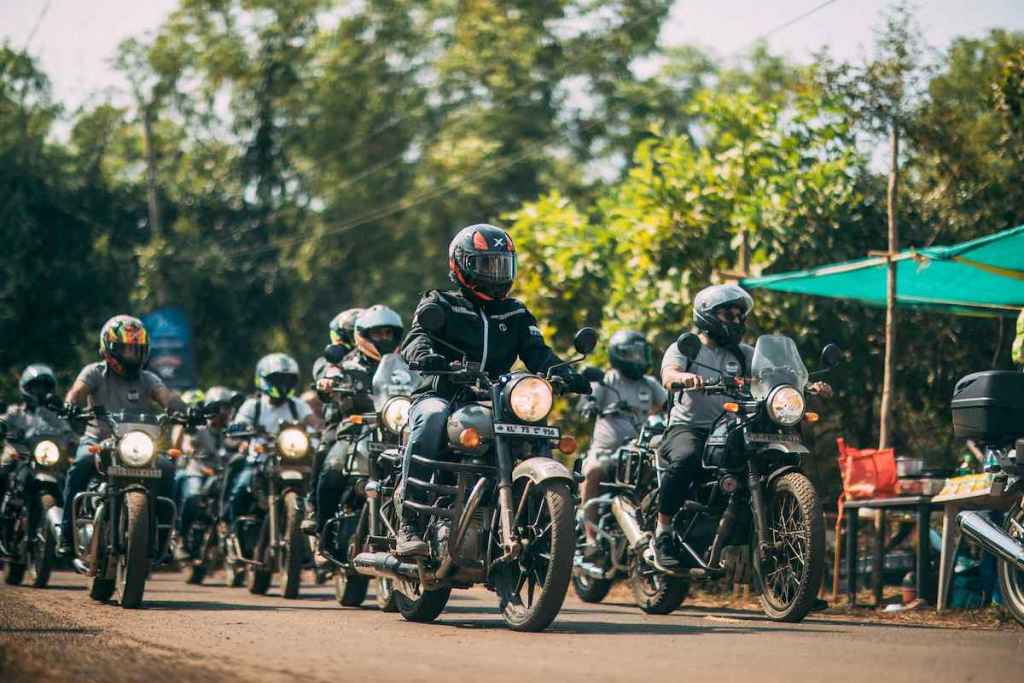 RE Rider Mania 2022 also highlighted the beauty of art and its expression on canvases such as a motorcycle's fuel tank, helmets, or T-shirts. Curated rides to different parts of Goa, including heritage sites and pristine coastlines, were also offered. Above all, the sense of belonging and camaraderie was ever-present during the three-day event. It's a testament to the fact that purchasing a Royal Enfield not only gets you a motorcycle but also entry into a vast community.
Bookings for the Super Meteor 650 also opened up, exclusively to those who attended Rider Mania. The big bike, a newbie in the manufacturer's portfolio was also on display here, granting the attendees a closer and more detailed look at it.
Let's get social! Follow Vroom Head India On Google News, Koo, Twitter, Instagram, Pinterest, Facebook, and LinkedIn