Ather has improved the 450X quite a bit on its third generation. We ride one to find out more
Earlier in 2022, Ather Energy had rolled out the gen 3 of its largely popular model- the 450X. The new electric scooter had many changes gone into it, making it considerably better than the predecessor in usability, practicality and performance. We had detailed all those in a previous article. To get a detailed idea of how these reflect in real-world usability, we lived with our test unit for a few days and rode it for over 400 kilometers…
Gen 3 Ather 450X Colours: Visual Identity Intact!
Before we talk about the vehicle in detail, let's take a look at the available colour options. It might surprise you that Ather has just the same number and set of colours on the gen-3 scooters as the previous generation. The electric scooter continues to be available in 3 colours- Mint Green, Space Grey and White. The Space Grey that you see here, is what we think, best suits this vehicle. We don't have a clear clue as to why the manufacturer has refrained from introducing more colours with the generation update. In a previous interaction, however, an Ather spokesperson told us that more colours will join soon. The manufacturer has announced its community day on January 7, 2023, when we expect both the 450s to get new colourways and other key updates.
Design Changes: What Do They Mean In Real Life?
The generation 3 Ather scooter doesn't come with loud visual changes. However, the few things that have actually changed about it, succeed in improving overall user experience. The new, wider rear tyre ranks on top of the list. With 100/80 sections and better compounds, the MRF Nylogrip Zapper-N offers much better grip, high-speed stability, and improved braking performance. The new scooter grips better (up by 22% as Ather quotes it) and is faster around corners.
Overall ergos and practicality have also gone up. New rear-view mirrors with more surface areas and better designs are evidently more efficient than those they replace. These can be retrofitted on previous gen Ather 450s as well. Another good thing is the large 22-litre under-seat storage- the same as the previous scooter. However, the gen 3 Ather gets a single compartment and misses out on the small integrated sub-pockets that we had seen on the previous Ather 450. You can fit in a half-face helmet comfortably. The under-seat area has a neatly integrated LED lightbar as well. Ather is also offering a clean pillion footrest on the gen 3 scooters. A very practical bit, this is available on just the gen 3 for now.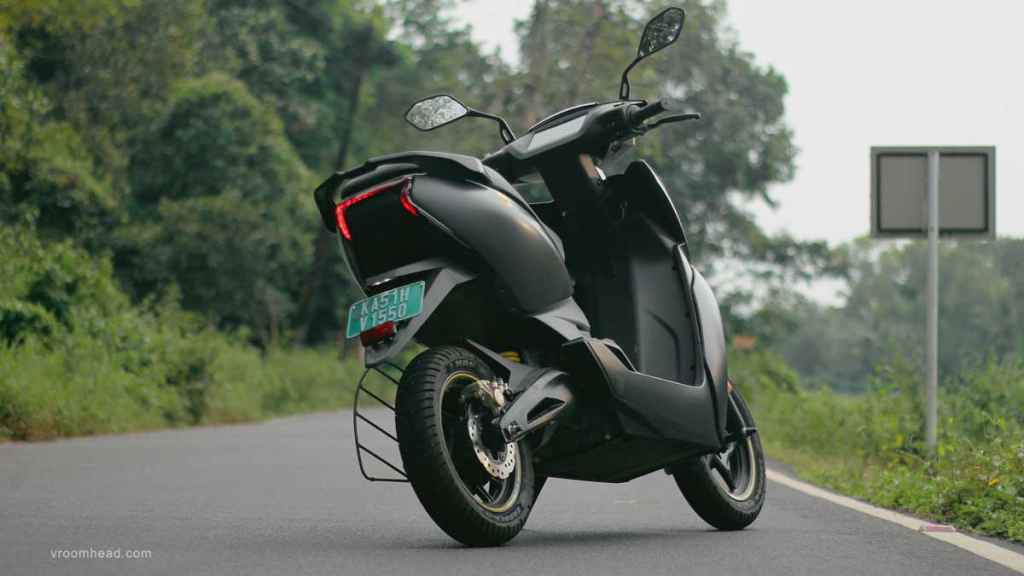 Giving bigger bumps to usability is the improved touchscreen and UI. The 7.0 inch TFT screen now works smoother and has a faster UI, courtesy of its 2GB RAM. It feels more intuitive and maps load faster than before- though not the fastest in my very personal opinion. Part of this could also be credited to the e-sim's limitations as well. Ather Energy confirms that they are working on a slew of new features and functionalities, which would be added via software updates. The improved hardware seems to be ample to comfortably host these new age features.
Ather 450X Gen 3: The Powertrain Upgrades
The generation 3 scooters feature improvements in two major areas of powertrain- battery and motor. The battery, untouched in its chemistry, has now grown in size- standing at 3.7 kWh, and comes with improved packaging and better cooling tech (claimed to be 20% more efficient). Better thermal management translates to more consistent peak performance.
The fan-cooled electric motor also gets a slight bump in peak output. It used to produce a peak power of 6 kW (8hp) on the previous gen, while the gen 3 has 6.2 kW (8.3 hp) on offer. However, the nominal power output stands unchanged at 3 kW (4 hp).
ALSO READ: Husqvarna Vektorr Concept Breaks Cover, Based On Chetak?
2022 Ather 450X : Performance And Handling
The improvement in peak power output might not make big difference in regular low-speed runs. The scooter feels fun to accelerate and offers a linear power delivery. It continues to have four riding modes- Eco, Ride, Sport and Warp. These would make you feel almost like you'd do on a gen 2 scooter- there are no major performance boosts to spot at most times. You can get to 90 kph in both Sport and Warp modes. The 'Ride' mode continues to have 50 kph as its top speed.
With improved thermal management and a bigger battery pack, the gen 3 Ather 450X delivers peak performance more consistently. This gives you an evident advantage when attempting uphill runs, and when riding with a pillion. We even went to the extent of combining these scenarios, and did an uphill run with a pillion! With the vehicle in Warp (or even Sport in milder cases), the climb feels very doable. You don't run out of juice or lose momentum midway, as the delivery is quite consistent. Cooling seems to have improved a lot. Early Ather adopters might relate the most to this, as the first-gen scooters failed miserably on climbs, even without a pillion. The second-gen was better, and the Gen 3 is quite frankly, the best yet!
To accommodate the bigger battery pack, the chassis now has its mounting points tweaked. Overall ergos remain unchanged at large. The new battery adds 4 extra kilograms to the scooter. To contain this additional bulk, key changes have gone into the suspension tuning. The springs feel less firm than before, and together with the tyres, deliver better road manners, without compromising much on comfort. The extra kilos also play role in making the scooter feel more sure-footed while on the move. Ride quality feels decent for the rider. The pillion might feel slightly less comfortable though.
Even though there are no changes in hardware, we felt the overall braking to have improved on the gen 3 Ather, probably due to the better set of tyres and revised vehicle weight.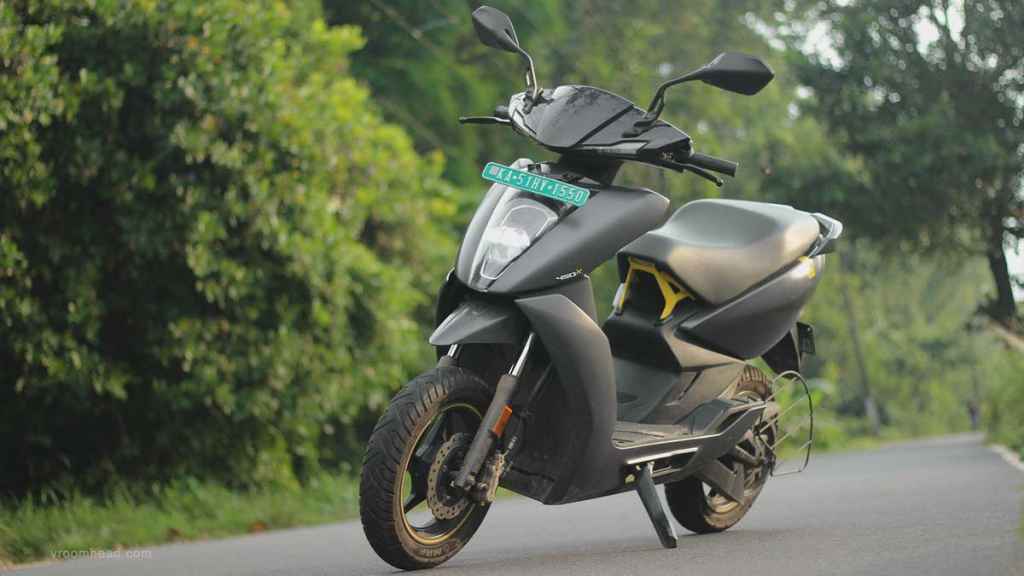 Smart ECO Mode On New Ather 450X: What Could It Mean In Real?
Smart Eco is a feature that premiered on the gen 3 Ather scooters. This riding mode, in a way, bridges the gap between the regular ECO mode and the 'Ride' Mode. The Eco mode, in usual cases, puts severe curbs on torque, along with a strong regen action. This makes the overall performance dull- something that could be a concern in many real-world riding conditions. What this guarantees, however, is reassuring range figures. Smart ECO delivers an identical range as the regular ECO, alongside performance comparable to the one in 'Ride' mode.
I personally feel this to be a very liveable mod- a sweet spot between efficiency and practicality. You can opt-in for Smart Eco using the vehicle dashboard, and engage it the same way as you would with the regular Eco mode. In Smart Eco, the vehicle collects vital data like throttle inputs, braking, and other vehicle info, use the inbuilt algo to process these real-time, and adapts accordingly to deliver maximum efficiency.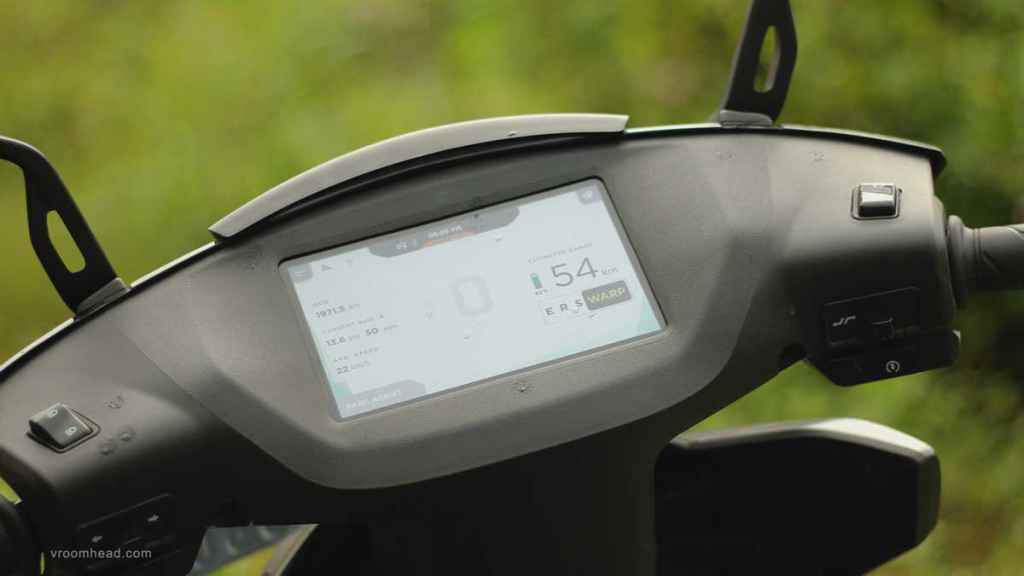 ALSO READ: 2022 TVS iQube S Review: 'Improved To Perfection!'
2022 Ather 450X Range: Real World Test
Ather 450X Gen 3 scooters are claimed to deliver 105 km of range, with Smart Eco engaged. Having ridden one for a week, I find it hard to disbelieve the 100 km claim! I could milk out around 95 km with the regular Eco. Results for the Smart Eco amounted to over 100 km- with the disclaimer that we did not really do a 'full-to-null' test, but used math as fillers! Using 'Warp' takes a decent toll on the range. With judicious rider behaviour, this scooter should return real-world range figures in the range of 80-90 km per charge, in most cases- numbers good enough to keep most away from range anxieties.
Price And Rivals
2022 Ather 450X has a number of strong rivals in India. Electric scooters like TVS iQube, Ola S1, Hero Vida and Bajaj Chetak could compete on grounds of specs and performance. Some of these, like Ola for instance, have significantly more to offer in range, and to some extent, features. Priced at 1.57 lakh ex-showroom, the 450X is not the most affordable of the lot. However, it still ranks among the 'tested to near-perfection' electric scooters of the day, and this aspect I believe is what you're putting your money on…