The automaker will launch this program in more cities across India
Renault has announced the launch of 'Renault Experience Days' campaign in Kerala. The manufacturer is rolling out two new initiatives as part of this – Showroom on wheels and Workshop on Wheels. This is the first time they've done this in India, and it's the start of a big change for Renault.
They'll be hitting up 625 locations across 26 states and 3 Union Territories to give customers the closest they can to a proper showroom experience. Renault will be offering spot test drives, bookings, and spot finance options as part of the campaign, making the overall experience hassle-free.
Kerala and UP were the first cities to get the campaign going. Initial response from 'prospects' has been very reassuring at both places. Renault Experience days will cover all 14 districts in Kerala, and across 36 locations.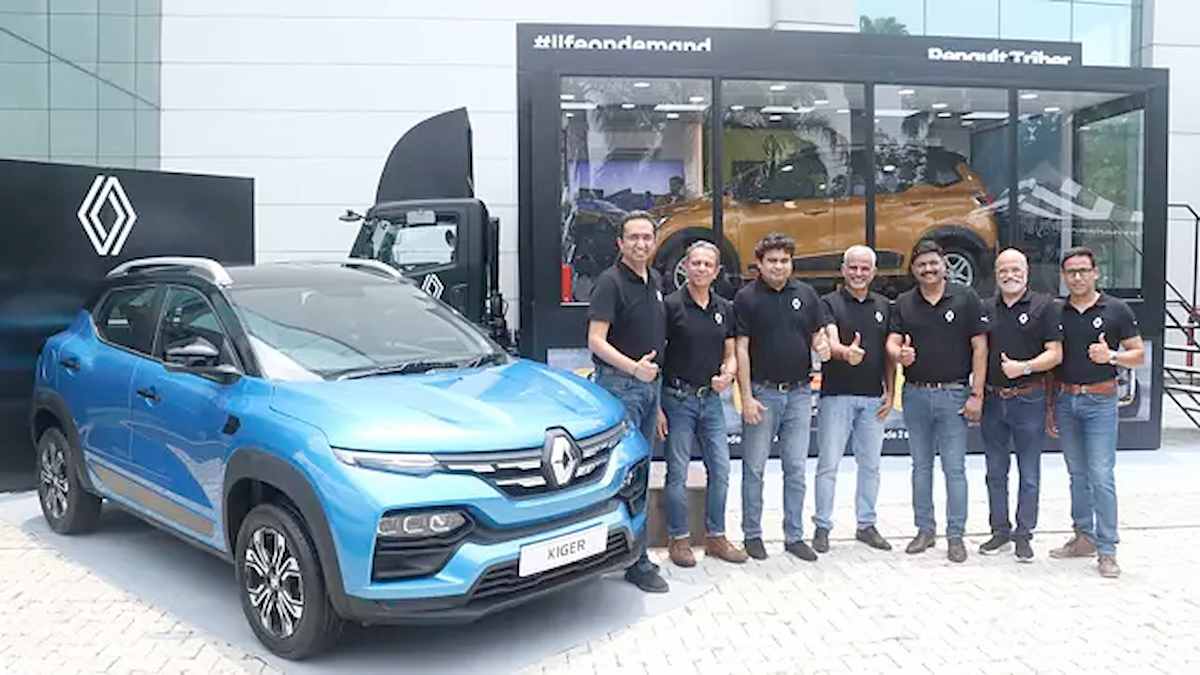 Renault Experience Days In Kerala: Quick Details
'Experience Days' aims at touching and serving to locations/cities where Renault doesn't have a physical showroom or touchpoint running. Kerala currently has around 27 dealer points. The 'Showroom on Wheels' initiative would reach out to more locations within the state.
ALSO READ: 2024 Renault Rafale Coupe SUV Revealed For Europe
Renault's mobile showroom consists of a truck that has enough space and facilities to accommodate a display car, a few prospects who'd show up to check out the same, and a display screen running visuals and product videos. A nearby extension will serve potential customers with more product details, spot financing and walkthroughs of the booking process. The mobile showroom will be halt at a specific location for 1-2 days or more, depending on the footfalls and responses from the crowds there.
Each 'Showroom on wheels' unit will effectively handle all points of customer journey- from walk-ins to product booking. Deliveries of vehicles booked via this campaign could either be had from a physical dealership of choice or at the buyer's doorstep, dependent wholly on customer discretion.
Follow Vroom Head India On Google News, Koo, Twitter, Instagram, Pinterest, Facebook, and LinkedIn
So, how would you know if the Renault Experience Days is coming to your city or location? Renault India will use both physical and digital channels of communication to keep you informed. Conventional ways like leaflets and flyers detailing the date and location, and geo-targetted social media campaigns will both be used by the brand.
ALSO READ: Renault Nissan To Launch 6 New Models In India: 4 ICEs and 2 BEVs Confirmed!
'
Renault Workshop On Wheels
Renault Workshop on Wheels is the brand's mobile service initiative. This 'service van' will traverse to the doorsteps of Renault customers and get their cars serviced sticking to strict timelines and various quality guidelines. The manufacturer previously had an initiative (Sons of the Soil) running where they used to train locals into skilled Renault technicians. The showroom on Wheels adds more spice to this and creates a more comprehensive, satisfying experience for the customer.
The mobile workshop unit and its technicians will be able to do most jobs of all Renault cars of the day! While the entire job would be done at the customer's preferred location, the workshop vehicle has a dedicated system for effectively clearing left-out oil, so that no mess remains at the customer's place.