We take a close look at the Rimac Nevera hypercar at Dubai Expo where it represents Croatia
Rimac Nevera as a name might sound new to many of you. But you will feel the car you see in these pictures to be fast and dynamic. Well, it actually is! In fact, it might be much faster than all your imaginations. More specifically, the Rimac Nevera is the fastest accelerating production car in the world today. We take a detailed look at the Nevera at the Dubai Expo 2020, where it represents Croatia at the country's pavilion. A quick touch and feel of the hypercar are our takeaways from this, and of course, a lot of warm facts to tell you, including some jaw-dropping numbers.
Rimac Automobili is a Croatian EV startup with an extensive focus on developing high-performance EVs. Its immense engineering and technical prowess were duly recognized when Porsche made a notable investment in it in 2018. In July this year, Bugatti joined forces with Rimac to form the 'Bugatti Rimac' with the EV startup holding 55 percent of the stakes and its founder Mate Rimac at the leadership.
It Looks As Dynamic As It Actually Is!
The Nevera is a feast for your eyes. It looks futuristic and absolutely dynamic. The overall design has a high focus on aerodynamics and is made out of a single piece of Carbon Fiber. The lines and curves of the car blend well with the air stream it confronts and provide a notable aero advantage. The massive rear wing ensures optimum downforce at crazy speeds. Each vent, scoop, and line you see on the Nevera is functional. There are no mere 'show-pieces' anywhere to be seen on this car!
The Largest Battery Pack In A Production EV
The Nevera uses a 120 kWh battery pack, the biggest yet to be fitted on a production car. This essentially means that the car is heavy. Consider it to be as heavy as say, an S Class. The engineering on this EV however, is so good that despite its weight, it drives and handles like a true sportscar! The battery pack is capable of charging at up to 500 kW, which is apparently what the future has in stock for performance EVs, from a 350 kW charger, and can charge from 20-80% in just 18 minutes.
Even better, Rimac has put in extensive engineering efforts in improving the battery cooling mechanism, so that the driver enjoys the peak power for longer spans of time and faster charging speeds.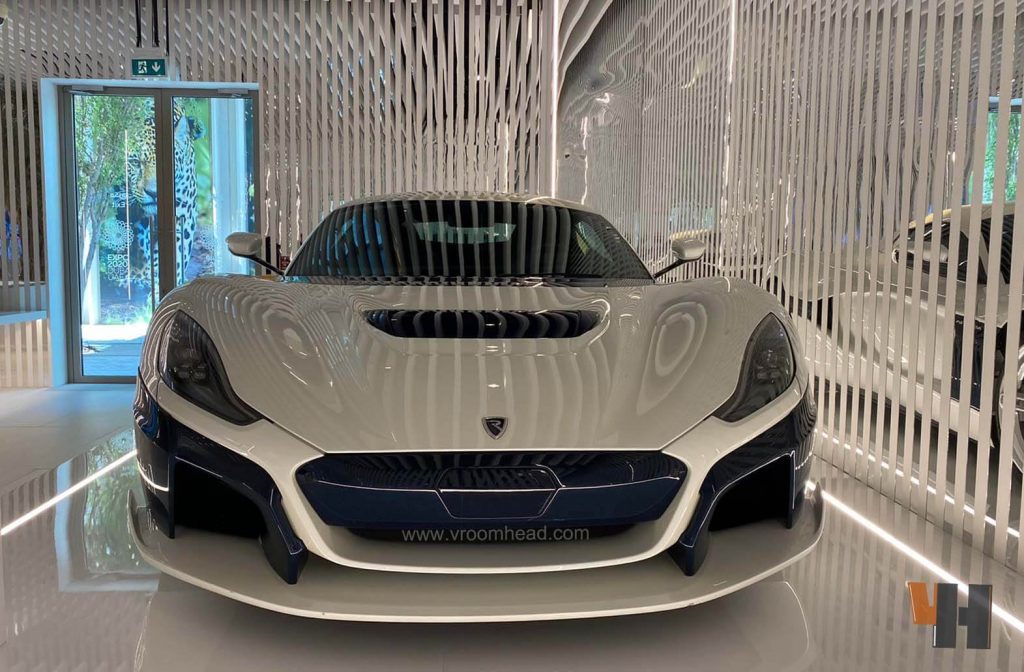 Other Mechanicals
Talking about other mechanicals, the Nevera gets four powerful electric motors, one on each wheel. Together, these deliver unbelievable amounts of power and torque. Rimac says the electric hypercar churns out 1.4 MW (roughly translating to 1877 hp) This if you might know, is almost double the power of a Formula 1 car! More specifically, the rear wheels get 644 hp motors while the front wheels are powered by a pair of 295 hp motors. Each of these motors hosts its own independent single-speed transmission. The entire setup produces 2360 Nm of torque.
Let's get social! Follow Vroom Head India On Google News, Koo, Twitter, Facebook, Instagram, Pinterest, Whatsapp, and LinkedIn
Handling power figures as epic as these can be a demanding job for the driver. To ease this up, the Nevera has an efficient all-wheel torque vectoring system that does over 100 calculations per second to adapt to your driving style, electronic stability control, and traction control. Plus, Rimac also offers an 'AI driving coach' on the car, that uses 13 cameras, 12 ultrasonic sensors, and 6 radars to guide the driver on track- telling him when to brake, slam into the corners, and when and how to come out fast.
Rimac Nevera uses 15.4-inch Carbon ceramic rotors from Brembo to keep the overwhelming power under control at all times. These work along with the regen system that gives up to 300 kW of regen to the Nevera and yes, the balance between braking friction and regen is dynamically adjusted!
The Nevera's CF monocoque chassis offers a weight advantage without compromising on the overall stiffness. It seamlessly integrates the H-shaped battery pack so that the overall center of gravity remains low and the structure stiff. The car gets double wishbone suspension with electronically controlled dampers for added efficiency.
'
The Performance Can Shock You!
Rimac Nevera could be the fastest accelerating production car today. The hypercar if pushed hard, accelerates to 60 mph (97 kph) in just 1.85 seconds! Here are a few other key numbers of the Nevera.
0-60 mph : 1.85 seconds
100 mph: 4.3 seconds
Standing quarter mile: 8.6 seconds
Top speed: 258 mph
It Could Get More Power Soon!
Rimac founder Mate Rimac in an interview with Mat Watson confirmed that the brand is working on a software update for the Nevera, that would milk more juice from its motors. The update is expected to push the power of all the 150 units of the car beyond the 2000 hp mark, with no clear cue yet on the exact figures.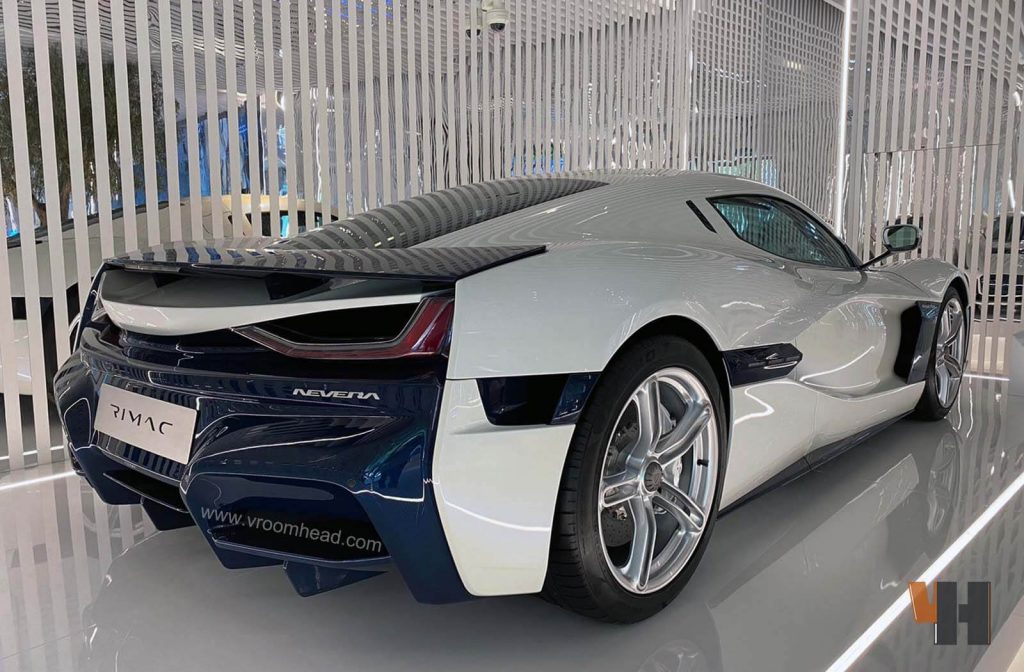 Performance Comes With A Price
As obvious, things as exciting as the Nevera do come with a price. The electric hypercar starts at a sticker price of $2,400,000. However, just 150 units will ever be made and thus owning one would not be any easy even for the richest. 50 have already been sold as of June 2021.
If you feel the price to be over-aspirational, be informed that the Nevera does have rivals with similar price tags and power figures, like the Pininfarina Battista, Aspark Owl, and Lotus Evija.
Nevera's Time In DXB
The Nevera is the manufacturer's second production car and almost unearthly in terms of performance, going by today's standards. It has been touring the globe since its debut, visiting various Rimac partners and global events. Expo 2020 is one such venue where the hypercar has been gathering massive crowds and global attention.
The Dubai Expo showcasing has also given Nevera access to the prospective buyer crowd in the Middle East (You and I know how crazy the Arabs are for fast cars!) Rimac will soon be conducting customer drives of the Nevera in Dubai.
Let's get social! Follow Vroom Head India On Google News, Koo, Twitter, Facebook, Instagram, Pinterest, Whatsapp, and LinkedIn