Claimed to have had their inspirations from jets (!), these SUVs are likeable…
Another day, 'nother special edition Tata… Tata Motors has launched the 'Jet Editions' of their popular mid and high SUVs- Nexon, Harrier, and the Safari. As the name indicates, these take inspiration from 'Business jets' in offering a luxurious cabin experience. The Jet Edition is priced from 12.13 lakh (ex-showroom ) for the petrol Nexon to a whole 22.75 lakh (ex-sh) for the Safari.
Tata Jet Edition SUVs: What Are They?
The #JET edition is more or less a cosmetic upgrade. It could be considered similar to the #Dark range but in a different color theme. The Jet range offers a brighter cabin, that looks and feels more luxurious than before, and almost mimics the interior theme of business jets. The cabin gets a dual-tone colorway- Oyster White and Granite Black. The mid-pad gets a Techno-Steel Bronze finish and Bronze accents can also be found on the door and floor consoles. The seats get premium upholstery and Bronze deco stitching.
On the exterior, the Jet edition gets a signature dual-tone colorway- Earthy Bronze and Platinum Silver. The body is finished in Bronze and the roof comes in Platinum Silver. Wheels are finished in Jet Black.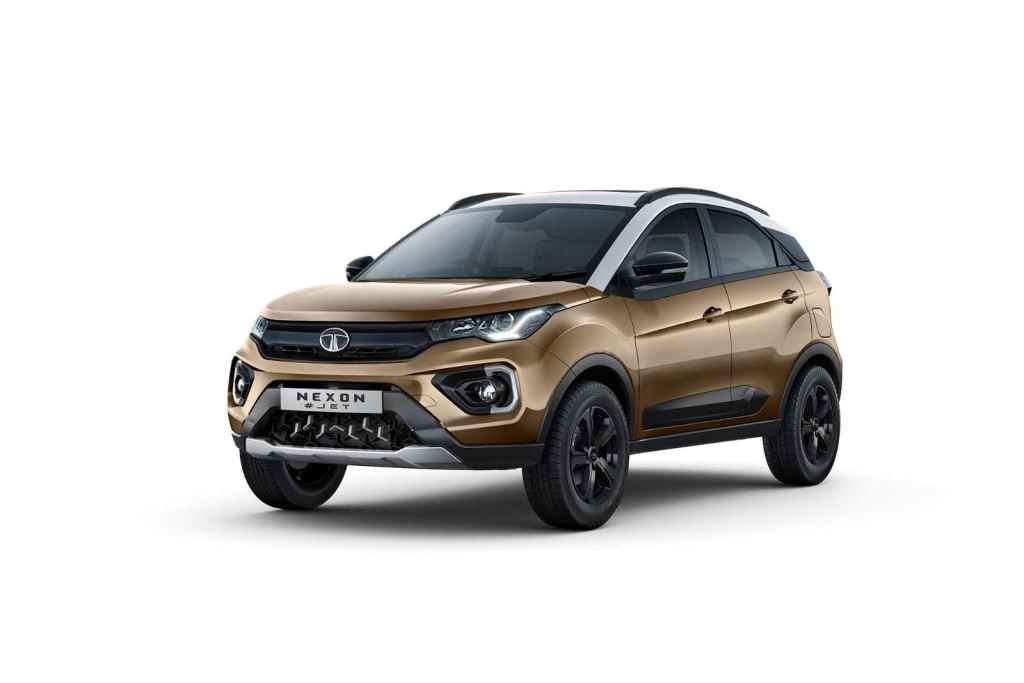 ALSO READ: Tata Kaziranga Edition Launched From 8.58 Lakh: Punch, Nexon, Harrier, And Safari
Tata Nexon Jet Edition: Highlights
The Nexon Jet Edition gets the signature colorway. Features offered include ventilated seats, an electric sunroof with tilt function, air purifier, and wireless charger. The Jet edition is available on the XZ+ and XZA+ variants- across petrol and diesel, meaning you have the privilege of choosing between petrol and diesel, and between automatics and manuals.
| | |
| --- | --- |
| Variant | Price (Ex-showroom) |
| Nexon XZ+ Jet Edition (Petrol) | 12.13 lakh |
| Nexon XZA+ Jet Edition (Petrol ) | 12.78 lakh |
| Nexon XZ+ Jet Edition (Diesel) | 13.43 lakh |
| Nexon XZA+ Jet Edition (Diesel) | 14.08 lakh |
Tata Nexon jet edition price and variants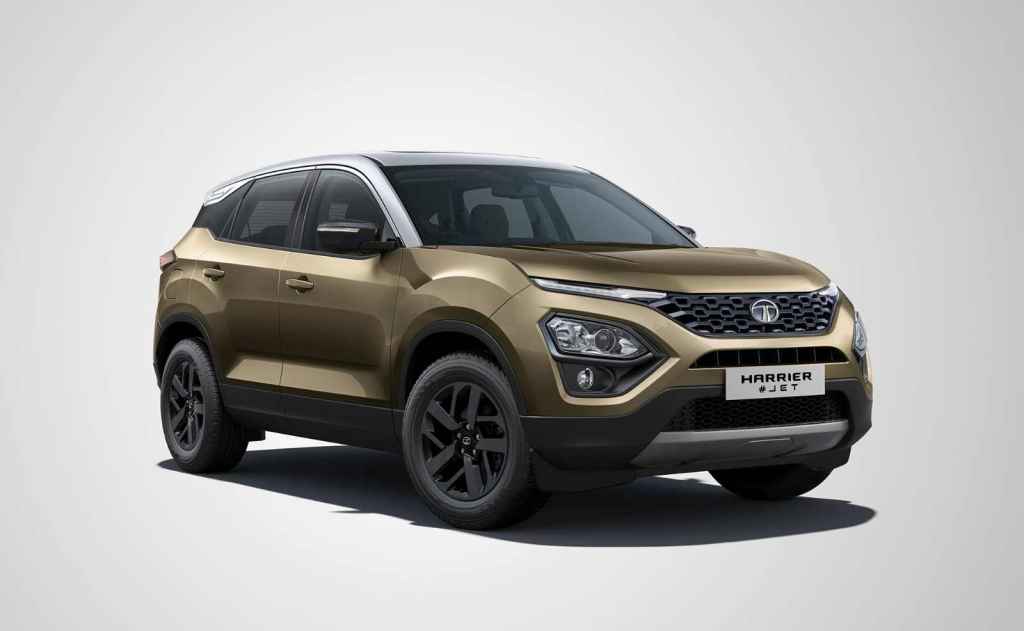 Tata Harrier Jet Edition: Highlights
Apart from the signature paint scheme, the Harrier Jet Edition gets additional features inside its cabin, like more USB ports (including C types), winged head restraints, electronic parking brake on both manual and automatic, wireless charger, wireless Carplay and Android Auto etc. There would also be more safety equipment like disc brakes on all four wheels, more ESP functions like driver doze-off alert and after impact braking, and more. Tata Harrier Jet edition is available in two variants- XZA+ and XZ+- automatic and manual.
| | |
| --- | --- |
| Variant | Price (Ex-Showroom) |
| Harrier XZ+ Jet Edition | 20.90 lakh |
| Harrier XZA+ Jet Edition | 22.20 lakh |
Tata Harrier Jet Edition price and variants
Tata Safari Jet Edition: Highlights
The flagship Safari gets the Jet edition in two trims- XZ+ and XZA+ and four variants- with the difference being the seating configuration. The SUV can be had as 6 and 7-seaters, and the Jet edition adds luxury to both. Other than the colorway, the Safari Jet edition gets similar safety tech upgrades as the Harrier #Jet. Most of the feature-revisions remain identical as well. However, on the six-seater Safari, the captain chairs on the second row get winged head restraints, which can potentially up the comfort by great amounts.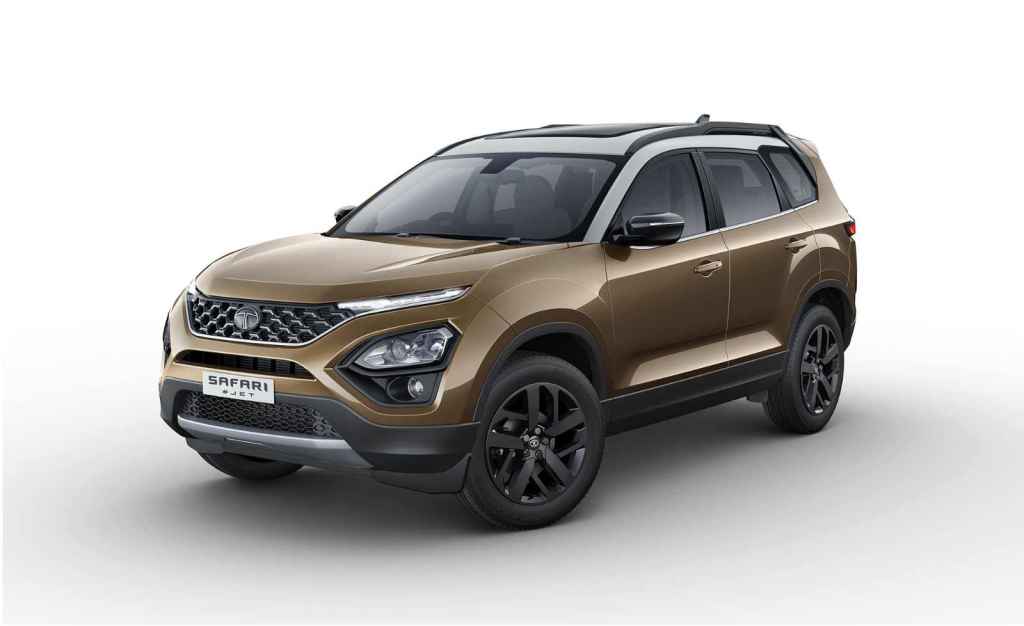 ALSO READ: New Tata Safari Dark Edition Launched At Rs 19.05 Lakh
| | |
| --- | --- |
| Variant | Price (Ex-Showroom) |
| Tata Safari Jet Edition XZ+| 7 Seater | 21.35 lakh |
| Tata Safari Jet Edition XZA+| 7 Seater | 22.65 lakh |
| Tata Safari XZA+ Jet Edition | 6 Seater | 21.45 lakh |
| Tata Safari XZA+ Jet Edition | 6 Seater | 22.75 lakh |
Tata Safari Jet Edition price and variants