Expect India launch in 2023
Putting an end to anticipations, Ferrari has taken wraps off their first 'SUV/ crossover' or as they like to call it 'not SUV, but a four door, four seat practical Ferrari'. Ferrari Purosangue would battle Lamborghini Urus and Aston Martin DBX upon launch, but with a clear upperhand in its mechanical front. There is a lot to talk about this Ferrari, but hey, here are a few candies:
Purosangue doesn't get the familiar Super SUV proportions- It is more of a Ferrari than an SUV.
In a game of V8s, the Purosangue has a massive 6.5L NA V12 spitting 715hp!
Could be priced north of 6 Cr in India.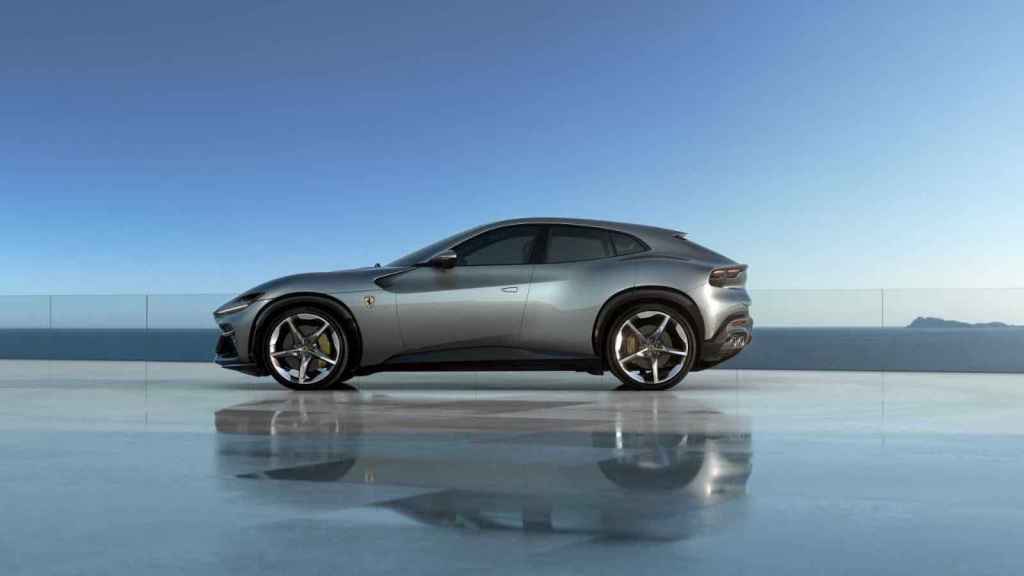 Ferrari Purosangue: Story Behind The Name
The name comes from that of the Italian horse breed and means 'thoroughbred' or 'full blood' in Italian. In 2020, having conceived their idea of a 'practical car', Ferrari tried to trademark the name Purosangue for the same. However, a charity organization 'Purosangue Foundation' had obtained the rights to it in 2013. This later led both the parties to battle over a lawsuit and finally, the name sits on the Ferrari 'SUV' in 2022!
A Ferrari SUV: We Hardly Thought It Would Be A Reality Someday!
SUVs are taking markets by storm. We've lately been seeing them in all forms: small, full size, luxury SUVs and performance SUVs from brands like Porsche, Aston Martin and Lamborghini! This raised a zillion ' Is Ferrari building an SUV?' questions from enthusiasts around the world. However, Ferrari being Ferrari, was rather cold to those speculations, back in 2016. When asked the SUV question, the then chairman Sergio Marchionne responded "You will have to shoot me first!".
Fast forward to 2022 and we have the Purosangue! Don't worry, Sergio isn't shot yet! Times change and so do CEOs. But for Ferrari, their core thought around SUVs seems hardly affected by these, as the Italian manufacturer refrains from calling the Purosangue an SUV! "We are not calling it an SUV. We're not even talking about SUVs" says the present CEO Benedetto Vigna. Read ahead and you will know why…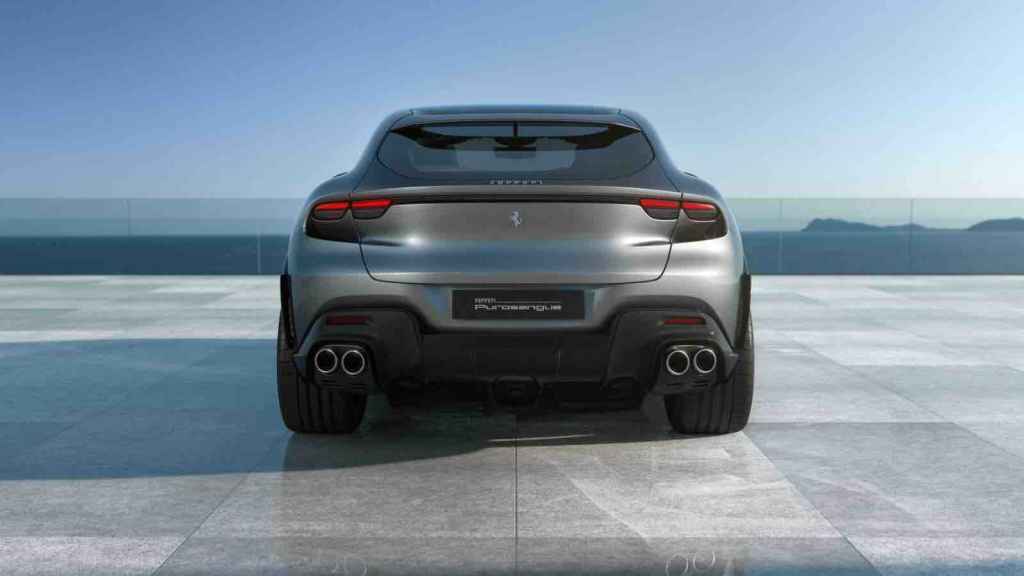 Ferrari Purosangue: Design, Dimensions And More
A four door, four seat Ferrari for four – That would be the Purosangue! The exterior design has an extensive focus on aerodynamics. Every tiny bit has been done to ensure the smoothest airflow. You wouldn't thus see the upright pillars or familiar bold lines of SUV stereotypes. The Purosangue keeps Ferrari DNA safe in its overall design. The headlamps get the in-vogue split design, air vents are large and functional, the bonnet gets an aerobridge towards its edges- similar to what we had seen on the F12 Berlinetta, and the tail lamp design could give you SF90 Stradale vibes. Honestly, the car looks good- the actual aesthetics drifting away from the disappointing visuals suggested by previous spy shots. Phew!
Let's draw parallels and analogies now. The Purosangue I feel, is a crossover, or an attempt to be one! It stands fairly high for a Ferrari, and is sleek and agile. However, it would be from the front, that you would feel it to be high-standing and rather flat-nosed. It could then look somewhat like the Ferrari Roma skewed and stretched vertically in Photoshop! When viewed from the sides, the rising beltline could be suggestive of the GTC4 Lusso's.
One of the biggest party tricks on the Purosangue's design could be the rear doors. This SUV gets rear-hinged rear doors that open backwards- suicide doors as they say! While reverse-opening could be tad risky in itself, Ferrari has given full electric operation for these, and no visible handles! These can swing open by 79-degrees for easy access to the rear.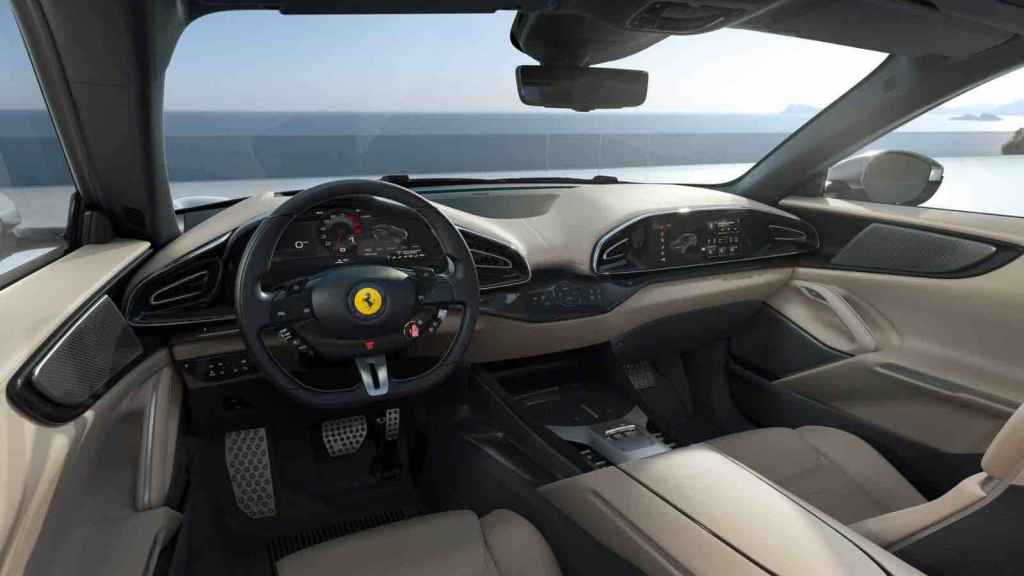 Ferrari Purosangue Interior
The Purosangue's cabin looks and feels like that of a Ferrari we'd love! The cockpit gets a driver-centric design and there is no oversized central touchscreen or a sea of screen-driven functions. Most of the functions inside can be controlled and executed using the steering wheel. There are two 10.2 inch screens- one in the driver's digital gauge cluster and the other for the front passenger- that can be used for functions including infotainment. Apple Carplay and Android Auto are on offer, but no in-built navigation. You can also spec the Purosangue with a glass roof, while a lighter Carbon Fiber roof comes standard.
The car gets four individual bucket seats. There is no rear bench. The rear, cannot be called the most spaceous. For six-footers and above, it could feel rather cramped up there. The rear seats are well padded but thin, and are seperated by a fair-sized armrest. However, the upward swept beltline makes the windows stand quite high and could possibly bother some.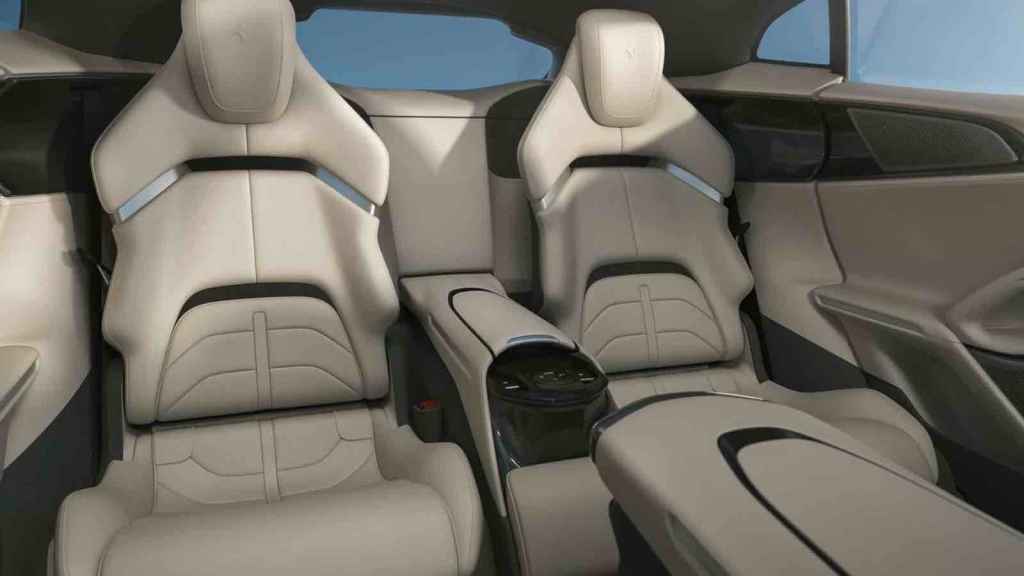 Ferrari Purosangue Specs: JAW DROP!
Ferrari Purosangue excels with its mechanicals! Unlike many of its competitors who draw their juices from V8s, this Ferrari is powered by a full blown V12! We're not done yet. The 6.5L V12 on the Purosangue is naturally aspirated and devoid of any electrification. This 12 cylinder engine comes with a new valvetrain and improved intake geometry. It produces 715 hp and 716 Nm, and comes mated to an 8 speed DCT (instead of the old 7 speed unit). The Purosangue can do 0-100 kph sprint in just 3.3 seconds, 200 kph in 10.6 seconds, and has a top speed of 310 kph.
'
| | |
| --- | --- |
| Engine | 6.5L naturally aspirated V12 |
| Power | 715 hp |
| Torque | 716 Nm |
| Transmission | 8 speed DCT |
| AWD | Yes! |
| 0-100 kph | 3.3 sec |
| 0-200 kph | 10.6 sec |
| Top speed | 310 kph |
Ferrari Purosangue specs and performance
Ferrari Purosangue: Suspension And Handling
The powertrain is packaged in a way to ensure maximum efficiency. The Purosangue has a 49/51 front-to-rear weight balance. It borrows its AWD hardware from the GTC4 Lusso, but with its brain coming from SF90 Stradale. Traction control and associated tech come from the 296 GTB. For the best dynamics, Ferrari has hand-crafted the adaptive suspension setup for the Purosangue. The unladen ground clearance of this SUV is 180mm, which can be lifted by another 30mm with the air suspension. Expect the Purosangue to be a true-bred Ferrari while on the role.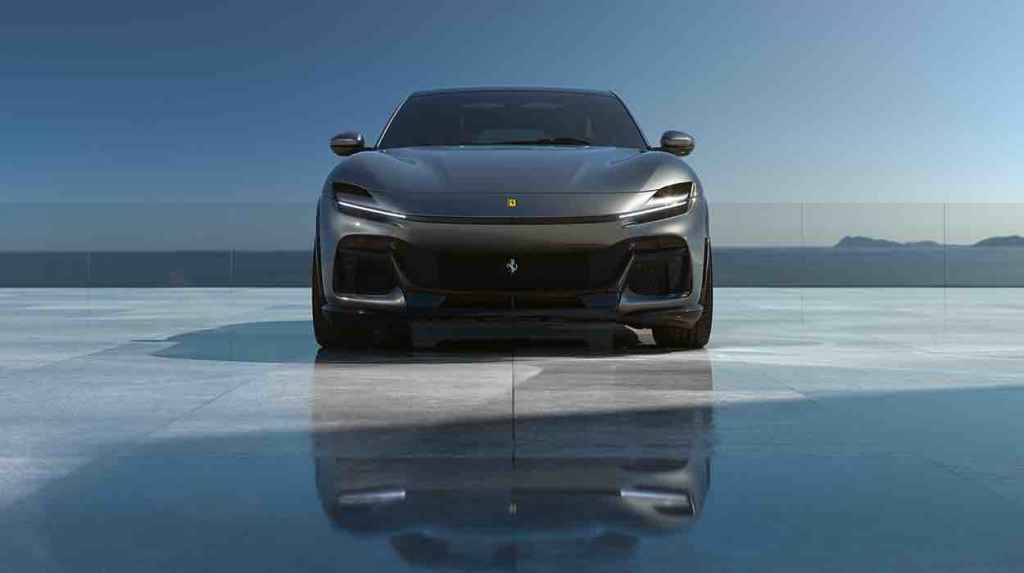 Fuel Efficiency?
Expect no mercy on the Purosangue's fuel consumption. While we don't have any official data around the same yet, the figures could be comparable to those of the Bentayga or the Urus. What we do know is that this is going to be a Ferrari that ranks high on fuel consumption, among its contemporary stablemates.
Ferrari Purosangue: Can It Go Offroad?
When "We are not calling it an SUV" is what Ferrari says about the Purosangue, it wouldn't be just for us to expect anything SUV-ish from it. While the ground clearance could be good enough to take broken patches, the Purosangue doesn't get any special underbody protection. It doesn't get any 'Off-road' driving modes either and rides on high performance tyres. Summing up, it is a NO to offroad stuff, the Purosangue is more of a practical Ferrari for four.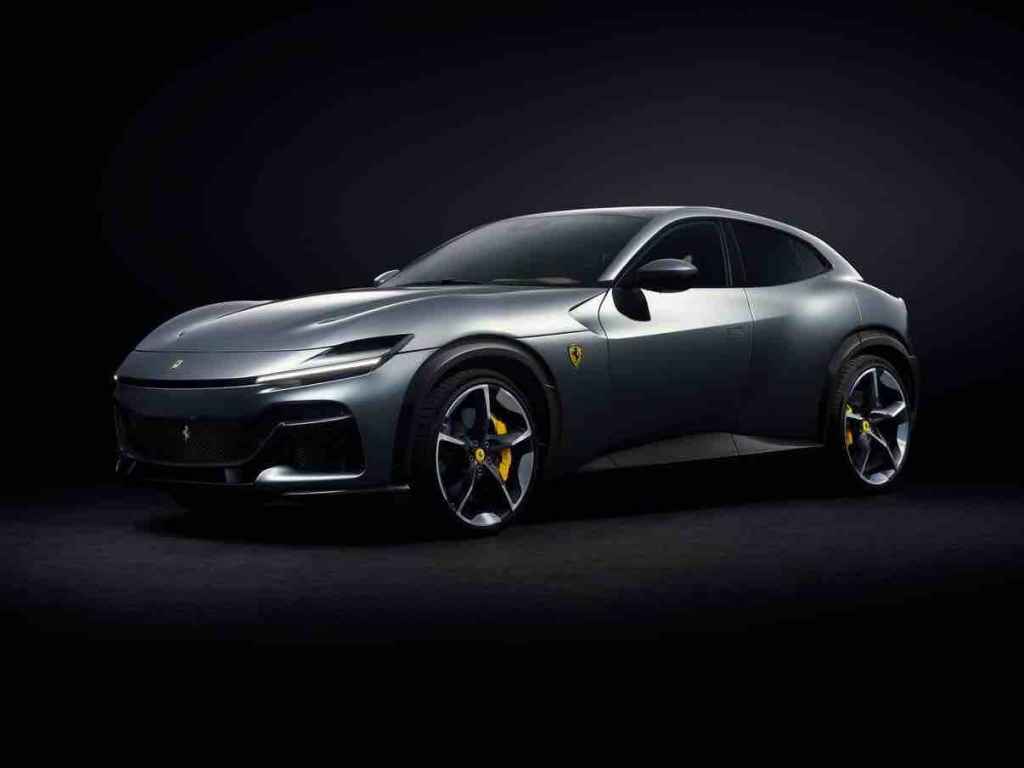 Ferrari Purosangue Price, Expected Launch Date And Possible India Launch Plans
Ferrari Purosangue would start at a sticker price of €390,000 in Italy. Europe deliveries are known to commence in Q2, 2023. India launch can be expected in late 2023. Even in Europe, the waiting spans could be huge, as Ferrari has strict curbs on Volumes- Purosangue production will always be less than 20% of Ferrari's total production. In India, ex-showroom prices could soar over Rs 6 Cr!