We get a quick taste of Mahindra's new mini truck- the Bolero Maxx Pickup
Reaffirming its position as a CV major in India, Mahindra had recently launched the 2022 Bolero Maxx Pik-up at a rather attractive price point. The mini truck joins the Mahindra Bolero pickup range that already consists of multiple popular nameplates. 2022 Bolero Maxx pickup is available in a total of 3 variants- City 3000, City 3000 LX and City 3000 VXi. We drove the top-spec City 3000 VXi for a day, and here is all our thoughts compiled…
Up Close With The Variants:
City 3000 is the base variant. The 3000 in its name hints at the vehicle's GVW of 2,825 kilograms- or 2.8 tons. The key differences between these would be in seating and equipment offered. The base-spec City 3000 comes as a two seater (D+1) while the City 3000 LX and VXi offer more comfortable 3 seater cabins (D+2). Fabric seats are offered from the mid -City 3000 LX- variant, while the range topping VXi gets iMAXX telematics, height adjustable driver seat, two headrests, and turn safe lights.
| | |
| --- | --- |
| Variant | Seating |
| Bolero Maxx Pik up City 3000 | D+1 |
| Bolero Maxx Pik up City 3000 LX | D+2 |
| Bolero Maxx Pik up City 3000 VXi | D+2 |
Bolero Maxx pikup variants and seating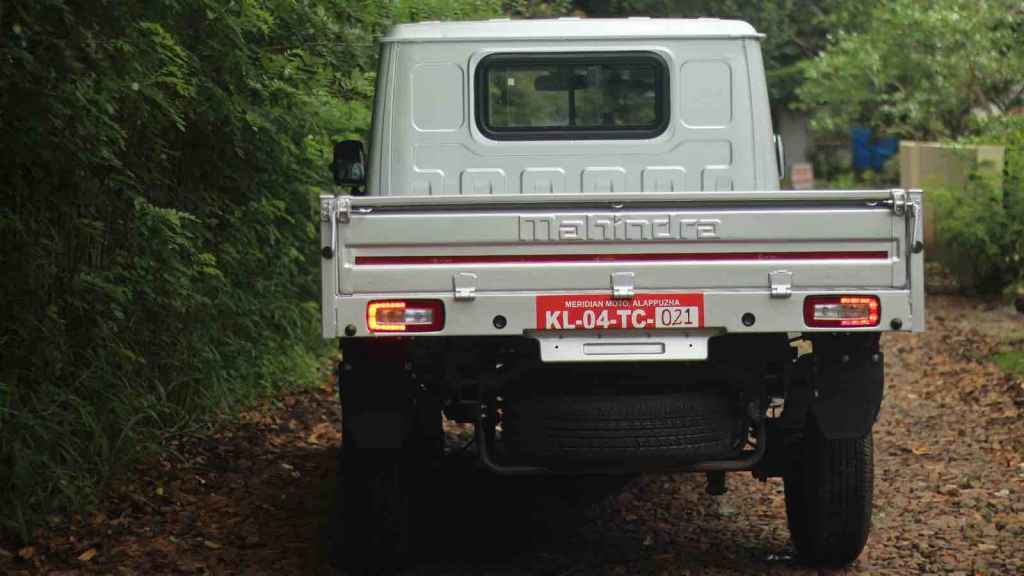 ALSO READ: 2023 Mahindra Bolero Maxx HD 2.0 L Review
2022 Mahindra Bolero Maxx Pik Up: Dimensions And Design
| | |
| --- | --- |
| Overall Length | 4800 mm |
| Overall Width | 1755 mm |
| Overall Height | 1873 mm |
| Wheelbase | 3150 mm |
| GVW | 2825 kg |
| Tonnage (Payload capacity) | 1.3 ton |
Mahindra Bolero Maxx Pik up dimensions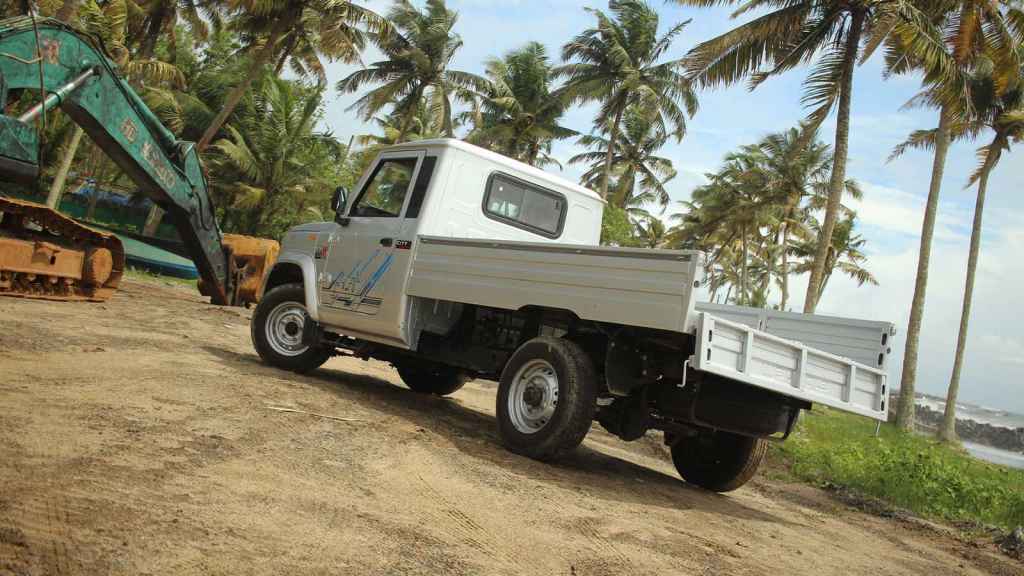 | | |
| --- | --- |
| Length | 8.2 ft |
| Width | 5.5 ft |
| Height | 1.5 ft |
Bolero Maxx loading bay dimensions
Talking of design, the Bolero MAXX pik up has fairly high degrees of visual resemblance to the Bolero in its front fascia. It is large and good looking. There are three color options available- Gold, Silver and White.
The top-spec variant gets Chrome embellishments on its Bolero-like grille. The headlamp design would remind you of the ones found on Bolero Neo. Mahindra has given what they call 'Turn Safe Lamp' on the cluster- which are essentially cornering lamps. These would light up and provide a nearly 180 degree illumination when the vehicle is attempting a turn.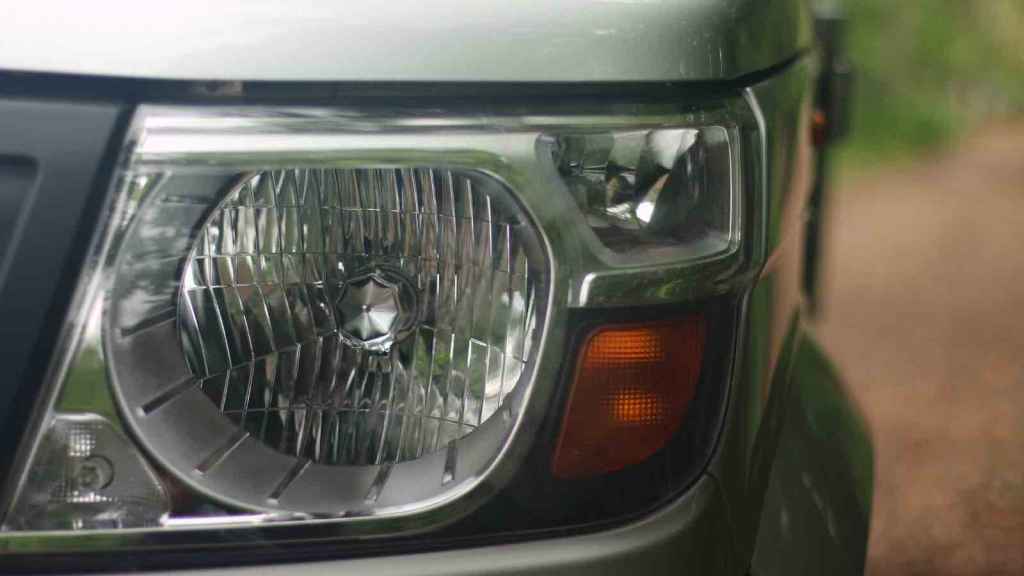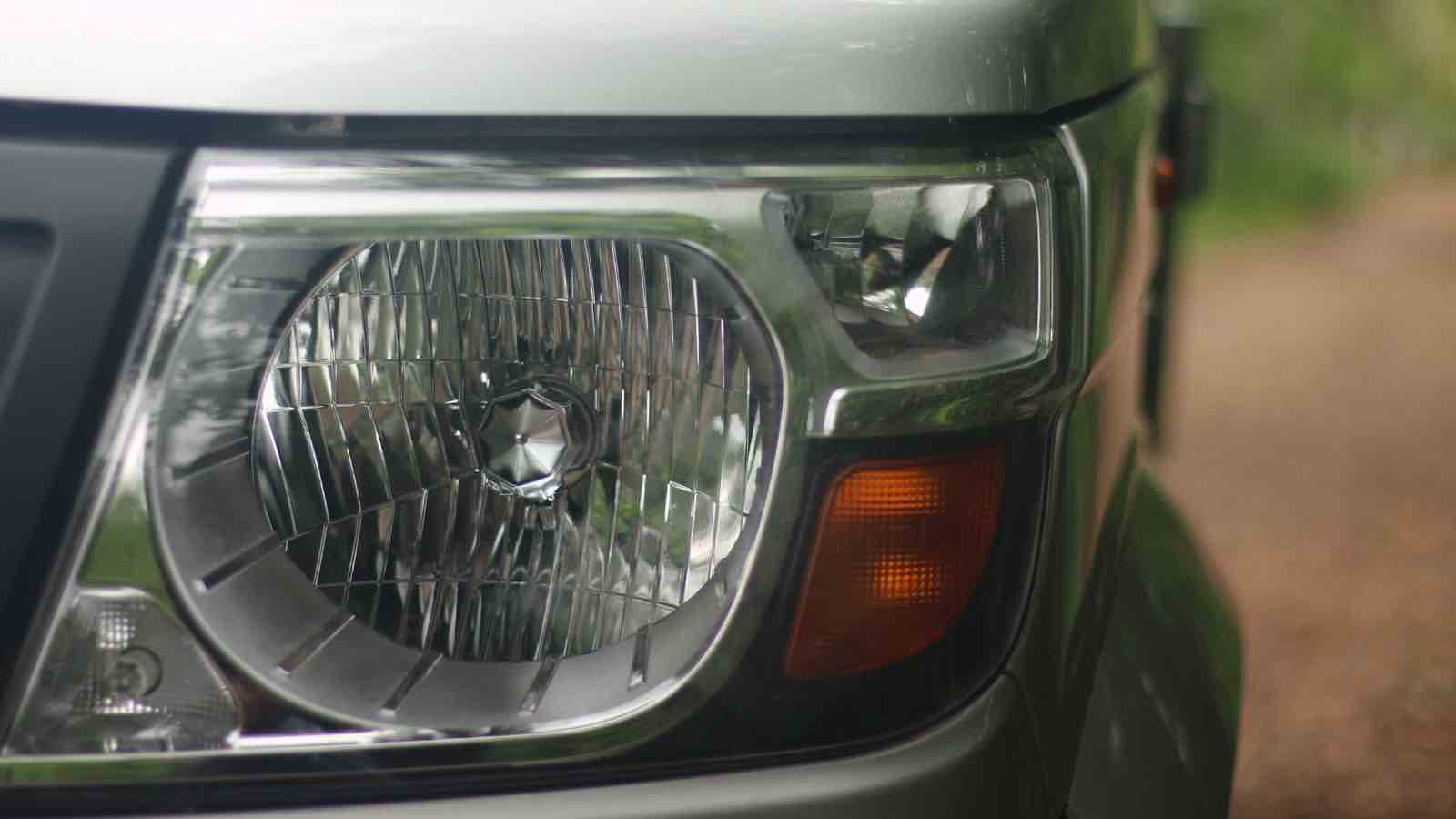 Other key design highlights at the front include metal bumpers and fenders which now get bolted designs, making the maintenance and replacement easier (previous punched type units had their own disadvantages). There are a number of visible panel gaps- quite a forgivable offence for a CV. The cabin gets a single moulded design, and thus stands clear of any fear of rust from joints or welds during ownership. The tail lamps are LED units on the City 3000 Vxi while all other variants come with regular Halogen lamps.
Courtesy of its short bonnet design and small front overhangs, the Bolero Maxx pik-up has a turning radius of 5.5 meters. The 15-inch wheels get 195/80 R15 LT tyres. Plus, the fuel tank can accomodate a whole 45 liters.
ALSO READ: 2022 Mahindra XUV 400 Review: An Early Peek Into The BEV Future!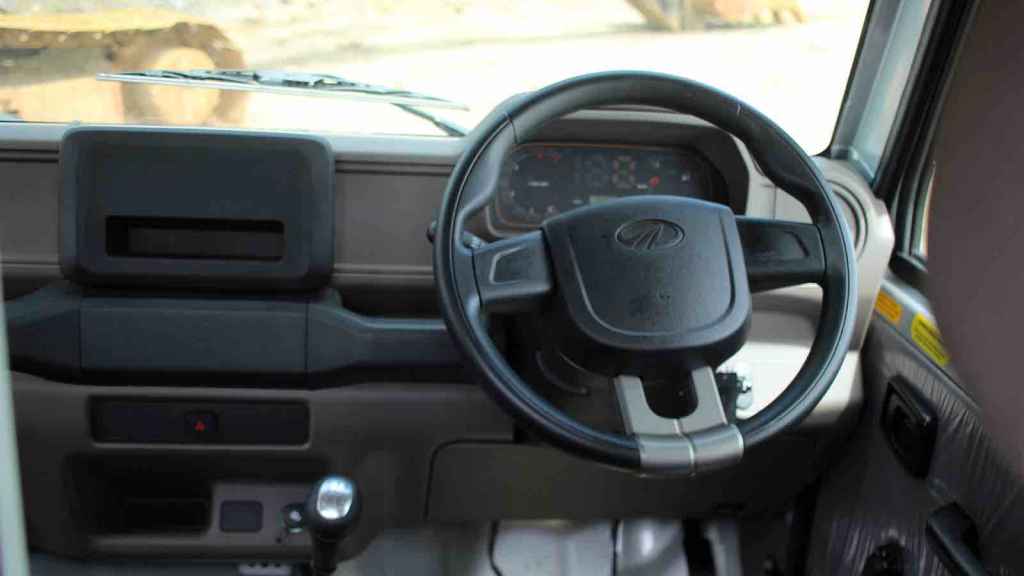 2022 Bolero Maxx Pickup Cabin Experience
The cabin of Bolero Maxx pickup truck feels more liveable and roomier than what you'd expect it to be. There is adequate legroom for occupants with heights of up to 6 ft. The driver seat on the VXi offers 6 way adjustment- including adjustable height- first in the segment. The dashboard design is very functional and the crew side could remind you of the Thar with the grab handle design.
The centre console gets provision for including a touchscreen- available as a paid extra. There is no air conditioning on offer, even as an option. There is, however, a 12V charging socket and a couple of storage pockets inside the cabin. The crew seat is nearly flat and wide. However, using this to lie down and have a nap could be difficult as the handbrake could interfere, when engaged.
'
The Bolero Maxx pik up comes with digital instrumentation on all its variants. The cluster feels basic and so do the fonts and displays. A speedometer, tachometer, and fuel and temperature gauges are included, along with odo and trip meters. There is also a gear shift indicator (no gear position indication though) and door-ajar warning offered. Honestly, I am not a big fan of this cluster, a neat analogue unit would have been better.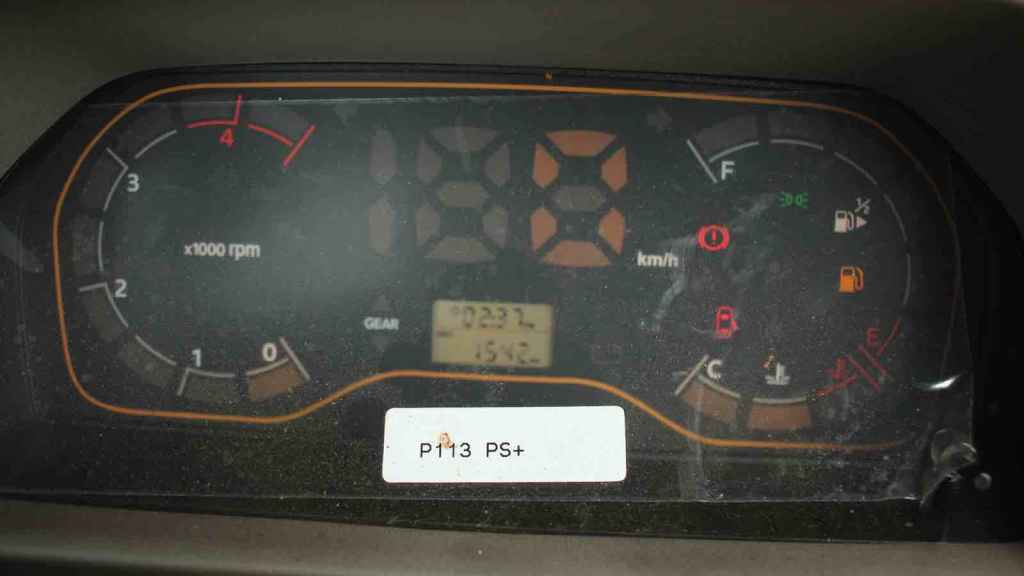 iMAXX Telematics Available
Bolero Maxx Pik Up comes with Mahindra's smartphone-based telematics system- iMAXX. The mobile application lets you track the vehicle, consignment and driver behaviour in real time. It is available just on the VXi variant. Another downside is that iMaxx is compatible with just the Bolero MAXX. So if you own a Bolero Maxx and say a Bolero City pik up, you would need two different apps to manage those vehicles.
Engine Specifications And Mechanicals
Mahindra Bolero Maxx pik up is powered by the manufacturer's m2Di, 2500 cc, 4 cylinder, diesel engine in a state of tune to produce 65hp and 195 Nm. The transmission on offer is a 5-speed synchromesh manual. The RWD vehicle gets leaf spring suspensions at both ends. While the front gets a 5-leaf setup, the rear has overslung 7-leaf suspension for uncompromised load-carrying capabilities.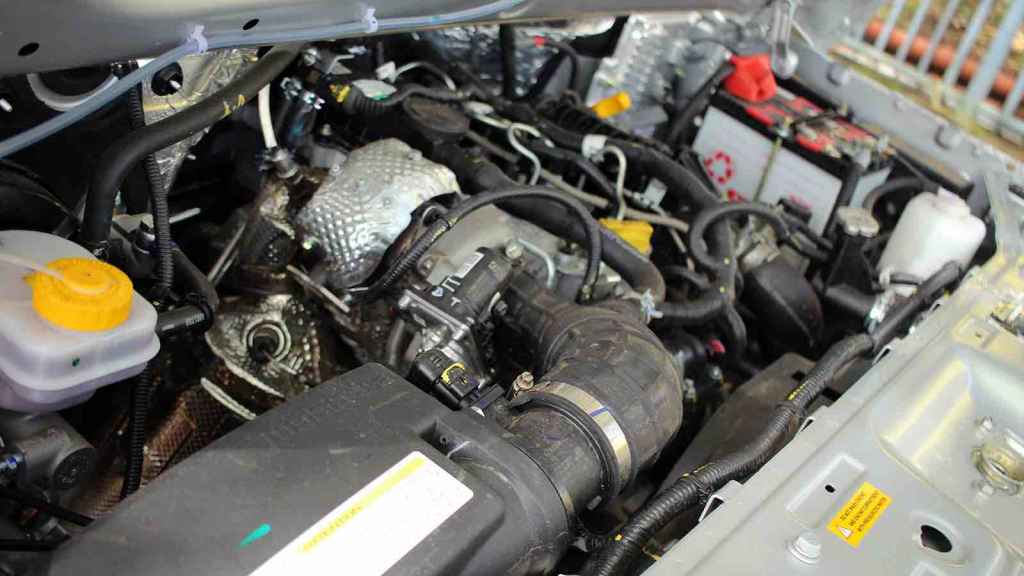 | | |
| --- | --- |
| Engine | 2500cc, 4 cylinder, m2Di Diesel |
| Power | 65 hp |
| Torque | 195 Nm |
| Gearbox | 5 speed synchromesh |
| Clutch | Single plate dry |
| Mileage | 17.2 kpl |
2022 Mahindra Bolero Maxx pik up specifications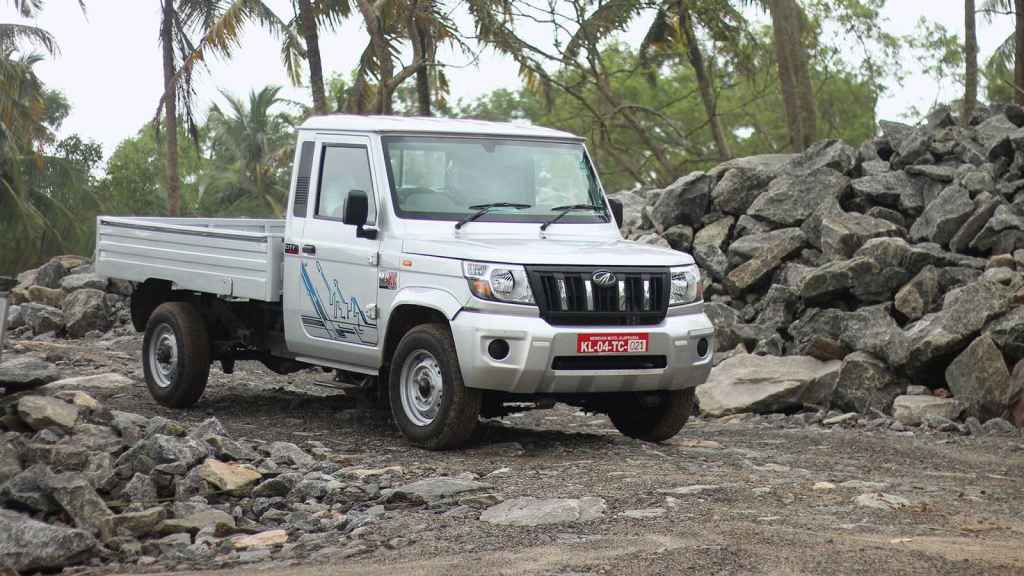 Drive Impressions And Profit Prospects
Bolero Maxx's 195 Nm is the highest torque in its segment. GVW being 2825 kg, the truck has 1.3-ton payload capacity. Thus 195 Nm would even sound good. But it feels much better in real- the reason being the delivery. The engine is tuned so that the peak torque can be accessed from very low rpms. Roughly speaking, you get to enjoy the tug from 1500 odd rpms!
The next big thing could be the refinement. The 4-cylinder engine feels almost neat with its vibrations and overall behaviour- going by CV standards. The driver doesn't get to endure much physical undulance that could possibly lead to fatigue. This would translate to more up-time and more number of trips.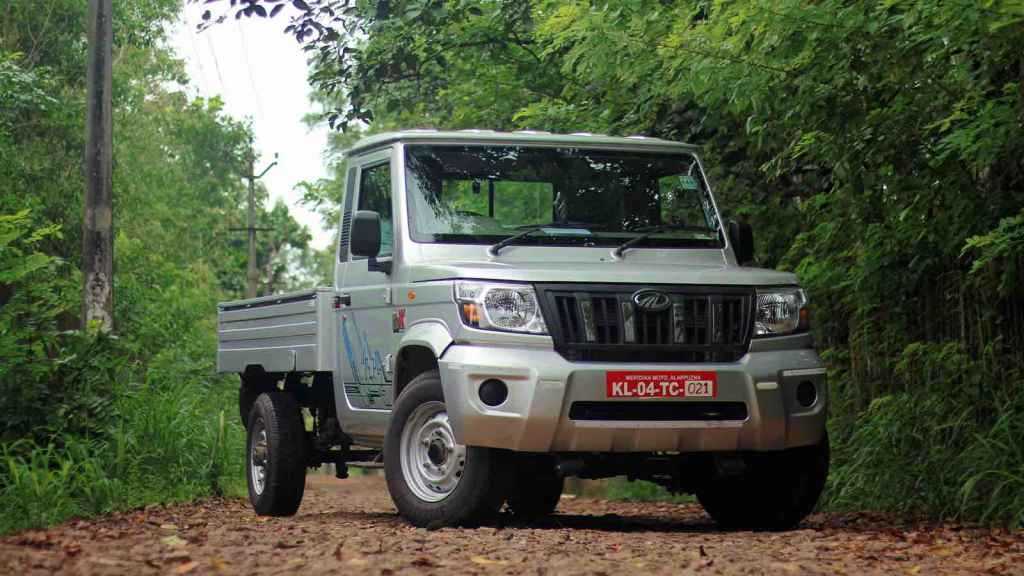 The engine is claimed to offer mileage figures of 17.2 kpl. (We were not able to test this though) Also, the service intervals here are 20,000 kilometres, instead of the usual 10,000 km. The first service would come at 10k, post which every service would be done at intervals of 20k kilometres. Both these would reduce operating costs (of fuel and of maintenance) and with the good load-carrying capacity in place, the profits could shoot up.
ALSO READ: Ashok Leyland Bada Dost Review: Ek Dum Bada!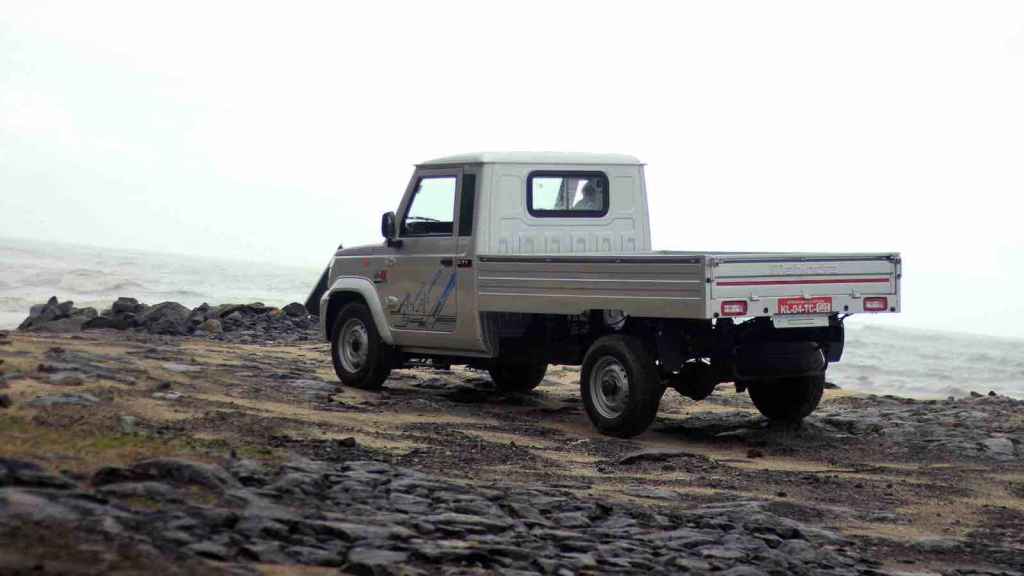 Price And Variants
Mahindra Bolero Maxx Pik up is priced from 7.68 lakh (introductory) ex-showroom. The variant we drove would cost 7.87 lakh. The possible rivals to the Bolero Maxx Pik Up are Tata Intra V30 and Ashok Leyland Dost Plus.
| | |
| --- | --- |
| Variant | Ex-showroom Price |
| City 3000 | 7.68 lakh |
| City 3000 LX | 7.72 lakh |
| City 3000 VXi | 7.87 lakh |
2022 Mahindra Bolero Maxx prices