The Citroen C5 Aircross is more comfortable than what you would ever want from its class, if that doesn't surprise you, read on!
Words: Neeraj Padmakumar Photography: Sarath S
Group PSA (or the Stellantis) had made its India entry (or re-entry!) with the Citroen C5 Aircross SUV in April. Priced from 29.90 lakh ex-showroom, the C5 is definitely on the pricier side. However, many of you might not mind paying those extra bucks if you actually get to experience what's on offer on this vehicle.
Table of Contents
Design
The Citroen C5 Aircross is simply the best-looking SUV in its class (or one above!) The overall design embodies signature French flair. The vehicle stands tall but has soothing curves. Key highlights include the stylish split LED projector headlamps, a grille that is not like anything we have seen here, a neat bumper with neatly integrated air intakes, rather unconventionally placed fog lamp units, prominent body cladding with blocky styling elements which can be had in custom colors, stylish 18-inch alloy wheels, striking LED tail lamps, and a couple of fake exhaust tips on the rear bumper. While the entire design is definitely catchy, it might feel 'overdone' or a 'design overdose' to many, such as us!
Note: The C5 Aircross is a people magnet. During our stint with it, we saw almost every other guy on the road take a minute or two to watch, stare at and click this car!
| | |
| --- | --- |
| Length | 4500 mm |
| Width | 2099 mm |
| Height | 1710 mm |
| Wheelbase | 2730 mm |
| Ground Clearance | 230 mm |
| Boot | 580 L |
Citroen C5 Aircross dimensions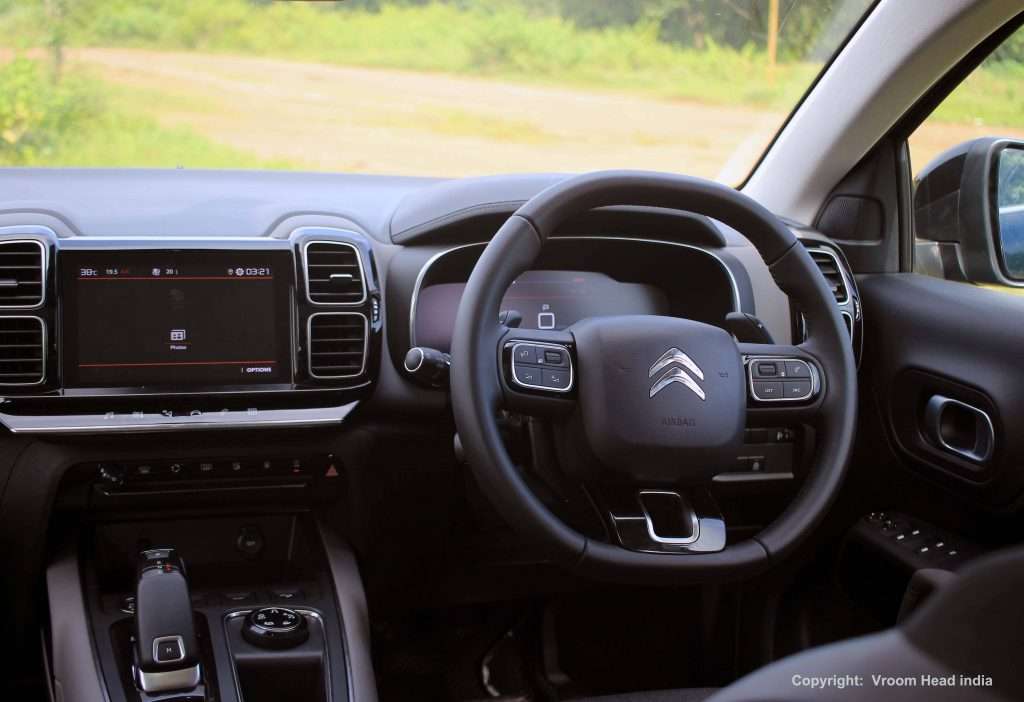 Cabin And Features
The C5 Aircross has a cabin that looks and feels classy. There is an air of luxury on the inside. Dark themed, the interior has generous usage of premium fabrics, leatherette, soft-touch materials, and other trims. However, it does get a few hard plastic elements at some places. Look carefully and you will see 'block patterns' in the cabin design, something very particular about this car!
A major highlight is the massive 12.3 inch TFT display doing the instrumentation duties. This screen offers high display quality and has customizable display modes. The way it functions, the fonts used and the information offered are all addictive!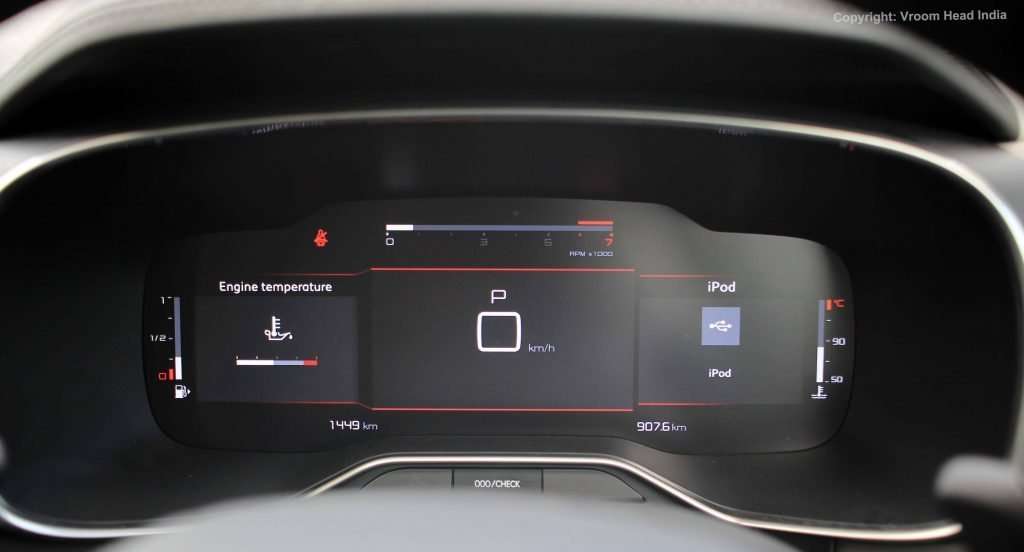 The infotainment gets a much smaller 8-inch touchscreen unit and has all modern-day connectivity tech like Apple CarPlay and Android Auto. However, there are no connected car features on offer! (A big miss for a car of this class) The display quality and touch response of the screen are very good and the overall interface is pleasing. The infotainment unit does get basic physical controls like volume and power, but the placement of these is rather unconventional. There is however no wireless charging on offer.
There is a large panoramic sunroof that ensures a highly appealing and pleasant experience inside the cabin. The design of the shift-selector is quite a muse. It is unlike anything we have seen in this segment yet. The fact that the C5 Aircross is a global car designed primarily for the LHD markets reflect at multiple spots inside. The shifter, electronic parking brake, and hood-release lever are all oriented towards the left. These, however, do not cause major ergonomic issues. Fair enough!
Let's get social! Follow Vroom Head India On Google News, Koo, Twitter, Facebook, Instagram, Pinterest, Whatsapp, and LinkedIn
It Is All About Comfort!
Citroen C5 Aircross has comfort as its key USP. The manufacturer has been so vocal about this that they started using 'Comfort Classs' in the official campaigns of the vehicle! But we find no offense, as Citroen is a brand that has always done wonders in making 'Comfortable' cars, or should I say they 'invented' it? I ain't no kidding! It was Citroen that developed the hydropneumatic self-leveling suspension and was first used in its DS. This complex suspension was instantly noticed for its promise of supreme ride quality and was later adapted and used by many auto majors like Rolls Royce, Maserati, Peugeot, and more recently Mercedes Benz under the name 'Active Body Control'.
The C5 Aircross is supremely comfortable. The seats are large, well-cushioned, and upholstered with a fabric-leatherette mix. It is very comfortable to be on these. At the rear, all the 3 occupants sit comfortably if they are of average build, and have 3 point seat belts as well. The rear seat feels very welcoming and have adequate leg and head spaces. The rear has three independent seats which can be slightly adjusted to better suit personal preferences. One might, however, feel these to have slightly more lumbar support than needed, which could be annoying for at least some at times.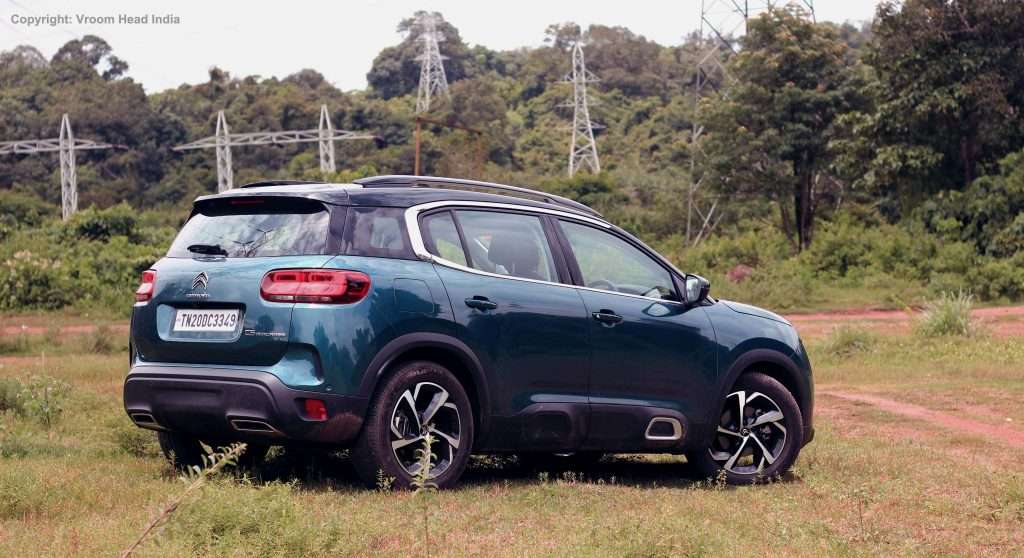 The engineers have apparently spent a good time developing the cabin insulation. The C5 has it so well insulated that the occupants will feel totally cut off from the road and wind noises and will even have hard times believing that their car has a massive diesel engine under the hood!
The ride quality tops the segment or one above! We have not seen anything this comfortable in this segment. Citroen going vocal about the comfort and the innumerable claims of 'magic carpet ride', we tell you, are not mere marketing baits! The occupant comfort of this vehicle is amazing.
The C5 uses a Progressive Hydraulic Cushions suspension setup to achieve flawless ride quality. It wouldn't be much of an exaggeration if we said this car offers as much comfort as a modern-day Mercedes SUV with Adaptive body control! On a more familiar note, the C5 Aircross overrides the previous segment benchmark for comfort- Skoda Kodiaq by fair margins!
How Is It To Drive?
The Citroen C5 Aircross gets just a 2.0L diesel engine as its powerplant and no petrols! Mated to this is an Aisin-sourced 8 speed automatic transmission alone. The powertrain setup is capable of producing 177 hp and 400 Nm. There is no AWD on offer, but the selectable traction modes get things done on mild rough-road runs. C5 Aircross is not a car that lets you clock figures playing with the throttle. This is not something you would want to 'floor and roll', but something that lets you drive around in absolute comfort.
We do not mean to say that this car is something of a sloth! No! You can milk out 0-100 kph figures of 9.5 seconds if you wish to, but that is definitely not what this vehicle is a pro at! The gearbox offers smooth shifts and the engine has a great mid-range. You get to enjoy some real juice from 1750 RPMs to somewhere around 4000 spins. There are paddle shifters for added fun, which also look like those of a sportscar! The downside however is, if you choose to be a tad too aggressive and try for strong red-line shifts using these, the box simply won't let you do!
Even while ensuring the magic carpet ride for all the occupants, the C5 remains a 'car' and not a boat around corners! Despite being comfortable, this SUV behaves quite well when pushed hard around corners and when driven fast. It doesn't make you detached from the wheels, but yes you could be from your seats! There is a good amount of body roll felt inside.
Variants And Price
The C5 Aircross is available in two trims- Feel and Shine. The lower-spec Feel is priced at Rs 29.9 lakh and the dual-tone version at 30.40 lakh. The Shine has a sticker price of 31.90 lakh. These are noway cheap by any standards. However, going by the ride quality and cabin experience on offer on this car, we wouldn't blame one for those extra thousands he pays either. After all, magic carpets come with a price!
| | |
| --- | --- |
| Variant | Price |
| Feel | 29.9 Lakh |
| Feel Dual Tone | 30.40 Lakh |
| Shine | 31.90 Lakh |
Citroen C5 Aircross price and variants
Let's get social! Follow Vroom Head India On Google News, Koo, Twitter, Facebook, Instagram, Pinterest, Whatsapp, and LinkedIn
The Only Possible Concern For Buyers
The only major concern a buyer should have in the decision-making phase is the limited dealer network and outreach. Citroen had started its India ops with just 10 showrooms. A few more were added recently but the net figures still stand below 20! The manufacturer, however, has mobile service units on the move, which should fix much of the concerns to some extent.
Also Read: EVM Citroen: First Citroen Showroom In Kerala Opens, Here Are The Details!