We ride the Hunter 350 for 650 odd kilometers…
Royal Enfield Hunter 350 is a very unique motorcycle. Or let's say, it's a Royal Enfield with a distinct character. Even while sharing its core mechanicals with familiar motorcycles of the day- the Meteor and the new Classic 350- it feels fresh and stays clear of any major influence of the donors in its core character. To get a better taste of this and further to explain the same to you, we rode the Hunter for over a week and 650 odd kilometers. Read on to find out everything we have to say about this motorcycle…
Hunter 350: How Is It Different From Other Royal Enfield Motorcycles
Before we get into the details, here are a few areas where the Hunter 350 stays unique and differs sharply from other RE models.
It is the lightest Royal Enfield available today, weighing just 181 kilograms. While this is an accessible weight for most, it feels even lighter as you get rolling. Thanks be to the power-to-weight advantage!
It has a 20mm shorter wheelbase than the Classic 350, standing at 1,370 mm.
The seat height on this motorcycle is the lowest you can find on an RE today- less than 800mm.
The ground clearance is just 150.5 mm.
Hunter 350 is the first modern RE to feature 17 inch wheels at both ends.
Variants
RE Hunter comes in two variants- lower-spec Retro and the range topping Metro. The differences between these are primarily in their feature lists and styling. The Metro variant further comes in two visually distinct avatars- Rebel series and Dapper series. We chose to ride the Rebel series for now.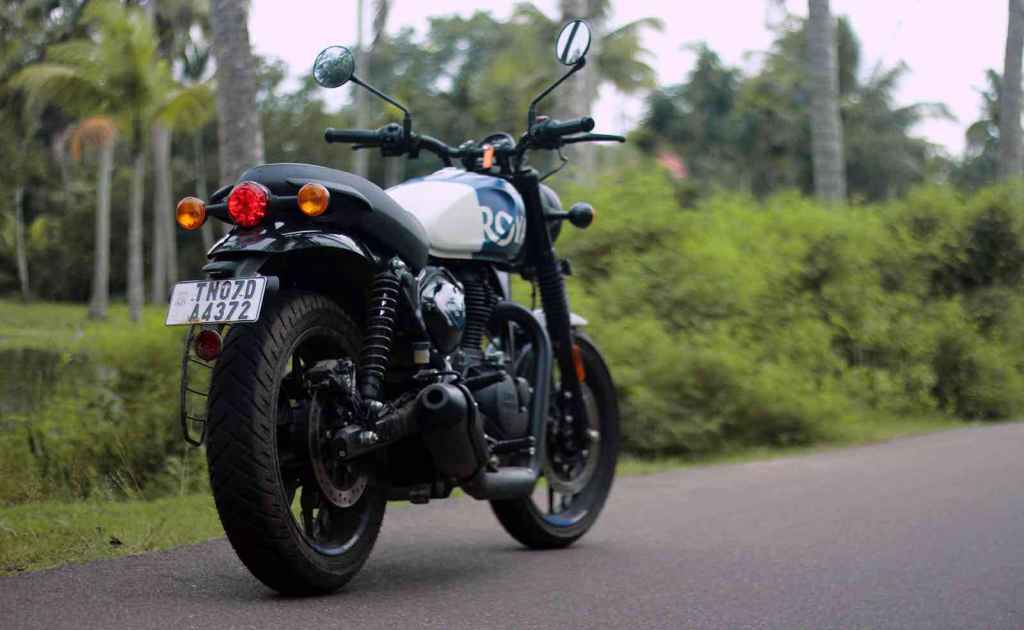 Dimensions
Hunter 350 is small in its dimensions, and the overall aesthetics are quite vocal about this. It feels smaller than almost every Royal Enfield motorcycle of the day, including the Classic 350- shorter in length, low standing and with a significantly smaller wheelbase. Here are the exact dimensions:
Length
2055 mm
Width
800 mm
Height
1055 mm
Wheelbase
1370 mm
Seat height
790 mm
Ground Clearance
150.5 mm
Wet Weight
181 kilos
Fuel tank capacity
13 liters
Tyres
110/70-17 inch alloy wheel (F)
140/70-17 inch alloy wheel (R)
Royal Enfield Hunter 350 dimensions
The seat on this motorcycle feels compact. In fact, it could seem a bit too small for two to fit in comfortably. In reality however, there is ample room for two of average builds.
Design
The Hunter is a very good looking motorcycle. On design grounds, it would feel more like a retro roadster that you and I would love to have in our garages. Things that we would desire on such a Royal Enfield are all kept safe, like a round halogen (no LEDs there!) headlamp, teardrop-shaped fuel tank, retro-looking side panel, flat seat and a tail that looks rather classic. The Metro gets LED tail lamps, while the headlamps and blinkers are all regular Halogen units. Hunter 350 Metro gets 17 inch alloy wheels at both ends.
I love the paint quality on this motorcycle. The overall build quality is nice, welds are neat at most places, leaving no room for complaints. The switchgear on the Metro is the same from the new Classic and the Meteor- with well finished switches and rotary controls for headlamp functions and engine start/stop. The seat design and its stitching are the next big things. The Metro gets a very comfortable seat design- with ample cushioning and good-quality stitching. This might look small in dimensions, but offers ample room and support for two occupants. The motorcycle also gets stylish rear grab handles on the top-spec variant.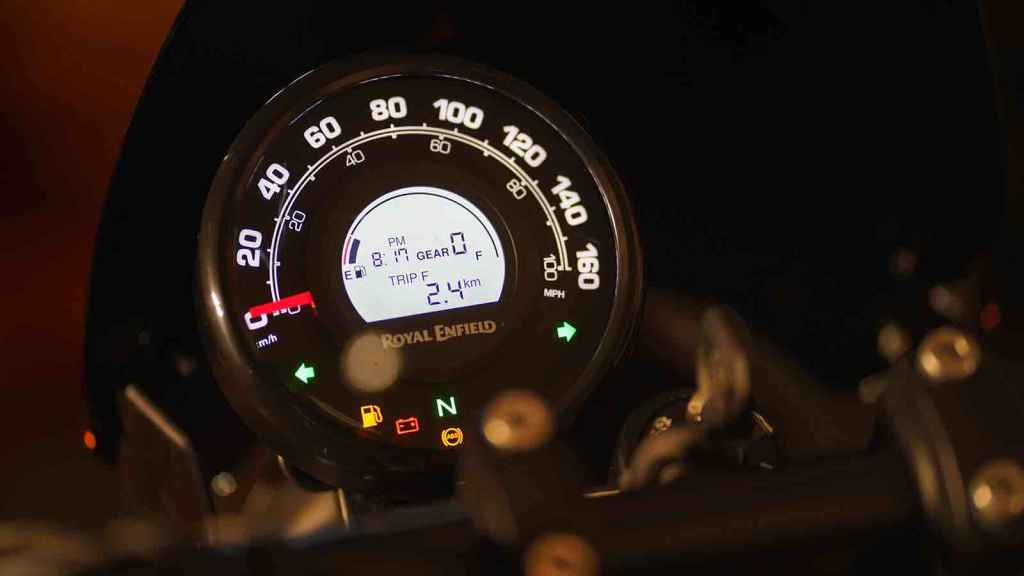 Features
Range-topping Hunter 350 gets Royal Enfield's new-age instrument cluster- with an analogue speedometer and a central display offering a plethora of rider info- gear position indication, 2 trip meters, digital fuel gauge, odo, clock etc. There is no tripper navigation pod offered for the time being. This could be added as and when the semiconductor supply crisis eases. Another useful bit is the USB charging point that is neatly integrated to the left of the handlebar.
Check out more reviews from us!
Comfort And Convenience
The design of this motorcycle puts a strong focus on ensuring an accessible and comfortable ride for people of all sorts. The proportions contribute a lot to this. The Hunter gets a seat height of less than 800 mm; 790 mm or so. Plus, it stands quite low with a ground clearance of 150.5 mm. The low seating is indeed a blessing for short riders. They would enjoy planted feet and good control at most times. But what about tall riders? Well, I am 6ft tall and I found the ergos decently comfortable. At some point in time, I rode the Hunter for 200 odd kilometers in a stretch and ended with no sore back or aching butt. Honestly, this was not something I had expected from a seat so low!
The rider triangle, I guess, is to be thanked here. The foot pegs are a bit rear set and the handlebar position demands you to slightly lean forward. Overall seating, however, is nearly upright and gives high degrees of control to the rider. You could feel some amount of Interceptor vibes at many places. The seat design and upholstery feels nice on the Metro variant. It tapers slightly towards the area where it meets the tank- something that could potentially give a better grip to the rider.
Specifications
In its mechanicals, the Hunter 350 borrows a lot from the new Classic 350 and the Meteor. It is underpinned by the J platform and comes powered by the new-age J-series engine. And, this could be a very peripheral statement too! Because on the Hunter, both the chassis and the engine get major tweaks.
The J platform forms the base for the Hunter. However, it could just be the front section that remains identical to those of the Classic and Meteor. The Hunter gets a shorter rear frame, and a new sub frame. The metal footpeg cradle from the Classic and Meteor is nowhere to be seen on this motorcycle. Alongside its shorter proportions, the Hunter gets a sharper steering rake angle of 25 degrees.
As for the engine, there is no change in the hardware. The 349 cc, single cylinder, air-oil cooled engine produces 'the familiar' 20 hp and 27 Nm. However, it gets a new map on this motorcycle, providing sharper throttle responses and in turn, peppier performance. Mated to this is the familiar 5 speed transmission with a wet multiplate clutch. (It is quite tight on the Hunter too)
You'd also love the exhaust note on this motorcycle. The soundtrack has enough depth to it at low revs. It does get flatter as you go up in the rev range, but is still very likable. Listen to it here
Engine
349 cc, single cylinder, air-oil cooled
Power
20 hp
Torque
27 Nm
Transmission
5 speed
Brakes
300 mm fixed disc with
twin piston floating caliper (F)
270 mm disc,
single piston floating caliper (R)
Suspension
41 mm telescopic front forks
Twin rear shocks
ABS
Dual channel
Royal Enfield Hunter 350 specifications
Performance
Courtesy of its playful chassis and peppy engine, the Royal Enfield Hunter 350 feels fun to ride. It feels more responsive than the other J-series motorcycles, with a better low-end pull. The throttle feels significantly sharper, and the torquey engine can get you to cruising speeds in a way you'd enjoy. The new engine maps and the motorcycle's overall weight-cuts have a lot to contribute to this. You would feel the Hunter to be light (lighter than what it actually is!), fast and agile.
Hunter 350 feels faster than any other Royal Enfield 350s. It can do 0-60 kph in under 5 seconds. Cruising at 80 kph feels sweet and doable all day. You can even do 100 kph without much strain. However, pushing it beyond 105 would demand time and patience.
The J series engine is known for its incredible refinement. We've loved how well it contains the NVH on models like the Classic and the Meteor. The Hunter draws its juice from the same mill but has a slightly different story to say! The 350cc engine feels smooth and refined, but not as much as it does on the other J-platform motorcycles. Compared to the new Classic, for example, you do get to feel some amount of vibes on this. Are they big enough to be intrusive? No! The lower spins feel smooth and enjoyable. It is only above the mids that the vibes enter the scene.
To give a more relatable context, the motorcycle feels incredibly smooth till speeds of up to 80 kph. Slight vibrations can be felt after 80, which grow slightly till 85kph, still not big enough to cause any discomfort to the rider. Post 85, these donot escalate any further with speeds. You get to feel just these if you are doing 90s or 110s. Possible reasons could be the changes brought about in the chassis structure and maybe even the new engine maps.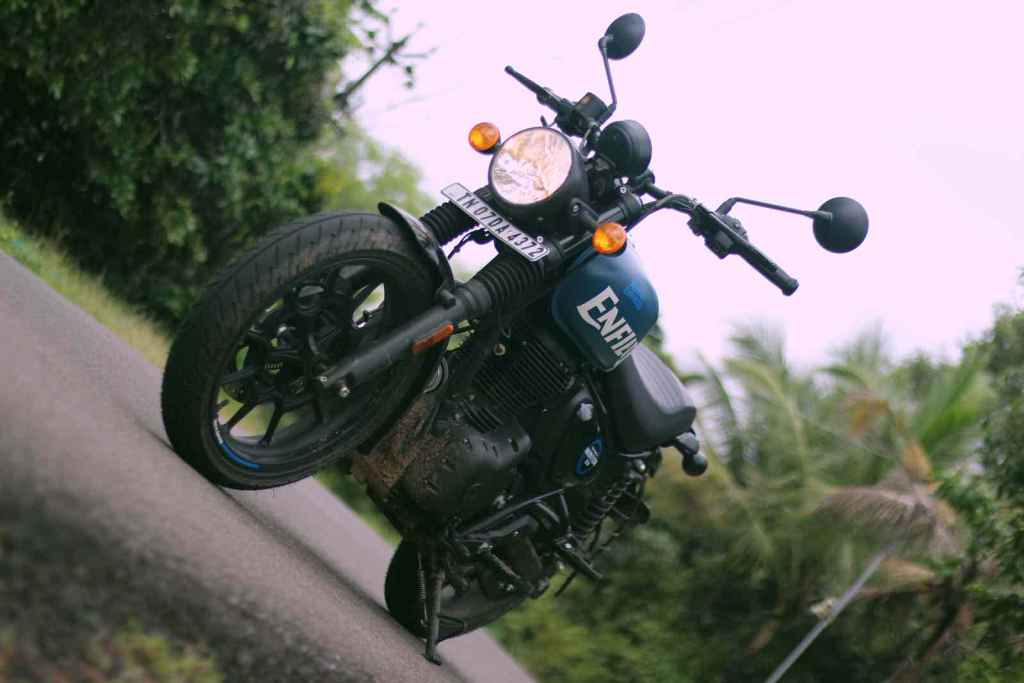 Ride And Handling
This is one Royal Enfield motorcycle that feels dynamic and agile. It is manoeuvrable and the weight-cut comes as an extra boon. The suspension is set on the stiffer side, and contributes to the overall handling. The short wheelbase, wide handlebar, and 17 inch wheels also ensure maximum agility. Direction changes are quick and easy, and there is plenty of lean angle on offer ( 43 degrees to the left and 42 to the right). The motorcycle thus feels comfortably stable and fast around corners.
The CEAT tyres offer good grip and the Metro benefits a lot from their wide sections on the dynamics front. The motorcycle gets disc brakes at both ends, with a new master cylinder up front. These offer ample bite and stopping power. It comes with dual channel ABS, which works magnificently with the powerful brakes to ensure drama-free braking. Do a hard stop from 80 kph and you will still come to a halt with zero drama. This confidence is something that you'd miss on the base-spec Retro variant.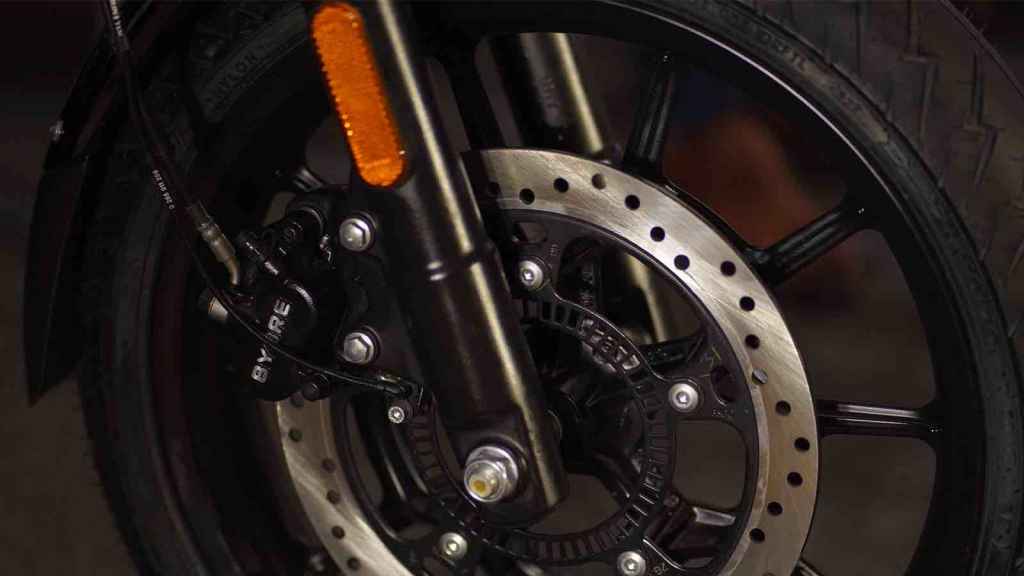 The suspension setup consists of 41mm front forks and twin rear shocks. The forks feel nice and absorbent, but the rear shocks are a tad too stiff in their tune. The rider feels completely in command while on roads, but could feel some amount of discomfort on bad patches and broken roads. The pillion could get to endure greater turbulence on broken patches, due to the hard-set twin shocks. The compact seat size and radical grab handle design will only add to this.
Price And Rivals
Pricing remains one of the biggest catches on the Royal Enfield Hunter 350. The motorcycle that we rode- Hunter 350 Metro Rebel series- costs 1.67 lakh, ex-showroom. This is still a very aggressive pricing for a 350cc. Going by the prices, the Hunter could be a straight pitch to many modern-day 250s. The TVS Ronin could be the closest competitor. Other retro players like the Honda Hness or CB350 RS are on the expensive side though.
I should admit that Royal Enfield has succeeded in its attempt to make the Hunter an accessible motorcycle for the masses (and for the non-RE enthusiasts)- both as a product and in pricing. RE's India business head had recently talked in detail about this, in an interview with us.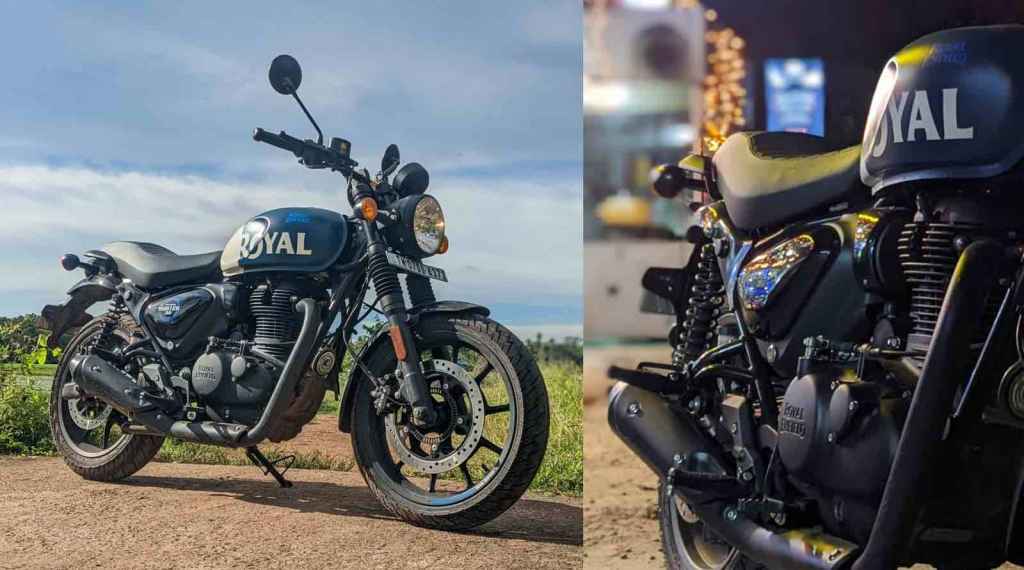 | | |
| --- | --- |
| Variant | Ex-showroom Price |
| Hunter 350 Factory Series | 1.49 lakh |
| Hunter 350 Dapper series | 1.63 lakh |
| Hunter 350 Rebel series | 1.67 lakh |
Royal Enfield Hunter 350 prices and variants
Accessories And Thoughts Around Them:
Royal Enfield has a wide range of accessories available for the Hunter 350. Things like bar end mirrors, LED indicator lamps, passenger backrests, flat seats, windscreen, engine gaurds and even a tail tidy (a first on any Royal Enfield yet!). While these would enhance the character of the motorcycle, we find the pillion backrest a must-have for anyone looking for comfortable two-person commutes. If you want a rather 'into the face' persona, maybe speccing it with a flat seat, bar-end mirrors and a tail tidy would do! Check out the entire accessories range for a better picture