We get into a quick conversation with Royal Enfield's head of India business at the Hunter 350 launch …
Royal Enfield Hunter 350 is rising to stellar market acceptance, and we had a very quick, brief conversation with V Jayapradeep, head of India business, Royal Enfield. We talked about the Hunter, RE's present market presence, EV plans, and more. Read on…
Q: Could you shed some light on Royal Enfield's current sales and market shares?
Royal Enfield currently has a strong market presence in the country. We currently own a 6% market share in the entire motorcycle space. In the 150+ cc segments, RE has a much larger share of 35%. This essentially means that over one-third of the motorcycles sold in this space, are Royal Enfields. Further, in the 250+cc zone, we have a massive 87% market share.
Q: The Hunter 350 has to its credit, a very aggressive pricing. These are set so low that even someone looking for a 150cc or on a more realistic note, a 250 cc motorcycle could consider one. Thoughts on this?
We started working on the Hunter 4-5 years ago. Making it accessible- both as a product and in market placement- was something we were very particular about since the very early days. As a product, it is accessible to a wider set of customers, who might not be so into traditional Royal Enfield motorcycles. The rider triangle and ergos are more beginner-friendly on the Hunter.
In terms of market placement, we wanted the Hunter to be accessible to more strata of buyers. This is exactly why we have priced it so aggressively. With its present pricing, it could potentially appeal to someone who is on his hunt for a 150 or 250 cc offering.
Plus, we have worked extensively with our banking partners to avail the best financing options for the Hunter. This motorcycle would offer down payments as low as Rs 4,999- the lowest yet on any Royal Enfield motorcycle. Up to 6 years can be had as tenures as well. Our banking partners include majors like Cholamandalam, HDFC, IDFC, Tata capital etc.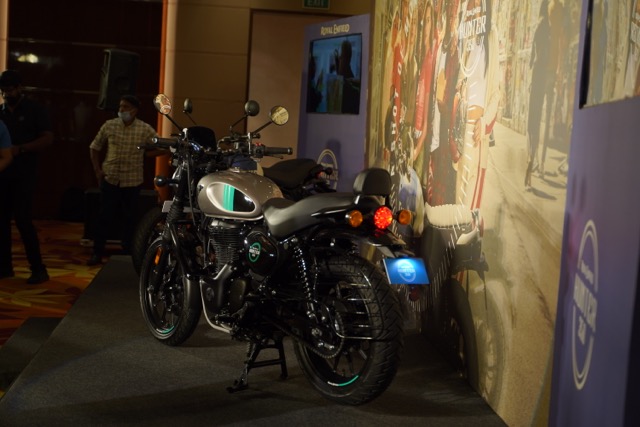 Q: What about the ownership costs then? Would they be comparable to those of 250cc motorcycles?
The Hunter 350 is built on the new platform and powered by the J series engine as the new Classic 350 and the Meteor. So, it has longer service intervals than our previous generation motorcycles. This would mean lesser ownership costs. Considering other 250 cc models, we believe these costs would still be quite comparable.
Q: How has been the reception/ response to the Hunter? Hints on the possible waiting spans and deliveries?
We have had extremely overwhelming responses for the Hunter. Kerala tops the list in terms of bookings received, amounting to 13-14% of net numbers. Further delighting is the fact that this motorcycle reaches a new set of buyers, or adds new strata of motorcyclists to the brand. So, there would be minimal product cannibalization in the long run.
We, at RE, had prepped ourselves well before the actual launch. We had produced enough units and got them ready for deliveries even before the market launch. So, expect a minimal delay in deliveries, and waiting spans amounting to almost none.
Q: The Hunter 350 stands distinct from all familiar Royal Enfield stereotypes. It feels more like a regular motorcycle in character. Is that the direction Royal Enfield is gonna take in the future?
No, that would be the wrong way to put it across. If you look at our portfolio now, we have products that stand unique and cater to distinctly different sets of buyers. Retro, ADVs, urban ADV, cafe racers etc, are all there. Royal Enfield as a brand, aspires to expand and diversify its portfolio and cater to more groups of buyers and their demands. We just would not limit ourselves to any particular genre of motorcycles or any one motorcycling sub-culture.
Q: So, motorcycles of more forms and body styles are to be expected soon?
Yes, depending on customer demands and market trends, we will have more products in the time ahead.
Q: Will Royal Enfield have an EV sometime soon?
We definitely have plans for an EV. But right now, it is in a very nascent state. We have started undertaking extensive market research and consumer interactions in various places to get an idea of consumer demands and trends. Based on the results, we will have a competitive all-electric product in the not-so-near future. RE has formed a dedicated team for the EV business and the people in the UK and India would work collectively on this.
Q: How are the apparel, riding gear, and accessories businesses coming along?
Royal Enfield has a strong focus on the apparel, merchandise, and riding gear businesses. We have a vast range of products in this space. Over the last few years, we have had immense Y-o-Y growths in this vertical as well. However, we feel there are more opportunities in this yet to be tapped and we also expect bigger growths in the time ahead.
The accessories business has also been growing fairly in recent times. Our modern-day portfolio offers vast, diverse ranges of accessories and motorcycle enhancements. These continue to grow in acceptance. We expect the demand to get higher in the time ahead.
Q: Is there any plans for new ride programs?
We have restarted our ride programs post-Covid. The Himalayan Odyssey is done, Rider mania is coming up, One Ride is lined up too, and we would also be exploring more new ride formats this time, while still keeping the traditional ones safe and running. Too early to go deep into the details…