Here are our detailed drive impressions of Hyundai's new micro SUV
Hyundai Exter is creating much buzz among Indian car buyers with its sweet pricing and attractive product highlights. Pitched in to capitalize on the rising demand for 'SUVs', the Exter sure has been garnering a huge number of bookings since launch. We drive it in detail to find out what the hype is all about…
Table of Contents
Design
With the flat bonnet, high stance, chunky wheel arches, and a ground clearance of 185mm, the Exter looks SUV-ish. The 15-inch alloy wheels look good but get intimidated by the squared wheel arches. The C pillar, though bulky, stands upright, translating to generous headroom at the rear and added boot capacity. The A-pillar could remind you of the Grand i10 NIOS with its rake angle. Key design highlights include H-shaped DRLs, H-detailing in tail lamps, and numerous gloss Black textures and trims.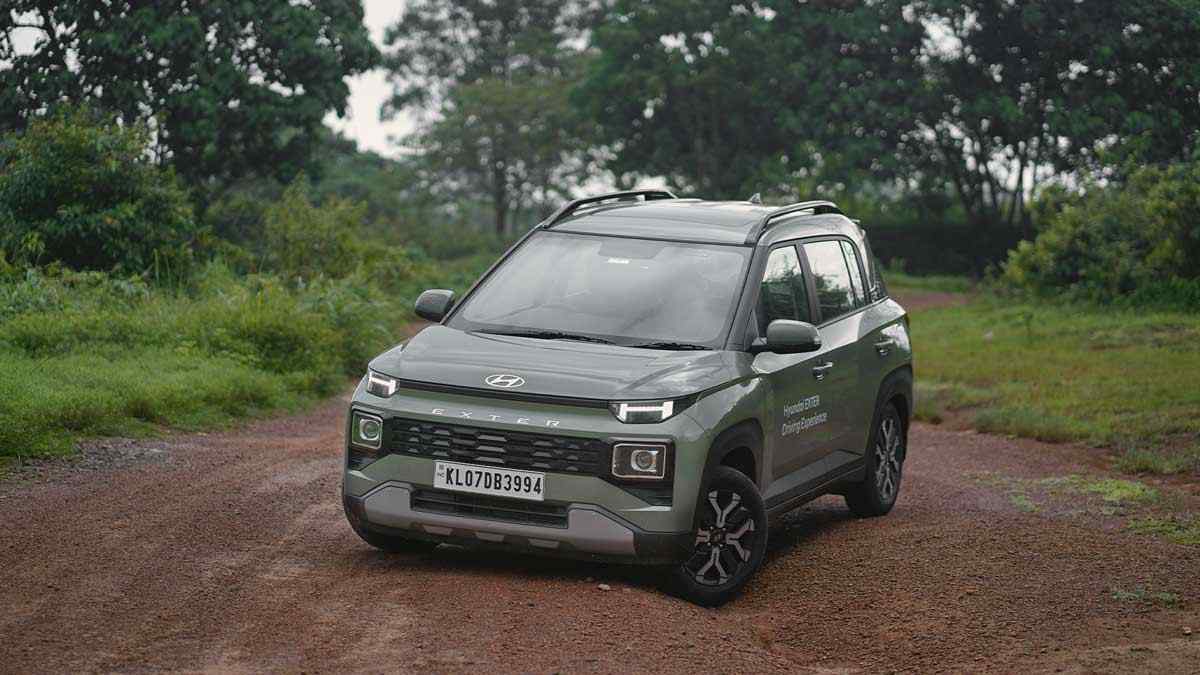 Hyundai Exter Dimensions
Living up to the 'micro-SUV' tag, the Exter is very compact with its dimensions. Tata Punch, the segment leader, happens to be the price rival to Exter. The Hyundai micro SUV, as a matter of fact, is shorter in length and height than the Punch. In wheelbase, however, it takes the lead by 5mm. Below are the exact dimensions of the Exter.
| | |
| --- | --- |
| Length | 3.8 m |
| Width | 1.7 m |
| Height | 1.6 m |
| Wheelbase | 2.45 m |
| Ground Clearance | 185 mm |
Table: Hyundai Exter dimensions
This micro SUV deserves praise for its boot capacity. Despite being small in size, Hyundai Exter has a boot space of 391L. This is, in fact, quite large for its segment, second to just Kiger's 405L. The upright design of the C pillar contributes fairly to achieving these numbers.
Hyundai Exter Interior
The Exter could be small in dimensions but doesn't fall behind much in the cabin room. There is ample room for four to be seated comfortably. Seating five, however, could be slightly unfair in terms of occupant comfort offered. We felt the cabin room to be quite close to what's offered on the Grand i10. On the Exter, however, the upright pillars generate better headroom for the rear occupants.
The rear seat does not get a split folding function and is a single bench which falls slightly behind in the thigh support offered as well. The front seats, however, offer great occupant comfort and support, despite missing out on adjustable headrests. You'd find these comfortable unless you are a plus-sized adult.
Overall fit, finish and materials used in the cabin are great. Most things inside look good, are set practical and feel great to touch as well. The cabin design is quite ergonomic as well. Most things fall into your reach without having to try hard for the same.
ALSO READ: 2022 Hyundai Tucson Review After 700 Kilometers: All The Info You Need!
Hyundai Exter Features
The Exter comes loaded with features and tech. It gets almost every feature from the Grand i10 NiOS, alongside a bunch of newbies. You get climate control, wireless charger, driver seat height adjustment, rear AC vents and a digital instrument cluster. Segment first features include a regular-sized sunroof, and an integrated dashcam unit, similar to the one we had previously seen on the Venue N Line. Hyundai Exter also comes with paddle shifters on the automatic variants. Paddle shifters on an AMT are in fact, an industry first!
While the lower variants come with an 8-inch touchscreen, the fully loaded Exter SX (O) Connect gets an 8-inch HD infotainment system with 'Bluelink' connected car tech. It comes with Hyundai's in-house developed interface, which is fast, responsive and intuitive. Instances of things getting stuck mid-way or of UI malfunction were minimal during our time with the car. The infotainment system comes with Android Auto and Apple Carplay, but neither is wireless. Some competitors like the Kiger offer wireless Carplay and Auto.
'
Further, the SXO Connect's infotainment unit offers OTA support and Home2Car (H2C) Alexa integration as well. Audio quality from the 4 speaker system is decent. I particularly love the fact that this infotainment unit comes with physical controls as well.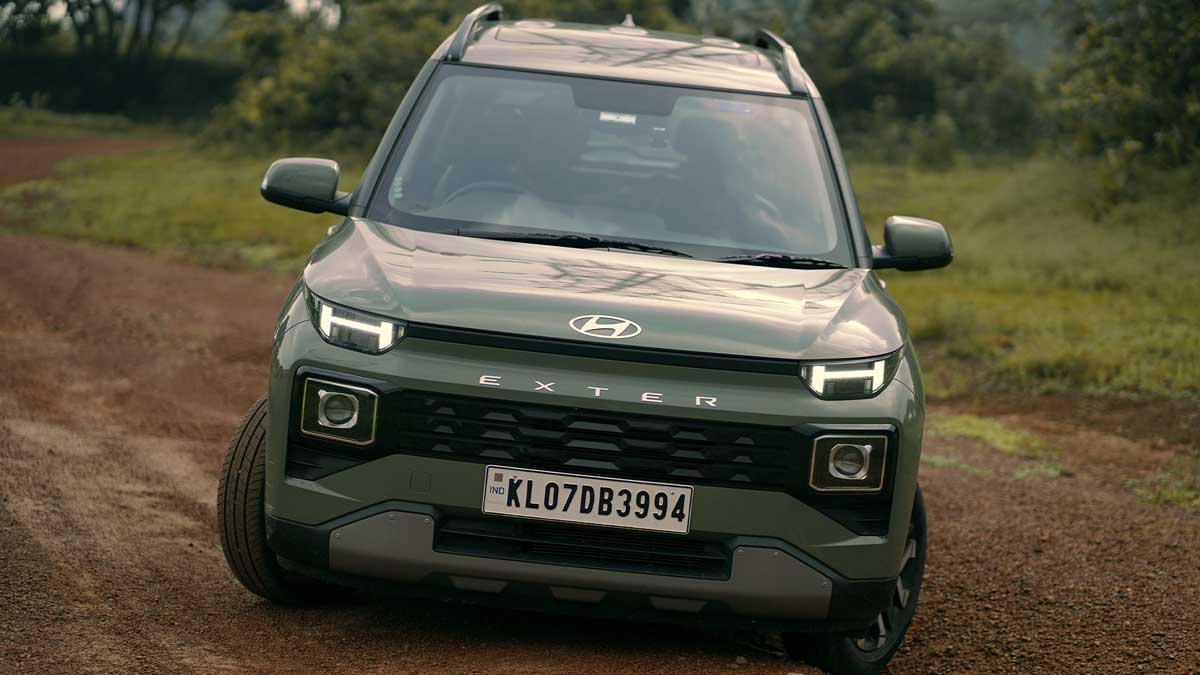 Hyundai Exter Specifications: Engine, Gearbox, Platform
The Exter is underpinned by the same platform that forms the base for Grand i10 NiOS- Hyundai K1. This, interestingly, is also the chassis that's found on the last Santro we saw here, but with some improvements gone into it. Mechanically, the Exter has a lot to do with the i10 NIOS. In fact, both the NIOS and the Exter are both products of the third-gen AI3 program. There is quite some similarity that you feel between the two, when you're actually out, driving them.
The powertrains too have come straight from the NIOS. This i10-based SUV draws its juice from a 1.2L, 4-cylinder, Kappa petrol engine- which can be had with a 5-speed manual or 5AMT transmission. The second is the less attractive, more frugal CNG powertrain that is available only with a manual gearbox. We are sampling the petrol automatic here.
The 1.2L Kappa petrol engine remains more or less untouched and produces 83 hp and 113 Nm. The AMT feels familiar too.
Drive Impressions
Exter feels neat and well-sorted to drive. The powertrain seems to offer ample low-end grunt, but is by no way, enthusiastic or eager to perform. It's got just enough to keep you happy and engaged in the city and on most highway runs. This car weighs less than 1000 kg, 999 kilograms to be precise, and this contributes fairly to keeping drivers smiling with the not-so-big powertrain outputs.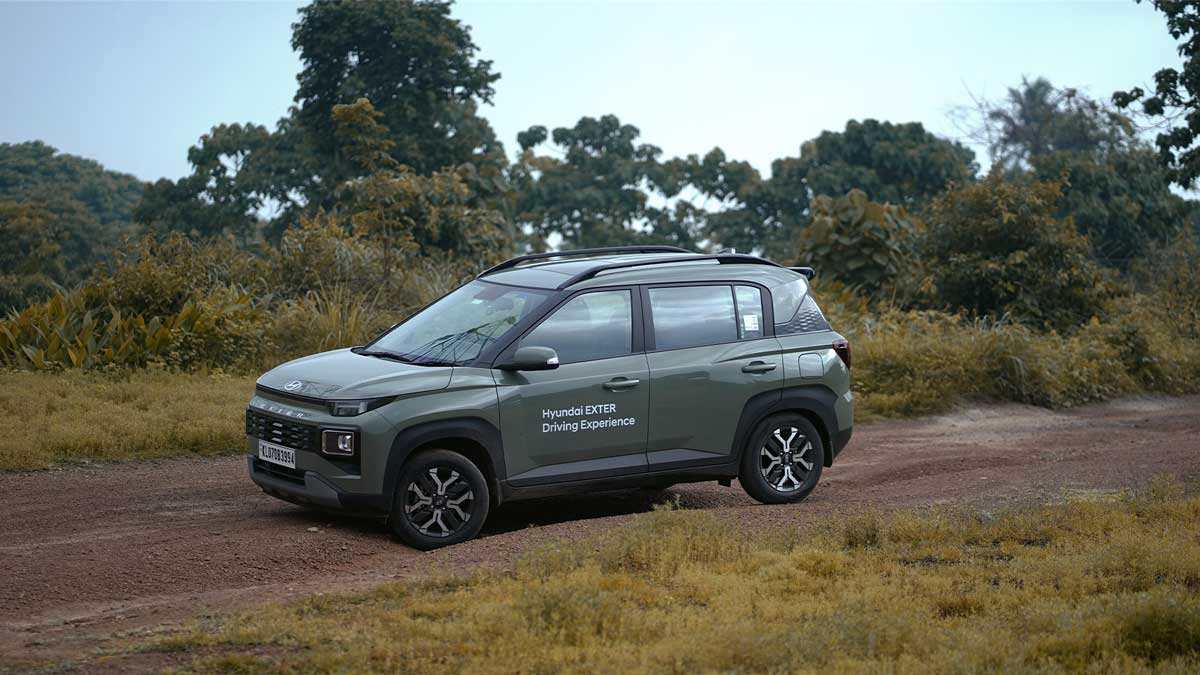 ALSO READ: 2023 Hyundai Verna Review- 1.5 MPi (Petrol-CVT): Sensible Choice!
The acceleration is snappy, and power comes in smooth and steady. The mid-range is decent, and it keeps on chugging until around 4,500-5,000 rpm, and starts to lose steam thereafter. The AMT gearbox with its electric actuators, is super smooth. When you're cruising at part-throttle, you can barely feel the pause between shifts. But when you're hard-flooring, there's a noticeable lag between gear shifts. Also, the paddle shifters are super responsive and you can comfortably take manual control, should you wish to.
This car feels mature on the roads. It in fact, feels more sure-footed and better to drive than the i10 NIOS. Body movements are neatly controlled and the car feels reasonably stable on the highways, thanks to its 2,450mm wheelbase. The steering's easy but weighs up neatly with speeds.
I particularly love the refinement levels of Exter's petrol engine. This is in fact, the first 4-cylinder petrol in its segment, and clearly outsmarts all of its competition with the 1.2 Kappa which already has a reputation for being smooth and silent.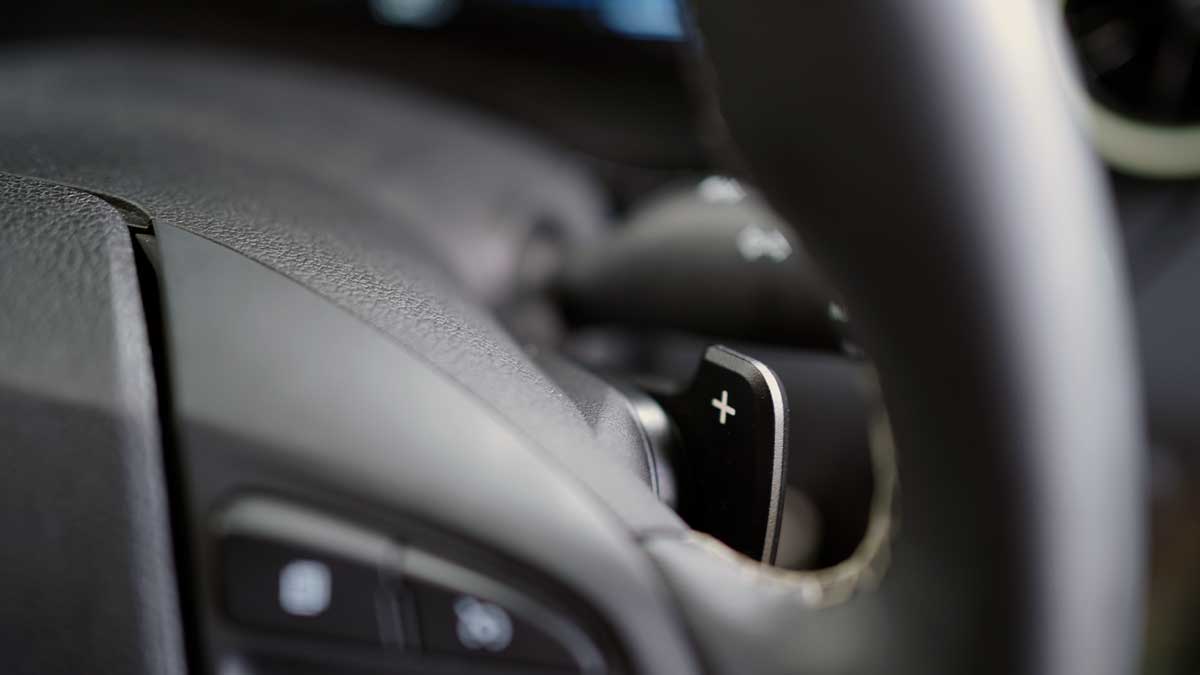 Ride Quality And Practicality
The suspension gets major reworks from the hatchback, and the Exter feels quite comfortable a car to be in, at most times. I would call it as comfortable as the Venue in some cases. The system effectively soaks and cushions most humps with remarkable efficacy. Just the deeper potholes are felt inside the cabin. A short turning radius further adds to practicality and convenience. All these would be when four ride the car. Try to pack in five, and it is altogether a different story!
While these sum up our quick impressions, we've also published a longer list of Hyundai Exter's pros and cons, just in case you're interested!
Mileage
Hyundai Exter claims attractive fuel efficiency figures for both manual and automatic variants, despite the Kappa engine being lively in nature. The automatic variant is certified to return 19.2 kpl, while the manual would give you 19.4 kpl. In real driving conditions, our AMT Exter returned around 15-16 kpl, with mixed driving inputs. Pretty decent for its segment…
ALSO READ:Toyota Hyryder Hybrid Review: Drive Impressions And Mileage
Pricing And Verdict
With an introductory ex-showroom price of Rs 6 lakh-10 lakh, Exter spells good value. Sure, it doesn't feel sporty to drive and the cabin is not wide enough to accommodate three abreast, but is still one sweet city car (read SUV!) to live with.
Hyundai Exter Images Gallery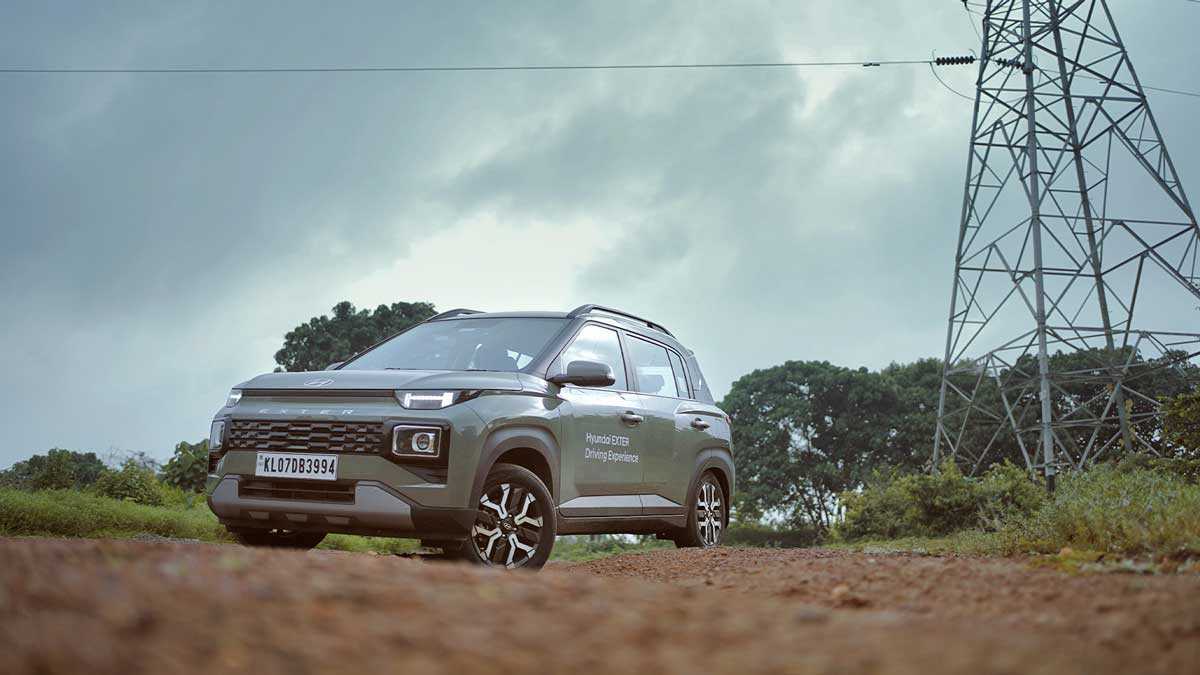 Follow Vroom Head India On Google News, Koo, Twitter, Instagram, Pinterest, Facebook, and LinkedIn