Solar car perfumes look as fancy as they smell. Here are a few 'not-to-miss' ones for anyone who loves aeroplanes…
Car accessories these days, are insanely cool. From air fresheners to infotainment solutions, there are plenty of them, and most deliver desirable quality at affordable prices. Car perfumes, in particular, are in great demand. They are available in various shapes and forms- there are the ones which you hand on the IRVM, those that are plugged into the air-con vents or those which sit inside the cupholder or even on the dashboard.
Now take a look at the ones listed below. These air fresheners look like aeroplanes and helicopters, sit comfortably on the dashboard, are solar-powered and diffuse aroma in a very fashionable way. Plus, these come with rotating rotors or propellers for added drama! Priced competitively, these solar car perfumes could be the best gifts for aviation lovers.
Best Aircraft-Shaped Solar Car Perfumes:
YOURKARTS.COM New Solar Powered Car Perfume Diffuser/Dispenser – Military Helicopter
This solar car perfume diffuser looks like an Airbus helicopter (probably like an H145), but with a camouflage livery- looking like a military chopper. This product can sit comfortably on the car's dashboard and comes with no support for batteries. This essentially means that the rotors rotate only when it is exposed to direct sunlight, with the help of integrated solar panels.
10ML of imported liquid perfume comes with the package. It has a pleasant fragrance and contains zero alcohol.
Package Contents:
Military Helicopter shaped diffuser
Dropper
10 ml of imported liquid perfume
Hanging Tag
Price on Amazon: ₹1,499
Limited Time Price: ₹769
Buy Military Helicopter Solar Perfume Online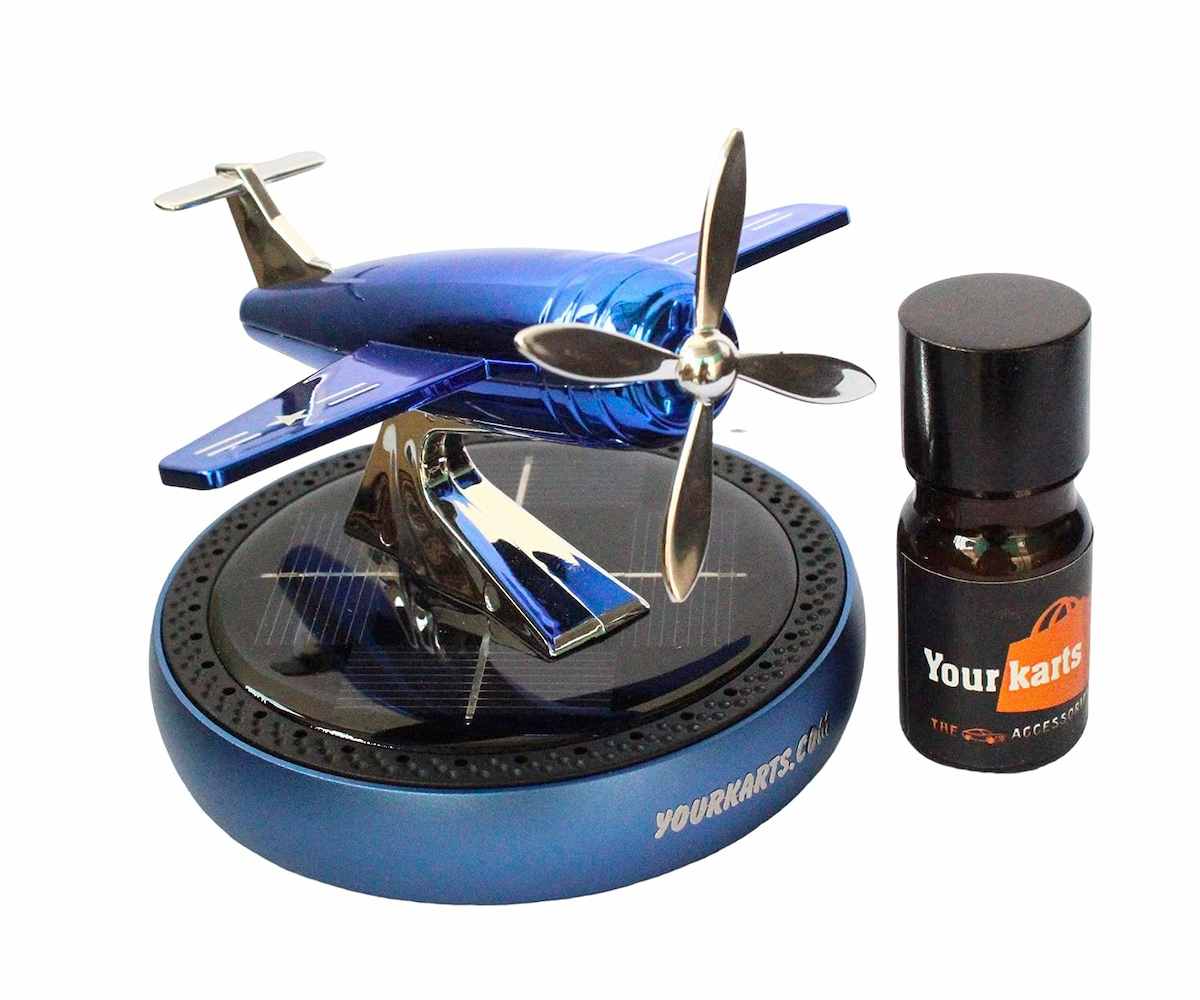 YOURKARTS.COM ™ New Glider 2023 Solar car Dashboard Perfume (Dark Blue)
This solar car perfume looks like a tiny glider plane, or more like a rough sketch of an aeroplane from the past. A number of colours are available, though this Dark Blue shade looks particularly good. The dispenser's propeller rotates when exposed to sunlight. The package comes with 10ml of imported perfume.
Package Contents:
Military Helicopter shaped diffuser
Dropper
10 ml of imported liquid perfume
Hanging Tag
Price on Amazon: ₹1,499
'
Limited Time Price: ₹769
Buy Glider Shaped Solar Car Perfume Online
ALSO READ: 5 Best Dash Cameras To Buy In India- AUG 2023
AUTO SNAP Trending New Helicopter Alloy Solar Car Air Freshener
This car air freshener is made out of alloy and looks great. It looks like a helicopter and has carefully designed surfaces and lightweight construction. It comes with dual rotors that rotate when exposed to the sun. This can be accommodated on car dashboards or home/ office environments.
Package Contents:
Helicopter-shaped, metal alloy diffuser
Imported liquid perfume
3M tape mounts
Price on Amazon: ₹1,599
Limited Time Price: ₹638
Buy Auto Snap Helicopter Alloy Solar Perfume Online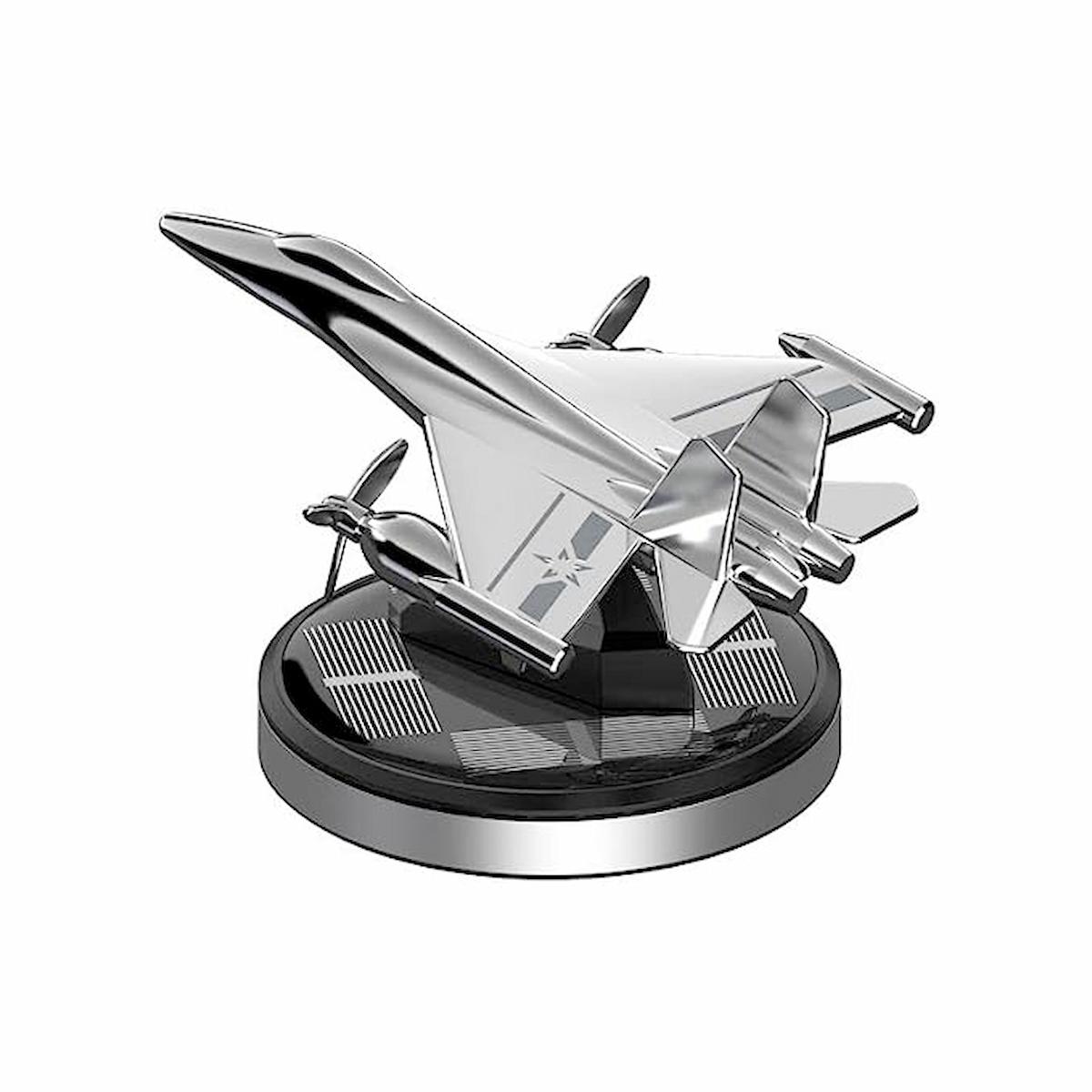 Follow Vroom Head India On Google News, Koo, Twitter, Instagram, Pinterest, Facebook, and LinkedIn
Fighter Jet Car Aroma Diffuser
Almost every aeroplane car air freshener looks cool, but this one looks 'better'! The diffuser looks like a fighter jet, with clean proportions and lightweight alloy construction. This product resembles the F15 fighter jets with Delta wings and twin tails and jets, although the question still stands ' What are those propellers doing on a fighter jet?'- Well, because this is a solar-powered perfume dispenser and there ought to be something that spins!
Price on Amazon: ₹1,499
Limited Time Price: ₹645
ALSO READ: Qubo Dashcam Pro 4K Review And Quick Guide
PROODOS FighterJet Shaped Solar Car Perfume
This car air freshener gets the shape of a fighter plane from the past, and with a central propeller. Solar power spins the propeller and the entire unit looks pretty decent when mounted on the dash. Comes with a wooden diffuser base and sticky pad for easy mounting.
Price on Amazon: ₹1,499
Limited Time Price: ₹499
Buy Proodos Fighter Jet Solar Perfume On Amazon
---
Affiliate Disclosure: Vroom Head India participates in various affiliate marketing programs, including the Amazon Services LLC Associates Program, and other affiliate advertising programs. As an affiliate, we may earn a commission from qualifying purchases made through links on our website. We appreciate your support and want to assure you that we only promote products and services that we believe in and would recommend to others.