We walk you through two wheeler loans and the digital journey of PLANET APP
The two-wheeler market continues to post rapid growth in India. Motorcycles and scooters are still among the most viable, most loved, and best-suited modes of commute for the greater part of the nation. Viable financing options or loans are as important as the products in bike shopping. There are a lot of major players providing easy and fast two-wheeler loans.
L&T Finance, a major in the financing niche, has interesting two wheeler loans on offer. The company has rolled out a faster and more convenient way of availing these, by integrating the 'two-wheeler loans' section into L&T Finance's PLANET mobile application. Applying for two-wheeler finance services is now easier and more transparent. Continue reading to get more L&T two-wheeler loan details, and to learn the app-based application process in detail.
Table of Contents
L&T PLANET APP: Quick Overview
L&T PANET (Personalized Lending & Assisted NETworks) APP, the company's official mobile application is a platform that simplifies the financing process and speeds up loan approval. It uses data and analytics to verify and assess the applicant's background and repaying capability, saving him/her from having to arrange for and enter data manually and in the process, also creates a more personalised experience. The mobile app, available on both iOS and Android, now has the two-wheeler loans section live on it, which can be used to initiate the two-wheeler loan application process.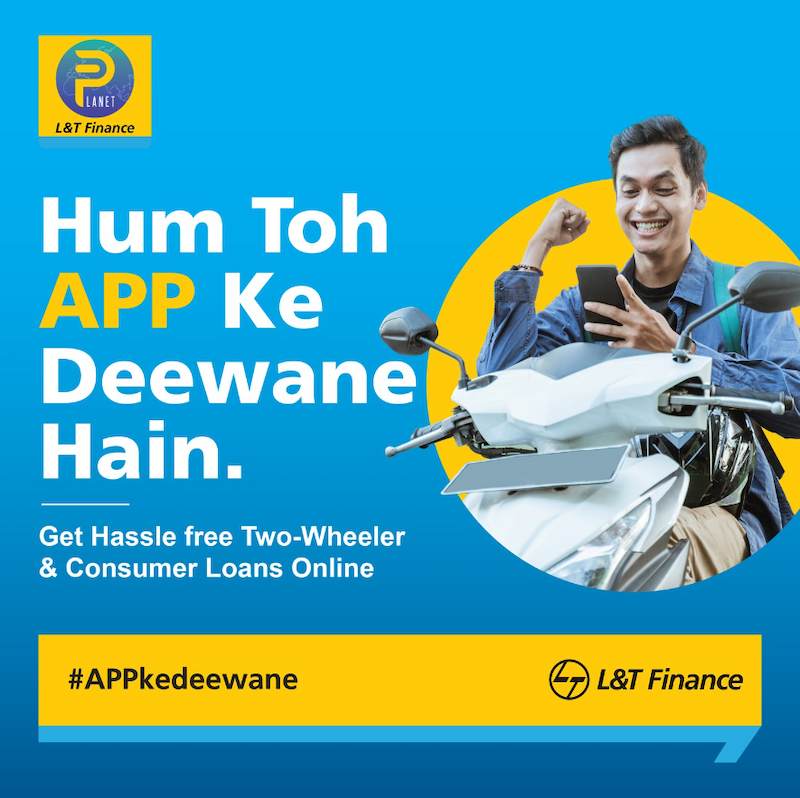 More Details Of L&T Finance's Two wheeler Loans
Before we start talking about L&T Finance's two-wheeler loans in detail, it is important that you get a quick glance and first-hand experience of the app and its UI. Download the L&T PLANET APP right away! Below are some key highlights of L&T Finance's two wheeler Loans:
Tenure: L&T Finance provides conveniently long tenures for two-wheeler loans. You can get up to 3-48 months in tenure. In reality, a 3-year tenure is perfect for most two-wheeler customers.
Bigger Loan Amounts: The company offers loan amounts from 50,000 to 20 lakh. You could thus use these to take home your favourite premium/ sports bikes as well.
Interest Rates: Yes, this could be a tricky slope. L&T two-wheeler finance schemes can be had with interest rates starting from 7.99%. This could further be subject to individual customizations and as a matter of fact, is not the lowest in the industry. It however is not the highest either. L&T is apparently looking to tap the mid-market potential.
Open Eligibility: L&T two-wheeler loans are available to both salaried and self-employed individuals.
Income proof NOT Required: These motorcycle loans do not demand the applicant to produce his income proof.
Completely digital application and customer journey: This is the biggest talking point. The app-based application process makes the customer journey faster, easier and more efficient. In this data-driven setup, the initialisation happens inside the application, while the bigger verifications and final approval happen via the official L&T website. The approval too, is a lot quicker than what it would have been otherwise.
Quick Turnaround Time
Pan India Delivery
L&T Finance seems to have equal enthusiasm for availing financing options for electric vehicles as they do for regular motorcycles and scooters. The EV space, in general, is booming and these loan options would only add to it.
ALSO READ: Union Budget 2023: What It Means For The Automotive Industry?
Documents Required For L&T Finance's Two-Wheeler Loan
Before initialising the application process, make sure you have these ready:
ID Proof: Below are acceptable
Passport
Pan Card
Driver's License
Voter's ID
Aadhar Card Along with recent passport-size photographs
Address Proof: Below are acceptable
Ration Card
Passport
Utility Card
Voter's ID Card
Driving License
For more details and a detailed look at the financier's terms and conditions, head to the official website.
'
How To Apply For L&T Finance's Two Wheeler Loan Through PLANET APP?
The mobile app has a clean design, friendly UI and fast responses. The end-to-end journey of loan approval is taken care of neatly by the tech backing this system. Follow the steps below to apply for a two-wheeler loan via L&T Finance's PLANET APP.
Open the PLANET APP.
Login with your registered mobile number.
Click on 'Two-wheeler loan' under the Apply Now section.
This will take you to L&T Finance's official website. The rest of the customer journey will happen there and not in the application.
Use the EMI Calculator to customize the financing scheme to your specific requirements.
Once the tenure, amount, and interest rate are finalised, click on Apply Now.
The company's representative would help you with the KYC and similar verification if they aren't already done. Should you find the app and its journey 'digitally intimidating', assistance can be availed at almost any time. L&T Finance's bike loans are available across a range of two-wheeler models- motorcycles, scooters and EVs. The application helps you in the bike-shopping process further, by giving you quick info about the various options- including specs and brief reviews, and also lets you book test rides as well.
ALSO READ: This Toyota Fortuner GR Sport Conversion Could Save You A Lot Of Money!
L&T Finance's Two Wheeler Loans Approval Process And Timeline
Availing of a two-wheeler loan from L&T Finance has never been cumbersome. The app further simplifies the process. If you have correctly followed the above steps and applied for financing, and if you are eligible for the same, the approval/ sanction process would take just a minute or two- says an executive from L&T Finance. The customer's digital journey, in general, could take about 10-15 minutes- from application initialization to the actual approval. However, delay could be caused by the dealership, vehicle opted for or any supply crises from its manufacturer. The 'money part' of the purchase, however, stays safe and sorted by L&T Finance.
Use this QR code to download and install L&T PLANET app on your smartphone