The E Tron SUV is available as both E Tron 50 and E Tron 55 while the sportback comes just in the 55 avatar
Audi India has just launched its electric lineup in the country, whereby it has introduced a total of three all-electric models- E Tron 50, E Tron 55, and E Tron Sportback 55. The price for Audi's electric range starts at Rs 99.99 lakh (ex-showroom). E Tron and Sportback can both be booked online, against a payment of Rs 5 lakh. To build a hospitable environment for its customers, Audi is setting up as many as 100 chargers in 75 cities pan India. Also, selected Audi dealerships will have 50 kW DC fast chargers set up, which will provide complimentary charging to E Tron customers throughout 2021. 2021 customers can also take home complimentary wall-box chargers alongside the standard 11kW charger.
Audi E Tron SUV: Things To Know About It
Audi E Tron is available in two different forms- E Tron 50 and E Tron 55, the key difference being the battery sizes. The overall design and dimensions remain identical in both variants. Key design elements include sleek LED headlamps (MATRIX on the E Tron 55), signature Audi SUV silhouette, signature Audi grille but redrawn for electric vehicles, 20 inch 5 spoke alloy wheels with high-profile rubber, LED tail lamps with a full-width LED light bar connecting them. Audi E Tron SUV is available in a total of 8 different shades.
Inside the cabin, the E Tron SUV gets multiple modern-day features and creature comforts like a 10.1-inch touchscreen infotainment system, 8.8-inch display for climate control, 'Virtual Cockpit' deployed on instrumentation duties, 4 zone climate control, progressive steering, adaptive air suspension, cruise control, powered tailgate, panoramic sunroof, power-adjustable steering wheel, wireless charger, heads up display etc.
The E Tron 55 gets a host of additional equipment (read technology pack) like a 750W, 16 speakers, B&O premium 3D sound system, 30-colour contour and ambient lighting, air purifier, and a 360-degree camera with customizable views.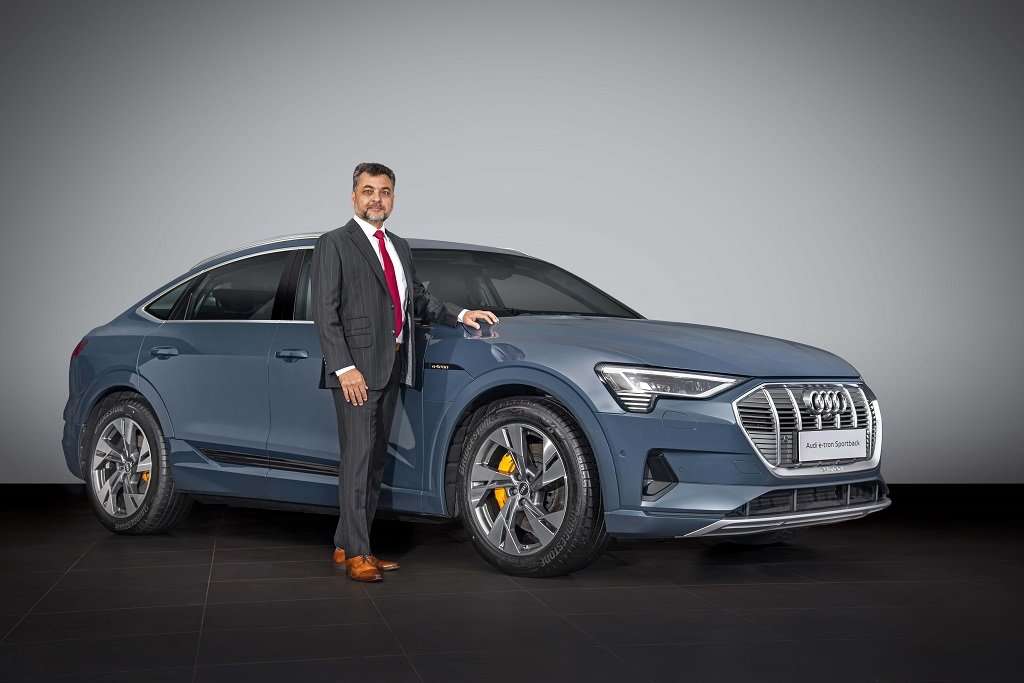 Audi E Tron Sportback: What Is Different From The E Tron SUV?
The E Tron Sportback, as the name indicates, is an SUV coupe. While most of the front and rear fascia highlights remain the same as the regular E Tron, the sloping roofline instantly recognizes it as a Sportback. You might think of the Audi A7 Sportback at the very first glance of the E Tron Sportback. The E Tron Sportback is available just in the fully loaded 55 trim and falls into a segment where there is no real competition in the strict sense. In addition to the colors available on the regular E Tron, the Sportback gets an exclusive Plasma Blue shade as well.
Audi E Tron Powertrains And Specifications
The E Tron range is available with two different powertrain specs. E Tron 50 gets a smaller battery and lesser outputs while the 55 trim is evidently more powerful and offers more performance. Both the trims get dual electric motors (one on each axle). The dual-motor setup on the E Tron 50 produces 313 hp and 540 Nm and is mated to a 71 kW Lithium-ion battery pack. While this vehicle can do 0-100 kph in 6.8 seconds, it also offers a WLTP range of 264-379 kilometers.
The E Tron 55 and Sportback 55 get a more powerful powertrain where the dual motors can churn out as much as 408 hp and 664 Nm. These cars get a larger 95 kW battery that offers ranges of 359-484 kilometers. 0-100 kph comes in just 5.7 seconds. The Sportback benefits from aero advantage as well. AWD is standard on both trims.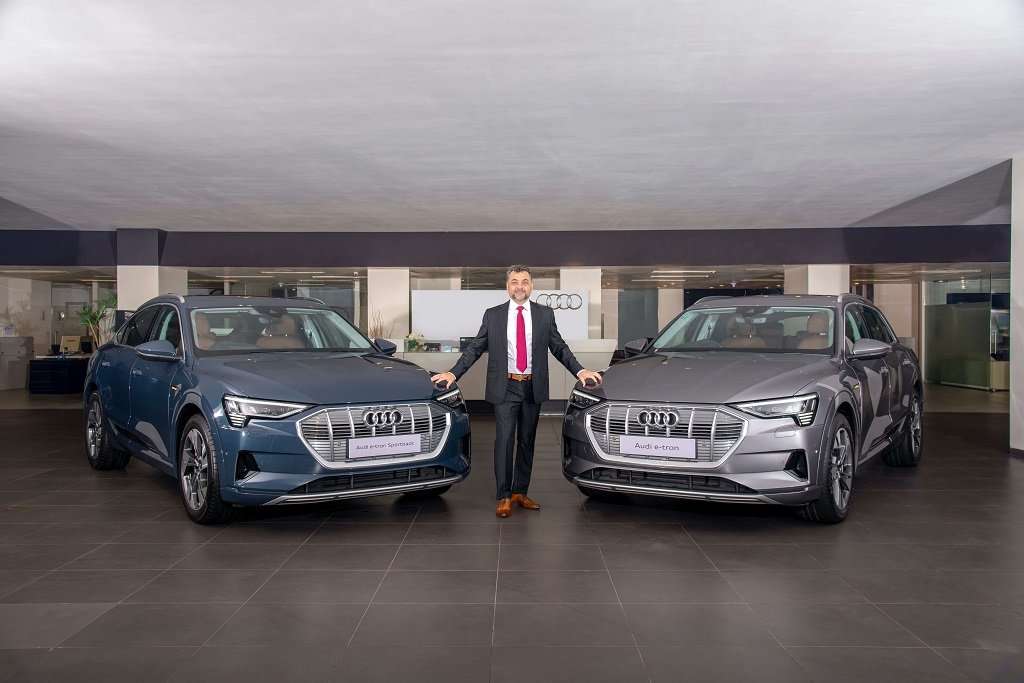 The 95kW battery can be charged from 0-80% in 8.5 hours via AC and in just 30 mins through 150 kW DC chargers. This AC charging time is evidently the fastest among all the all-electric rivals currently on sale here. Plus, Audi E Tron even has an onboard converter for availing 22 kW AC charging, which could come in the future.
Price
| | |
| --- | --- |
| Model | Ex-Showroom Price |
| Audi E Tron 50 | 99.99 lakh |
| Audi E Tron 55 | 1.16 crore |
| Audi E Tron Sportback 55 | 1.17 crore |
Audi E Tron Price in India
The key rivals to the E Tron are Mercedes Benz EQC and Jaguar I Pace. The EQC is priced at 1.06 crore (ex-sh) while the I pace has a price of 1.05-1.12 crore. Thus the E Tron is priced quite competitively and the same could soon add to its prospects.
Let's get social! Follow Us On Facebook, Instagram, Pinterest, Whatsapp, and LinkedIn