The photos feature Aviation Gathering's Captain Salma Al Beloushi alongside the car
You and I would be familiar with the saying 'Bespoke is Rolls Royce'. We have over the years, seen the amount of personalization this marque has on offer for the rich. The photos of a bespoke Rolls Royce Wraith from Abu Dhabi are now doing rounds on the internet, and are worth sticking your eyeballs on for hours. We tell you why…
The photoshoot was done for the AIR private jet magazine. Published by Dubai-based HOT media, the AIR magazine is among the top reputed private jet magazines in the Middle East. The photo series features Aviation Gathering's Captain Salma Al Beloushi alongside the bespoke RR. Though we have had no clue yet on the actual direction of the story, we suspect it to highlight the pomp and luxury of the bespoke Wraith alongside the charisma and thoughtful insights of Captain Salma.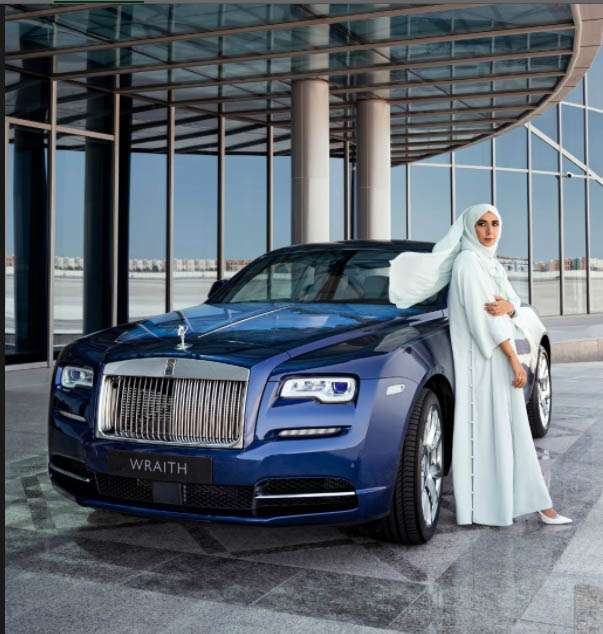 A pilot by profession, Salma Al Baloushi also holds the title of being the first Emirati female pilot in Etihad Airways. She is much respected for her passion for aviation and is often referred to as the Amelia Earhart of the Middle East! Salma was also listed among the 100 most powerful Arab women of 2012. She is currently the CEO at Aviation Gathering.
The Earth-inspired RR Wraith can be seen striking poses with Salma, and a private jet, in the pictures. Somehow, the car looks even more desirable with the jet alongside. This bespoke Wraith had reached Abu Dhabi in October 2020, via Rolls Royce Abu Dhabi Motors, with a lot of personalization gone into it. The owner, who prefers to be anonymous has not yet given a word on the actual cost of the car either.
Bespoke Wraith, Inspired By Earth: What Is So Special About It?
The owner of this Bespoke Wraith wanted his car to have 'cues from the entire Solar system'. The car has the Royal Blue as its base paint, claimed to represent the waters that constitute 75 percent of our planet. The bonnet has a unique piece of art, instantly recognizing this as a one-off product. The artwork depicts an airbrushed satellite view of the Middle East- The UAE, Red Sea, Arabian Sea, and the Gulf of Oman.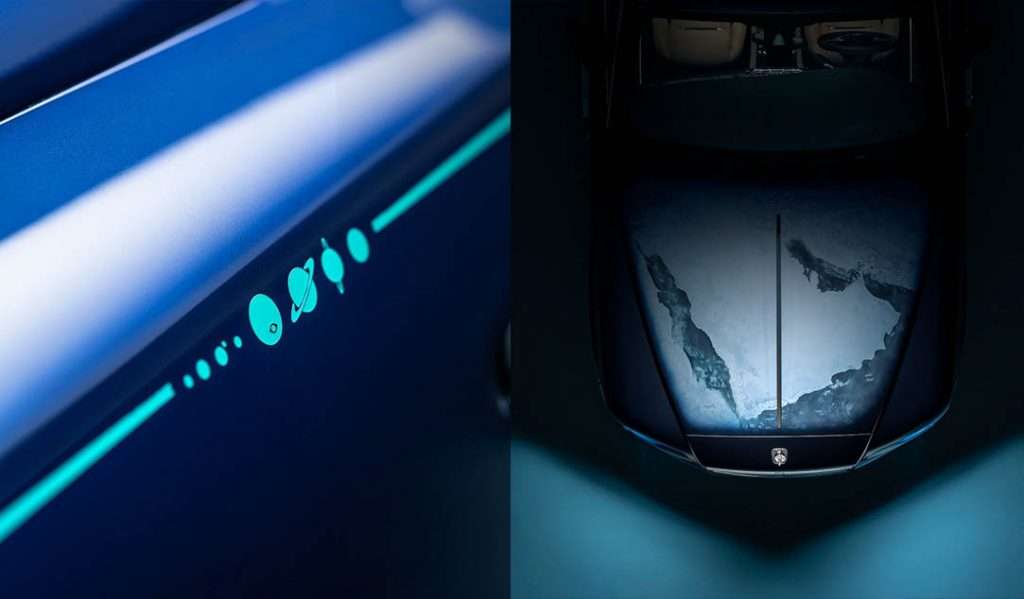 Rolls Royce claims that it took them over 100 hours to complete this piece. The car gets a hand-painted Emerald Green coach-line depicting the Sun and the eight planets – Mercury, Venus, Earth, Mars, Jupiter, Saturn, Uranus and Neptune. The interior design pays homage to the Earth's surface and the human and natural life on it.
The seats are finished in Moccasin leather to mimic the sands of the Emirati deserts. The Navy and Cobalto Blue accents are suggestive of rivers and lakes on the planet and the Emerald Green piping is symbolic of nature as such. This bespoke Wraith gets Arctic White RR monograms and stitching, hinting at clouds and translucent running water.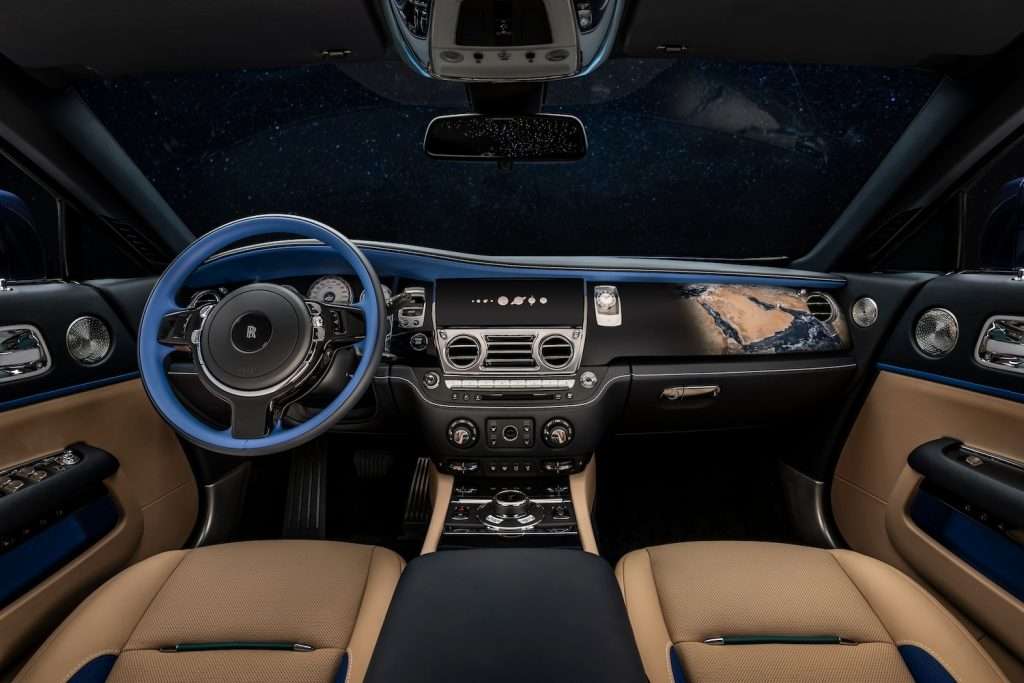 The car also gets a bespoke Starlight Headliner with a stunning Solar System graphic and a rear waterfall with the scene of atmospheric clouds rendered using Photoflash technology. The Piano Milori veneer on the fascia also gets an airbrushed satellite image of the Middle East. The treadplates, clock, and inlays also get bespoke touches.
Photo courtesy: Air Magazine And Rolls Royce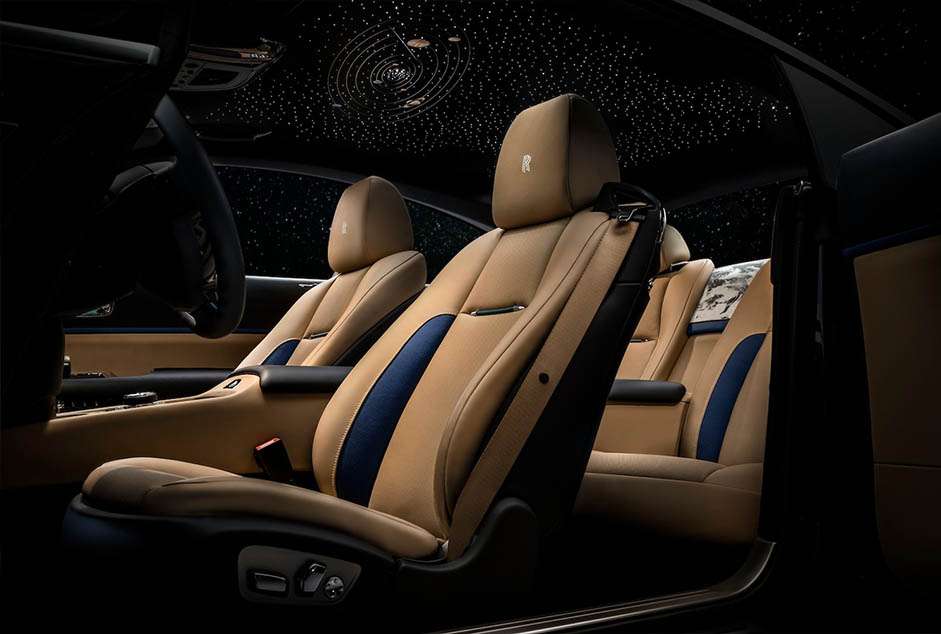 ALSO READ: